If you're a travel manager exploring options for managing all aspects of your company's business travel, working with a travel management company (TMC) might just be the solution you're looking for.
A TMC can assist with keeping your employees safe while enroute to their destination, identify areas for cost-effective savings within your business travel spend, and even integrate your existing travel policies to achieve compliance.
While you might think a brick and mortar travel management company featuring a team of corporate travel agents will serve your company, a local TMC with physical offices might not be the most suitable option for the needs of your business, or even necessary!
Today, we'll be reviewing four of the best corporate travel management companies for businesses based in Vancouver to assist you in meeting and exceeding your company's business travel needs.
Features to look for when choosing a travel management company
There are many travel management companies for business in Vancouver. However, while some of these platforms are modern and intuitive, they don't always offer all the features you need to manage business travel.
Without essential features like flexible booking options, centralised invoicing and built-in approval workflows, you might spend hours managing each booking.
Below, we outline the key features you need to look out for when comparing travel management companies in Vancouver. These features will help you save money and streamline your entire travel management program.
Extensive travel inventories: It's essential that the travel management company you choose gives you access to comprehensive inventories of transportation and accommodation providers, as well as enabling you to compare prices, dates, and offers that best suit your travel needs.
Built-in approval workflows: Embedding your travel approval workflows and travel policy into your travel management company's platform helps you increase policy compliance rates and eliminates the need to manage travel and expenses via long email threads.
Centralized invoice collection: Some travel management companies don't act as a single vendor meaning that you'll still need to collect and collate invoices from various companies. Travel management companies that offer a system that consolidates all of your monthly invoices into one single vendor invoice can save you a lot of time and hassle.
Flexible booking options: Flexible booking options enable businesses to accommodate any last-minute changes to trip dates or cancellations after booking for free or at a reasonable cost.
24/7/365 customer support: Unexpected events are inevitable in business travel, and you need to know that your travel management company will be there to help you should things go wrong. A prompt, easy-to-access customer support function is essential to help your travelers manage any issues that arise.
Reporting capabilities: The ability to access travel data that is broken down by individual business travelers, mode of transportation, booking type, and cancellations helps you carry out significant spend optimization activities.
The 4 best corporate travel management companies for businesses based in Vancouver
Below we've listed the four best corporate travel management companies for businesses based in Vancouver to assist with managing and overseeing all areas of your company's business trips. Each offering varies with their level of service, from some providing luxury travel options, preferred corporate airfares and more.
TravelPerk is the all-in-one business travel management solution for travel managers everywhere. Below, we've included a few more benefits of using TravelPerk to accomplish all your business travel management tasks.
Flexible booking with FlexiPerk: Sometimes, employee travel plans need adjusting, or canceling altogether. With FlexiPerk, your travelers can cancel any part of their trip, anytime up to two hours before and receive a minimum of 80% back in credits on our platform.
Safety alerts with TravelCare: Whether it's notifying your employees of travel advisories and restrictions at their destination, or having the power to make informed booking decisions, your employees' safety remains number one priority thanks to TravelCare.
Industry-leading inventory: Travel managers have ample choice when it comes to flights, hotels, and transport options for employees.
24/7 fast customer support: TravelPerk's 24/7 customer support team means your employees are always within reach of assistance no matter their destination. Our team's target 15-second response time grants your employees peace of mind that they won't be left hanging when needing to speak with a real human (no robots here!).
Integrated travel policy & approval flows: TravelPerk offers integrated travel policies and approval workflows to make your business travel initiatives work for you. Or, consolidate your existing travel policies painlessly, to help you achieve policy compliance.
Centralized invoicing: TravelPerk offers instant invoicing after each booking, keeping things organized and efficient for you when it's time to process paperwork.
Easy & real time expense reports: TravelPerk's dashboard and advanced reporting reveal key insights on your business travel spend. Identify areas of cost-effective savings for your company, while breaking down expenses based on booking type and individual employee.
Carbon offsetting with GreenPerk: Make sustainable travel a reality, while reducing your company's carbon footprint with GreenPerk.
Integration with 3rd party software: With TravelPerk's marketplace of 3rd party software, it's easy to onboard your existing integrations for all members of your team.
Events management: Bring together remote or hybrid teams for company kick-offs, corporate events, and incentive trips with the TravelPerk events management solution.
Start saving money on business travel for your company today!
2. World Go
With over 50 years of experience, World Go utilizes modern technology and industry relationships to assist with servicing clients' business travel arrangements.
World Go touts the following features for travel managers seeking business travel solutions for their company:
Travel policy creation: World Go works with clients to produce comprehensive travel policies, customized to their business travel needs.
Rewards points management: Helping travel managers maximize rewards points for redemption and upgrade purposes.
24/7 emergency assistance: When employees find themselves in need of assistance while abroad, World Go's local team is available 24/7.
On Demand Reporting: Offering clients greater control over their travel spend with real-time reporting and analyses.
Negotiated corporate rates: Arranges volume discounts on hotels, car rentals, and airlines.
Despite offering companies a wide range of corporate travel services, World Go experiences a few shortcomings, primarily in the fact it uses Concur. Optimal for medium to large sized businesses, users have reported difficulty interacting with the platform's clunky interface. World Go also offers limited integrations with 3rd party tools and apps.
With TravelPerk, every member of your team has access to the 3rd party tools they need to accomplish tasks and get the job done. Our marketplace features a diverse offering of integrations to meet the needs of your company.
3. Inspired Travel Group
Since 2009, Inspired Travel Group has been servicing corporate business travel clients.
Offering support and technology to assist with the travel needs of every employee, Inspired Travel Group features the following elements:
Carbon offsetting: Travel reporting provides travel managers the insight to offset carbon accumulated while en route to their destination.
Personalized client portals: Itineraries are manageable on the go from your smartphone using Inspired Travel Group's portal technology.
Exclusive rewards programme: Companies have access to unique rewards with every dollar spent on travel. Plus, travel managers have access to Inspired Travel Group's own rewards program.
Transparent change fee: A flat fee covers all travel changes and cancellations that need to be made to your itinerary.
Executive travel management: Assistance with managing leisure travel needs of business executives for your company.
Although Inspired Travel Group touts a variety of travel offerings, it lacks integrations with 3rd party tools, making it impossible to onboard your existing software or platforms. The company also lacks a devoted traveler tracker, putting employee's safety potentially at risk when traveling abroad.
TravelPerk's TravelCare gives employees peace of mind when traveling, knowing their safety is top priority. Travel managers gain a bird's eye view of potential risks and trip disruptions with our traveler map, providing you full visibility of employee locations.
4. HB Travel
For over 30 years, HB Travel has been servicing corporate travel clientele. A medium-sized independent agency, HB Travel holds partnerships with Ensemble Travel Group and the Association of Canadian Travel Agencies (ACTA).
Below are a few more points of interest in working with HB Travel:
Preferred corporate travel offerings: For travel managers seeking preferred rate programs for hotels, vacations, and car rentals.
Travel insurance assistance: Certified insurance council agents are on staff to assist in booking corporate travel insurance for your employees.
HB Vacations Hub: Offering clients destination wedding packages, luxury villa bookings and cruise packages.
Group bookings: Providing corporate solutions for travel managers looking to book group travel for meetings and conferences.
Rewards booking assistance: For corporate travelers and travel managers looking to get the most out of their company's travel rewards plan.
Despite its corporate travel offerings, HB Travel is primarily a traditional TMC with its dated online booking tool. It offers its clients limited inventory, and lacks services like flexible, refundable bookings, and a dedicated tracking system for employees on the road.
TravelPerk offers an extensive inventory for all your flight, hotel, and transport needs. Not to mention, our sleek, easy-to-use interface helps you book, report, and analyse your company's business travel spend in one central location. Experience a world of possibilities for your business travel management with TravelPerk. See our all-in-one platform in action by requesting a live, personalized demo today!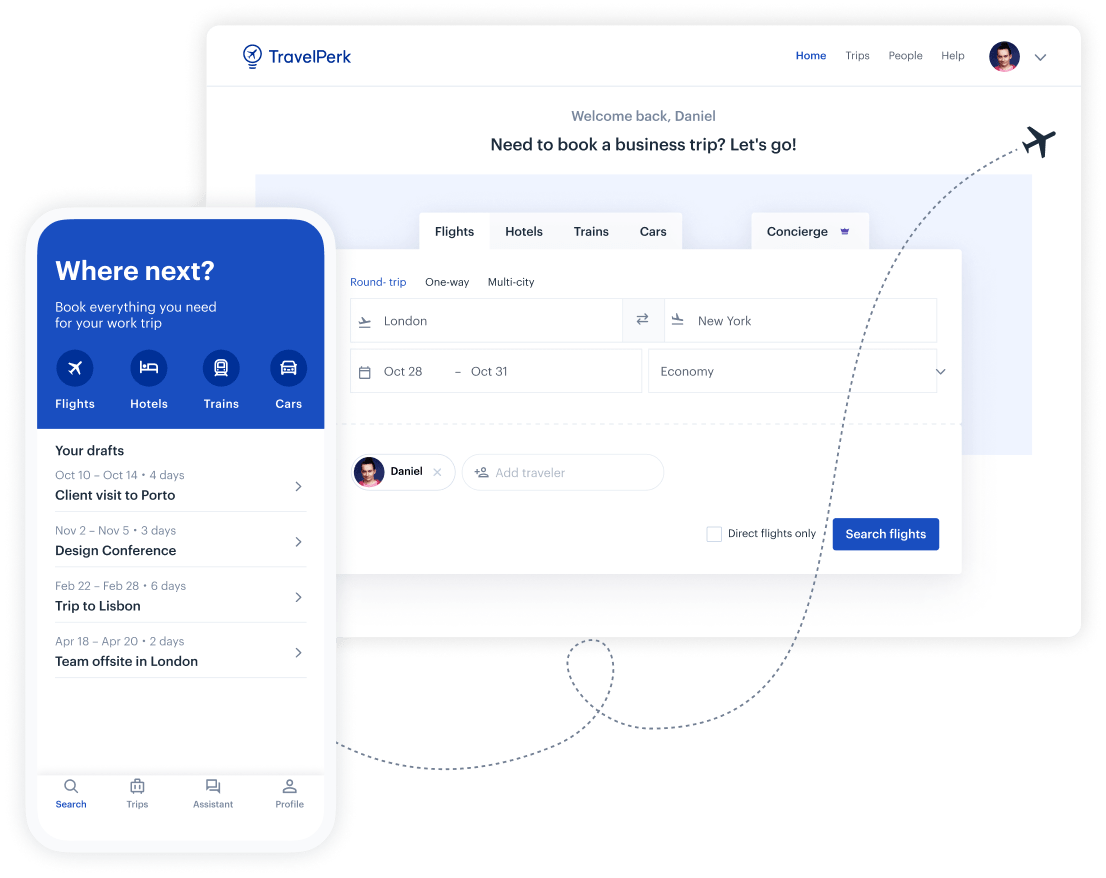 Make business travel simpler. Forever.
See our platform in action. Trusted by thousands of companies worldwide, TravelPerk makes business travel simpler to manage with more flexibility, full control of spending with easy reporting, and options to offset your carbon footprint.

Find hundreds of resources on all things business travel, from tips on traveling more sustainably, to advice on setting up a business travel policy, and managing your expenses. Our latest e-books and blog posts have you covered.

Never miss another update. Stay in touch with us on social for the latest product releases, upcoming events, and articles fresh off the press.