"Expect the unexpected" - a phrase you never want to hear while traveling for business, let alone pleasure. If you're a travel manager, you know the importance of providing support to your employees while on business trips. Despite best-laid plans, flight cancellations, and medical emergencies can occur at any time.
With the corporate travel insurance market expected to reach $10 million by 2028, diversified insurance options will become more available. But, researching insurance can feel like finding a needle in a haystack. How do you even begin to choose from such an overwhelming number of insurance providers? How do you decide the best business travel insurance for your company?
Knowing what to look for in a travel insurance policy is key to protecting your employees, regardless of domestic travel within Canada, or international travel.
What to look for in a business travel insurance scheme
Providing support and protection to your employees against travel-related incidents starts with a review of your current travel policy. Does it already include business travel insurance? If so, what inclusions are applicable to coverage, and for how much? Are there any exclusions?
Ahead of peak travel season, send reminders to employees of your company's reimbursement process regarding trip interruption insurance and trip cancellation insurance. Communicating the insurance claim process, can reassure your employees their health and well-being is top of mind. Include a list of faqs with answers, to prepare employees for every stage of their trip and the claims process:
What sort of safety information do employees need to provide when submitting a claim?
What should they do in the event of an emergency while away on business?
Who is their primary emergency contact at the company?
Is there a maximum amount they can claim on their company credit card?
Who is the final approver?
Do you have a preferred method of payment for reimbursing your employees?
If your business doesn't have a travel insurance policy in place, here are a few features to keep in mind when researching travel insurance coverage in Canada.
Extra healthcare and security coverage
As select destinations carry hefty medical treatment fees, double check your insurance covers extra health insurance for things like pre-trip vaccinations. Also, consider purchasing insurance that offers private security benefits, especially if your employee's destination poses a high risk to their safety and security.
Optional add-ons like virtual physician advice, and emergency repatriation assistance, are equally valuable assets for your employees in a pinch.
Trip cancellation/interruption
A changed, or canceled flight puts a damper on your employee's travel plans. Save your employees the stress of weather delays, strike action, or aircraft technical failures, with trip cancellation and interruption coverage.
Unexpected itinerary changes may occur before takeoff, as well. Perhaps your employee's meeting runs long, or they encounter a roadside emergency on the way to the airport. Reimbursement and coverage of flights and accommodation are pertinent, regardless of the insurance plan you choose.
Lost or stolen luggage
There's nothing worse than the feeling of panic that sets in, upon realizing your work equipment or personal belongings are lost or stolen.
A business travel insurance plan offering financial compensation, gives employees peace of mind they won't be out of pocket when replacing work equipment or personal belongings.
5 best business travel insurances in Canada
Save time and resources by reviewing our suggestions below for the five best business travel insurances in Canada.
Manulife - CoverMe Travel Insurance
Manulife CoverMe travel insurance offers single-trip or multi-trip coverage in the event your employee incurs emergency medical expenses. The scheme provides up to $10 million in coverage for assistance services such as ambulance transport, and hospitalization. It also provides pandemic insurance for Canadians traveling abroad, as well as trip interruption benefits in the event of quarantine.
Their all-inclusive plans provide emergency medical coverage, plus trip cancellation, baggage damage, delays, as well as flights and travel accidents.
Allianz - Medical + Cancellation Plan
Allianz Medical + Cancellation Plan includes meals and accommodation up to a maximum of $5,000. It provides coverage for delays beyond your employee's departure date, or if they are receiving medical attention.
All Allianz insurance plans include a 10-day "Free Look" period. Not satisfied with your insurance policy? Cancel within 10 days from the date of your purchase for a full refund, so long as employees have not already left on a trip or made a claim.
Blue Cross - Travel Assistance
Blue Cross Travel Assistance lets you top up your existing group travel coverage with trip cancellation. Their baggage loss protection insures your employees for up to $500 in the event of a luggage delay lasting more than 12 hours.
Whether you're traveling once a year, or are a frequent flier, Blue Cross offers a variety of insurance products to meet your travel needs. Pre-existing medical conditions may also be covered under a Blue Cross travel insurance plan.
Chubb - Global Business Travel Insurance
Insurance company Chubb, offers business travel insurance on a stand-alone basis, or as scalable solutions for businesses and corporations of all sizes. Their WorldSafe Business Travel Security Medical Insurance provides employees medical evacuation and security evacuation of up to $100,000 each. Their trip duration coverage is also good for up to 90 consecutive days, or 180 days within a 12-month period.
AIG Canada - Business Travel Accident (BTA) Insurance
AIG provides business travelers added insurance benefits with their Business Travel Accident (BTA) Insurance. Providing a full range of insurance coverage, and emergency assistance, AIG's BTA Insurance offers assistance in the event of accidental death and/or dismemberment.
Enhance your business travel insurance with FlexiPerk
TravelPerk's all-in-one platform streamlines your booking, managing, and reporting capabilities for business travel. Our FlexiPerk solution enhances your existing business travel insurance by offering ample trip flexibility and cost-effective savings in the midst of last-minute trip cancellations. FlexiPerk lets you cancel your trip up to two hours before, with 80% of your money refunded. An initial 10% fee charged to each of your bookings, means flights, accommodation, and car rentals are all eligible for the 80% refund.
Our integrated duty of care solution keeps your employees safe, and your business protected. Offering real-time alerts, travel advisories, and emergency response management, we help you keep your employees safe and secure when dealing with the unexpected of business travel.
Discover why thousands of business travelers worldwide trust TravelPerk's all-in-one platform -request your live, personalized demo today!
See how TravelPerk makes business travel stress free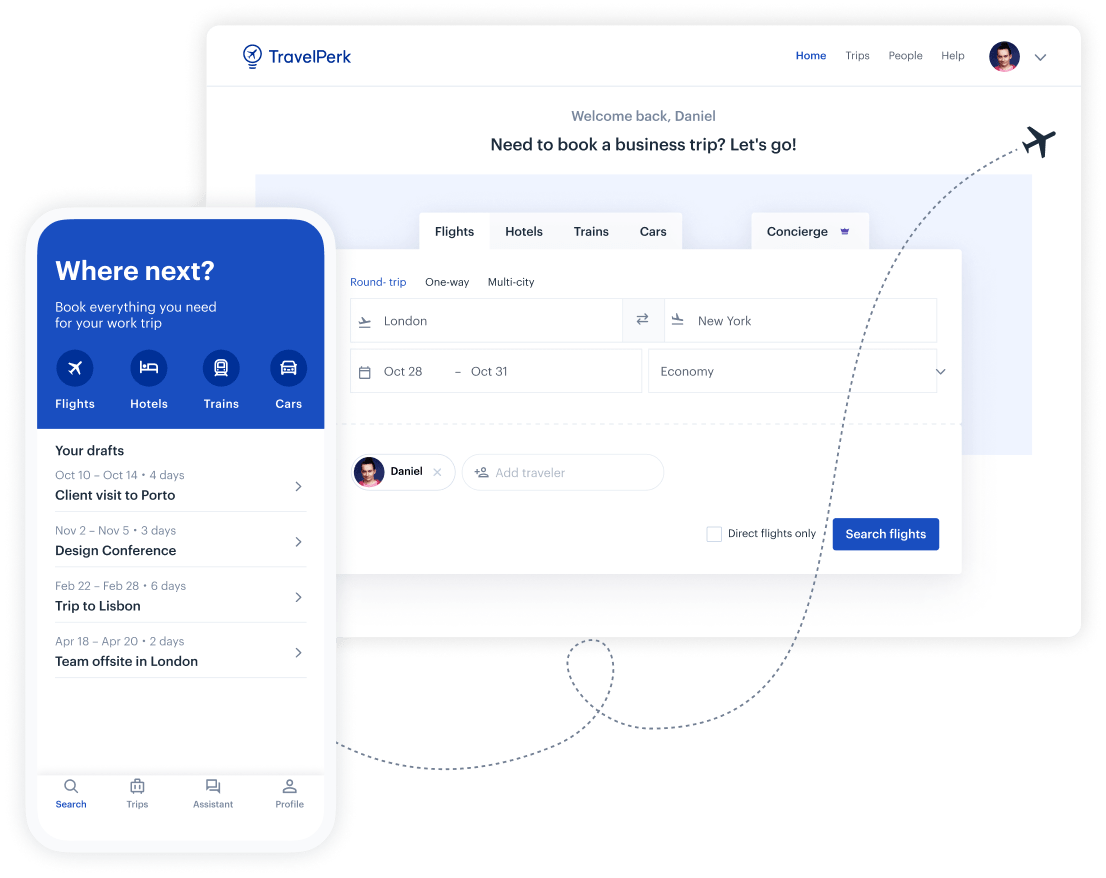 Make business travel simpler. Forever.
See our platform in action. Trusted by thousands of companies worldwide, TravelPerk makes business travel simpler to manage with more flexibility, full control of spending with easy reporting, and options to offset your carbon footprint.

Find hundreds of resources on all things business travel, from tips on traveling more sustainably, to advice on setting up a business travel policy, and managing your expenses. Our latest e-books and blog posts have you covered.

Never miss another update. Stay in touch with us on social for the latest product releases, upcoming events, and articles fresh off the press.