If you're a Montreal-based travel manager, you'll know how difficult it can be to manage all aspects of your company's business trips. It's a full-time job addressing potential challenges of the travel industry while doing what's best for the good of both the company and its workers.
A travel management company (TMC) based in Montreal might seem like the ideal solution - working with a travel agent to assist in the operational needs of your company's travel planning and finances. However, as we'll explore in today's article, a local travel management company with physical offices might not be the most suitable option to help manage your company's business travel needs.
Today we're going to be discussing the four best travel management companies for businesses based in Montreal, Canada to help you manage all aspects of your company's business trips. A travel management solution that helps your employees travel better, while lending a hand on the back end of operations, is a win for all parties involved.
Features to look for when choosing a travel management company
Many travel management companies for businesses in Montreal offer travel technology to assist with booking processes or have dedicated agents to help you book your trips.
Choosing a travel management company that doesn't offer all of the features you need leaves you back at square one with all of the same limitations you faced in the past.
Below, we detail the key features you need to look out for when comparing travel management companies that will help you save money, protect your business travellers, and streamline your entire travel management program.
Extensive travel inventories: It's essential that the travel management company you choose gives you access to comprehensive inventories of transportation and accommodation, as well as enabling you to compare prices, dates, and offers that best suit your travel needs.
Built-in approval workflows: Embedding your travel approval workflows and travel policy into your travel management company's platform helps you increase policy compliance rates and eliminates the need to manage travel and expenses via long email threads.
Centralized invoice collection: Some travel management companies don't act as a single vendor meaning that you'll still need to collect and collate invoices from various companies. Travel management companies that offer a system that consolidates all of your monthly invoices into one single vendor invoice can save you a lot of time and hassle.
Flexible booking options: Flexible booking options enable businesses to accommodate any last-minute changes to trip dates or cancellations after booking for free or at a reasonable cost.
24/7 Customer support: Unexpected events are inevitable in business travel, and you need to know that your travel management company will be there to help you should things go wrong. A prompt, easy-to-access customer support function is essential to help your travellers manage any issues that arise.
Reporting capabilities: The ability to access travel data that is broken down by individual business travellers, mode of transportation, booking type, and cancellations, helps you carry out significant spend optimization activities.
For the best in business travel management in Montreal, try these top corporate travel agencies:
1. TravelPerk
The ideal all-in-one platform for travel managers everywhere, TravelPerk features a world-class inventory of airfares, hotels, and car rentals for all your accommodation and transportation needs, including group travel. TravelPerk's high ratings on software review platforms such as Capterra and G2, showcase why satisfied travel managers enjoy the platform and its beneficial features, alongside the assistance of our support team.
Here are a few of the benefits when you choose TravelPerk:
Flexible bookings with FlexiPerk means flexible travel bookings for you and your employees. Book direct travel or stopover flights at any rate whenever you want and cancel when you need to. Cancel up to two hours before travel, and receive a minimum of an 80% refund in TravelPerk credit to use towards future bookings.
Featuring world-class risk management solutions, TravelCare helps you make informed decisions when booking travel, alerting you to restrictions or guidelines set forth by your employee's destination country.
24/7 corporate travel assistance is also available for employees who need real-time support from real humans. Our team's target 15-second response time takes the stress out of travel so your employees can get back to their trip.
3rd party software integrations make it easy to onboard your existing software while enhancing how you manage business travel for your company and its employees.
Real-time travel management reporting and data monitoring, lets you make informed travel decisions and configure reports to suit your data tracking needs.
TravelPerk's centralized invoicing system leads to a more streamlined approach when collecting receipts and paperwork from employees on the road.
TravelPerks' events management offerings provide you and your team a complete solution for all your event planning needs.
See how TravelPerk makes business travel stress free
2. Groupe Voyages VP
Resulting from the merger of two of the largest travel agencies in Quebec, Groupe Voyages VP specializes in business travel, leisure travel and luxury travel.
Group Voyages VP capabilities' include:
Report generating capabilities for travel managers.
Break-down analyses of hotels by city, flight activities, and frequent travelers.
Corporate event organization and management services.
Extraordinary travel offerings, featuring a wide array of destinations and trip themes.
Quality control standard and monitoring company travel policy compliance.
Groupe Voyages VP also uses Concur, one of the oldest travel and expense management softwares available today. While it offers some perks, including integrations with TripIt Pro, some users struggle with its interface. Concur also lacks a complete flight and hotel inventory as well as options to book with low-cost carriers.
TravelPerk's all-in-one platform is easy to use, offering seamless travel management in contrast to Concur's outdated offerings. With TravelPerk, you also receive access to a massive travel inventory, making it easy to book flights, hotels and car rentals with your chosen carrier at your allocated budget.
3. Voyages International Corporate Travel
Since 1985, Voyages International Corporate Travel (ICT) and its travel advisors have been servicing their clients in booking corporate travel, leisure travel and sports travel. Voyages ICT offers transportation and accommodation bookings for corporate travelers, as well as exclusive packages for family getaways, cruises, all-inclusive vacations, and honeymoons.
Voyages ICT primary features include:
Company assistance setting up corporate travel programs.
Event management services.
Data reporting services.
Travel Analysis.
Reconciliation and cost tracking.
​​While reputable, Voyages ICT lacks the technology and automation to make business travel management easier. The website lacks a separate traveler interface, allowing for travel managers and employees to book their own travel arrangements. Their limited inventory also makes it difficult to book travel based around your schedule and business needs.
With TravelPerk, you get everything you need to manage your business travel in one convenient location with our online booking tool. Its simple, yet intuitive design means fluid navigation to book, manage, and report on your employees' trips and travel spend.
4. Voyage Régence
Offering corporate travel services as well as packaged tours and tailor-made trips, Voyage Régence has over 40 years of experience servicing its clients' travel needs.
The company's primary features include:
Analysis of travel budgets.
Travel management recommendations.
24/7 emergency service.
Electronic ticketing.
Access to bookings via Galileo Travel Software.
The Voyage Régence website leaves something to be desired, as it is missing a lot of crucial information for business travelers, such as protocols related to risk management and traveler safety. The company also lacks the proper technology to service clients, making this brick-and-mortar operation not the most suitable for international clients.
TravelPerk offers the best corporate travel and risk management solution for travel managers wanting to keep their employees safe. Our platform offers all of the latest information in one convenient location, making it easy for you to make informed decisions when booking travel, as well as keeping your employees informed about travel directives or advisories in their destination country.

See how TravelPerk can help make your business travel management that much easier! Schedule a live, personalized demo today to get started.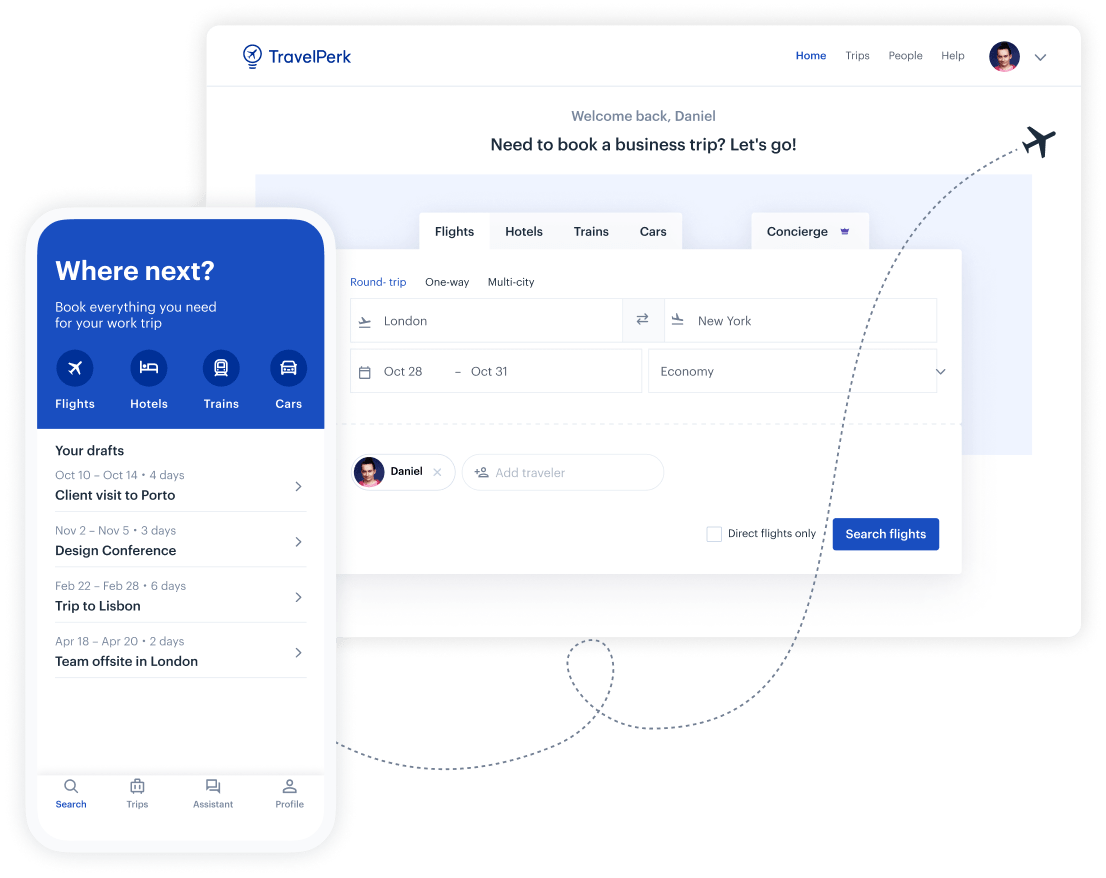 Make business travel simpler. Forever.
See our platform in action. Trusted by thousands of companies worldwide, TravelPerk makes business travel simpler to manage with more flexibility, full control of spending with easy reporting, and options to offset your carbon footprint.

Find hundreds of resources on all things business travel, from tips on traveling more sustainably, to advice on setting up a business travel policy, and managing your expenses. Our latest e-books and blog posts have you covered.

Never miss another update. Stay in touch with us on social for the latest product releases, upcoming events, and articles fresh off the press.