Travel plays a huge role in the carbon footprint of any business. Still, until now, sustainability has not been a massive consideration when planning business trips. That's why for Earth Day, we brought together a panel of industry leaders to discuss the significance of sustainability in business travel. A big thank you to Carolyn Booth, Senior Account Manager at Trainline; Edwin Zijderveld, Account Manager for atmosfair; and Angelika Tarasiuk, Global Sales Team Manager at TravelPerk for joining us. You can watch the entire webinar here or read on for our main takeaways.

The time to act on sustainability is now
The COVID-19 pandemic made viscerally clear that we are not prepared to handle a crisis on a global scale. With the Sustainable Development Goals (SDGs) deadline only nine years away, the human impact of failing to meet these targets is staggering. Calls for companies to be more environmentally friendly are growing, and organizations trying to become carbon neutral are reaping the benefits in terms of customer loyalty and brand awareness.

So, what does all that mean?
Traveling responsibly can equal savings
To make green business travel a reality, companies need to evaluate their current impact and tackle it head-on. There will never be a better time to switch to more environmentally responsible business travel than as we come out of the COVID-19 travel restrictions. Whether it's meeting with clients or bringing together disparate teams, organizations are keen to get employees out of virtual meetings and back on the road.

However, while the pandemic has highlighted the importance of in-person interaction over video conferencing, budgets will naturally be tighter. Plus, the ROI for corporate travel will be under more scrutiny. Measuring the sustainability of your business travel is another fantastic metric in which you can gauge the viability of that next trip and see if there are savings to be made.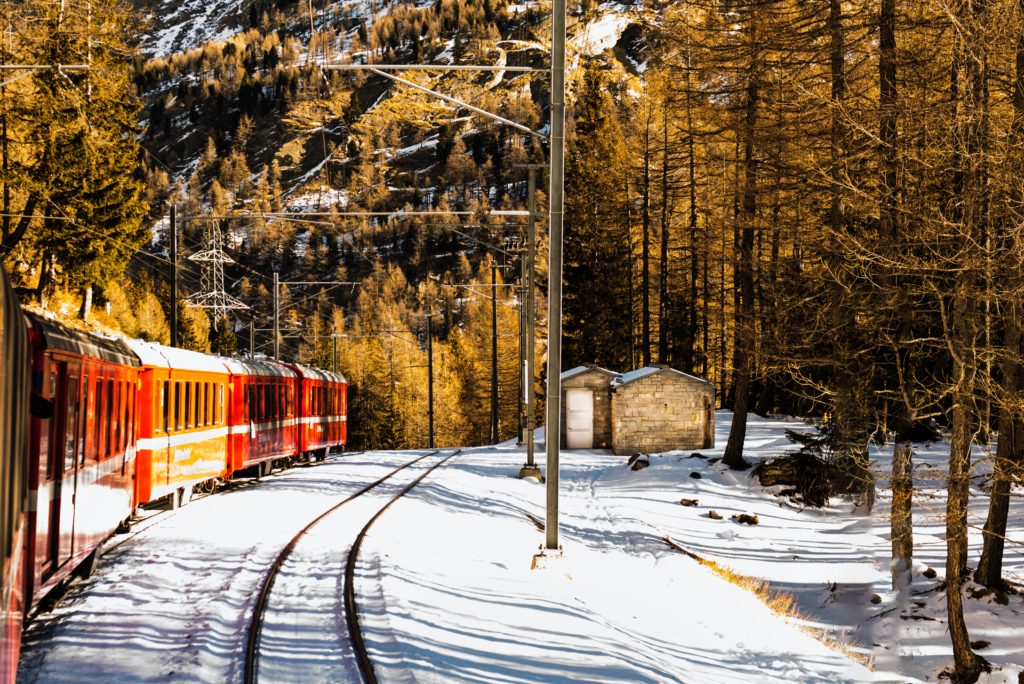 Failure to act will affect talent acquisition
Shortly, if your organization fails to demonstrate a commitment to tackling your carbon footprint, you could find yourselves unable to attract quality candidates. Climate change is a big concern for younger generations who see everyone as vital stakeholders in this issue. Studies have shown that a company's attitude towards their carbon emissions can either be a big draw or a big turn-off for millennial and Gen Z applicants. For younger employees, the knowledge that their employer cares about the planet factors into job satisfaction and, ultimately, loyalty. Shaping an eco-friendly company culture, including sustainable business travel, could save you an HR headache in the future.
Sustainability is fast becoming government policy
Climate change will hugely impact both societies and economies, and many governments are taking action now. The travel industry is addressed directly in the SDGs, and in Europe, countries are implementing laws to instigate change. For example, as part of a 7 billion euro bailout agreement, Air France agreed they could not operate short-haul services where a TGV rail service was available. Similar legislation in Austria saw airlines agree to stop operating domestic flights under three hours in duration.

As more initiatives to change the travel industry become law, your team may find their hand forced on certain unsustainable travel practices. So why not create a culture within your organization that celebrates these changes as the positive leap forward they are!
So what can companies do to implement a change towards traveling sustainably?

The potential effects of climate change are daunting, but thankfully science is finding some exciting solutions to our greenhouse gas emissions. For example, aviation engineers are currently working on biofuels to bring air travel closer to net-zero co2 emissions. But while we wait for these developments, finding the best green travel solutions for your company is the key to making the shift towards sustainability that we need to see. So what steps can your business take to reduce your carbon footprint?
1. Streamline carbon emissions reporting
The percentage that corporate travel plays into your co2 emissions does vary depending on the nature of your business. Manufacturers might find that corporate travel constitutes 10-20% of their carbon footprint. Meanwhile, an international consultancy might find that figure closer to 90%.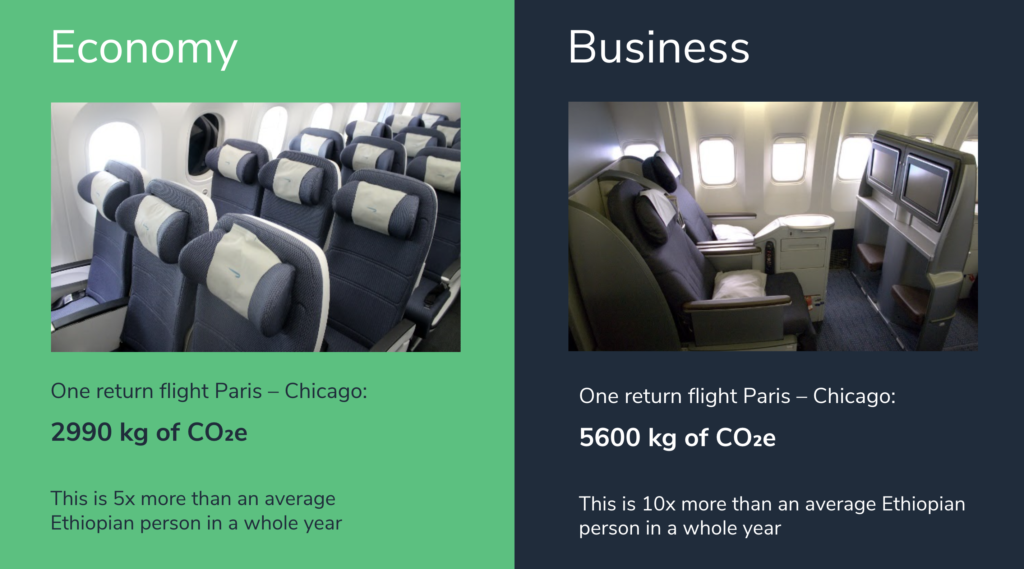 Regardless of the percentage, as we have seen, there are many benefits to reducing this number, but knowing where to start can be difficult. Carbon calculators can tell us which aircraft has the best fuel efficiency, but as a travel manager, it can be hard to relay this to your team when you are already juggling a busy workload. 

With TravelPerk, organizations can simplify their travel management by seamlessly integrating their corporate travel policy into the booking process. Our online platform allows employees a degree of autonomy over their travel plans while maintaining high levels of compliance. Integrated into this system is GreenPerk. GreenPerk gives employees access to carbon emission statistics, empowering them to make greener decisions when selecting different travel options.
2. Switch to greener transport options
According to studies by the European Environment Agency, travel by rail emits less than 1/20th of air travel emissions and 1/7th of those from driving. Making a switch from short flights to rail journeys could make a massive difference to your company's carbon footprint.

Corporate travelers are increasingly conscious of the environmental impact of business travel and want to make the most of their time away. Traveling by rail can save time, plus the environment onboard is much more conducive to making a dent in those emails!
3. Opt for socially responsible carbon offsetting
As a business, you will still need to travel, and there will be occasions when your corporate travelers need to take a flight. But there are plenty of inspiring nonprofit initiatives that help companies to carbon offset and have a positive impact. Whether it's reforestation or renewable energy projects, you can pick a cause to support that speaks to your organization and your audience.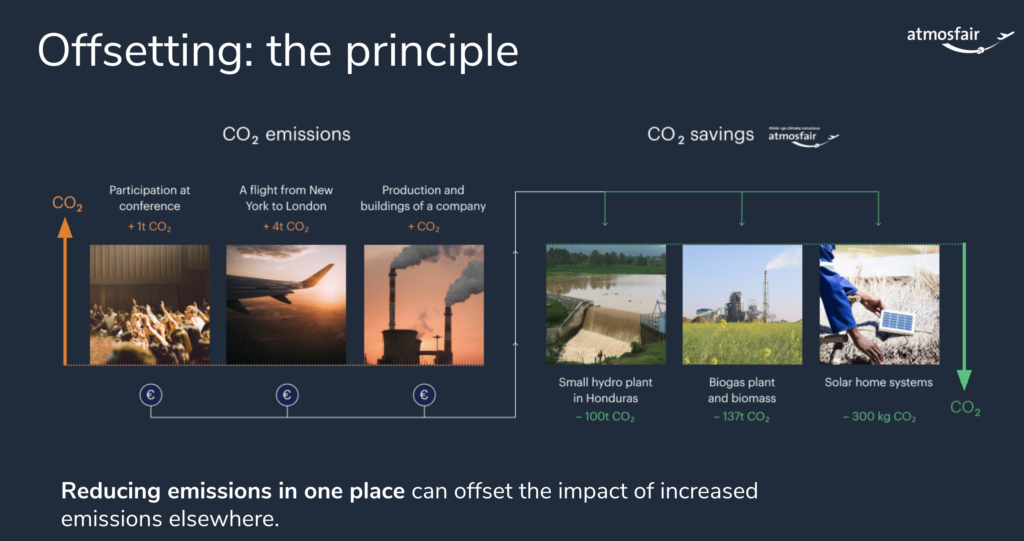 4. Craft a company culture with sustainability at its core
Sustainable travel encompasses a range of factors, including more minor gestures like:
Choosing e-tickets.
Changing towels less frequently in hotel rooms.
Avoid using miniature hotel toiletries and opt for filling reusable plastic bottles with your favorite products instead.
Swapping single-use plastics, like plastic bags and water bottles for reusable products.
Continue to recycle and reuse while on the road.
Including allowances for electric vehicles in travel policies (feel free to use our sample company travel policy for employees to improve your own policy).
Supporting local communities and local economies by buying 0 km produce.
Opt for eco-hotels where possible but be wary of greenwashing.
While these might seem obvious, especially to younger employees, including these responsible travel tips in your policy demonstrates awareness and a willingness to tackle the issue. Plus, combining this attention to detail with tackling more significant contributions like air travel shows that you are serious about shrinking your environmental impact. Adding an incentive can offer a meaningful perk to conscientious employees. Plus, offering a reward like a small celebration will make the switch to more responsible travelers more palatable to any reluctant team members.
The key to sustainability is traveling smarter
After the upheaval of 2020, we can make more environmentally responsible travel decisions. Weighing up the ROI versus the carbon footprint of our business trips is a task travel managers need to embrace for their organizations' long-term development. Not only do these decisions serve to protect the future of our planet, but we can also be setting our businesses up for future success. As we have seen, sustainability isn't necessarily about traveling less it's about traveling smarter to reduce the negative impacts. Using an integrated system like GreenPerk to track and report travel emissions is a launchpad to crafting a more sustainable future. Take the first step and speak to the team at TravelPerk today to see how your business can benefit from making greener travel choices.
Start offsetting your business travel carbon emission today!
Did you find this article useful?
If you did, please follow us on our social media accounts on LinkedIn or Instagram. Please share the article with your friends or colleagues!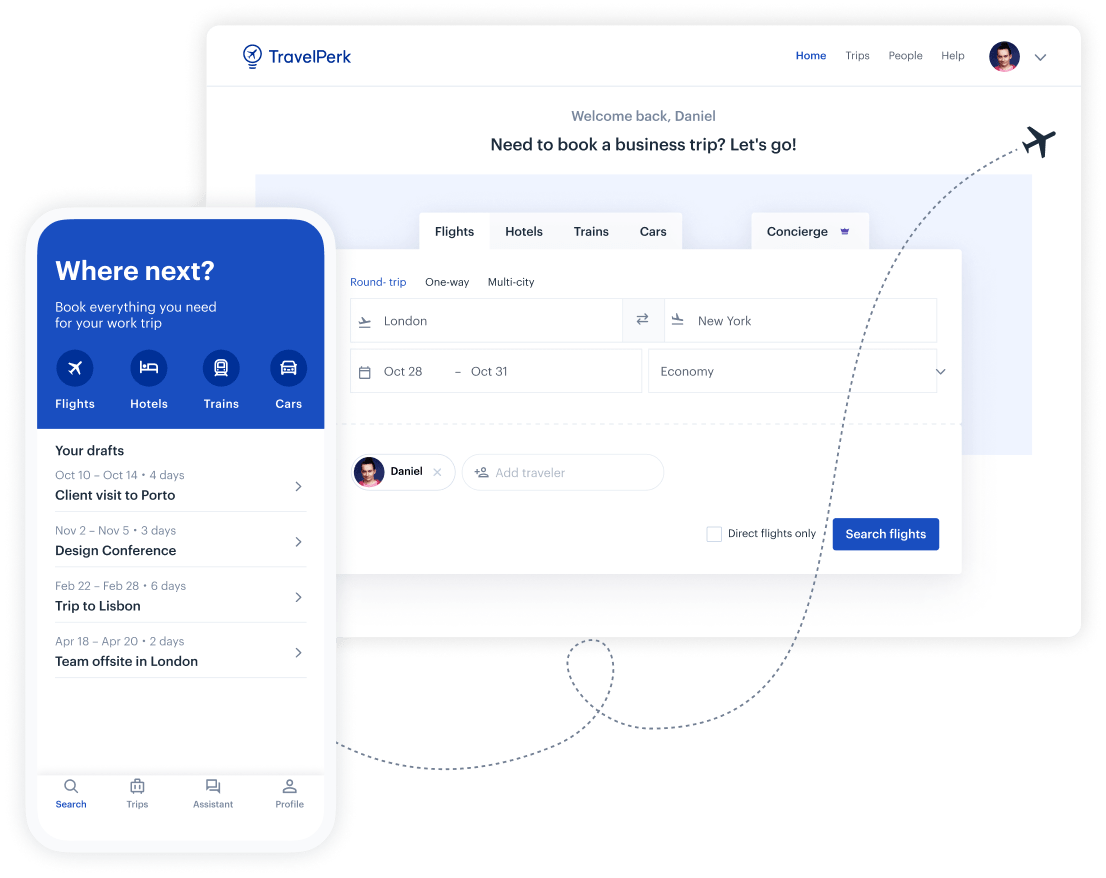 Make business travel simpler. Forever.
See our platform in action. Trusted by thousands of companies worldwide, TravelPerk makes business travel simpler to manage with more flexibility, full control of spending with easy reporting, and options to offset your carbon footprint.

Find hundreds of resources on all things business travel, from tips on traveling more sustainably, to advice on setting up a business travel policy, and managing your expenses. Our latest e-books and blog posts have you covered.

Never miss another update. Stay in touch with us on social for the latest product releases, upcoming events, and articles fresh off the press.