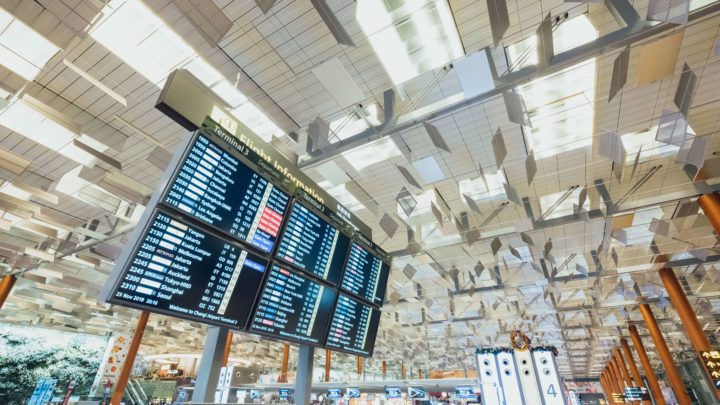 After eighteen months of being grounded, travelers are keen to return to the skies. As demand reaches pre-pandemic numbers, passengers are experiencing a wave of delayed and canceled flights. So why are more flights being canceled, and what rights do fliers have to compensation?
Why do airlines cancel flights?
As a rule, airlines tend to have a reasonably broad definition for what counts as a cancellation. As well as covering circumstances where a flight is canceled ahead of the departure date, many airlines also include cancellation policies for instances where passengers experience extreme delays. So what are the leading causes for these delays and cancellations?
Severe weather or natural disasters
From high winds to volcanic ash clouds, various weather conditions and natural phenomena can cause airlines to cancel their flights. On the whole, these result in minor delays, but in extreme incidents, as we saw in Iceland in 2010 or the Canary Islands this summer, there can be considerable disruptions, including airport closures and significant schedule changes.
Tech issues
Whether it's a mechanical issue with a particular plane or a substantial systems error, there can be technological reasons why a flight's status needs to change. In October this year, SkyWest was forced to cancel over 1000 flights and delay a further 900 after their IT systems failed, creating huge operational issues.
Overbooking
Like hotels, airlines use overbooking to keep their capacity high and reduce the financial drain of empty seats. Based on the assumption that several travelers will not make their flight, airlines oversell their available seats to avoid them going unused on the day.

Experts estimate that airlines sell around 150 fares for every 100 seats on their planes. When airlines overbook, and only a few passengers cancel or are no show, they need to bump flyers to alternative flights. When airlines cancel passengers' flights due to overbooking, they are usually entitled to a greater level of compensation.

Check out our guide to airline overbooking including our handy tips to avoid being bumped from your next flight!


Staff shortages
From union strikes to bad weather, various issues can cause airlines to face staff shortages. Over the Halloween weekend, American Airlines were forced to ground 1500 planes when high winds closed runways in Dallas and left staff stranded and out of sync with their designated flight schedules.

The impact of the coronavirus pandemic is also affecting airline staffing. After the stresses of COVID-19, the travel industry has seen many employees opt for different career paths. Plus, President Biden's executive order that government personnel, including airline employees, must be vaccinated has added to concerns of an imminent staff shortage.

While massive vaccination efforts across the United States and abroad have helped, still, the Allied Pilots Association (APA) has asked the President to honor exemptions for those unable to take the vaccine for medical purposes.
COVID-19
As the possibility of air travel returns, we will have to keep in mind that countries may need to enforce restrictions on travel again. Governments will still guide airlines, and with differing vaccination rates and new variants, we may not be out of the woods just yet.

In attempts to adapt to the new normal, some airlines are sticking with the more flexible policies they enacted during the pandemic. However, not all airlines are keeping the generous cancellation terms we have seen of late. When booking their flights, passengers must read individual airlines' terms and conditions thoroughly to avoid surprises.
What are passengers' rights with flight delays and cancellations?
While consumer rights vary between regions, for the most part, airlines will offer customers a full refund when their flight is canceled. As we have already seen, most airlines include significant delays within their policies for cancellations.

However, the terms of this can be a mixed bag, with some airlines outlining clear time limits and others being decidedly vague as to what counts as an unreasonable delay. So what outcomes can travelers expect depending on their location?
Domestic flights within the United States
Surprisingly there are no federal laws in place to protect consumers in the case of a flight cancellation. A slight exception applies when passengers are bumped from overbooked flights or delayed on the tarmac. But, typically, customers are at the mercy of general contract law and the individual airline's T&C's.

Airlines in the U.S go out of their way to inform customers that they do not guarantee flight schedules and are not responsible for financial losses resulting from delays or cancellations. However, even in cases beyond their control, the universal response from u.s airlines is to issue a full refund for the remaining value of the ticket or to accommodate travelers on a later flight.

These refunds can be issued either as cash or credit, depending on the original form of payment. However, travelers should be wary. Airlines have been increasingly persuading customers to accept vouchers when they are entitled to a cash refund. This credit is usually only valid for a year, so customers should push for cash wherever possible.

A few airlines will go beyond their essential duties and provide a higher level of customer service to canceled passengers. Jet Blue, for example, will offer $50 compensation to clients who face a cancellation within 4 hours of departure when they cannot provide a new flight within an hour of their scheduled slot. Delta offers customers whose flights are canceled between 10 pm and 6 am a complimentary overnight stay at a nearby hotel. When no rooms are available, Delta gives passengers a $100 voucher towards future travel instead.

When handling cancelations customarily airlines will be cooperative, so if you feel your case is deserving of extra compensation, don't be afraid to ask, especially if you are a loyalty club member.

In cases where you are bumped from a flight at the last minute, check the terms of your booking. Often in this instance, more extensive compensation is typically outlined in the contract of carriage. Depending on the nature of your delay, you could be entitled to free meals or vouchers to put towards a future flight.
International flights outside of the United States and Canada
Under European Union legislature, travelers have far more protection than that offered by U.S airlines. Travelers flying within the EU, on flights leaving any EU or EEA airport, or flying to Europe on an airline based within the EU can avail of the following compensation if they face delays or cancellations.
Customers can claim a full refund for the cost of their airfare or a seat on the airline's next flight.
If the airline cannot provide a suitable flight, the consumer is entitled to alternative transportation, including flying with a competitor. If this is more expensive than the original ticket, the airline must cover the fare difference. If you cannot find a suitable solution, you have the right to a full refund. In the case of multi-leg journeys, you are entitled to a free flight back to your city of origin if you prefer to curtail your trip after your connecting flight is canceled.
When delayed for 3 hours or more, travelers can apply for compensation ranging between 200 to 600 euros depending on the length of their flight. The longer the journey to their final destination, the more passengers receive for their inconvenience. To save themselves from the stress of filling out tons of legal forms, passengers can use AirHelp or ClaimCompass to claim compensation from the airline.
Airline passengers can also be reimbursed if their flight's arrival time is delayed by over two hours within two weeks of their scheduled departure date.
As compensation is already fairly generous, European laws tend to be a little vague about compensating customers for meals or accommodation expenses accrued due to a delay or cancellation. Usually, the understanding is that this comes under the financial compensation offered, but some airlines will provide meal vouchers to spend in the airport as a gesture of goodwill. It is worth noting that flights canceled due to COVID-19 are not currently eligible for extra compensation, but consumers still maintain their rights to a full refund.


What can you do if your flight gets canceled?
While they are rare, flight cancellations happen, and sadly there is no one-size-fits-all solution. However, there are simple steps you can take to find a resolution as quickly and painlessly as possible!
Act swiftly
When informing their customers of a cancellation, many airlines will suggest alternative flights straight off the bat. If you are happy with one of these options, you can usually confirm these changes through the airline's app or online portal. If you need to pursue other solutions, you should try and be in touch with the airline as soon as you receive a notification.

The phone lines will likely be busy, so jump on any online chat options while calling customer support. Using social media to contact the airline should always be a last resort. These channels rarely have the systems in place to help with flight changes, and often, they will simply pass on the phone number for customer services.
Ask for support
Using an online booking tool or a travel agency like TravelPerk to make your arrangements often removes the stress of flight changes, especially on complicated itineraries. Agencies or tools with comprehensive support will help rebook your flights but beware that not all of these services are created equal.

Make sure that you will be able to contact your OBT or travel agent 24 hours a day. Unfortunately, most will only offer customer support within usual office hours and provide an emergency line outside of these times.

What this means as a customer is you could be faced trying to reach one on-duty manager who could be putting out a myriad of fires or fast asleep when you call. Without thorough support, you could end up footing a substantial bill if you need to find a hotel room and alter the rest of your travel plans.

For travelers who need their arrangements to be more adaptable, services like FlexiPerk can be a real game-changer. Part of TravelPerk's comprehensive business travel management solution, FlexiPerk users can withdraw from their travel arrangements up to two hours before departure with a guaranteed refund of at least 80%, no questions asked. Plus, with 24/7 support, travelers can speak to a team of human customer care agents 365 days a year.
Be prepared like a pro
Ever wondered why travel agents seem to get further with customer support? It's because not only do they know their client's rights, but they come prepared with solutions. Before speaking to the airline, an agent will have looked up the schedule for alternative flights, both from the original provider and their competitors.

This approach makes it much easier for a customer services agent to help as rather than having to search through a maze of options, they can start securing a seat on the client's preferred alternative straight away.

If the airline cannot secure a spot on their planes, travel agents will have a range of competitors' flight numbers they can also request. Unsurprisingly, once an airline is aware they might have to purchase a ticket from a competitor, they are less reluctant to give away a higher priced fare on their own planes. If you don't use the services of a travel agent, then you should spend some time searching for alternatives before speaking to the airline.
Keep your cool with customer service.
Cancellations are stressful, and it can be difficult to stay calm while handling the fallout. Whether it's over the phone, online chat, or social media, when speaking with customer support agents, try to keep your interactions polite and friendly.

Like many of us, airline staff are under immense pressure. They spend their day speaking to disappointed patrons who, more often than not, are irate and challenging to handle. Most support agents will do all they can to assist but are more likely to go the extra mile for customers who have treated them with respect.

If you are struggling and communication breaks down, it is better to hang up and try again than lose your temper. If you are repeatedly unable to reach a resolution, ask politely if you can speak to someone in upper management to start a formal complaint.
Talk to your travel insurance
If you have existing travel insurance, it's worth speaking to your provider to see what support you can receive. Some travel insurance policies will include cover to reimburse expenses that occur due to a cancellation or delay. Coverage often includes accommodation, meals, transportation, and even the cost of phone calls. Just be sure to keep all boarding passes, confirmation emails, and any transcripts of conversations with the airline as proof for your claim.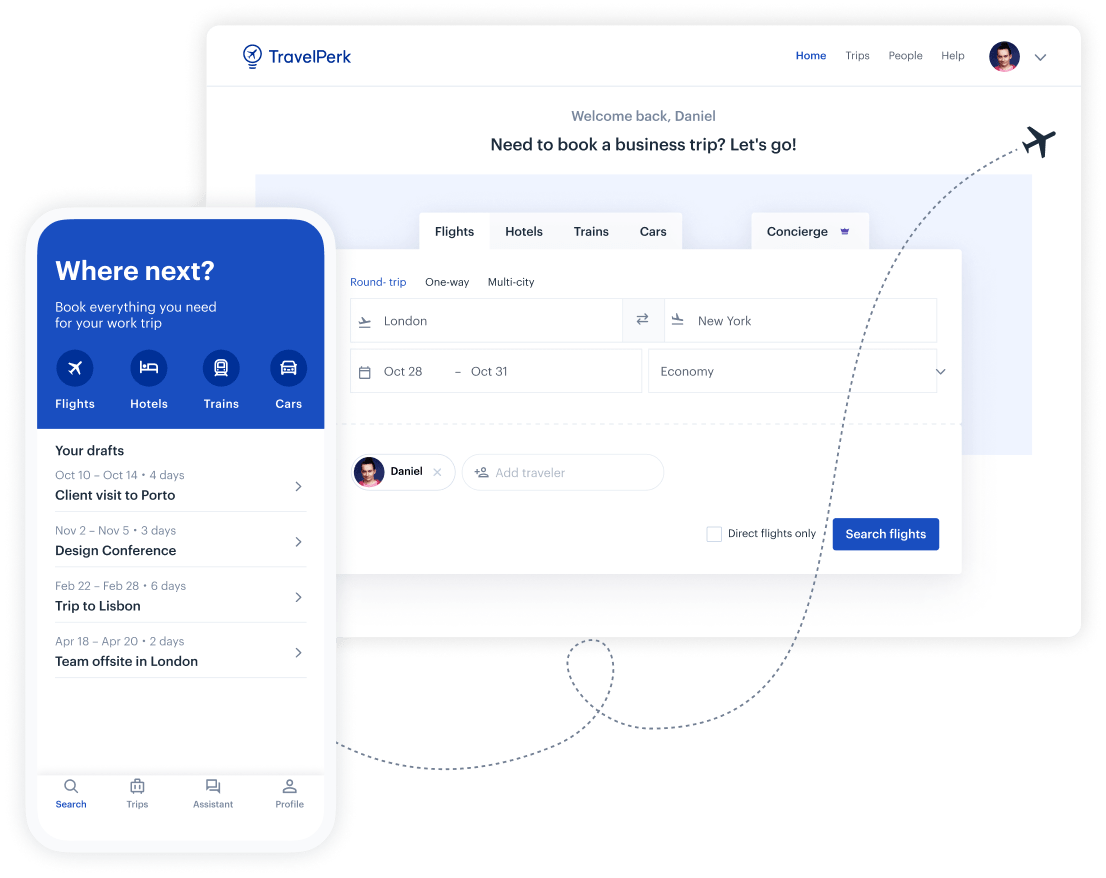 Make business travel simpler. Forever.
See our platform in action. Trusted by thousands of companies worldwide, TravelPerk makes business travel simpler to manage with more flexibility, full control of spending with easy reporting, and options to offset your carbon footprint.

Find hundreds of resources on all things business travel, from tips on traveling more sustainably, to advice on setting up a business travel policy, and managing your expenses. Our latest e-books and blog posts have you covered.

Never miss another update. Stay in touch with us on social for the latest product releases, upcoming events, and articles fresh off the press.