Have you heard of travel management companies (TMCs)? Traditional travel management companies are specialized travel agencies focused on booking business trips. However, today these companies are no longer the only way to book business travel. Many organizations are now turning to travel management software instead.
Regardless of the type of travel management solution you choose, when planning your business travel you'll want to get a good deal and a quality service. Read on to learn more about travel management company fees, how to reduce them, and what your options are.
Different types of travel management company fees
Travel managers have many choices when deciding which type of travel booking solution to use. They may opt to use a traditional TMC, self-booking on consumer websites, local travel agents, or online booking tools (OBTs). Each of these options offers different pros and cons, as well as different fee structures.
To better understand travel management company fees for these different kinds of services, it's important to first understand how the most common fee structures work. Here's a quick overview:
Implementation fees
Implementation costs are typically associated with software platforms. However, not all travel management software companies charge them.
Essentially, companies charge an implementation fee at the onboarding stage, when you're starting out with a new software package. The fee covers the cost of implementing the software and training your staff on how to use it.
Transaction fees
Transaction fees are usually charged as a percentage of each transaction. In this case, every travel-related action a TMC takes on your behalf (such as a reservation, a change, or a cancelation) comes with an associated fee.
Service/management fees
Management fees are designed to cover the cost of a TMC's services. These include account management, customer support (particularly support outside of office hours), and refunds.
A management fee is often charged as a recurring monthly payment, usually when there is a binding contract or agreement. Some TMCs only offer long-term contracts, generally with a minimum term of one year.


Concierge services
Some TMCs charge extra for concierge services. While ordinary business trip booking services may include train, flight, or hotel reservations, concierge services would include booking conference tickets, meeting rooms, airport transfers, or Airbnbs.
Phone bookings
Certain TMCs offer the option of booking either over the phone, or using a self-booking platform. In this case, they may add on an additional fee for phone bookings. Other companies add on fees for specific types of bookings (such as bookings on a low-cost carrier).
One-off pay per trip
Finally, there is the one-off pay per trip pricing structure. This is what we offer with our travel management software here at TravelPerk.

The pay per trip model is clear and easy to use. Our Premium and Pro users pay a single low fee for each trip, and they only have to pay when they travel. This fee covers everything from bookings, to travel policy management, to customer support and concierge services.
What are the different ways to book business travel, and what kinds of fees are associated with them?
Traditional TMCs
Traditional TMCs are business travel agencies that offer a variety of services, from ongoing booking support to managing a corporate travel policy. They can help businesses with travel-related functions such as reservations, airport lounge access, expense reporting, and travel risk management.
However, they aren't always the most efficient way to book travel. Some common challenges with traditional TMCs include outdated software platforms, poor customer support, long-term contracts with rigid terms, and a lack of autonomy in booking.
Traditional TMCs use several different types of fee models. According to the Business Travel Association (BTA), most TMCs currently charge transaction fees. However, many are now switching to management fee or subscription models, because these offer more predictability for the TMCs. On the other hand, clients tend to prefer a fee structure that "ensures costs are allocated directly to budget centers, and largely avoids the need for central costs."
Research from The Beat indicates that the average TMC transaction fee is $25.20 on the phone, $18.01 online with agent assistance, and $7.84 online without agent assistance.


Local travel agents
Some businesses use local travel agencies rather than corporate travel management companies. This approach offers a personal touch, but also has many drawbacks.
Most travel agencies cater to the general public, and aren't equipped for the specific needs of businesses. Like some traditional TMCs, they tend to work on a 9-5 schedule. Travelers may be left waiting on hold for extended periods of time if they need help outside those hours.
Local travel agencies typically don't help businesses manage their accounting and track expenses in an organized way. They also won't be able to help create and enforce business travel policies.
Moreover, travel agents sometimes guide customers towards certain booking options based on the agency's need to fill a quota, rather than the customer's needs. They often have limited inventory compared to what can be found elsewhere.
Travel agents traditionally earn most of their fees from hotels, transport companies, and tour operators using a commission model. Many agents also charge additional fees on the client side that may cover security deposits, planning, or à la carte travel services.
Self-booking on consumer websites
Budget-conscious organizations may prefer to avoid travel management companies altogether, instead opting to self-book travel using consumer websites.
While this option appears to have no cost, there are actually significant costs involved. For one thing, travel management solutions can help businesses identify the best seasonal deals and corporate discounts at any given time. By not using them, companies may be leaving money on the table.
Another factor to keep in mind is the time and effort devoted to booking business travel. While an in-house staff member may be able to handle a small number of bookings, they will end up spending quite a lot of time on these tasks. This will take time away from their other responsibilities and cost the company money.
The self-booking approach may work in the short term if a company doesn't have much need for business travel yet, but it won't scale very well if the company's travel needs grow. If companies make a large number of bookings on consumer websites, they'll have a hard time keeping track of travel spend and invoices across platforms, and it will be difficult to ensure their travel policies are being followed.
Online booking tools (OBTs)
Finally, travel management software platforms, also known as online booking tools (OBTs), offer an efficient modern solution for business travel. These software packages give you the same services you'd expect from a traditional TMC, but at a competitive price point and with more control over your own bookings.
Many OBTs integrate with company travel policies and third-party tools. In addition, they offer functionality such as centralized invoicing, carbon offsetting, and VAT reclaim.
Different online booking tools have different fee structures. At TravelPerk, we offer businesses high visibility over their travel spend with our one-and-done flat fee pricing model. There are three tiers: Free ($0 per trip), Premium ($15 per trip), and Pro ($25 per trip). You can also pay in other currencies, such as pounds or euros. Each tier offers additional services and functionalities to help you get the most from your business travel program.
When our prospective customers simulate how much they would spend on business travel with TravelPerk vs. their current solution, they typically find that TravelPerk will work out cheaper for them.


How to reduce travel management company fees
In sum, to find an affordable travel management option and realize cost savings, you'll need to understand the different types of fee structures and choose one that meets your business needs. When evaluating travel management company fees, don't forget to factor in time spent on booking, and whether the fees are recurring or on a per-trip basis. You'll also want to consider if a travel management company's fee structure gives you visibility over your total travel costs.
If you're looking to save money on TMC fees, you can contact TravelPerk today to compare your current business travel spend with our offer.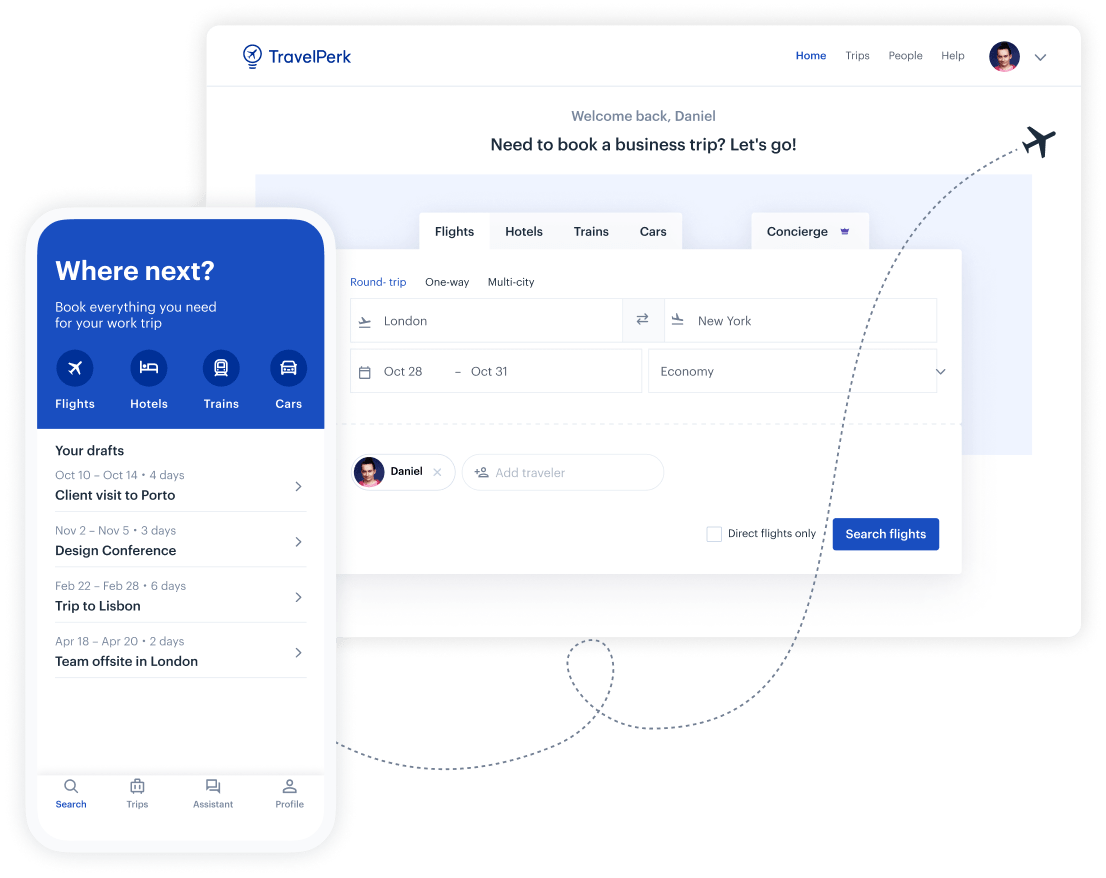 Make business travel simpler. Forever.
See our platform in action. Trusted by thousands of companies worldwide, TravelPerk makes business travel simpler to manage with more flexibility, full control of spending with easy reporting, and options to offset your carbon footprint.

Find hundreds of resources on all things business travel, from tips on traveling more sustainably, to advice on setting up a business travel policy, and managing your expenses. Our latest e-books and blog posts have you covered.

Never miss another update. Stay in touch with us on social for the latest product releases, upcoming events, and articles fresh off the press.