Oh, I won't forget that!"

Famous last words. They are inevitably uttered at some point by every business traveler who, regrettably, was wrong about their ability to simply remember everything they would need during this particular episode of traveling for business. If only they had used a business travel checklist, including a packing list.
If you're just looking for a go-to packing list, we've got you covered:
Passport/ID
Boarding pass
Laptop and chargers
Headphones
Phone charger
Notebook and pen
Cash and credit cards
Reusable water bottle
Pajamas
Socks
Underwear
1 set of workout clothes
1 suit with two matching shirts
1 pair of pants/jeans
2 nice tops
Light fleece
1 pair of dressy shoes
1 pair of travel shoes
Swim suit (depending on destination)
Glasses/contacts
Earbuds
Sunglasses
Coat/rain jacket
Toothbrush
Toothpaste
Razor & shaving cream
Mini shampoo and conditioner
Hairbrush
Dry shampoo
Deodorant
Prescriptions
Pain reliever
Tsa-approved first aid kit
Moisturizer
Makeup
Lip balm
Tide to go
Portable charger
Downloaded movies, music and podcasts
Gum/mints
Healthy snacks
As adults, we're not necessarily fond of checklists. Mom made us use one to keep track of our chores, and most of us have a to-do list to keep work priorities in line. Just take what you think you'll need. After all, you can always grab whatever you forgot at the airport, or after you arrive at your destination, right?

But what if you're not so lucky and you forgot the flash drive with your presentation on it? That could put you in a less-than-business-friendly mood and spell disaster for the purpose of your trip.

A business travel checklist eliminates that risk by eliminating the temptation to just wing it.
How to create a business travel checklist
A business travel checklist is more than a packing list, although that part is extremely important. An effective checklist that addresses traveling for business is a comprehensive overview of everything you might need to do, as well as take with you, to make your trip a success. Because it covers all eventualities, you can use it to plan and pack for an overnight or extended trip, domestic or international.

Whether you need just the basics from your business travel packing checklist or much more, you will never forget something. And, if you learn to pack like a pro, you'll never find yourself hauling around things you didn't need after all. And in the vast majority of cases, you'll be able to tuck it all into carry-on luggage and your personal item.

Here's a travel checklist to get you started:
Travel documents (forget your passport – or Real ID after October 2020 – and your trip will end before it begins)
Business supplies/work documents
Laptop and other tech gear and accessories
Wardrobe
Personal items (ID, cash, credit card)
Toiletries
Personal tasks associated with getting ready to travel (itinerary planning, bookings, notifications to be made, etc.)
The goal is to identify what is required for you to travel comfortably and work productively on the road. With your checklist as a guide, you can avoid making irritating and potentially costly business trip mistakes. You will come to love it because:
It streamlines both trip planning and packing
It keeps you focus on necessities (and ensures you forget nothing essential)
It helps you say no to non-essential "might-needs"
It allows you to continuously refine your business travel packing skills
What should you consider before creating a business travel checklist?
Once you hit the road you won't have access to everything available in your office or at home. You have to take whatever you'll need with you. Having created a comprehensive checklist ahead of time, you can review it prior to each trip to make a relevant packing list. This will ensure you take all the right things and none of the wrong ones. A go-to checklist also means you won't be caught off-guard and scrambling if a last-minute road trip crops up.

Personal style and preferences count when you're traveling for business because you want to feel comfortable and confident. If you can sleep just fine on the plane without a little pillow and eye shade, then leave them off your list. You can always add them later if you change your mind.

This article focuses on individual business travelers. However, if you're an Executive Assistant or in-house travel manager, you'll want to create your own version of a business travel checklist. This will be your go-to resource so you don't overlook any detail for your traveling boss or fellow employees. (In fact, as part of your company's travel policy education program, you could teach travelers how to create their personal packing checklist.
How do you know your business travel checklist is complete?
In truth, it never will be, because it is a work in progress. As you travel you'll discover workarounds that lighten your load (such as consolidation techniques that eliminate the need for so many devices, cords, and adapters).

You'll realize that "just in case" items are generally a waste of space and weight.

You'll come across items you didn't realize were essential (small items to remove stains and wrinkles, for example).

And you'll identify a few "I deserve this!" items that may not be mission-critical but can seriously improve your travel experience. Like that little pillow and eye shade you didn't think were important. Or a snazzy water bottle with built-in filter. Thanks to your packing-light prowess, you'll be able to add these items to your carry-on luggage or personal bag after all.

When it comes to each trip, though, you'll know your packing is complete when every item you identified as necessary has been checked off.
Best business travel checklists
The internet is awash in examples of business travel checklists, packing list suggestions, templates you can download, and so on. Since there is no one-size-fits-all single example, your best bet is to review several different versions. That will give you an idea of what is usually included, then you can create your own personally-tailored master checklist.

As you're doing that, think about the kind of business trips you undertake now, but also keep in mind that things could change. You may be asked to take longer or more diverse trips, even international business missions. So, as they say, never say never – including items that don't seem relevant now could make planning and business travel packing a lot easier in the future.
What makes a good business travel checklist?
The best checklist covers all the bases, to make travel packing a faster, easier no-fail exercise whether you're heading out to close a big deal, attend a conference, or scope out the competition in a prospective new market. That gives you maximum flexibility to personalize business travel packing without stressing about overlooking something.

You're not expected to take all that stuff with you – ever. Think of it as a really long à la carte menu. All you have to do is choose the items required for this business trip, then check them off again as you pack them. (It will be far easier than ordering off a real menu, too, because you won't be dealing with the distracting yum factor, you'll be making purely practical decisions).

That said, if you're new to business travel you'll quickly come to understand that there are two types of "essentials."
There are the things that will vary according to the details of each trip (your wardrobe, business documents, etc.)
And there are things that will always go, no matter what – things like toiletries. You can set yourself up for maximum business travel packing efficiency by pre-assembling these necessities so they are grab-and-go ready.
Instead of re-stocking your toiletries bag every time you go away (a redundant waste of time, by the way), leave your usual array of items at home and create an entirely separate collection for travel, in TSA-approved miniature sizes. If you're packing for a business trip, you have a lot on your mind, and it's really easy to forget small items such as your toothbrush, lip balm, an essential makeup item, or your razor. With a full kit ready to travel and already resting inside your carry-on, you can save time and stop worrying about forgotten items.

The same goes for your technology collection. You can quickly entangle yourself in myriad cords, backup batteries, power adapters, portable Wi-Fi connectors, not to mention the devices themselves. Savvy business travelers invest in accessories that serve multiple devices from a single unit.

Just as with your toiletries, assemble a go-bag of always-needed tech accessories and store it, too, in your carry-on or personal travel bag. You'll save more time and you'll never have to fret about leaving something vital home. Or losing a critical cable.


Before you use your business travel packing list
But wait. Before you whip out your checklist and start packing, there are a few things to consider first:
Invest in quality luggage
Carry-on luggage is overwhelmingly favored by veteran business travelers because it saves time before and after your flight, won't get lost, and keeps you honest about packing light. Carry-ons come in many styles, loaded with features geared specifically for convenient, efficient business travel. Wheels are essential, four roll smoother than two. Buy the best quality you can afford, but don't buy anything obviously expensive that could make you a theft target.
Use suitcase accessories to your advantage
You'll need to look fresh and professional once you arrive. Rolling your clothes helps reduce wrinkles, but packing cubes do that and keep everything sorted and tidy, too. Researching travel packing tips like these will be time well spent.
Business trips can take a lot out of you, if you let them. A good quality water bottle and healthy snacks should be on your packing list.
Consider a tech-forward travel bag
Road warriors prefer a backpack to a purse or briefcase, because the backpack holds a lot more and is easier to haul around. Like suitcases, backpacks now come in all sorts of business-friendly designs that keep you organized during your flight as well as at your destination.

For tech-forward travelers, smart backpacks come with mobile apps or fingerprint ID to lock/unlock, internal scales, GPS, built-in chargers, and the ability to alert you if you step too far away. At the very least, choose a bag that slides over the handle of your carry-on luggage.
Read up on hotel safety tips
Business travelers have to think about personal security as well as data security while on the road, so you may want to add a portable door lock and luggage locks to your packing list, depending on where you will be traveling.
Buy a TSA-approved First Aid Kit
You can purchase TSA-approved, carry-on sized mini kits online, or create your own. At the very least, tucking a few Band-Aids and packets of pain reliever in your toiletries kit is a good idea.

OK, now it's time to get out your master checklist and create a packing list for this particular trip. Where you're going, for how long, and the purpose of the trip will dictate which items are essential this time around.
Steps to preparing for business travel
There's a lot more to heading off on a business trip than you might think. You want to achieve your business goals but you also want to have a low-stress travel experience. Experienced business travelers know that following these important steps will make your trip a success:
Prepare to do business, whatever that entails for this trip -- daily schedules, documents, presentation materials, etc.
Prepare your itinerary and other travel documents -- unless your trip will be a quick turnaround, be sure to build in some time to yourself to hit the gym, the pool, the local shops or the pillow for a nap. You'll be happier and more productive if you're better rested
Prepare personally to travel – booking your flight, hotel, etc. and making arrangements for whatever work must continue in your absence
Prepare your trip-specific packing list and get ready to fill your carry-on luggage
But first, take a few minutes to review your company's travel policy and procedure. Guidelines can become complex when companies have to explain what to do if something about your trip is unusual or requires pre-approval, so most employers also create a simple one-page travel policy that hits the highlights. A corporate travel management app such as TravelPerk automatically takes company-specific guidelines into account, which makes bookings fast and easy.
How do you know what you'll need for a business trip?
Every trip is different. What you'll need to take depends on where you're going (be sure to check the weather forecast!), what you will be doing (days and evenings, business meetings and free time), and how long you will be gone. This is why you should consult your business travel checklist every time you begin preparing for a trip.

Every single time. When you plan an efficient packing list and then check off each item as it's packed, you will be darn sure you haven't omitted something critical.
What travel documents will you need?
Personal ID, passport or driver's license, boarding pass, wallet with cash and a credit card, itinerary, etc. -- make copies to leave at home and the office
What will you need to conduct business?
Laptop, slide deck, files, flash drives, and supplies for your "mobile office".
What personal items will you need?
Phone, clothing, travel accessories such as noise-cancelling headphones and a book – be sure to check with your hotel or Airbnb to confirm what is already provided so you don't pack redundant items
How will you pay?
Will you pay expenses yourself and then be reimbursed, or will you be given a corporate card to use? Credit card companies offer business-specific cards that streamline travel expensing and help small businesses build valuable credit. Using a corporate card creates less paperwork for you and your employer. TravelPerk makes the process even easier, by allowing you to instantly capture and submit receipts as you go.
Will your phone work at your destination?
If you aren't used to traveling for business, your phone's usage plan might not provide the coverage across your entire itinerary. If you're going overseas, that's much more likely. Talk to your provider about getting a temporary upgrade, or consider switching providers, if possible. If not, internet-based communication options such as Skype can help you stay in touch with your office as well as your family back home.
Will you need travel insurance?
Travel plans can change unexpectedly, and business travel insurance protects you in emergency medical situations as well as when travel-related incidents such as lost luggage or flight cancellations occur.
Things to do before traveling on business
We mentioned earlier how important it is to review your company's travel policy before heading off on any business trip. When using corporate travel sites, even seasoned business travelers may need a refresher to ensure you're booking within guidelines and not exceeding expenses for meals, etc.

There are other things you should always do before traveling on business.
Secure all necessary travel documents.
Always keep an eye on expiration dates. If your driver's license is expired, you won't be able to rent a car. Remember that, even to travel within the US, you'll need Real ID or a passport as of October 2020. In order to apply for a Real ID, you'll need to provide a birth certificate, Social Security card (not just the number), along with multiple proofs of residency, like utility bills or bank statements.

You should also be aware that some countries won't accept a passport that is within six months of expiration. Renewing can take two months, so this is something you cannot leave until the last minute.
Secure travel insurance.
Make sure any travel insurance is sorted out before you leave, otherwise you won't be fully covered.
Decide which credit card to take.
And make sure the balance is low enough to accommodate unanticipated as well as planned. Business travel veterans recommend taking just one, so there's less to swell your wallet and possibly get stolen or lost. Take some cash, too.
Fully charge all electronic devices.
Dead phone just as you board a six-hour flight? No thank you.
Prepare your trip-specific packing list.
Double-check it before packing to see if you overlooked anything you really need (or can cross something off)
Pack like a pro by sticking with carry-on luggage.
Luggage gets lost all of the time. Avoid that headache by investing in a quality carry-on suitcase. Roll your clothes and use packing cubes to fit even more in your bag.
Purchase a travel wallet.
One of the best business travel tips is to purchase a travel wallet. This takes the place of your everyday wallet, so you can take only essential ID's, credit card and cash — and leave behind all that other stuff we all cram into our wallets. But it also doubles as a folder for key travel documents (including your passport if you choose an appropriate size).
Though they are compact and slim for packing, most travel wallets are constructed with safety and security in mind, with cut-resistant exteriors and interior RFID-deflecting linings that protect cards from illicit scanning.

Beyond booking and packing prep, there are other things you should do prior to each trip that will make the experience more pleasant.
Research your destination ahead of time
Use your research skills or social media contacts to check out where you're going ahead of time, especially if it's new to you. Look for the local tips on the best places to eat, shop and visit in your off time.
Use social media to connect with peers
If you're attending a conference, use their hashtag to start connecting with other attendees even before you all arrive on scene.
Plan your in-transit entertainment.
Pre-load your kindle with reading material, choose a book or two to take, or download some of your favorite TV episodes or movies. (Thanks to your business travel checklist, you won't have to worry about forgetting your earbuds.)
Set your home to "away" mode.
Close and lock the windows, turn the thermostat down, water the plants, and unplug the coffee pot. You don't want to spend your entire trip wondering if you forgot to do that.
What happens if you don't get everything done before you go on a business trip?
Since you planned ahead, following the preparation steps outlined above, you can be confident the essentials are all set in place. You're ready to go, and not even stressed out about it.

Of course all the business travel tips in the world cannot help you clear your desk before you leave. With your business travel preparation simplified, you may have accomplished even more work than expected. Worst case, anything you didn't get done will still be there waiting for you when you return. Or you can always delegate.
How far ahead should you plan before going on a business trip?
Always book your flight and accommodations as soon as you know about your upcoming trip. This is crucial if you're headed to a popular destination in a high season or to a conference that is heavily attended.

Booking well in advance takes the pressure off and ensures you won't have to pay higher last-minute travel rates, run the risk of missing out on the flight you want, or wind up at a hotel that is not conveniently located. That said, business is fluid and you have to be flexible. Sometimes last-minute travel is unavoidable, but with your business travel checklist and pre-packed essentials, you'll already be halfway there.

If you're traveling internationally check with your destination country's embassy or consulate right away about obtaining a visa.

Forget something? Forget it … not when you create a business travel packing checklist and use it every time you take a trip. You'll have everything you need to hit the road efficiently and comfortably, but nothing extraneous to weigh you down.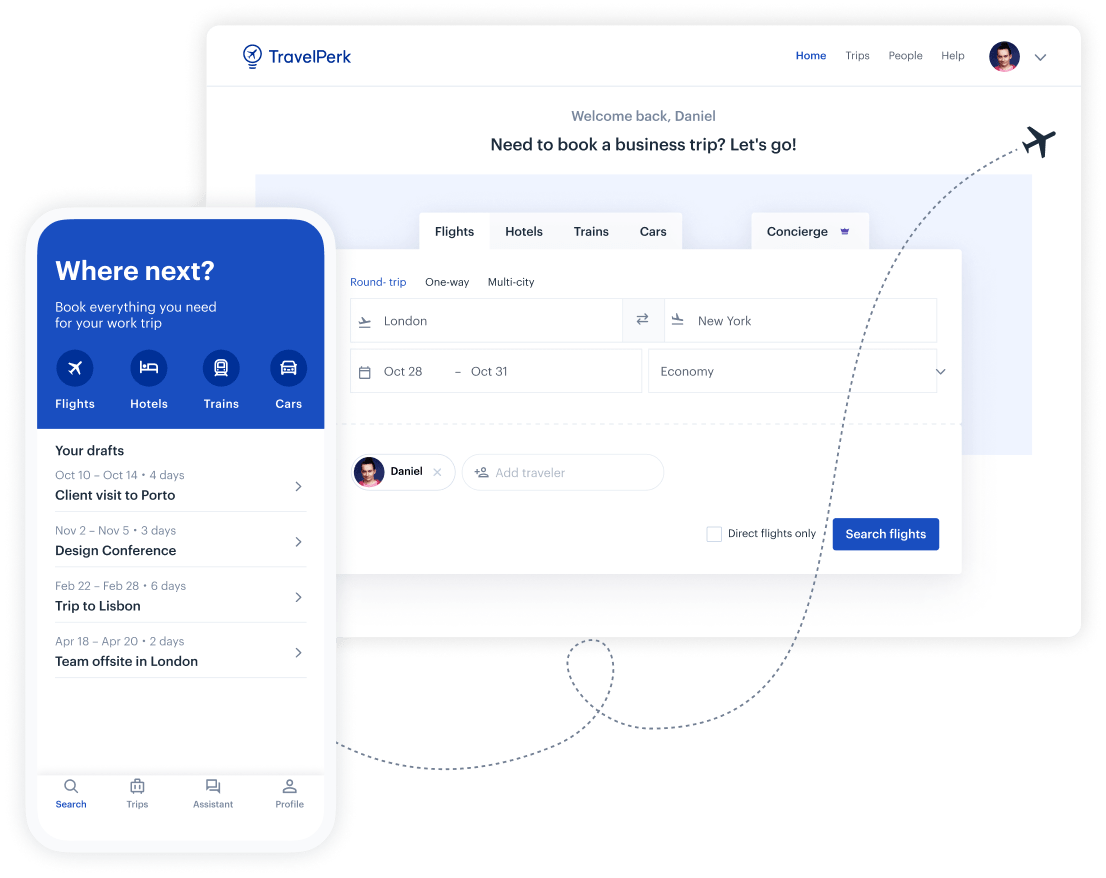 Make business travel simpler. Forever.
See our platform in action. Trusted by thousands of companies worldwide, TravelPerk makes business travel simpler to manage with more flexibility, full control of spending with easy reporting, and options to offset your carbon footprint.

Find hundreds of resources on all things business travel, from tips on traveling more sustainably, to advice on setting up a business travel policy, and managing your expenses. Our latest e-books and blog posts have you covered.

Never miss another update. Stay in touch with us on social for the latest product releases, upcoming events, and articles fresh off the press.