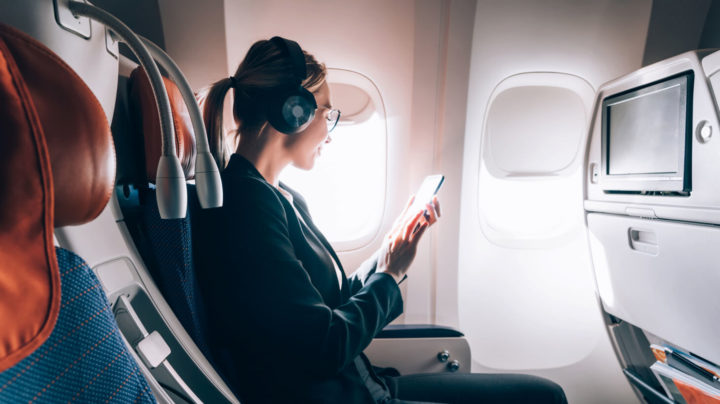 All of these headphones were tested by us when we could - and when we couldn't, we read a whole bunch of other people's reviews so you don't have to. We don't get commissions from producers, and our reviews are unbiased.

We've spent a lot of time comparing these products side by side, during transit as well as in conferences and hotels, so they're as real-world as you need them to be!

These seven headphones are split by category - some are better for durability, others for price, and we've found the best headphones for your different devices.
Best for Music (Sony MDRXB50BS)
Price: €70
Bluetooth: yes
Wireless: no
Battery life: 8.5 hours with a 2.5-hour charge time
Sony's lightweight contribution has a great IPX4 design, making it water-resistant so you can keep the beats going even in rain. It also features Bluetooth and an extra powerful bass for a punchy sound during those gym workouts.

It's available in red, black, and blue for a stylish addition to your business travel kit. Built-in microphones for hands-free calls allow it to transition between work and play, and arc supporters in the silicone earbuds keep the headphones securely in place no matter what you do.

If you're looking for a great combination of sound, powerful bass and a solid all-round performance, look no further. This holds up in airports, hotels, and during video calls too.
Best for Entertainment (AKG N60 NC)
Price: €154
Bluetooth: yes
Wireless: yes
Battery life: 12 hours
Lufthansa's choice for business class, these wireless noise-canceling headphones are sturdy, cover your whole ear for a calming experience, and will get you where you need to go in relaxation. The AKGN60 combines Bluetooth, wireless connection, and a noise-canceling experience in a comfortable set of speakers you won't necessarily want to take off.

They work equally well with loud and softer audio, so you can easily fall asleep during a long transit or use these to pump yourself up. The bass is strong, though distortion at higher volumes can happen as the battery life gets lower. AKG claims the battery life is 30 hours, but we found they last the length of one continental flight, and will need charging after about 12 hours.
Best Battery Life (Plantronics Backbeat Pro 2)
Price: €169
Bluetooth: yes
Wireless: yes
Battery life: 20 hours
Another set of wireless, Bluetooth-friendly, noise-canceling headphones that cocoon your ears for enjoyable and relaxing travel. The Planktronics Backbeat Pro 2 has the added benefit of a stylish feel and a softer texture than you would expect.

They hold up on longer flights and can even withstand being thrown around in hold baggage. The noise-cancelation is on-demand, so you can turn it off for important announcements and return to your oasis when you're ready. The Bluetooth features work well in a large hotel room too (up to 300 feet), so you're free to stretch your legs for as long as you want.

The sound quality is crisp, and the richness stays intact regardless of volume level, so you can take it easy on your senses when you need to relax. On top of all that, smart sensors in the headset pause your audio when you take off the headphones, and resume when you put them on.
Best for Apple (Beats Studio3 Wireless)
Price: €272.74
Bluetooth: yes
Wireless: yes
Battery life: 35 hours
Beats introduced their best model in 2017, with a sharper sound quality, improved battery life, and better noise-cancelation. But the usual design flaws of Beats headphones still remain - it's a bulky set which doesn't fold flat.

The W1 chip makes pairing with Apple devices better than the other choices on this list, and it easily switches between a MacBook, iPhone and iPad. The trademark Adaptive Noise Canceling (Pure ANC) tunes out all other distractions and preserves the sound quality of your music.

The battery life is longer than the Planktronics option, though this one is less consistent in sound quality as you listen for more than 20 hours. The Bluetooth range is also impressive - we tested it through closed doors and it held up clearly.
Best for Android (Bose QuietComfort 35 II)
Price: €264.47
Bluetooth: yes
Wireless: yes
Battery life: 20 hours
Bose turned up the power, style, and personalized features in one of their latest offerings that has all the great add-ons you'd expect. It travels well, folding in its case and holds up to hours of transfers and moving around.

A dedicated Google Assistant button makes this a joy for Android devices, and it's the first headphone to have this level of integration. Voice control for music playback and controlling other devices gives this set an extra level of personalization. It's also lighter and more comfortable than other Bose headphones out there, and they've maintained the customized, adjustable noise cancelation levels for added sensitivity.
Best Price Point (Anker SoundCore Space NC)
Price: €99.99
Bluetooth: yes
Wireless: yes
Battery life: 15 hours
One of the most travel-friendly on the market, the Anker SoundCore Space NC is sturdy yet light, folds neatly, and comes with its own hardshell case for extra protection. The noise-cancelation is best with low-frequency sound, since the memory foam ear-cups aren't as large as you'd expect.

Even though it's wireless compatible, both sound quality and battery life are better when it's wired. Having said that, the experience is immersive. Single-tap controls keep distractions to a minimum so you can focus on whatever you choose. The wired microphone has the sharpness you'd expect, making switching between calls and music seamless. A great all-rounder at an accessible price point which holds up to longer travel times.
Best All-Rounder (Bowers and Wilkins PX)
Price: €299
Bluetooth: yes
Wireless: yes
Battery life: 20 hours

The PX has that rare quality in high-end speakers - it's smart, and it's tailored to your liking. Bowers & Wilkins introduced sensors which adapt to the way you listen, pause your audio when you put them down, and resume when you're ready.

The adaptive noise cancelation holds up during even the loudest flights, and a strong bass gives your sound a clarity that is hard to find. A dedicated PX app even allows you to completely control almost everything about your experience, and you'll find a strangely personal connection to this set. Combine this with a generous battery life and you've got one of the best high-end headphones around.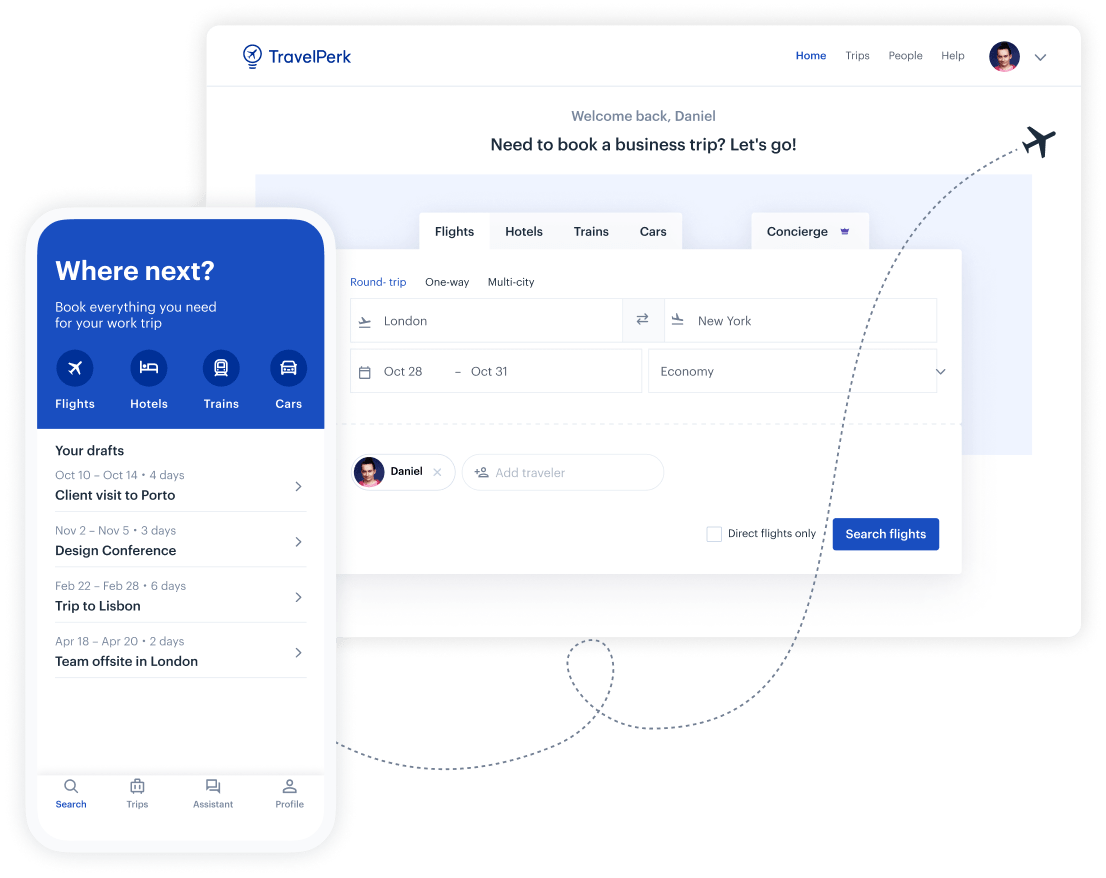 Make business travel simpler. Forever.
See our platform in action. Trusted by thousands of companies worldwide, TravelPerk makes business travel simpler to manage with more flexibility, full control of spending with easy reporting, and options to offset your carbon footprint.

Find hundreds of resources on all things business travel, from tips on traveling more sustainably, to advice on setting up a business travel policy, and managing your expenses. Our latest e-books and blog posts have you covered.

Never miss another update. Stay in touch with us on social for the latest product releases, upcoming events, and articles fresh off the press.