Travel management companies (TMCs) help travelers and managers better organize their time and resources. Great TMCs provide expense tracking, credit card integration, and automation capabilities to enable businesses and their travelers to kick back and relax, knowing everything is being taken care of.
Finding the right travel management solution for your business needs can be a stressful task. To make it easier for you, we'll be comparing TravelBank and Navan by looking at their advantages, disadvantages, and user reviews. We'll also throw another travel management solution into the mix to give you a great alternative for meeting your corporate travel needs.
First, let's take a look at TravelBank.
TravelBank
TravelBank is a global corporate expense and business travel management company that offers an end-to-end corporate travel solution.
One of their advantages is their mobile solution–available for android and iOS. They developed their mobile solution first, as they understand that corporate travel requires an on-the-go solution.
TravelBank serves small and medium-sized companies and offers a free trial of their subscription-based solution. They offer three different solutions: a travel solution, an expenses solution, and an all-in-one solution.
According to TravelBank, the platform's top features include:
Efficient travel and expense management system: to keep everything under control, from VATs to policy compliance.
Easy-to-use interface: so you can get up and running right away.
Thousands of corporate and personal cards are supported: to make payment and reimbursements as easy for travelers and managers as possible.
What TravelBank users say:
TravelBank's user reviews report that the platform is easy to use and that the mobile solution they offer helps people manage their travel on the go. Additionally, its expense management seems a valuable tool for its users.
"It's an easy way to get reimbursed. I know that once I submit a charge, it will seamlessly be taken care of on the back end" - Niara P., review from Capterra
"Features, ease of use, and a simple interface to avoid confusion. This app is very well done, I like the layout and the features, as it's great when I have to travel." - Christopher H. review from Capterra
However, there are some not-so-positive reviews too. They mention how its customer support does not answer promptly, and that the expenses and reporting features are tricky and clunky. Additionally, some also mention that the prices seem pretty high.
"Sometimes the expense report vs individual charges gets confusing." - Niara P., review from Capterra
"Prices seemed pretty much the same on the airline's direct website. I would negotiate with the airline directly on offering discounts." - Jesus S., review from Capterra
Overall, TravelBank is a good option for an all-in-one travel solution that has a great mobile solution. However, for some users, its lack of support when needed and clunky expense management can be a burden.
Navan
Navan is a versatile travel management platform with added expense and corporate card management functionalities. It combines top-tier technology to help businesses of all sizes with regular compliance, online booking, mobile solutions, reporting, traveler notifications, expense management, and more.
Its AI technology provides useful recommendations based on your company's policies, real-time insights on your travel spending, and a comprehensive travel management experience.
According to Navan, the platform's top features include:
Sustainable travel management: with carbon off-setting to make flying as green as possible.
AI technology: to help improve efficiency and savings in your travel management process.
User-friendly interface: that makes the platform accessible and easy to use from the get-go.
What Navan users say:
Most of Navan user reviews say that once you get used to the features it has, it becomes really easy to use. Users also report that the customer service through the chat is pretty good since everything is documented on the chat, and their response is fairly quick.
"The different products are hard to understand initially but once you figure that out it is relatively easy to use." - Clyde A., review from Capterra
"It's great to get Amazon credit for booking within the company asks." - Stephanie S., review from Capterra
However, not everything is good news for Navan users. For starters, some travelers complain about the integrations with airlines and other apps which seem to harm its overall functionality.
"All I want to do is to be able to contact the airlines myself or have better integration so that 1) I can change things without a third party. [...] 2) My upgrades aren't invalidated. " - Laura R., review from Capterra
"Organization of the search results can be somewhat confusing since sometimes 3rd party site results are also added to the organic search results. Occasionally the hotel listings are more expensive than what I can find directly from the hotel site itself." - Kate, D., review from Capterra
Another problem that some users report is the approval process and workflow being confusing or not very streamlined for optimum booking.
"The only hurdle can be that the trips have to be approved by an approver prior to going to the booking page." - Review from Capterra
According to reviews, Navan is a travel and expense management software that processes reimbursements in 24hrs and has a great customer support chat. However, the problems in its functionality and management platform might be a dealbreaker for its customers.


TravelPerk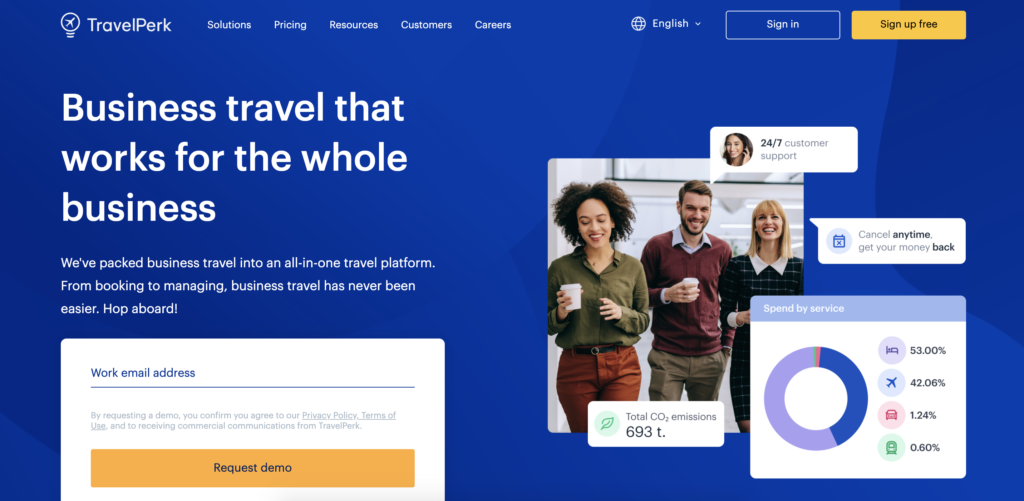 Now, onto an additional solution that we believe is worth your time and consideration when it comes to corporate travel management: TravelPerk.
TravelPerk is a top-rated, all-in-one travel management solution. It focuses on giving business travelers and managers better control of their traveling experience and expenses.
TravelPerk is used by some big names, including Revolut, Grammarly, Uber, and more–proving that it works outstandingly. Its 24/7 support team operates at a target response time of 15-seconds–exactly what you need when time is of the essence.
TravelPerks caters to big and small companies with a variety of scalable solutions—including flexible travel options. FlexiPerk enables users to get 80% of their money refunded for cancellations up to 2-hours before departure.
TravelPerk's integrations with top expense management platforms—such as Expensify, Rydoo, Circula, and more—makes travel spending and overall expense management a breeze. It also supports other integrations—such as BambooHR and Slack—that make the whole approval process and workflow as smooth as possible.
TravelPerk's concierge services, real-time notifications, and user-friendly software make it feel as if you have a whole travel agency in your pocket–minus the long waiting times and hefty price tag.
TravelPerk's top features include:
World's largest travel inventory: to find you the best deals on flights, hotels, cars, and rail tickets.
Complete and comprehensive reporting capabilities for travel expenses: to keep track of expenses and put travelers and managers in control.
24/7 and seven-star customer service: the help you want, when you need it.
Sustainable traveling with carbon offsetting: GreenPerk enables you to offset the carbon footprint of your business travel.
Let's take a look at what TravelPerk users say about the platform.
What TravelPerk users say:
TravelPerk users praise how user-friendly the platform is and how great the customer support is if things get bumpy.
Users like how budget-friendly it is by providing a pay-as-you-travel service that helps companies save time and money. 
Additionally, with an ever-increasing environmentally-friendly world, GreenPerk allows sustainable traveling to all companies.
"We get more visibility, less overhead and managed to save 23% on our global travel spend compared to the travel agent we were using before." - Avital T., review from GetApp
"From the very start they bent over backwards to ensure that we had the support and assistance we needed." - Mandi R., review from Capterra
"Product is very intuitive for travelers to book travel that is within the companies' budget and travel programs. The approval flow is extremely simple and centralized billing is super easy. The concierge service is great." - Fraser H., review from SoftwareAdvice


TravelPerk vs. TravelBank vs. Navan: A comparison
Now we've looked through the three different solutions for corporate travel management, lets see how they stack up against eachother. We've included all the key information you need to help you choose the best corporate travel solution for your needs—take a look:
| | | | |
| --- | --- | --- | --- |
| | TravelBank | Navan | TravelPerk |
| Implementation cycle | Moderate | Long | Short |
| Customer support | Poor | Moderate | Excellent |
| Pricing | Moderate | Expensive | Budget-friendly |
| Travel inventory | Moderate | Moderate | Excellent |
| EU-readiness | Poor | Poor | Excellent |
| User experience | Excellent | Excellent | Excellent |
| Mobile experience | Excellent | Excellent | Excellent |
| Governance and control | Poor | Poor | Excellent |
| Reporting & analytics | Moderate | Moderate | Excellent |
| Duty of Care | Poor | Moderate | Excellent |
| Traveler experience | Moderate | Moderate | Excellent |
| Rewards program | Excellent | Excellent | Excellent |
| Integrations | Good | Moderate | Excellent |
| Expense management | Excellent | Excellent | Excellent |
Let's touch down on the results
TravelBank and Navan are good options for travel management companies, but users report that TravelPerk is easier to use, and provides an all-around better experience for travelers and managers.
TravelPerk is user-friendly, has an industry-leading travel inventory, and offers top-rated 24/7 customer support. TravelPerk offers everything you need and more from your corporate travel management solution.
Sign up today, and get ready for take-off—get high-quality, care-free business travel with TravelPerk.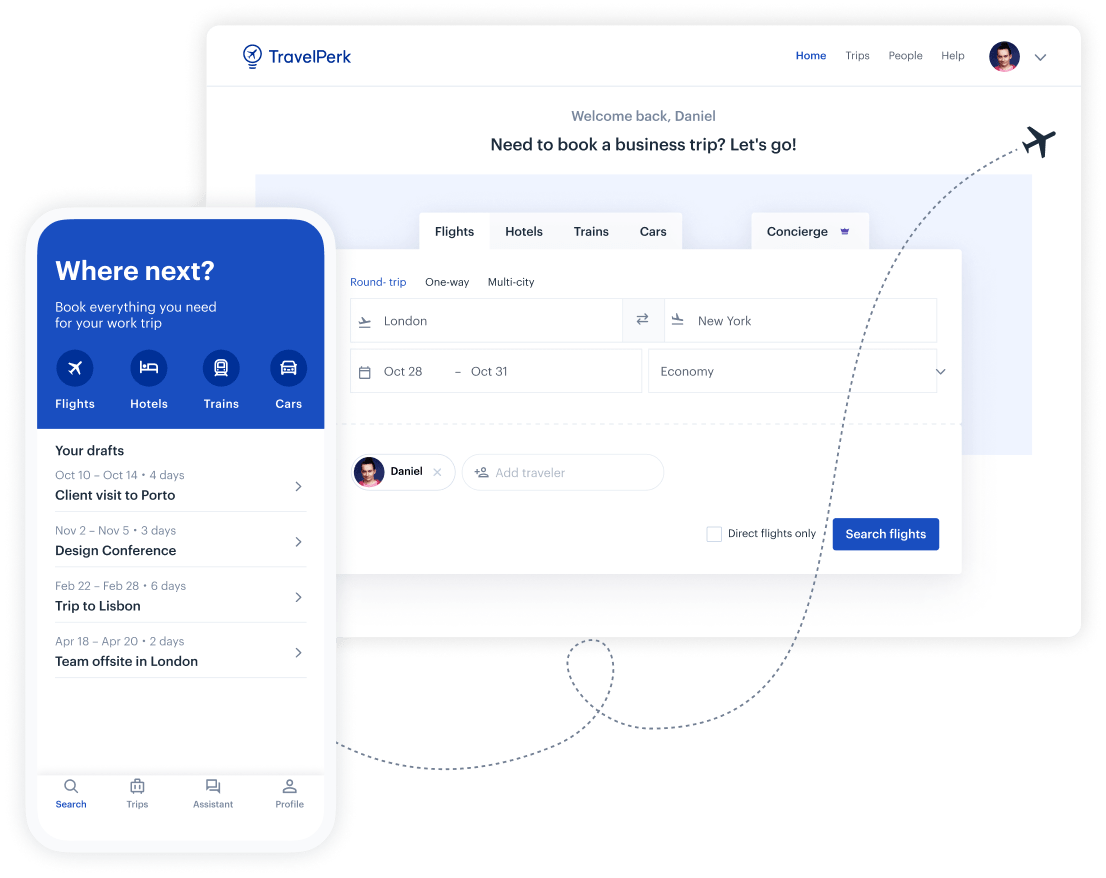 Make business travel simpler. Forever.
See our platform in action. Trusted by thousands of companies worldwide, TravelPerk makes business travel simpler to manage with more flexibility, full control of spending with easy reporting, and options to offset your carbon footprint.

Find hundreds of resources on all things business travel, from tips on traveling more sustainably, to advice on setting up a business travel policy, and managing your expenses. Our latest e-books and blog posts have you covered.

Never miss another update. Stay in touch with us on social for the latest product releases, upcoming events, and articles fresh off the press.