To travel is to live, discover and learn. This is accepted wisdom for the leisure traveler. Whether exploring ancient ruins in South America, or mixing with locals in South East Asia, the modern leisure traveler wants a profound experience. Sure, some might just want to relax poolside in Tenerife, still either way, the time away is designed to freshen the spirit.

Business trips used to be swift and clinical—Get in, get out. Razzle them, dazzle them, then on to the next town like some victorious conqueror. No time to discover, no leisure in sight—save your living for the weekend.

However, modern business travel bears little resemblance to this old fashioned picture of traveling for work, and has more in common with its leisure counterpart than ever before. For those constantly on the move, the experience should at a minimum be comfortable and convenient, but increasingly business travelers want more from their trips. With rapid changes in technology and infrastructure, business travel is becoming something entirely different.

Mixing business with leisure
According to new research revealed at the 2018 Phocuswright conference, 60% of business travelers extend their trip to include leisure activities. With millennials predicted to make up 75% of the workforce by 2025, it's clear that the wants and needs of business and leisure travelers are becoming less distinct. While the term 'bleisure' may well rival 'Brexit', 'bromance' and 'chillax' as the most irritating portmanteaus of the 21st century, the concept is certainly here to stay.

With rapid advances in technology giving business travelers greater control and connectivity while on the road, the corporate travel experience has taken on a different dimension. Business travelers have more time on their hands to explore their own interests, and as businesses increasingly focus on the wellness of their employees—as well as personalizing the travel experience—leisure becomes a key aspect of performance optimization.

From creative team bonding getaways to tailor-made packages designed to give business travelers a unique experience, modern companies are no longer just thinking about safety, security and comfort. They're giving their employees memorable experiences and, in the process, creating a loyal, satisfied, inspired team of people willing to go beyond for their company.

The shift in the business accommodation industry is also a key factor in the rise of bleisure travel. Airbnb for Work is giving business travelers the chance to embrace the sharing economy and take the idea of the business trip in a different direction. With their own cooking and leisure space, as well as the chance to explore different parts of any given city, business travelers can now opt for an unconventional business travel experience.

It's not just Airbnb that are changing things up. Hotels are pushing boundaries, using technology to take the business accommodation experience to new levels. State-of-the-art onsite gyms, the use of virtual reality and harnessing AI and machine learning to streamline processes are all transforming the modern hospitality industry.
Business vs leisure travel - what are the key differences?
Despite the fusion of the two, there is still a divide between leisure travel and business travel. Everyone in the industry, from accommodation experts to corporate travel managers, wants to deliver a great travel experience. In order to do so, they must consider the key differences between travel for business and travel for leisure.
What the business traveler wants:
From the analog to the digital age, business travelers have depended on a few fundamentals:
Location: being able to get to and fro without enduring a nervous breakdown is essential for the business traveler. There's nothing worse than trekking halfway across a sprawling, unfamiliar city in a desperate race to be on time for an important meeting. An easy commute between business trip accommodation and the meeting point saves time and money, avoids stress, and is simply good business.
Amenities: on a business trip, basics like good coffee, a nutritious breakfast, and a hot shower first thing in the morning, are simple but absolutely crucial elements to kick-start the day.
Facilities on demand: whether it's room service, in-room entertainment or places to relax and unwind, business travel accommodation needs to deliver a home-from-home experience for those on the road.
Loyalty programs: if you're a regular at a hotel or a frequent flyer for a certain airline, you expect a little kickback. Being able to travel with an extra sense of familiarity and comfort, with free upgrades, service perks, and lower costs, is a massive plus. Modern business travelers recognize the benefits—a recent survey by the Global Business Travel Association found that 49% of business travelers use loyalty programs.
Connection: staying connected with HQ is crucial. In days gone by, a phone connection to the office would do. Nowadays good hotel wifi, a decent smartphone, and the ability to conference call are all indispensable.
What the leisure traveler wants:
There are certain aspects that the leisure traveler typically takes into consideration that aren't quite so important in the corporate travel world.
Value for money: without the might of a corporate entity behind them, most leisure travelers understandably prefer to spend less than their business counterparts. They spend more time searching for hotel deals and are more likely to opt for bargain Airbnb stays and use online booking tools in their search, although businesses are increasingly embracing both.
Reviews and recommendations: with the ease of immediate online reviewing, leisure travel is now hugely centered around ratings systems. Leisure travelers turn to sites such as TripAdvisor for feedback on hotels, restaurants, bars and things to do while on their travels. Also, reviews are a central part of Airbnb, which continues its stratospheric rise in the leisure accommodation market.
Packages and special deals: leisure travelers are more likely to put their trip in the hands of hoteliers and travel agents, who can get creative and offer a range of packages with a wide array of leisure activities. Family outings, romantic getaways, walking tours, and tourist attraction visits, are just some of the aspects of leisure travel packages. Special deals give leisure travelers more of an incentive to book through an agency or hotel, instead of organizing their own trip.
Personalization: catering for a new generation of travelers
There's no doubt that the leisure and business travel experience is changing fast and there's no going back. The key catalyst? Personalization.

With rapid advances in data collection and analysis, companies have the information and tools needed to deliver a more meaningful experience for travelers. And with a new generation of travelers used to 'living on-demand', a connected, immersive travel experience is expected.

This is particularly appealing to business travelers. By giving them a personalized experience with leisure added to the equation, business travelers can learn and develop on the job, as human beings as well as businesspeople, while gaining some much-needed respite from the fast-paced world of work.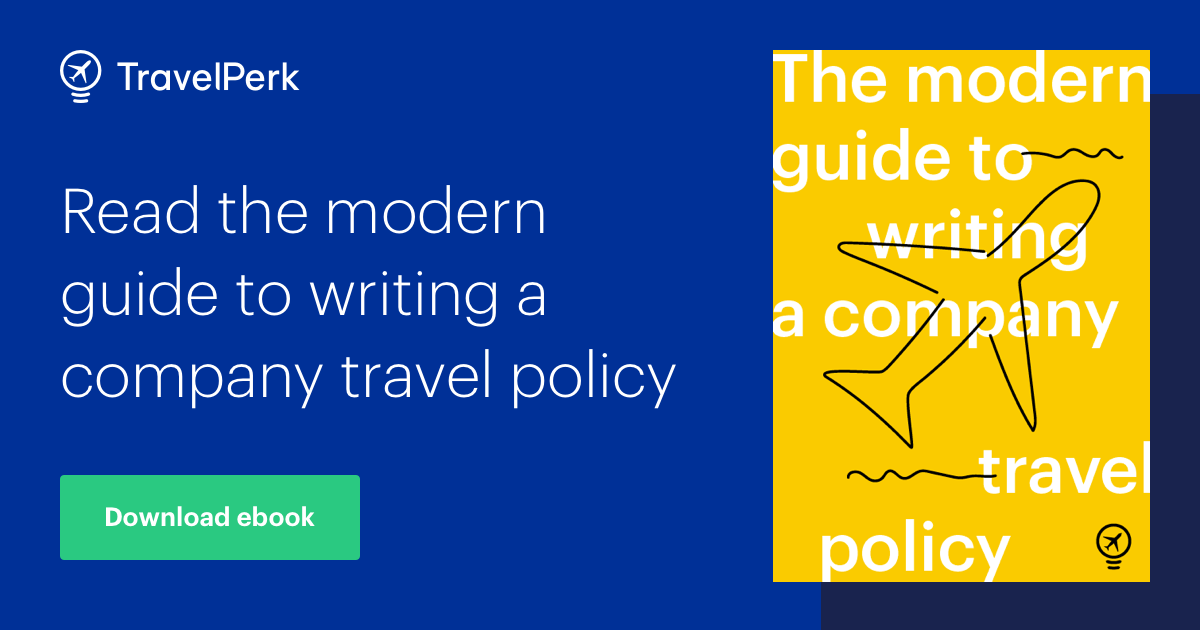 You can book both your business and leisure travel with TravelPerk as a customer. Get started for free and enjoy 30 free days of our Premium plan to explore all the options and features available on our platform.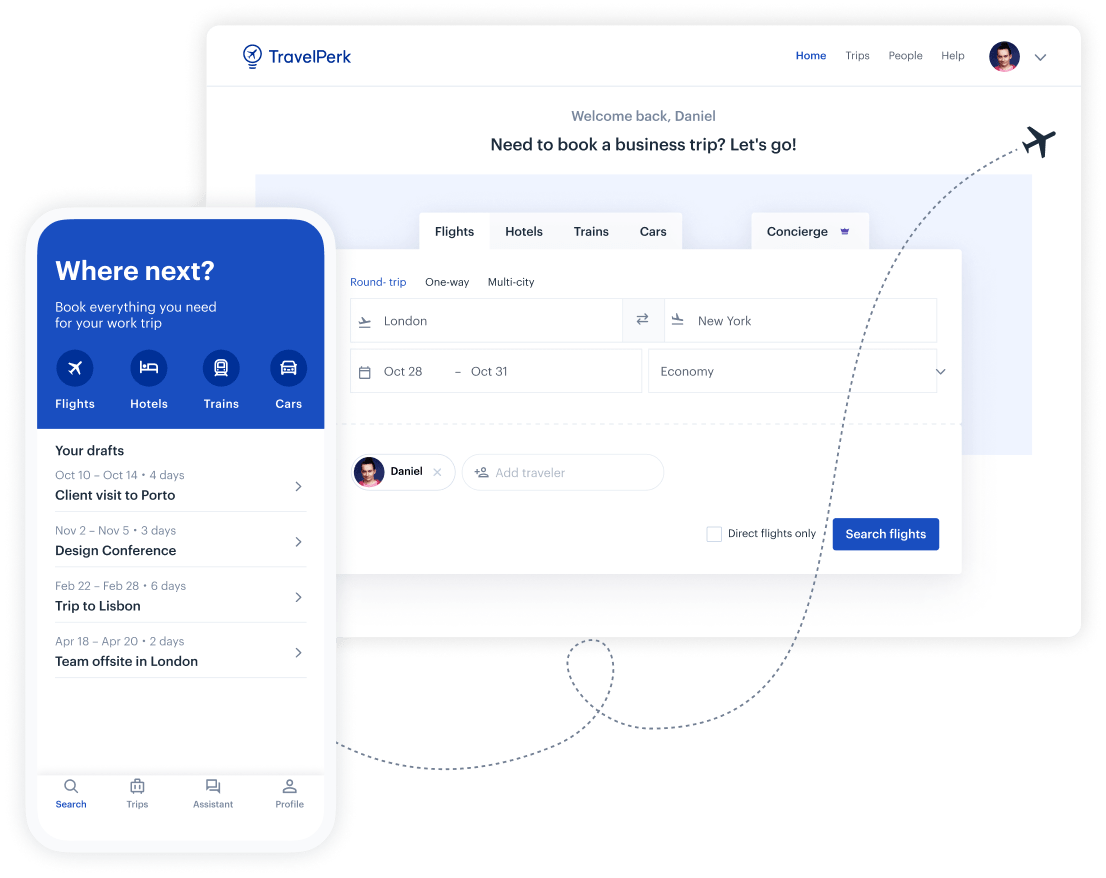 Make business travel simpler. Forever.
See our platform in action. Trusted by thousands of companies worldwide, TravelPerk makes business travel simpler to manage with more flexibility, full control of spending with easy reporting, and options to offset your carbon footprint.

Find hundreds of resources on all things business travel, from tips on traveling more sustainably, to advice on setting up a business travel policy, and managing your expenses. Our latest e-books and blog posts have you covered.

Never miss another update. Stay in touch with us on social for the latest product releases, upcoming events, and articles fresh off the press.