Business travel is a serious expenditure for companies—global corporate travel spend is expected to top $1.7 trillion in 2022.
With so much money going into the business travel industry, companies are always on the lookout for ways to save on their travel budget. That's where B2B travel solutions come in.
B2B online travel software can help companies simplify corporate travel and save a lot of money by providing the best deals available for their corporate travel—whether that's flights, accommodation, or other travel options. However, not all travel software is created equal—some do a better job at aiding your corporate travel than others.
In this article, we'll go through the top B2B travel software for your different travel needs, such as flight and hotel booking. These solutions help ensure your business travel is a breeze—so your travelers can focus on sightseeing—ahem—doing great business!
Top 10 best B2B travel software in 2023
In our list of the top ten online travel solutions, we've focused on several factors and divided the software based on their use case. We've outlined key software features to help you make your decision—let's dive in.
Best B2B software for business travel
First up, we've got the best B2B software for business travel. These are solutions for organizations looking to manage their corporate travel—they specialize in streamlining travel management with online booking tools, comprehensive travel reporting, and much more. Our top picks in this category are:
When choosing your next B2B business travel software, you want to find a:
Comprehensive solution: that meets all your corporate travel needs.
Easy-to-use interface: for quick and easy adoption.
Scalable solution: that's able to grow with your business.
These three considerations are key for choosing the right solution for you, alongside flexibility and stellar customer service. Let's find out more about our top picks.
1. TravelPerk
TravelPerk is a comprehensive travel management solution that helps organizations book, manage, and report on business travel. Users like its "simplicity and ease of use"—but don't let that fool you into believing that it has limited functionalities.
Here's what TravelPerk offers corporate travelers:
Travel policy compliance: by integrating the travel policy into the booking process, travelers won't be able to book travel tickets, accommodation, and transportation out of policy without approval from a manager. This drastically reduces supervision costs and ensures that travel expenditure never goes over the limit.
High-quality customer support: TravelPerk's support team ensures you're talking to a real human in 15 seconds or less.
Industry-leading travel inventory: provides the best deals on the market for your traveling employees with negotiated rates and global partnerships—including travel aggregators and low-cost carriers (LCCs).
FlexiPerk: TravelPerk's flexible travel options ensure you get 80% of your money back when canceling travel plans.
Carbon offsetting: GreenPerk ensures that you're offsetting the environmental impact of your business travel.
VAT recovery: TravelPerk enables you to save up to 25% on business travel expenses with its simple VAT recovery tool.
Third party integrations: seamlessly integrate with TravelPerk to provide a simple, end-to-end solution for corporate travel management.
TravelCare: is TravelPerk's travel risk management solution that gives you all the information, visibility, and support you need to ensure safe travels at all times.
TravelPerk is great for small and big businesses alike and offers a variety of plans depending on your budget—plus, you only pay when you travel. You can try before you buy with TravelPerk's free plan.
The platform offers a user-friendly interface that prioritizes user experience and ensures employees are up-to-date on all travel arrangements and itineraries. It's one of the top-rated travel management companies on the market, with solutions that support your business growth.


2. TravelBank
TravelBank's vision is to bring all travel services to one place. It's an all-in-one travel management platform for businesses and travel managers.
Set travel policies: like TravelPerk, TravelBank allows you to set parameters that enables you to limit booking options in line with your travel policy.
Analytics and expense tracker: the most useful feature of TravelBank is its analytics and travel expense tracker. It lets you break down travel expenditure into small segments to see where you have overspent.
Traveler profiles: enable you to manage travel for individual employees.
Reward employees: to incentivize policy-compliant decisions, you can reward employees that book their travel within budget.
24/7 travel support: Dedicated travel agents available via phone, chat, and email.
TravelBank is a reliable solution for corporate travel and a good pick for B2B software for business travel.
However, with TravelBank you pay monthly for total users, not a per-trip fee like TravelPerk. Consider how this fits into your budget before making your decision—you want your solution to save you money, not cost you more.
Plus, TravelBank lacks key features, such as flexible travel options, carbon offsetting, and VAT recovery. It's also got a less-extensive travel inventory and users report being able to find more flights with other solutions.
TravelPerk offers a more comprehensive suite of corporate travel management solutions, and its industry-leading inventory ensures you're getting the best deals on the market. Plus, the platform is more popular with office administrators than TravelBank—it quickly and easily streamlines business travel management for everyone involved.
Click below for a more detailed comparison between both platforms:
Best enterprise B2B booking system
Now, let's move on to enterprise B2B booking systems—these are for global organizations with thousands of employees. These businesses' global travel is next-level, and they need solutions that are used to that level of complexity.
While our previous suggestions are also enterprise-friendly, these solutions have been developed with an enterprise first approach. As a result, B2B enterprise booking systems focus on:
Controlling expenses: to monitor and limit the total travel expenditure.
Strategizing travel: on a large scale, with many moving parts.
Accounts payable processes: to ensure everything's up-to-date.
Enterprise B2B solutions focus on serving companies with a high travel budget and frequent corporate travelers. Managing expenses plays a big part in choosing the solution that's best for your organization.
Our two picks in this category are SAP Concur and AMEX Global Business Travel. Let's find out what stands out about these B2B online travel software solutions.
3. SAP Concur
SAP Concur is a comprehensive corporate travel solution that's geared more towards big enterprises. It provides travel solutions to some of the biggest names, including Twitter, IBM, and Vodafone. SAP offers businesses:
One management system: for planes, trains, taxis, and hotels.
Automated spending processes: to enable your business and employees to easily manage travel expenses.
Invoicing solution: to help you cut invoice processing time by 75%.
One dashboard: to keep an eye on all travel arrangements.
SAP Concur has the comprehensive suite of features you'd expect from a B2B travel management platform. However, some users complain that the interface is outdated and confusing, so it could take you some time to get used to the solution.
4. AMEX Global Business Travel
AMEX Global Business Travel is another enterprise travel solution for businesses to consider. Apart from enabling travel booking, it helps businesses by offering:
Risk management solution: to help ensure that your traveling employees are safe on their travels.
Destination event venues: enables you to find venues for events quickly and easily, with negotiated rates from AMEX.
Airline credit reporting feature: AMEX also comes with an airline credit reporting feature that can prove to be really useful for enterprises. With this feature, you get information about all canceled and unused tickets and ways to obtain a refund for them.
TravelVitals web tools: Travel Vitals™ is a trademark of AMEX Global Business Travel that enables traveling employees to see all their trip details at a glance.
Companies worldwide are using AMEX Global Business Travel to manage their business travel seamlessly and efficiently. AMEX GBT's large travel inventory finds good deals, however TravelPerk offer the world's largest travel inventory—finding organizations the best deals on flights, hotels, car rentals, and more.
Alongside the savings made with TravelPerk's industry-leading inventory, businesses also benefit from TravelPerk's pricing options. Unlike SAP Concur, TravelPerk customers only pay when they travel.
Click below for a more detailed comparison between both platforms:


Best B2B hotel booking engine
Hotel booking is a top concern for businesses, especially when it comes to travel agencies and tour operators. This software enables businesses to improve the booking process with comprehensive booking tools and ample hotel options.
The B2B booking engines up for consideration are:
When looking for a B2B hotel booking platform, you want to prioritize:
International network: of hotels to choose from.
API Integration: to make booking easier.
Cost-effective booking: you want a platform that can find you the best deals.
Let's take a closer look at our top three hotel booking engines.
5. Hotelbeds
Our first entry to the list of best B2B hotel booking engines is Hotelbeds, a trusted name in the world of corporate travel. Hotelbeds offers users:
An international network: it has more than 180,000 partner accommodations across North America, Europe, and Asia.
Regional contractors: Hotelbeds have contractors in each destination who actively search and scan new properties at the best prices. Some of the top partners of Hotelbeds are Sheraton, Melia, and InterContinental Hotels Group.
Beyond hotel booking: Hotelbeds does not only provide hotel accommodation. They have a range of options including resorts, apartments, homes, villas, bed and breakfast, hostels, boutique hotels, and apart-hotels.
Transport solutions: Hotelbeds also work with transportation, transfer, and offer a variety of different destination experiences. They work with 60k travel distributors to get passengers to over 200 destination countries.
Booking API: the booking API is the highlight of Hotelbeds. It lets users choose flexible booking dates, filter hotels under different metrics, get direct upgrades, and more. It lets you integrate all these functions within your enterprise suite.
As you can see, there are ample options on Hotelbeds that include all the features to look out for in B2B hotel booking engines.
6. Ratehawk
Ratehawk is a B2B travel agency that offers both B2B and B2B2C booking engine solutions. As the name suggests, Ratehawk gives you access to the best hotel rates across the world. Here's what Ratehawk offers users:
International network of hotels and suppliers: the platform has a database of more than 1.7 million hotels from across the world. They have more than 120 suppliers dealing with car booking, transfers, flight tickets, and so on.
Cross-platform application: Ratehawk is designed for travel agencies and businesses alike. That means you get all the features that travel agencies use to cut costs and improve efficiency.
API Integration: Ratehawk also comes with API integration which is very useful for large enterprises. They can also integrate with websites and other online services.
Mobile app: the Ratehawk mobile app is available for both Android and iOS, which makes it convenient to operate remotely.
Trip management: Ratehawk also delivers all travel-related documentation in real-time and has a loyalty program for consistent clients.
Role assignment: enables employees to book their travel requirements from within the parameters and helps in keeping travel expenditure in check.
Customer support: Ratehawk also has an efficient multilingual customer support team that helps in quick resolution of all problems.
Ratehawk's a great hotel booking engine for businesses big and small.
7. Sabre
Sabre offers a wide variety of travel technology solutions and travel products—including an online booking engine that organizations can implement for quick and easy hotel booking. It offers a modern, responsive online B2B travel portal for businesses to manage their hotel bookings.
Here's what Sabre offers to organizations:
Dynamic personalization: based on travelers' profile, booking history, preferences.
Multi-device: so you can pick up where you left off
Smart booking engine: that automatically sorts options to find the best solution for the specific traveler
Sabre is a different approach to B2B hotel booking software that enables organizations to take travel booking into their own hands.
Best B2B flight booking engine
In this last section, we will look at B2B flight booking engines. These online travel agencies aim to get you the best deals on flight tickets, cancellations, refunds, and so on. Our top picks in this category are:
Travelfusion
FlightsLogic
Travelpro
When deciding which solution is best for you, consider the following:
Flight availability: there are ample options for flights.
International booking: enables you to travel wherever in the world.
Easy configuration: to make the entire process hassle-free.
Let's take a look at our top picks.
8. Travelfusion
Travelfusion is an advanced flight, train, and hotel booking platform that provides solutions to users from around the world.
Last-minute flight tickets: it specializes in providing flight tickets at the best price and even amidst ticket crises.
Multiple booking parameters: from branded fares to speedy boarding, Travelfusion helps with multiple aspects of corporate travel management. You can customize various aspects of your flight travel when booking through Travelfusion.
Hundreds of partners: Travelfusion gets you great deals with hundreds of partner airlines from around the world.
If you are looking for a B2B flight booking engine that can take care of all your travel requirements, Travelfusion is a great choice. The platform comes with multiple advanced features that businesses of all sizes can use and benefit from.
9. FlightsLogic
FlightLogic describes itself as an 'airline consolidator' and offers various options and filters for booking flight tickets. Here's how FlightsLogic supports users:
International network of airlines: the platform has suppliers from more than 100 countries and an inventory of more than 900 airlines.
FlightAPI: FlightLogic's Flight API connects enterprises and businesses with more than 900 travel suppliers from around the world.
Easy configuration: it comes with an easy setup and flexible configuration that connects you to any flight from any part of the world.
FlightsLogic does a great job of combining all the elements that corporate travelers seek in the same platform. It's a great choice for B2B flight booking engines in 2023.
10. Travelpro
Travelpro is a specialized flight booking engine that does a great job at bringing together numerous airlines at the best prices. Here's what Travelpro offers:
API Integration: it covers both domestic and international flights and scans through a huge database to give you the best results.
Real-time data sharing: everything from flight availability to booking confirmation to cancellations and rescheduling is in real-time.
All-in-one booking suite: Travelpro is an all-in-one flight booking suite that serves travel companies, websites, end-users, businesses, and more.
The platform strives to offer the best flights at the best prices, and is a great solution when looking for speedy flight booking.
Wrapping up
Corporate travel is evolving with technology, and more and more innovative solutions are available to businesses across the globe.
Now is the perfect time for you to find a travel solution that helps you save money, enhance security, and improve productivity.If you want one single solution to handle all your corporate travel needs—from flight booking to expense management—get in touch with TravelPerk today.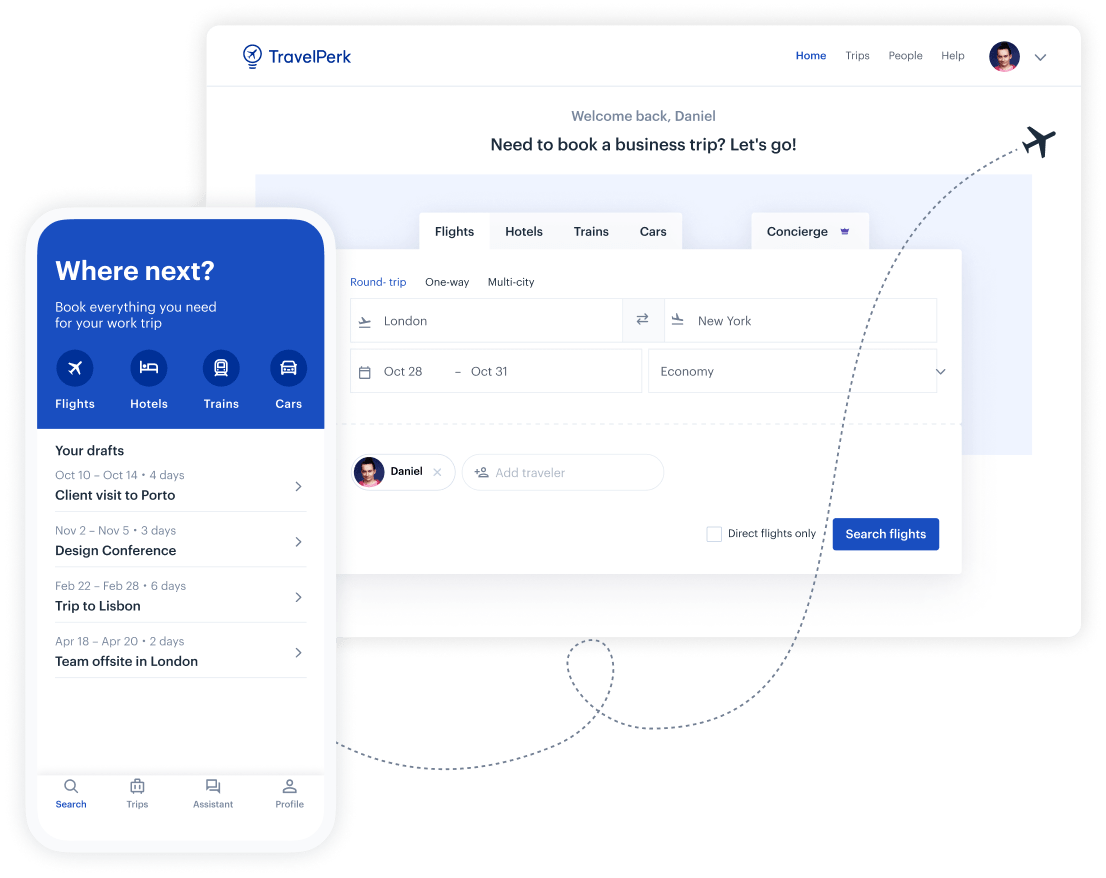 Make business travel simpler. Forever.
See our platform in action. Trusted by thousands of companies worldwide, TravelPerk makes business travel simpler to manage with more flexibility, full control of spending with easy reporting, and options to offset your carbon footprint.

Find hundreds of resources on all things business travel, from tips on traveling more sustainably, to advice on setting up a business travel policy, and managing your expenses. Our latest e-books and blog posts have you covered.

Never miss another update. Stay in touch with us on social for the latest product releases, upcoming events, and articles fresh off the press.