If your role includes a lot of business travel, you might not always look forward to your trips to the airport. But technology is here to help! At TravelPerk, we love a travel tip and regularly hit the app store to scope out the latest travel apps. Over the years, we have found some fantastic options that aim to solve the challenges faced by frequent fliers and improve the air travel experience. From tracking flight alerts to securing perks like lounge access, we break down our best travel apps for frequent flyers. So let's jump in!
Business travel just got a lot easier! With the TravelPerk Trip Assistant app, corporate travelers can access expert assistance from human agents 24/7, 365 days a year, wherever they are in the world. Never again will you have to find airport wi-fi and frantically scroll through confirmation emails to find your hotel's address.
TravelPerk's Trip Assistant allows travelers to store every aspect of their itinerary in one easy to reach location. From boarding passes to hotel details, train tickets, to car rental confirmations, all your information can be accessed quickly, even if you're offline.
Start making your job easier with the best travel management tool!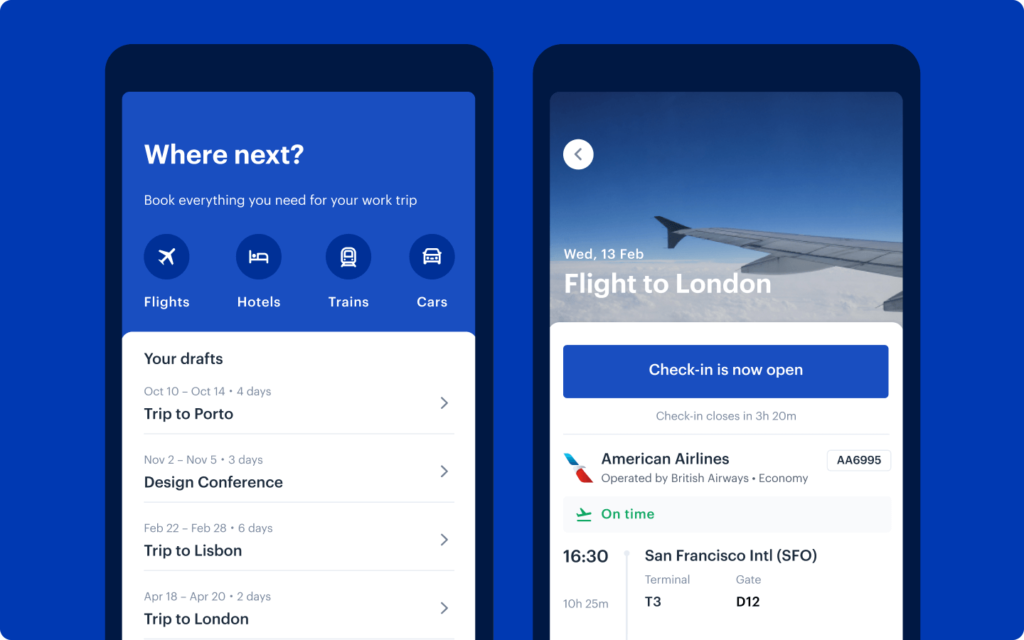 SeatGuru allows passengers to pick their ideal seat by providing detailed maps of over 1250 aircraft across 75 different airlines. With a straightforward color-coded system, users can quickly identify a great seat from a less desirable one.
SeatGuru flags when a seat might have limited legroom or other features that fliers might want to avoid. On top of excellent seating advice, SeatGuru also has a host of information on in-flight amenities and airline-specific regulations, including check-in guides, luggage limits, and tips for traveling with minors or pets.
With TripIt, business travelers can take advantage of a host of handy features. Primarily a free app, if possible, we would recommend travel managers budget for the extended TripIt pro for their teams. After uploading their details, TripIt alerts travelers when they need to head to the airport and provides estimates for the current wait time at security.

The app also keeps you updated with any gate changes and displays airport maps and connecting flight details to make getting around the terminal as smooth as possible. Once situated in their destination, travelers can continue to use TripIt to assess the safety of different neighborhoods and receive recommendations for local places to eat.
Scheduling calls with clients or colleagues in other countries just got a whole lot easier thanks to the Meeting Planner app. Just add your location and where you would like to call, and Meeting Planner's handy traffic light system will make suggestions for suitable times. The app also flags public holidays to help streamline your scheduling. Plus, you can invite participants and sync to your calendars, all in one easy-to-use platform.
Flight Aware Flight Tracker's mesmerizing map displays all flights that are currently in the air. A valuable tool for judging flight delays, users can search for their flight number and keep track of its inbound status in real-time.
Allowing passengers to estimate delays before status updates from their airlines, users can see if the flight before is late landing and assess the level of delay they might be facing. As well as flight delay updates, the flight tracking feature is a fun way for loved ones, especially kids, to await your return home.
Timeshifter is the app all frequent fliers have been dreaming of! Using algorithms developed for astronauts and the latest research from neuroscience, Timeshifter helps travelers reset their circadian rhythms and reduce the symptoms of jet lag.
In just two minutes, travelers can enter their itinerary details, and the app will create a program of straightforward advice with easy-to-follow notifications.
Got a long layover? AMEX users can get easy individual access to airport lounges across the globe, thanks to LoungeBuddy. Rather than requiring an annual membership or relying on loyalty programs, the app allows passengers to book a one-off pass for over 2000 lounges in over 800 airports worldwide.
On average lounge access through LoungeBuddy costs around $50, and users can search by destination and the amenities they are looking for. In addition, travelers can leave honest reviews within the app so fellow fliers can accurately assess whether a lounge offers actual value for money.
Whether you don't pack enough options or your weather predictions are off, it's easy to make a mistake with your packing when you are constantly on the road. The PackPoint app aims to take the pain out of getting ready for your trip.
Add in your destination and travel plans, and PackPoint will curate the perfect packing list. PackPoint doesn't just take into account the length of your stay and the latest weather forecasts. It also makes sure you have everything you need for the activities you have scheduled.
If you are flying within or to the United States, then the MyTSA app can be a helpful addition to your mobile device. Aiming to help answer fliers' most frequently asked questions, travelers can find a wealth of information inside the app.
From a searchable database of items you can bring in your carry-on luggage to guides on getting through security as quickly as possible, it can save money and time for frequent travelers. Operating 24/7, users can also request support, check weather conditions and flight statuses, and scope out the average wait times at TSA for their journey.
Danish app Luggage Hero has been helping travelers store their bags securely since 2016. Now located in 46 cities across Europe and North America, Luggage Hero partners with local stores so you can be luggage-free for the last few hours of your trip. Users search for the most convenient location and book a spot online for the cost of a coffee.
Plus, you can use a credit card, so you don't have to worry about eking out those last few notes of foreign currency. When you drop off your bags, they are sealed and protected under Luggage Hero's contents insurance. So you can take that last meeting unhindered and with total peace of mind.
What apps do you rely on when flying? Is your favorite on our list, or is there another we should know about? Let us know on our LinkedIn thread!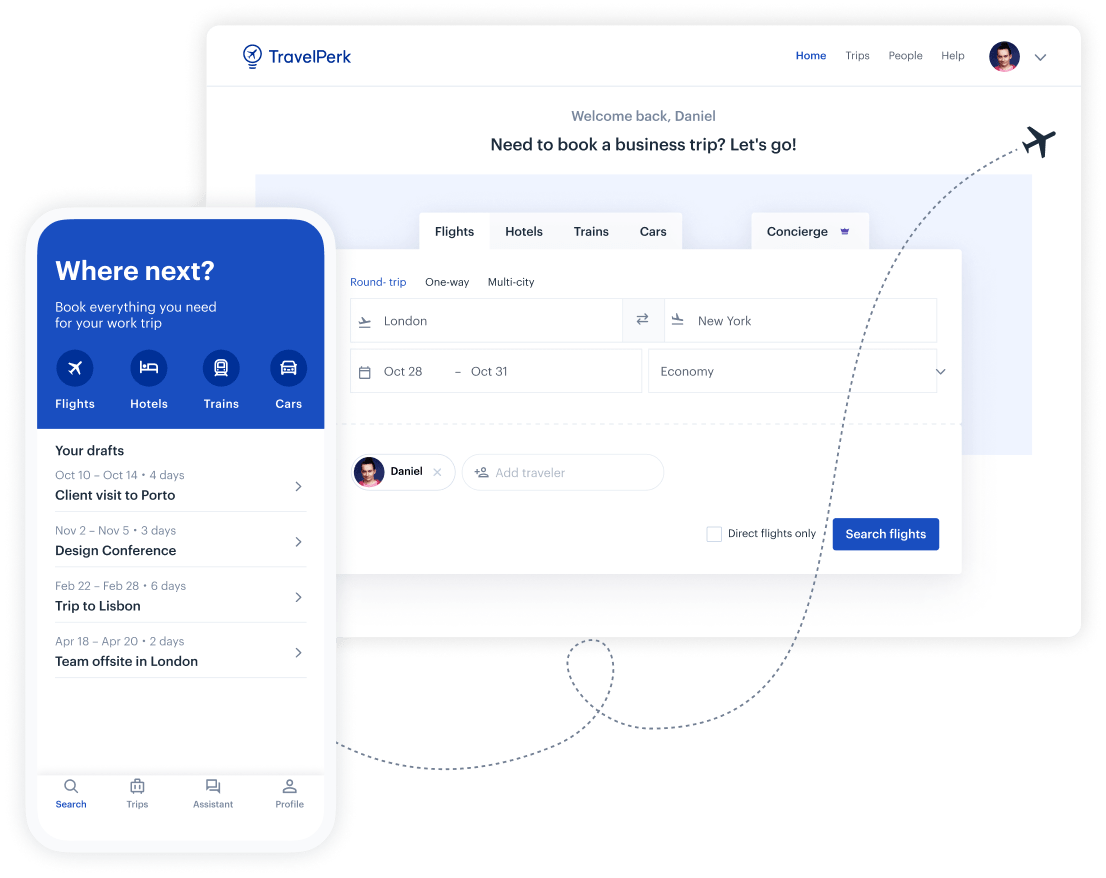 Make business travel simpler. Forever.
See our platform in action. Trusted by thousands of companies worldwide, TravelPerk makes business travel simpler to manage with more flexibility, full control of spending with easy reporting, and options to offset your carbon footprint.

Find hundreds of resources on all things business travel, from tips on traveling more sustainably, to advice on setting up a business travel policy, and managing your expenses. Our latest e-books and blog posts have you covered.

Never miss another update. Stay in touch with us on social for the latest product releases, upcoming events, and articles fresh off the press.