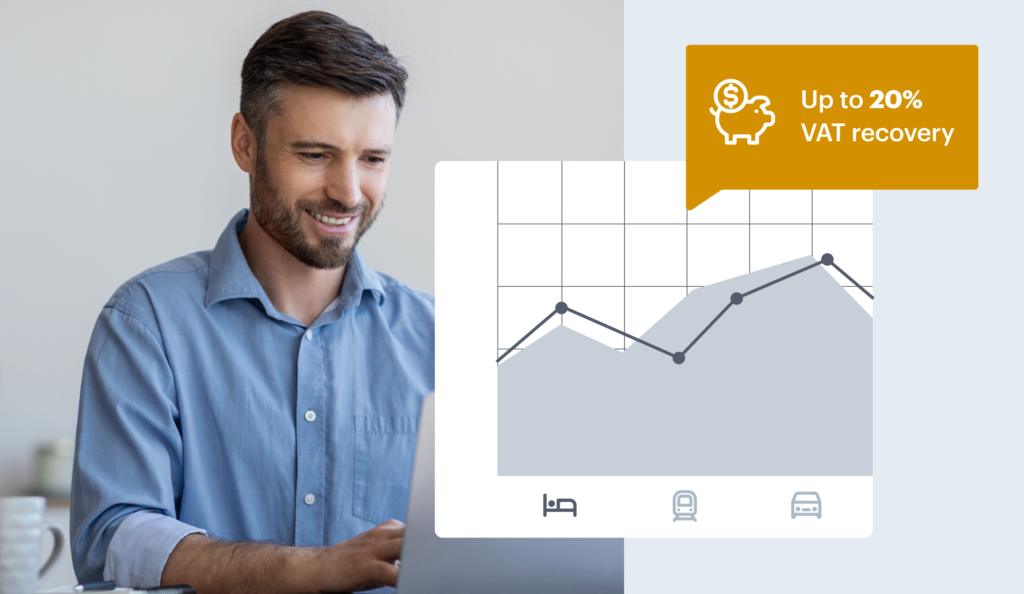 TravelPerk launches new solution to help businesses recover up to $20 billion in VAT
TravelPerk built the world's first VAT Solution allowing customers to radically simplify the VAT reclaim process on their business trips.
By providing a breadth of inventory that is VAT recoverable, an invoice collection service, and a VAT calculator, TravelPerk will help businesses reclaim billions in lost money .
The new VAT Solution, available to all TravelPerk customers today, delivers on TravelPerk's mission to make business travel painless.
Barcelona, Monday 9th November 2020: TravelPerk, the largest global travel management platform, has today launched its full Value Added Tax (VAT) Solution an exciting new product which allows organisations to easily reclaim VAT on their business trips, including VAT on flights, trains, hotels and car rental. At a time when cost saving is a priority for businesses of all types, TravelPerk's VAT Solution will provide TravelPerk customers with savings of up to 25% on their annual travel spend. 

Every year, $20 billion of reclaimable VAT is lost, making this one of the largest hidden costs for businesses. This is because VAT recovery is often painful and complex for finance teams, most of whom lack a comprehensive VAT recovery process. Reclaiming VAT requires dealing with often hundreds or thousands of invoices, and relying on various third parties with whom bookings were made. What's more, because VAT rules vary from country to country, businesses often can't keep up with what is VAT recoverable and what's not - for example, many US businesses aren't aware that although there is no VAT in the US, they are able to claim their VAT back on expenses on a trip to Europe. 
TravelPerk's complete VAT Solution will increase the efficiency of the VAT recovery process for businesses, saving them time and money. The VAT Solution comes in three parts: first, TravelPerk can provide customers with the necessary VAT invoices for hotel stays, car rental, flights and train bookings. TravelPerk will either issue the VAT invoice on behalf of the supplier, or where this is not feasible, collect the VAT invoices from the underlying travel supplier and provide them to the customer. Secondly, TravelPerk has increased its inventory on which VAT is reclaimable across all verticals and in European countries. Finally, the VAT Solution includes a proprietary VAT calculator which TravelPerk customers can use to find out how much they can save by booking their travel through the TravelPerk platform. The TravelPerk VAT solution will be included in Premium and Pro plans for all existing TravelPerk customers and is available from today.

TravelPerk has also invested in hiring deeply specialized VAT talent to help deliver the highest quality solutions to its clients, including Robbie Falkenthal, TravelPerk's Director of Tax and ex-KPMG. On the launch, he said:

"Having specialised in Indirect Taxes for over 9 years, I am confident that we have built a uniquely compelling solution here, for the first time blending leading edge advisory and technical solutions to offer companies something that the market has not seen before"
Avi Meir, CEO and co-founder of TravelPerk, said:

"Businesses of all kinds are feeling the strain right now and are trying to find ways to save money. Lots are unaware of the savings they can achieve thanks to VAT. At TravelPerk, we've completely simplified the VAT recovery process for our customers so that now they can reclaim their VAT back on business travel. It's a big step in our mission to make business travel as painless as possible and also to put money back in businesses' pockets that would otherwise be lost."
About TravelPerk
TravelPerk is the next-generation business travel platform pioneering the future of business travel. TravelPerk's all-in-one platform gives travelers the freedom they want whilst providing companies with the control they need. The result is saved time, money, and hassle for everyone.

TravelPerk has the world's largest travel inventory alongside powerful management features, 24/7 customer support, state-of-the-art technology and consumer-grade design, all of which are enabling companies worldwide to get the most out of their travel.

Backed by world-class investors like Kinnevik, Target Global, Felix Capital, Spark Capital, Heartcore, LocalGlobe, Amplo, 14W—investors in some of the most disruptive companies in tech including Zalando, Slack, Trello, Twitter, Farfetch and Delivery Hero — TravelPerk is reinventing business travel with an end-to-end solution that works. Visit www.travelperk.com or https://www.travelperk.com/vat/ for more information.