If your work sees you regularly taking to the skies or hitting the road, you have no doubt mastered the art of packing. As a frequent business traveler, the space and weight your gadgets take up are crucial. The wrong choice of laptop can eat into both and leave you filled with regret! While a laptop for the road might not need the same spec as your main desktop computer, some features are important to consider. Below we break down our main considerations when selecting an excellent laptop for business travel and our top picks for 2021!
Essential factors to consider when picking a laptop as a frequent business traveler
1. The laptop's weight
As a corporate traveler, the amount of time spent carrying your laptop around means picking a lightweight option is key. With some options weighing as little as 500 grams, it's becoming easier to find a travel laptop that can easily slip into your hand luggage and be carried comfortably for hours. But while laptops are becoming increasingly sleek in design, you don't want a flimsy option that will break the first time it gets a knock at the airport. As a frequent business traveler, you need to balance weight and durability to ensure you get the most bang for your buck.
2. The laptop's battery life
As business travelers we have all left a meeting, dashed straight to the airport, and settled in to write that report on our flight only to discover we've run out of battery. Whether you are a frequent flyer or spend your days traveling from client to client, you need your battery to last the whole workday without seeking out a power socket.
3. Whether it requires extra accessories
There is nothing more annoying when you have limited space than discovering you don't have enough ports. While an accessory can fix this, you need to ask yourself if the laptop's specs warrant the hassle of having to juggle all this in an airplane seat. Another consideration is your laptop's keyboard and trackpad. If either of these isn't up to scratch, you could end up hauling around extra accessories which add both weight and bulk to your luggage.
Our top ten laptops for business travelers.
Apple Macbook Air (M1)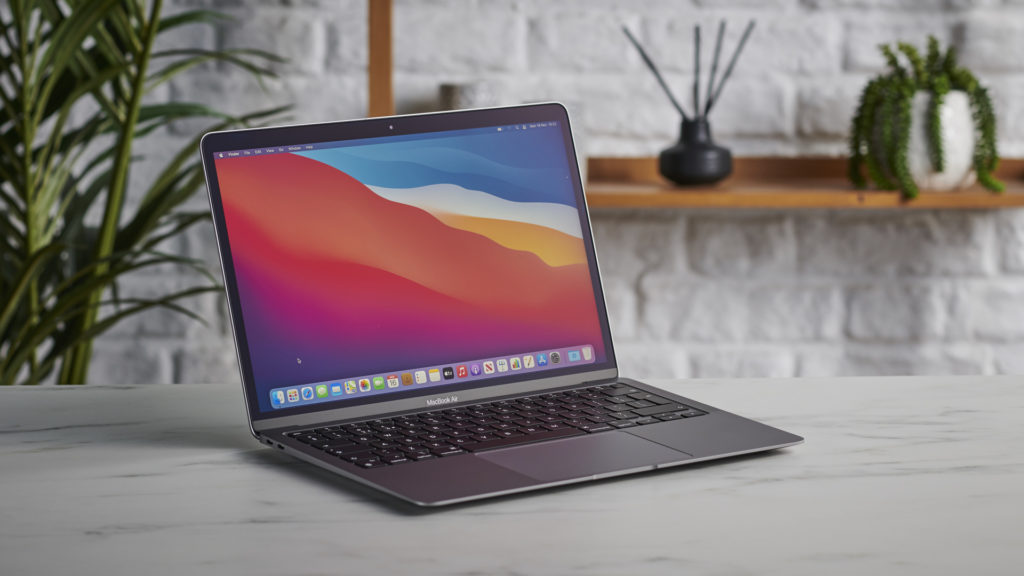 If you have multiple Apple devices, then the new Macbook Air could be your best pick for a new business laptop. Slightly cheaper than its high-end sister the Apple Macbook Pro, the latest Macbook Air can sync iPad and iPhone apps in seconds, thanks to the much anticipated M1 chip. Not only does this newest iteration have super fast operating speeds and an ultra-crisp retina display it's also compatible with the upcoming Wi-Fi 6 connections. Topping off a stellar spec list, the Macbook Air M1 boasts 20 hours of battery life plus a fingerprint reader to keep all your important documents safe. Those who need a more robust setup for tasks like video editing can upgrade from the standard 8gb of ram and add either 1tb ssd or 2tb of ssd storage for quick downloads and file sharing.
Asus ZenBook 13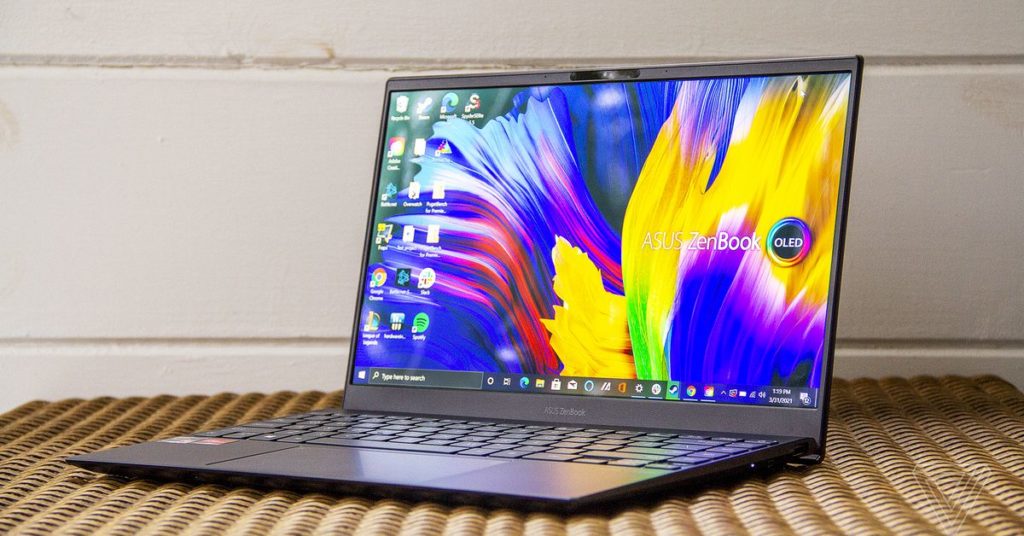 Weighing just over 1kg and coming in under $1000, the ASUS ZenBook 13 packs an enormous punch for its price tag. The ZenBook's hinge has been cleverly engineered to help keep the laptop cooler and give users a more ergonomic typing experience. Another noteworthy feature of the sleek design is the trackpad which transforms at the click of a button into an illuminated number touchpad. If you haven't switched to wireless headphones, the lack of a 3.5mm audio jack could be a pain, but Asus generously provides a USB converter to circumvent this issue.
Lenovo ThinkPad X1 Carbon Gen 9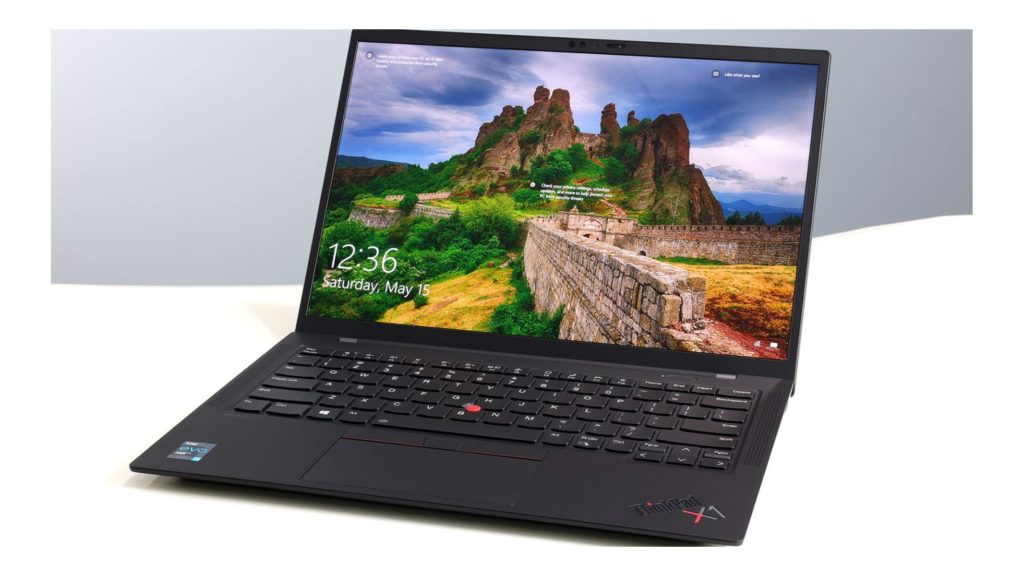 The Lenovo ThinkPad X1 Carbon series has long been receiving acclaim as excellent business laptops, and fans won't be disappointed by the ninth iteration. While it doesn't feature a microsd or sd card reader, it has a broader range of ports than most laptops, including two Thunderbolt 4 ports, two USB Type-A ports, a Nano-SIM slot, and a full-sized HDMI connection. Plus, the ThinkPad's keyboards are generally regarded as the best on the market, so you won't need to lug around extra weight. If your work sees you editing photos or drafting complex spreadsheets, opt for the version with 16gb of ram to enjoy a smoother operating system.
Acer Spin 5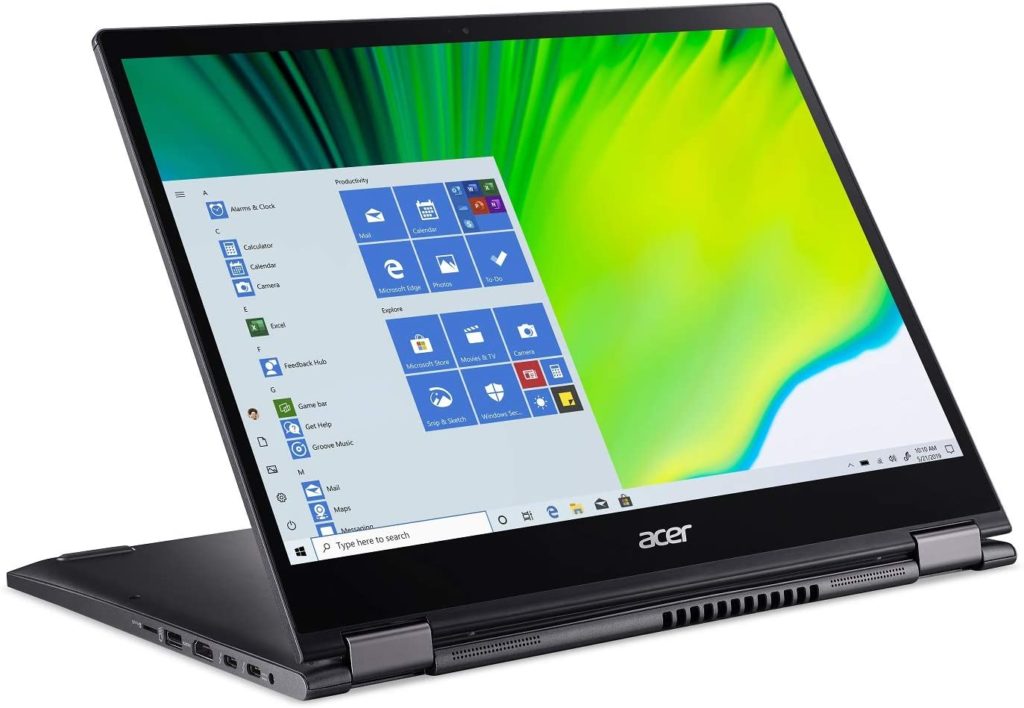 The Acer Spin 5 is a superb option for those looking for a laptop that's a little kinder on the wallet. A 2 in 1 laptop and tablet, the Spin 5 combines the functionality of both seamlessly. The screen ratio of 3:2 gives more vertical space than other laptops, meaning there's more working space on-screen without adding to the overall dimensions. Moreover, when operating in tablet mode, its lightweight design and almost A4 paper dimensions mean it's ideal for note-taking on the go. The Spin 5 partners ease of use and portability with a range of USB and Thunderbolt 3 connections that make it very travel friendly.
Asus ExpertBook B9450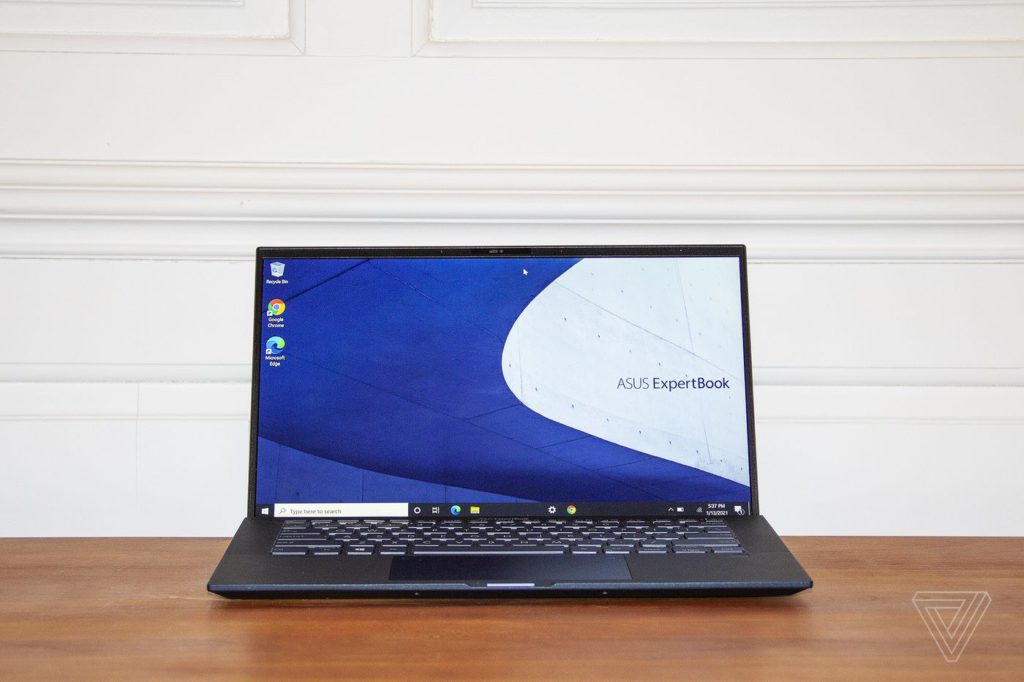 Since its introduction last year, the Asus ExpertBook B9450 has led the way in terms of battery life. Tests show the battery can last a staggering 24 hours of video playback. It's also super portable, weighing only 860 grams which is easily one of the best in its category. Alongside being lightweight, it's also ultra-thin, making it easy to slip into any bag without needing to repack. Furthermore, it boasts 2TB of solid-state drive storage space, so there should be no need to carry around extra hard drives for most users. While heavy-duty users may want a slightly more powerful cpu, most business travelers will find the Asus ExpertBook B9450 will easily suffice for everyday tasks.
Dell Latitude 7420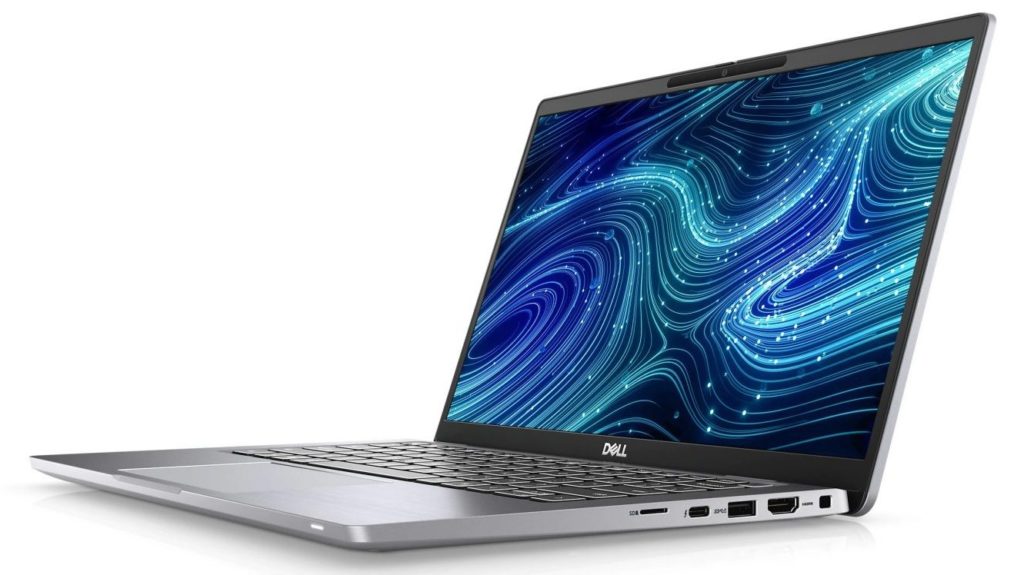 Available as both a conventional laptop and 2 in 1 tablet combo, the Dell Latitude 7420 immediately offers flexibility and customization to business travelers. The top of the range version has a carbon fiber finish, making it a lightweight and sturdy travel companion. The Dell also boasts a plethora of ports, including full-size HDMI, two Thunderbolt 4 USB-C ports, and a USB-A port which is helpful for connecting to any older accessories. There are also multiple in-built security features which will keep your IT departments happy and your data secure as you travel. Plus, the inbuilt 4K display webcam makes it easy to stay in touch with the office on the move.
HP Zbook Firefly 15 G8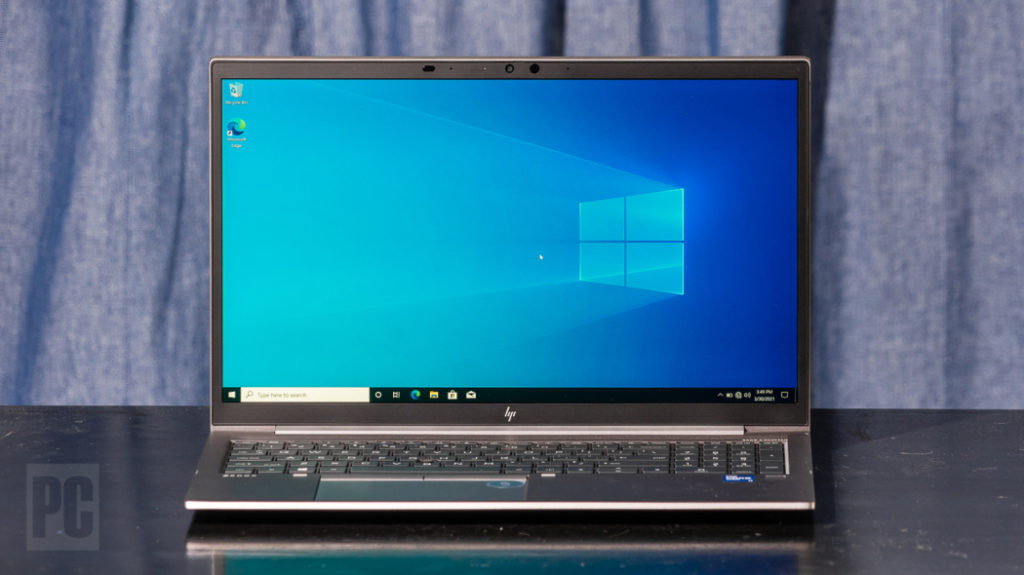 The HP Zbook Firefly 15 G8's sleek and slender proportions belie the powerful components and top specifications contained within. The high-quality keyboard has a comfortable feel, while the enlarged trackpad makes it ideal for heavy everyday use. Utilizing Intel's 10th generation processor, NVIDIA® T500 graphics card, and 32GB of RAM, the laptop easily handles multiple tasks and programs. There's also a 5G SIM Card slot, enabling users to get internet connectivity globally, as well as a multitude of useful ports. Designed to be easily sanitized, it's perfect for business travelers in the current climate and great for sterilizing quickly between users during presentations and meetings.
HP EliteBook 840 G7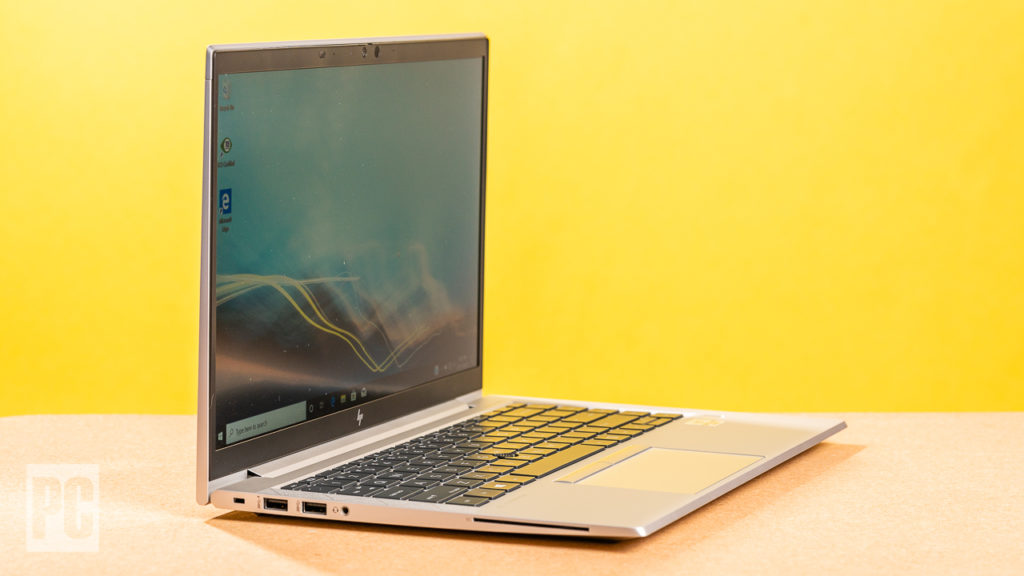 The HP EliteBook 840 G7 is a svelte laptop with cleverly designed dimensions. The thin bezel edges which elegantly wrap around the design allow for a 14-inch screen while keeping the laptop's overall dimensions down. Impressively HP has managed to keep weight low without sacrificing valuable features such as multiple ports and durability. Rather than a flimsy shell, the aluminum case is hard-wearing and designed to withstand the numerous bumps and bangs that befall all business laptops. Battery life and performance are also good, while a remarkably comfortable keyboard and user-friendly trackpad make the EliteBook 840 G7 a good all-rounder for those looking for a high-performance yet durable laptop.
LG Gram 15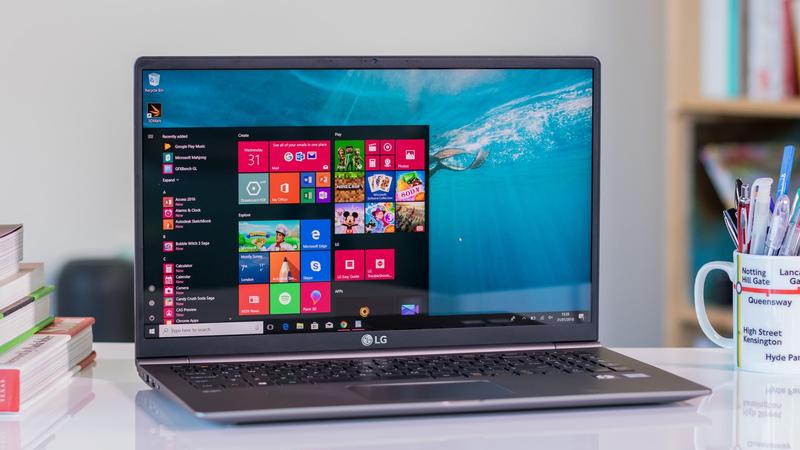 When traveling between meetings, you need a laptop that can handle a few knocks. The LG Gram is the most durable laptop on our list, thanks to its tough metal casing. Inside lies impressive specs, including an array of ports and a super-fast 256gb ssd for speedy downloads. While strong enough to withstand the scrapes of rush hour on the subway, the LG Gram remains insanely lightweight at just 1kg. Plus, with a battery that boasts 16 hours' worth of power, you can be confident that your laptop won't give out mid-pitch.
Microsoft Surface Go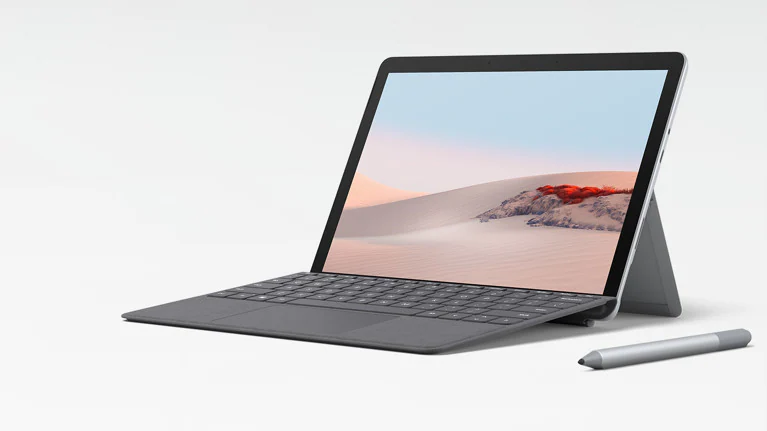 Weighing just over 500 grams, this windows 10 laptop/tablet is the lightest on the list and the best of the budget laptop options. Perfect for travelers who don't need a powerful laptop but could do with more functionality than a tablet, it has a 10.5-inch touchscreen and 1tb of storage space. If you find yourself frequently jumping between meetings, this laptop allows you to switch to tablet mode to jot down notes with the included stylus before answering emails on a comfortable-sized keyboard. With 10 hours of battery life, the Microsoft Surface Go should have enough juice to last the whole workday.
Did you find this article useful?
If you did, please follow us on our social media accounts on LinkedIn or Instagram. Please share the article with your friends or colleagues!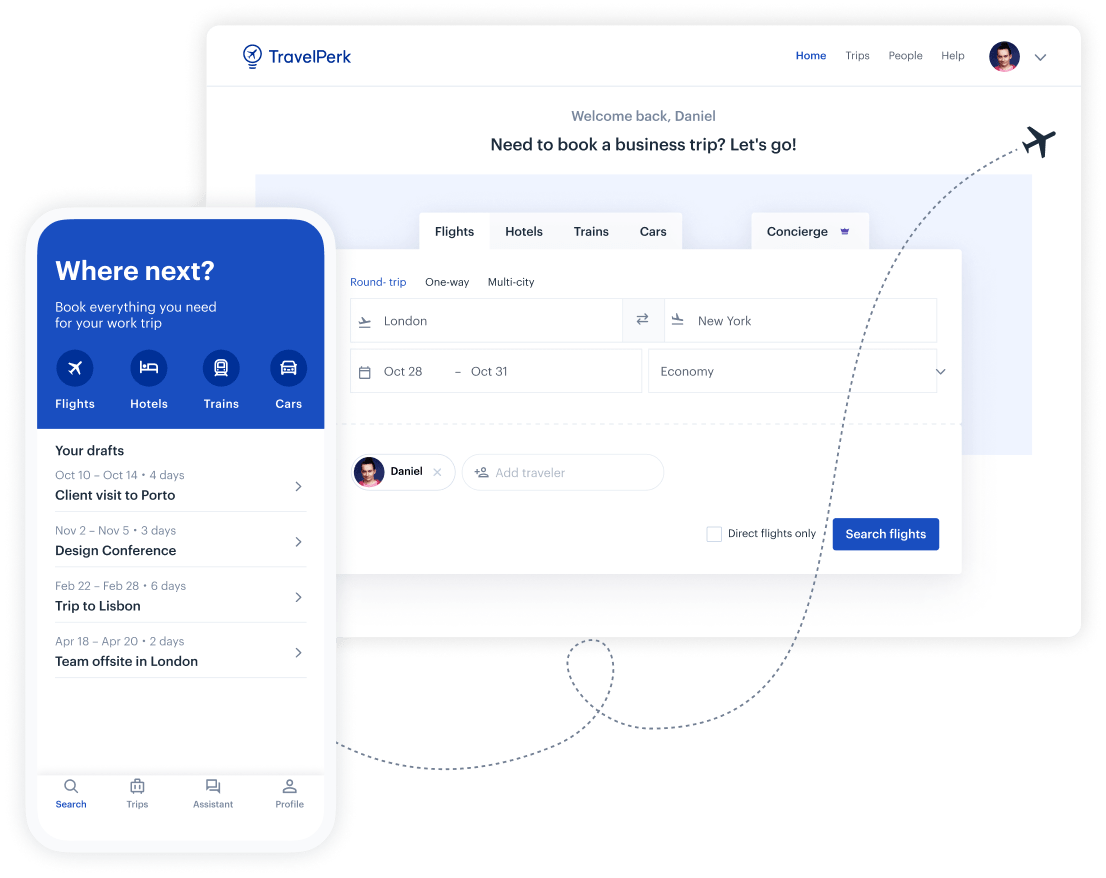 Make business travel simpler. Forever.
See our platform in action. Trusted by thousands of companies worldwide, TravelPerk makes business travel simpler to manage with more flexibility, full control of spending with easy reporting, and options to offset your carbon footprint.

Find hundreds of resources on all things business travel, from tips on traveling more sustainably, to advice on setting up a business travel policy, and managing your expenses. Our latest e-books and blog posts have you covered.

Never miss another update. Stay in touch with us on social for the latest product releases, upcoming events, and articles fresh off the press.