Ranking as the #1 rated business travel tool on sites like G2Crowd, Capterra, and Trustpilot is a hell of a way to start 2018! (Especially by our 3 year anniversary.) But despite popular practice, that exciting title wasn't self-endowed or exchanged for a few minutes of pitching on stage. Instead, we invested years examining the business travel sector and earning the trust and accolades of those it left underserved.

You've had the chance to hear from Avi, our CEO, about how TravelPerk pivoted from traveler incentivization to a total overhaul of the business travel experience, but we haven't shared much about the vital role customer feedback played in that shift. So I sat down with our founder and CPO, Javi, on how he's leveraged it as a key driver of our success.

From decisions about business direction to adding delightful features (like our hotel heatmap), we seek user feedback at every step. This genuine interest in alleviating your travel pains — and hell, our own — grew into a natural relationship of cyclical feedback and product evolution.
"It shouldn't be a surprise that delivering a little compassion can shift an audience into advocates."

Avi Meir - CEO and Co-founder of TravelPerk
Our users provide feedback because they feel like a partner in our journey, and they certainly are. Insights are collected by the support team, from within the app, via surveys and through outreach campaigns. It's common for user feedback to drive an entire discussion internally. We've had to balance building robust capabilities with not overcomplicating things. Again, a lesson we learned from speaking directly to you. Here are a few key moments where talking with customers defined our course:
Accepting what we were trying to avoid
After getting feedback from the market that incentivization was only a piece of the puzzle most businesses were trying to solve, we expanded our scope and dove head first into addressing the bigger picture. Early on, we discerned it didn't matter how sexy your interface was if a customer couldn't find the flight they wanted. Despite having originally tried to avoid the gargantuan undertaking, we began building the largest bookable inventory as a way to start to monetize, catch early adopters, and act as the foundation in which we could build our business and support growth. But we were in a race against the clock and needed to define the next step and get working on it. The question was: who was business travel impacting in organizations and where could we support the most?
Identifying who needed the most help and starting there
We knew there were more stakeholders than just the traveler himself and that in most cases financial leadership was invested in the matter. But 200+ discussions later, turns out the admins were wielding the most influence, controlling the vast majority of the company's travel logistics and spend, and often the most overwhelmed juggling travel on top of office management. To be most effective we had to focus.

Javi on the focus on office managers versus travelers:
"The obvious focus for a new business travel company may be swooning travelers with sexy tech, but we realized the administrative foundation needed to be formalized first, so travel could be managed in a central way."
This allowed us to identify, and solve, the multitude of obstacles surrounding a singular persona. After we went wide with available inventory, we delved deep into solving travel management issues. We focused heavily on giving office managers the control and insight they needed without the hassle. The implementation of automatic policies and approval workflows simplified their day-to-day, killed the need for micromanagement, shot compliance to nearly 100% and actually empowered companies to leap towards self booking. Which in turn provided greater autonomy to the traveler without sacrificing visibility and control to admin and controllers. The ability to manage traveler info, flights, hotel bookings, invoices and expensing all in one platform felt revolutionary for them. But it wasn't just about detangling a messy booking process, but providing support when things inevitably unraveled during travel. Which led us to our next challenge.
Outdoing the competitors
Building a second to none inventory was a lesson in doing things ourselves, so they were done well. We've carried that experience into our customer service approach. It's no secret: support is where most others fail. Whether robotic answering machines, offshore call centers, or just a clear lack of disinterest, there are hoards of travelers with horror stories (and social feeds) to prove it. We've taken this gap in service seriously and made it a top priority. To outgun the competitors, we've brought the team in-house, hired the best, significantly invested in their training, involved them in our decision making and treated it like the core part of our platform, it is. It's one of the main sources of traveler feedback and, therefore, a major part of vision setting for this upcoming year.
Giving power to traveler in 2018
In partnership with office managers, we've been able to remove the admin/agent bottleneck allowing self booking with greater autonomy and ensuring compliance and visibility. Because they've helped us onboard tons of travelers in the last few years, we have more clarity into the less than stellar parts of the traveler experience. And the message is clear: travelers need better support on the road. That's why we're dedicating 2018 as our Year of the Traveler.

Javi on product vision for 2018:
"We want to be with the traveler door-to-door, from the moment you think of the trip until you get back home. We're dedicated to everything that involves in between."
The good news is traveler-focused perks have already started to go live. We've recently relaunched our mobile experience allowing you to book on any device and access your itinerary and travel data on the go. No more winging it alone or pestering your admin during off-hours. And because travelers are slave to an often changing flight schedule, being able to easily access flight statuses in real-time is necessary. Most tools charge premium fees for this, but we think it's a vital and therefore non-negotiable part of the traveler's experience. So we've prioritized it, free! The killer list of upcoming releases include automated check-in and boarding passes, deeper airbnb integration and more.
We've been in the shoes of the very people we aim to serve. We've felt the pain of antiquated options firsthand and seek to bring the pleasure of consumer travel to the weary professional with a weekly itinerary. But we couldn't have created the value they were seeking, if we had dug our heels in and ignored the feedback on our original idea. We would have failed. Instead it's thanks to the relationship our dedicated team has invested in building with our admins and travelers and business leaders, that has ultimately helped us a create a tool worthy of a number one spot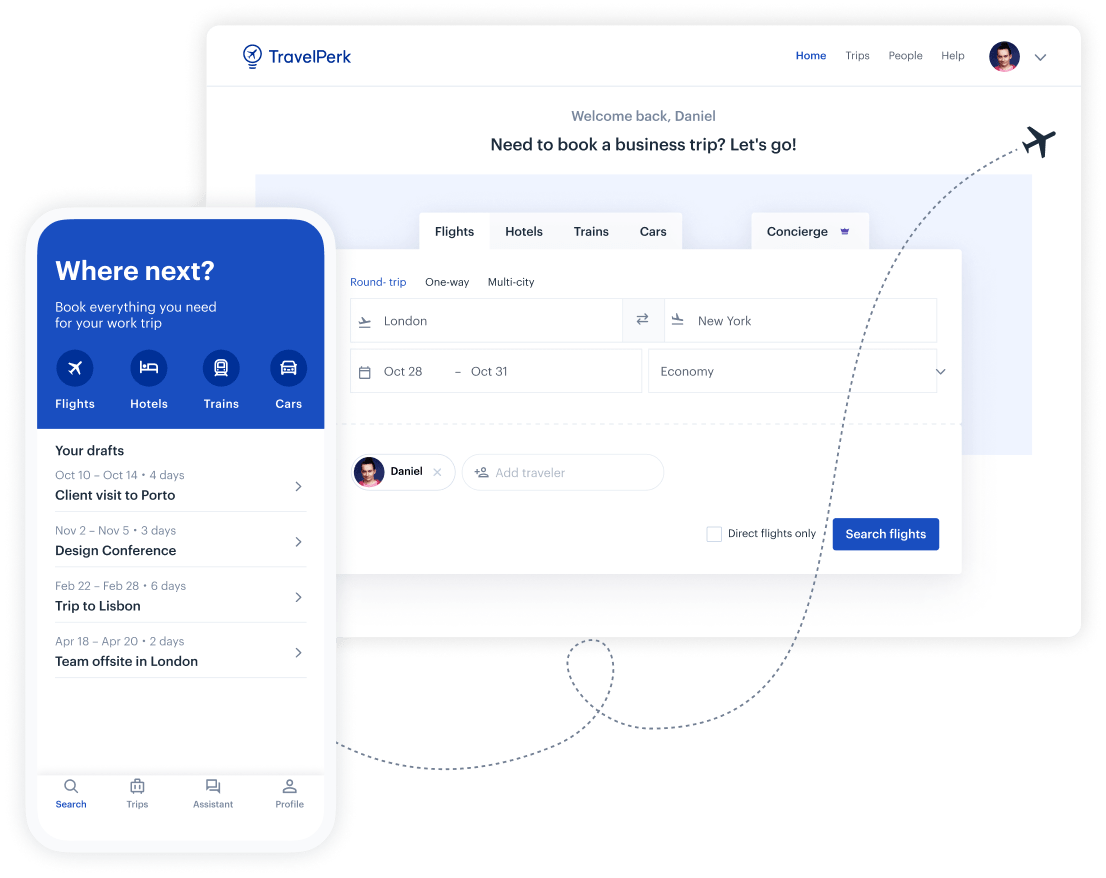 Make business travel simpler. Forever.
See our platform in action. Trusted by thousands of companies worldwide, TravelPerk makes business travel simpler to manage with more flexibility, full control of spending with easy reporting, and options to offset your carbon footprint.

Find hundreds of resources on all things business travel, from tips on traveling more sustainably, to advice on setting up a business travel policy, and managing your expenses. Our latest e-books and blog posts have you covered.

Never miss another update. Stay in touch with us on social for the latest product releases, upcoming events, and articles fresh off the press.