Does the phrase "business travel" make you think of flying or traveling by car? You may be surprised to know how many companies choose business train travel instead.

Rail travel has always been very popular for domestic journeys. Research from GlobalData shows that 2.1 billion domestic trips were taken by rail in 2019, compared to just over 1 billion by air. During the coronavirus period, train trips became even more popular in many countries. TravelPerk's own data from late 2020 show that 80% of domestic trips in Germany were booked on trains, up from 66% before COVID-19.

Although trains may be slower than planes, traveling on a train still offers some unique advantages. Here are a few of the main benefits of business rail travel:
1. Save money
One benefit of business train travel is that it's sometimes more cost-effective than traveling by airplane (or even by car, depending on the price of gas). It's worth comparing prices between the different modes of travel before you book. In some cases, you can realize significant cost savings by choosing the train, without needing to sacrifice on comfort.

2. Go directly to your destination
Unlike airports, many train stations are conveniently located in city centers. And while airports are typically only found in major cities, train routes often run through smaller cities and towns. If you need to reach a smaller destination internationally, combining plane travel with train travel will allow you to get there without the hassle of renting a car.
3. Help the environment
Did you know that a single passenger's journey from London to Madrid emits 118 kilograms of CO2 by plane, but only 43 kilograms by train? Train travel is more eco-friendly than flying, and in some cases may be more eco-friendly than driving. Encouraging business train travel is a great way to cut CO2 emissions and show your company's commitment to the environment.
4. Get work done
Unlike other forms of transport, the train is a great place to get work done en route. Trains typically offer a smoother ride than a bus and more legroom than a plane. You can also benefit from train services like free Wi-Fi and charging stations onboard, so you can stay connected while traveling.
5. Avoid the risk of lost luggage
If you're traveling on business, you may be carrying valuables with you. Fortunately, trains typically offer overhead storage space and luggage racks in each train car, so you can keep an eye on your belongings throughout the trip.
6. Get a more comfortable sleep
Business train travel may be a more comfortable option for overnight journeys than red-eye flights. Sleeper trains are now becoming more popular, offering the opportunity to book an overnight berth rather than sleeping upright in a plane seat. If you have important meetings the day after you travel, being well-rested will allow you to put your best foot forward.

7. Travel faster
Business train travel may be faster than other forms of transport, such as driving. This is especially true if you take a high-speed train, as these can cut down on train times significantly. If you're traveling between two major cities (for example, Manchester and Birmingham), business train travel will help you avoid traffic jams.

Although flying is usually considered the fastest mode of transport, train travel may actually end up being faster than flying for short trips. Besides the actual flight time, you'll also need to consider the time spent getting to the airport and passing through security. When these are taken into account, the train journey often ends up being the same length or shorter than traveling by air.
8. An accessible and lower-stress travel experience
Finally, some people may find train travel to be a lower-stress travel experience than other modes of transport. When traveling by rail, you'll be able to buy tickets and access the train without going through a complicated check-in process. Once on board, you can sit back and relax, without having to worry about driving.

It's worth considering that some employees may be nervous about flying, or may face accessibility challenges. Offering a variety of options for business travel as part of your company travel program shows a commitment to accessibility for all.
Tips for business train travel
So how can you get the most out of your business trips when traveling by train?

If you book tickets in advance, you can often save significant amounts of money. For those who travel frequently, season tickets, railcards, or a rail pass are worth considering as well.

If you're traveling as part of a group, booking train tickets or e-tickets in advance will ensure you get seated together. It will also allow you to find business class or first class seats before they sell out, if this is important to you.

Managers should ensure all members of the group are up to date on your company's business travel booking procedures, and are well-prepared for the train ride. This may include packing food, comfort items, work equipment, and anything else needed for both the journey and the arrival.

You can also look for an all-in-one platform and mobile app for business travel to make your trip planning easier. If you often travel on business or manage a company travel program, you know that booking and managing multiple business trips can be a hassle. Fortunately, business train travel and other types of business travel are made easy with TravelPerk.

You can purchase tickets right through the TravelPerk interface, saving time and ensuring you get the best negotiated rates. Travelers will be able to access tickets, health and safety travel information, real-time travel updates, and company policies all in one place. You'll also benefit from flexible cancellation policies and 24/7 help from our expert support team, in case you need to change plans.

Traveling by rail is a sustainable, comfortable, and cost-effective solution. If you haven't tried business train travel yet, why not give it a go on your next business trip?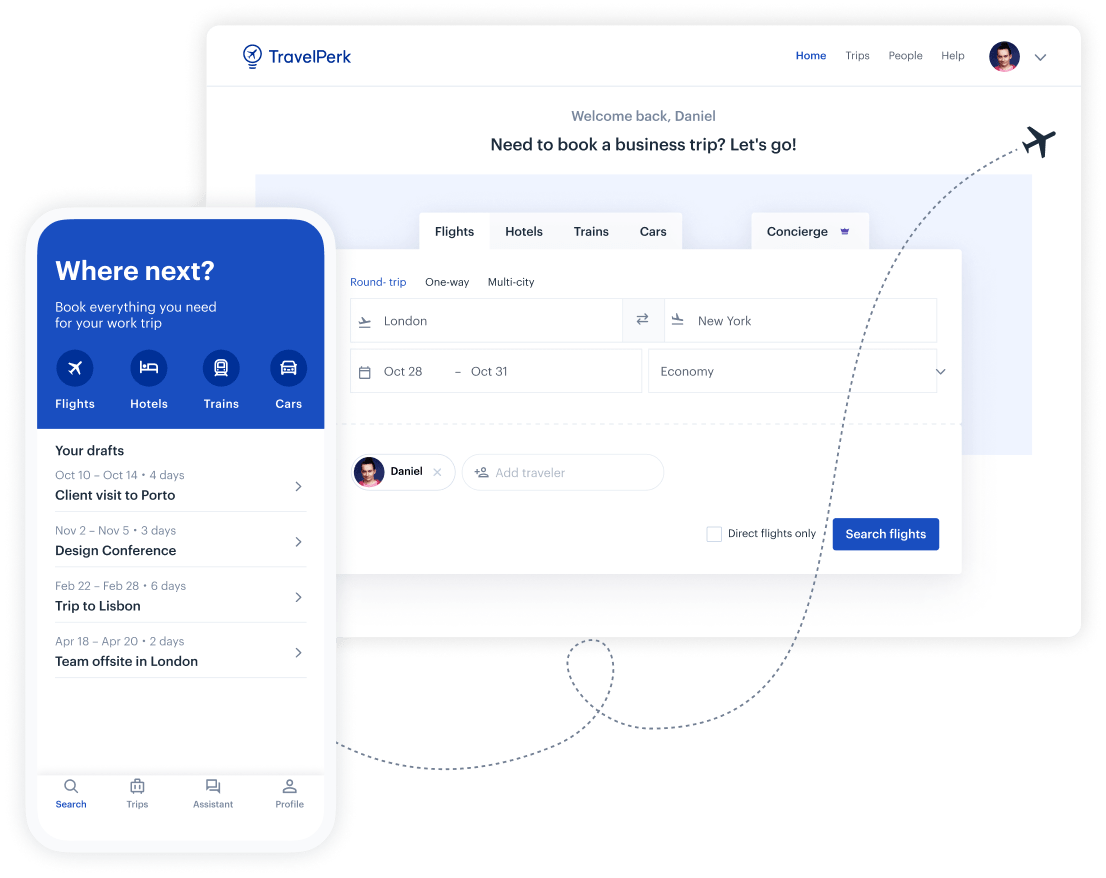 Make business travel simpler. Forever.
See our platform in action. Trusted by thousands of companies worldwide, TravelPerk makes business travel simpler to manage with more flexibility, full control of spending with easy reporting, and options to offset your carbon footprint.

Find hundreds of resources on all things business travel, from tips on traveling more sustainably, to advice on setting up a business travel policy, and managing your expenses. Our latest e-books and blog posts have you covered.

Never miss another update. Stay in touch with us on social for the latest product releases, upcoming events, and articles fresh off the press.