Ever wondered how frequent business travelers can be so absurdly productive on those tiny tray tables? You're not the only one. Seasoned travelers can often be found taking calls at airport terminals or typing away on their laptops during their flights. But how exactly do they do that? How can they get quite so much done?
We checked in with a few business travelers who claim to get more work done on the plane than you would expect. Here are their top travel tips for working on the plane.
Inform yourself about TSA rules on technology
First thing's first. Yes, you are allowed to take and use a laptop on the plane. You're allowed to transport them in your checked luggage or in your carry-on baggage. If you bring it on the plane with you, you'll need to remove it from your bag at the airport security checkpoint and place them in a separate bin, and put it through the x-ray machine. This is a requirement put forth by the Transportation Security Administration (TSA).
You can use your laptop any time the plane is stationary at the gate, and once the captain has turned off the fasten your seatbelt sign. During takeoff and landing, your laptop should be safely stowed under the seat in front of you.
Get a good, travel-sized laptop
Your gadgets and tech equipment matter more than you know. It'll be impossible to get any work done with a giant 18-inch screen on those tiny tray tables! Space, weight, and battery life are the key characteristics you need to look at when thinking of buying a laptop for business travel. A heavy laptop will be a burden to carry. A huge laptop will be a hassle with the space you have in-flight. A laptop with a short battery life will mean you'll get cut off from whatever you're doing mid-flight, as there is no plug-in option on the plane. 
Invest in an awesome laptop bag
Any professional knows that the secret to productivity lies in organization. The same can be held true of working when traveling. A laptop bag that you can bring aboard as hand luggage with different compartments to store everything you need is fundamental in getting work done on the plane. Think about everything you'll need to take with you—notebooks, print documents, spare chargers, an adapter for your destination, an external hard drive, and your cell phone, to name a few. Having this nicely organized in your carry-on bag can give you valuable working time, whether you're on an international or domestic flight. Amazon offers some great options at reasonable prices.
Think about working with a tablet
If you're more one for traveling light, then working on a tablet or iPad can be much more comfortable for air travel. They're light, efficient, and can serve the same purpose as a laptop depending on your job. Frequent fliers know that it's important to do what you can to make your journey easier and smoother. So, if your biggest work pain point is that laptops are big and heavy, head down to your nearest Apple store and get your hands on an iPad. You won't regret it.
Prepare for in-flight work in advance
On many flights, you'll need to keep all your electronic devices on "airplane mode". While leisure travelers often use their pre-flight prep time to download movies and music, business travelers should make sure they have offline access to all the documents they need. Not all flights or carriers will provide WiFi aboard, so don't put all your eggs in that basket if you need to access documents from the cloud. Make a comprehensive to-do list of what you'd like to accomplish while flying, and take the time before departure to organize your documents so you know you have them all.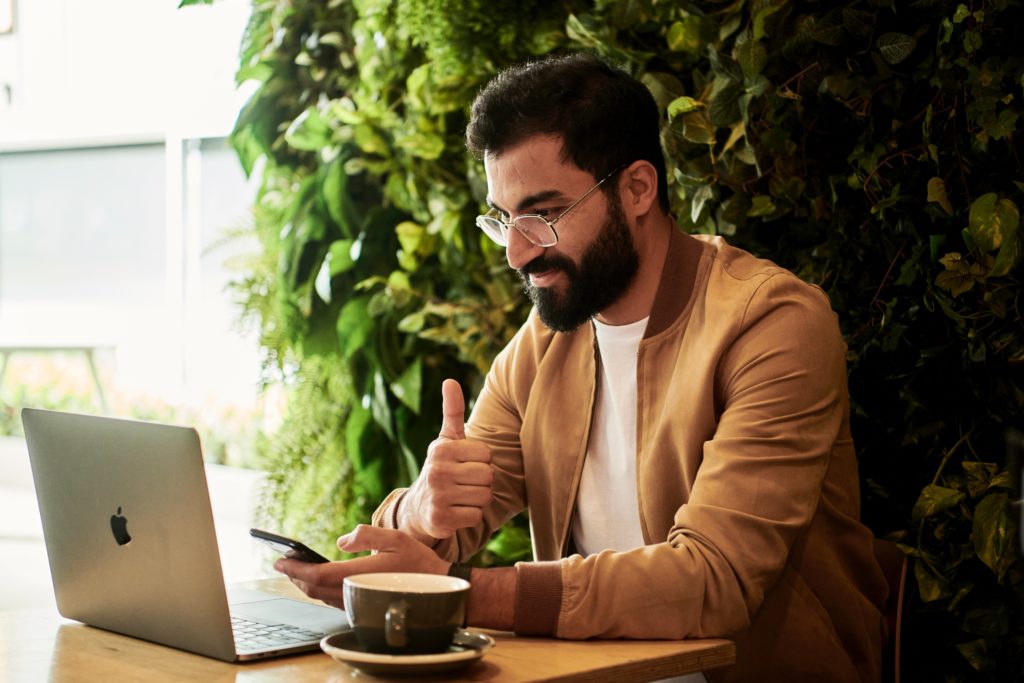 Try to book flights that offer WiFi
Whether you're taking domestic or international flights, some airlines will inevitably offer you the option to access WiFi aboard. Airlines like British Airways extend you the option to pay for WiFi on certain routes, whereas carriers like Turkish Airlines or Emirates offer them for free (you can find all this out on your carrier's web page). A word to the wise, however. Inflight WiFi still has a long way to go by way of quality. It tends to be rather slow and likely can't support all of the tools you need to use, like Google Docs. You should still download everything you need before you take off, and use the WiFi for support.
Charge up before you take off
Whether you're in a business or first-class lounge, waiting for take-off in the departures hall, or killing time between two flights on a layover, you'll probably be using your electronic devices. That's all fine and dandy, but don't forget to recharge them properly before you get on your flight. There are many power outlets across the airport, so make sure you visit one. There's nothing less conducive to good work on a plane than literally not being able to do it because you ran out of battery.
Pack a good pair of noise-canceling headphones
Especially if you're taking a long flight, noise-canceling headphones can really help you focus. Remember, you're not the only person on the plane—screaming babies, people talking, the sound of the engines, flight attendants offering beverages, and much more can be a huge distraction when you're trying to get stuff done. Think about downloading a classical music playlist to put on and really immerse yourself in your own world.
Get a screen protector
We cannot stress this enough. They actually serve a dual purpose—first, they'll protect your screen from damage. There's a lot that can harm a screen on a flight, from spilling your drink on it to dropping it amid some turbulence. Second, certain screen protectors can also help shield what you're working on from prying eyes. People do get bored on flights and look for sources of entertainment. So, if you don't want your latest expense report to be one of them, really think about investing in one of these to maintain a bit of privacy.
Did you find this article useful?
If you did, please follow us on our social media accounts on LinkedIn or Instagram. Please share the article with your friends or colleagues!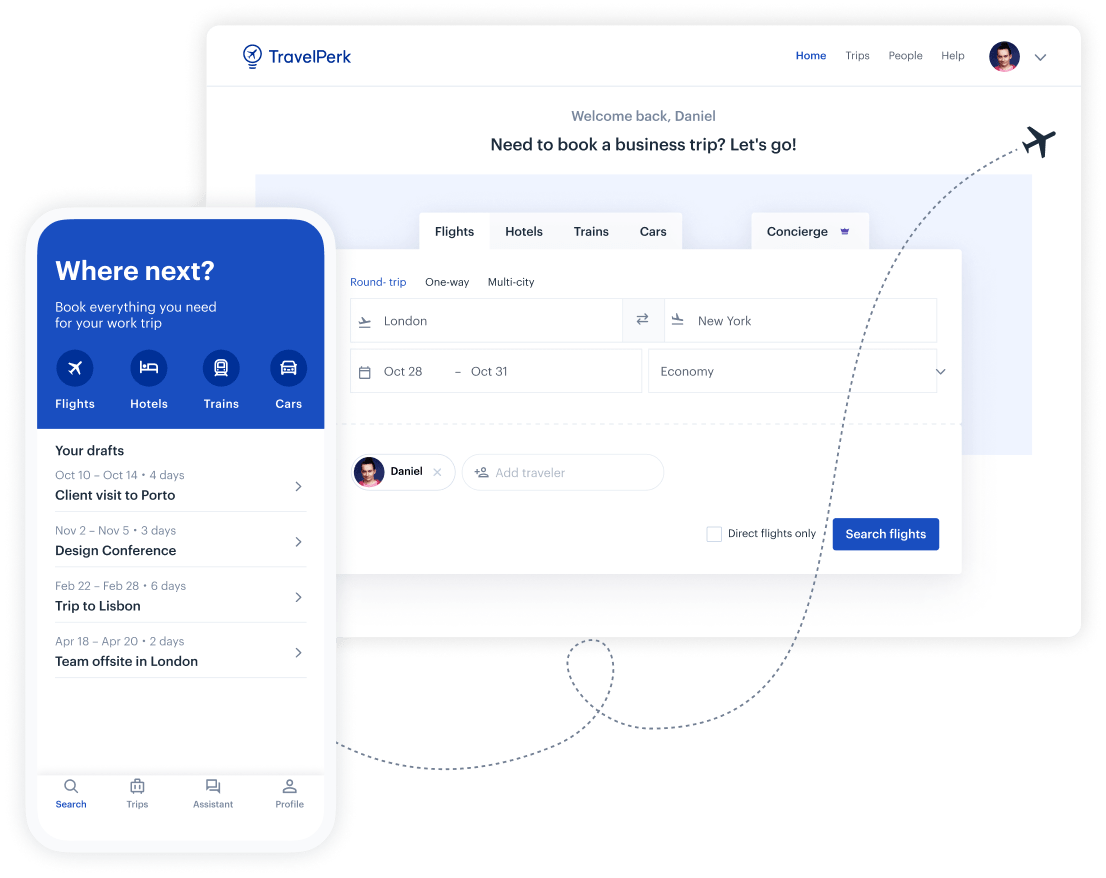 Make business travel simpler. Forever.
See our platform in action. Trusted by thousands of companies worldwide, TravelPerk makes business travel simpler to manage with more flexibility, full control of spending with easy reporting, and options to offset your carbon footprint.

Find hundreds of resources on all things business travel, from tips on traveling more sustainably, to advice on setting up a business travel policy, and managing your expenses. Our latest e-books and blog posts have you covered.

Never miss another update. Stay in touch with us on social for the latest product releases, upcoming events, and articles fresh off the press.