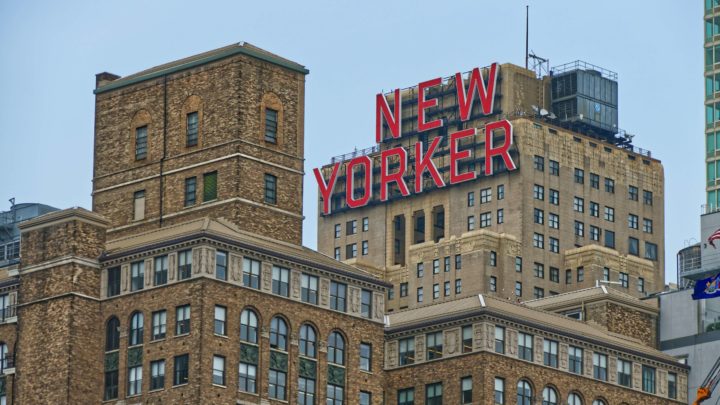 Does your next business getaway have you heading to the Big Apple? With so many options to choose from, it can be time-consuming and stressful to scope out the best hotels for your business trip in the city that never sleeps. So to make life a little easier, we gathered our most frequently booked business hotels in New York City to form our top ten recommendations below! Keep reading to find your perfect stay.
What are the essential factors to consider when assessing New York City hotels as a business traveler?
Location, location, location
From Brooklyn to the Upper East Side, like many major cities, NYC is vast. If you are lucky, your schedule will have you based in one part of town, but you will need to travel between areas more often than not. A quick calculation of where you will have the most meetings or obligations could save you precious time and have you arriving feeling far more refreshed.
Parking closeby
If you plan to come to New York by car, you could see the travel spend for your business trip increase significantly. The average cost of parking in the city is $45 to $65 per day but can reach a staggering $125. A reasonably priced secure parking space can be hard to find, so save time and money by reserving ahead where possible.
Wi-Fi included
Business trips are often hectic. With their busy schedules, corporate travelers need to stay connected. When you are short on time, there is nothing more frustrating than a hotel that charges extra for Wi-Fi. It removes unnecessary stress to know upfront that you can quickly reach the office, connect with clients or check in on your loved ones without having to type in your credit card details.
Traveler wellbeing
While wellbeing has been at the forefront of many minds after the tribulations of 2020, it has long been crucial for companies to place more emphasis on their employees' health. Frequent travel takes its toll on the body, and staying fit and well on the road is paramount. Accommodation can have a significant impact on business travelers' wellbeing.

Whether it's ensuring there are gym facilities or 24-hour room service for tired business travelers to get a decent meal at the end of a long day, these decisions are all part of a travel managers' duty of care and any comprehensive corporate travel policy.
COVID-19 safety measures
Manhattan is one of the most densely populated cities on the planet. From restricted numbers to social distancing and disinfectant, while travel restrictions are slowly lifting, hotels will still need to engage with several regulations for the health of their guests.

If you are a travel manager, your employees are far more likely to feel at ease if they can see their accommodation is doing everything possible to keep them and other travelers safe. For greater peace of mind, TravelPerk's TravelCare risk management solution delivers real-time safety updates, and our customer care team is available 24/7, 365 days a year.
Flexible rates
In 2020, we saw countries quickly close borders and ground flights to help stop the spread of COVID-19. As we continue to wrestle with new variants and varying vaccination rollouts, booking a hotel rate with a generous cancelation policy will continue to be crucial for travelers for the foreseeable future. Even in the best of times, business plans often change.

If you are a frequent traveler or a travel manager, you don't want to rack up hefty fees if you need to cancel at the last minute. With TravelPerk's FlexiPerk system, you can cancel your arrangements within 2 hours of travel, no questions asked, with a guaranteed refund of at least 80%.
Preferential points
Whether it's the Ritz Carlton, Four Seasons, or Hilton hotels, establishing a preferred chain can reap significant benefits for business travelers. From free nights to room upgrades, each program offers different rewards to its returning customers. Whether your organization keeps these benefits to help reduce their travel spend or lets employees collect points as a perk, it's an easy win for all involved. In a major city like New York, big hotel brands may have more than one option on offer.
Our top 10 most booked business hotels in New York City
1. Millennium Hilton New York Downtown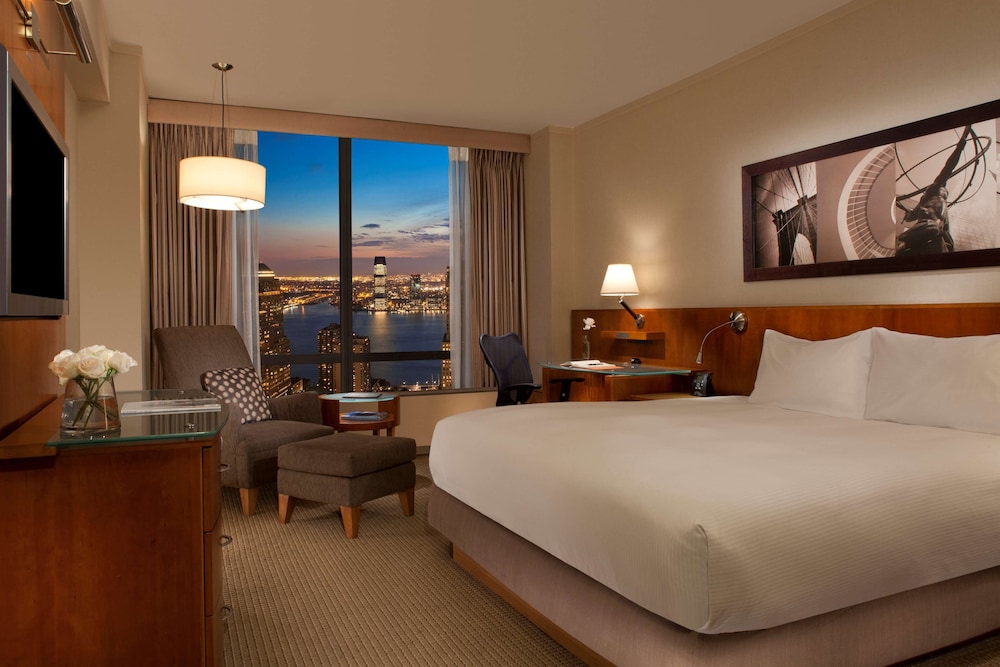 Fully-equipped gym.
Signature eatery and cocktail bar.
Indoor swimming pool with vistas over Manhattan.
Event spaces and conference rooms for hire.
Parking options nearby.
Central location close to Wall Street.
Breathtaking in-suite panoramas.
Single occupancy rooms available from $255.
Situated on an enviable Lower Manhattan plot, the Millenium Hilton New York Downtown is a stone's throw from Wall Street and the World Trade Center. Wake up to views over the Hudson River in your spacious suite before stretching your legs on the iconic Brooklyn Bridge. After wrapping up a busy day of meetings, guests can unwind with classic American fare at Church & Dey or a sophisticated nightcap in the Liquid Assets bar.
2. FreeHand New York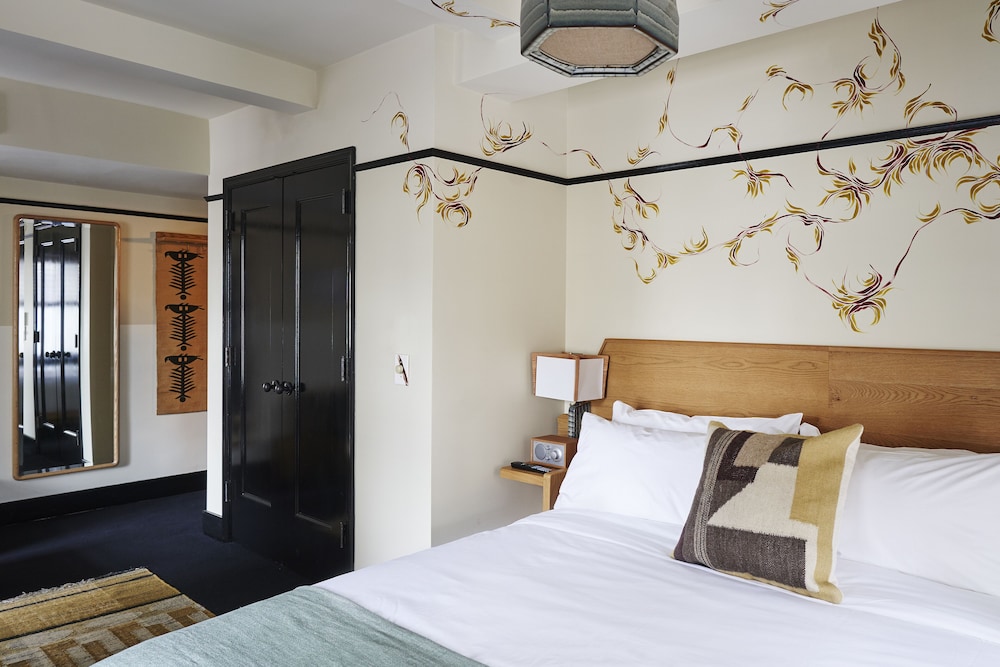 Free High-speed internet connection.
Fitness center access 24/7.
Located in the Flatiron District.
Variety of food and drink available on-site.
Charming casual rooftop bar.
24-hour security and concierge service.
Single occupancy rooms available from $145.
A friendly hotel just 15 minutes walk from the Empire State Building, the Freehand celebrates its bohemian history while offering a wealth of modern comforts. Perfectly poised on Lexington Avenue, it makes a fantastic base for corporate travelers to reach different neighborhoods with ease.

As the day draws to a close, guests can enjoy delicious dishes in either of two on-site eateries. Later pay a visit to the effortlessly trendy roof terrace, where the laid-back Broken Shaker bar waits with the perfect sundowner.
3. Walker Hotel Tribeca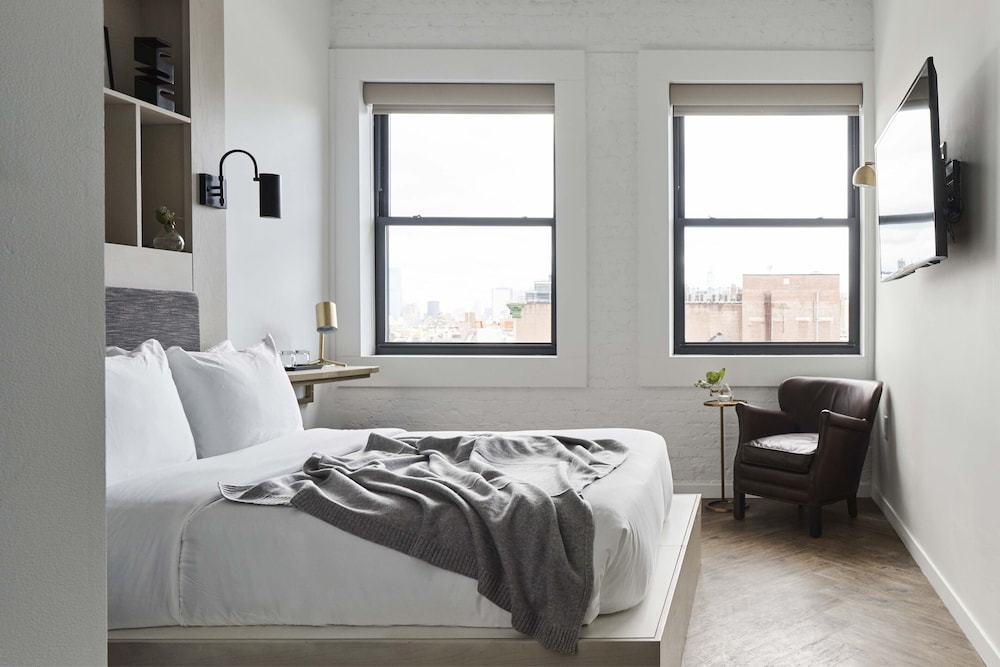 Popular location close to several favored neighborhoods.
Close to great restaurants.
Free Wi-Fi throughout.
24-hour reception.
Valet parking.
Small gym on-site.
Single occupancy rooms available from $209.
Poised in trendy Tribeca, the Walker Hotel is an ideal base for the busy business traveler. While rooms are on the cozy side, they come kitted out with stylish decor and all the necessary comforts. If you are looking for a memorable option for a business lunch, you are in for a treat. Guests of the Walker are within striking distance of foodie favorite Balthazar, which is sure to impress even the most discerning clients.
4. citizenM New York Bowery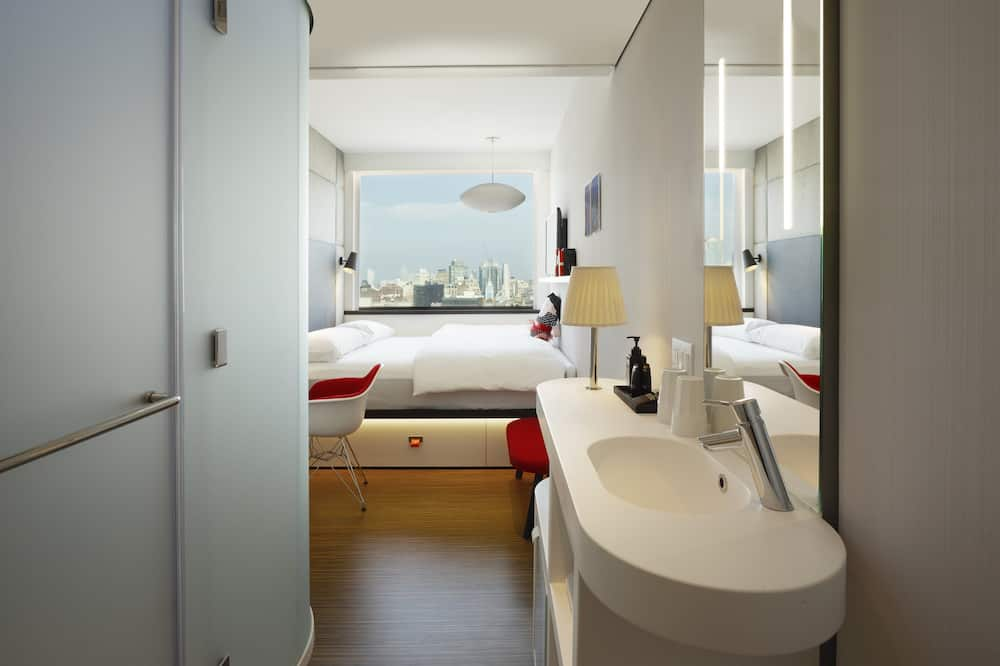 Complimentary fast Wi-Fi.
24-hour concierge.
Power showers and king-sized beds in all rooms.
In-house graffiti museum.
Inviting lounge and roof terrace.
Perched between Chinatown, SOHO, and Greenwich Village.
Single occupancy rooms available from $175, including breakfast.
Nestled between several desirable neighborhoods, the citizenM New York Bowery celebrates the area's vibrant street art scene. With impressive communal spaces, the striking lounge is the perfect backdrop to talk business over hypnotic city views.

Upstairs weary travelers can recharge for the day ahead in well-equipped suites with generous king-sized beds. If a spot closer to midtown suits better, citizenM's sister hotel in Times Square is also a very good option.
5. New York Marriott Downtown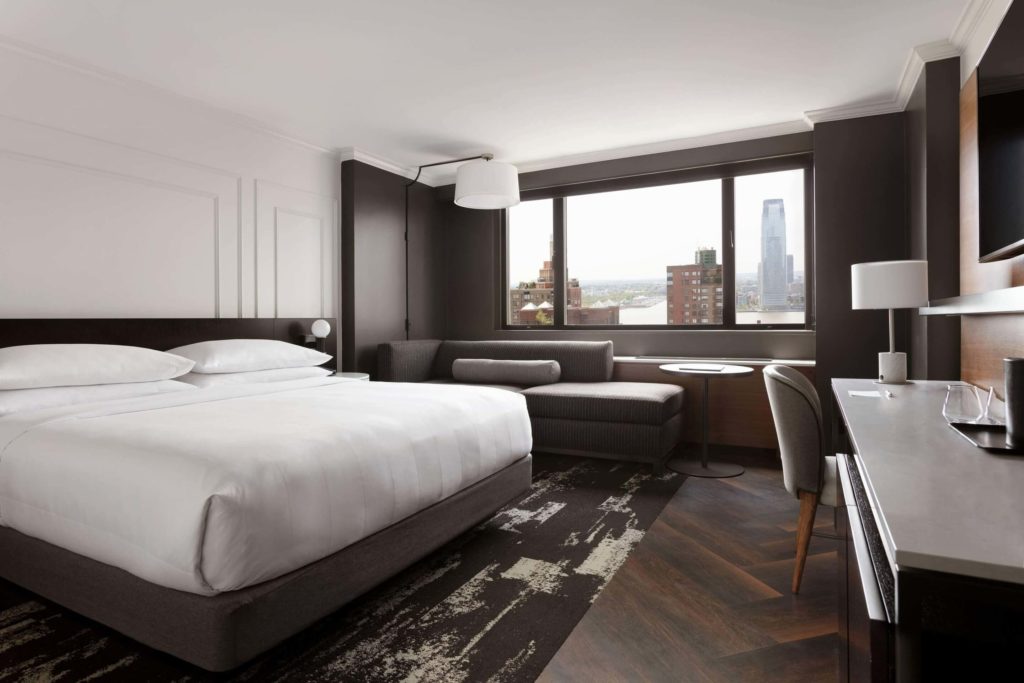 Free Wi-Fi.
24-hour business center and reception.
State of the art fitness center.
Close to several subway lines.
On-site Starbucks and small grocery store.
Concierge services and meeting rooms for hire.
Parking available on-site.
Single occupancy rooms available from $358.
Guests can avail themselves of all the services associated with the esteemed Marriott name at this Lower Manhattan retreat. Perfectly positioned, the Marriott offers sleek meeting spaces and concierge support for business travelers close to the financial district and battery park.

As the evening draws in, corporate travelers can sample one of the city's most loved burgers at Bill's Bar or finish off their emails while admiring waterfront views from their contemporary suites.
6. Moxy NYC Chelsea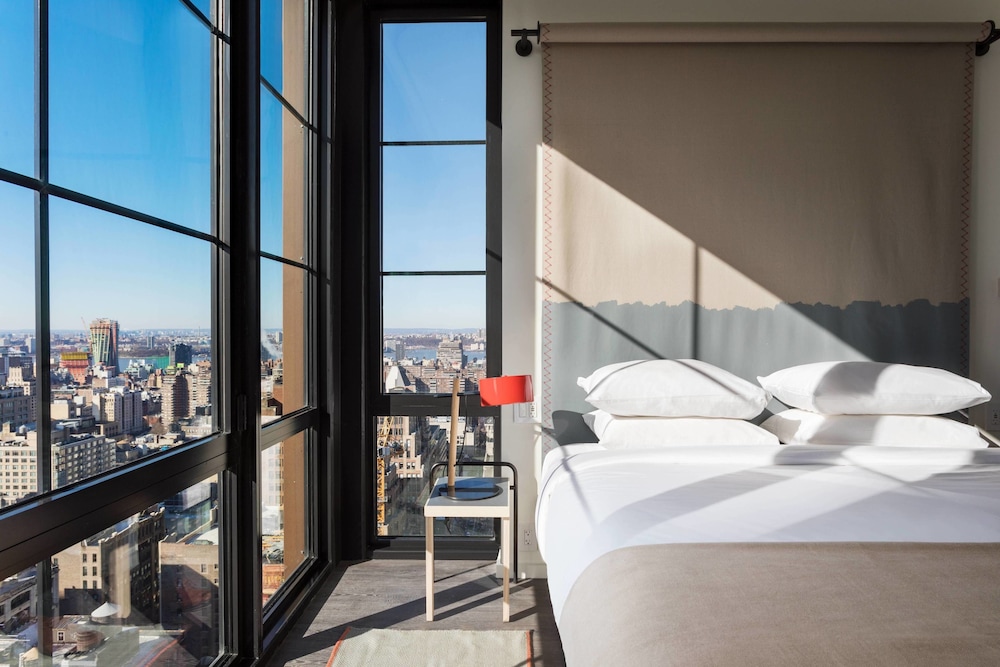 Complimentary Wi-Fi.
Fitness classes and gym.
Glass-enclosed rooftop terrace.
Business center.
24-hour reception.
Secure parking available on-site (reservation required).
Four bars and restaurants on-site.
Single occupancy rooms available from $175, including breakfast.
Oozing an enviable sophistication, it's easy to see why the Condé Nast Traveler's 2020 Readers' Choice Awards selected this oasis in NYC's Midtown West. Start your day with a freshly baked pastry from the Feroce Caffè before heading out for meetings.

Alternatively, if you need to host, impress important clients with 360-degree panoramas in the jaw-dropping rooftop lounge. At night retire to elegantly appointed hotel rooms, the best of which boast inspiring views over the Empire State Building.
7. Sanctuary Hotel New York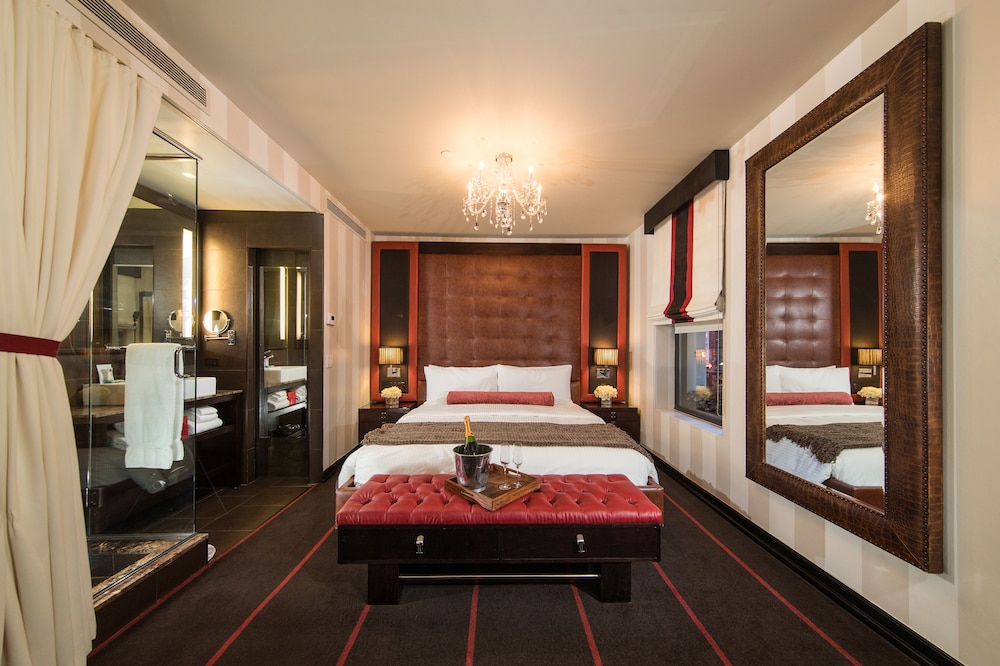 Generously sized safes large enough to fit laptops.
24-hour reception.
High-speed Wi-Fi included.
Hot Breakfast Buffet included.
Access to NYSC Elite fitness center and indoor saltwater pool.
Stylish rooftop cocktail bar.
Complimentary local and long-distance calls (international calls excluded).
Single occupancy rooms available from $229.
One of NYC's premier boutique hotels, the Sanctuary is just a stone's throw from the buzzing heart of Times Square and Broadway. With several guest room categories, be sure to check if you need a desk to work from your suite. Otherwise, the rooftop terrace offers plenty of space to answer emails while escaping the hustle and bustle of the Big Apple.
8. Warwick New York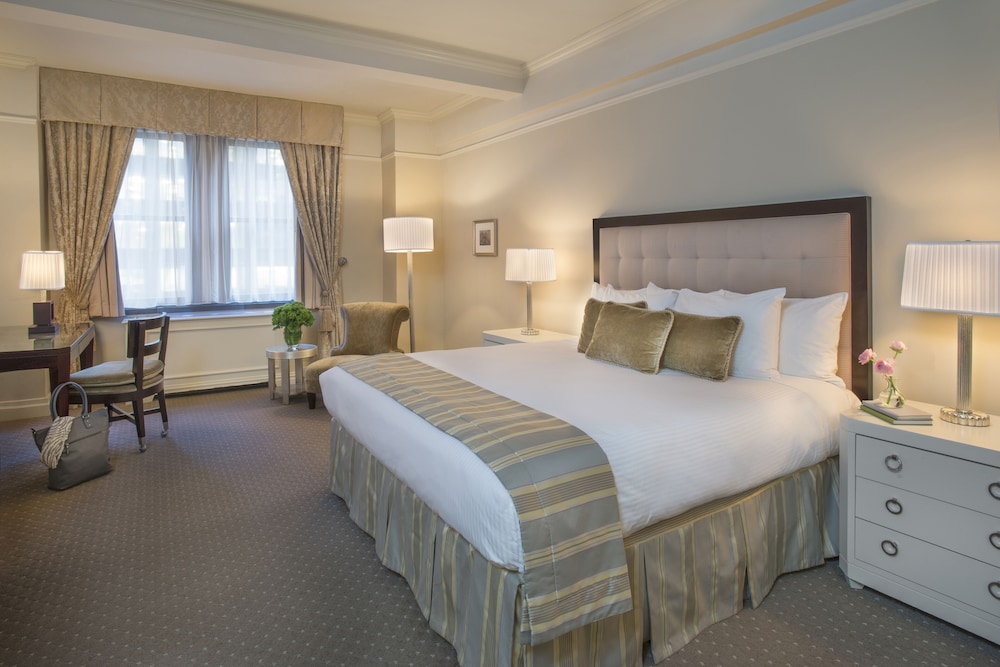 Reception available 24 hours.
Free Wi-Fi.
Parking available.
Small gym on-site.
Business center and meeting rooms for hire.
Inviting bar and restaurant.
Single occupancy rooms available from $204.
Mere blocks away from central park, the Rockefeller Center, and Fifth Avenue, the Warwick New York is the perfect midtown Manhattan bolthole. Wrap up those last emails in your spacious suite before soaking up sumptuous surrounds and an expertly crafted cocktail in the bar.
9. Executive Hotel Le Soleil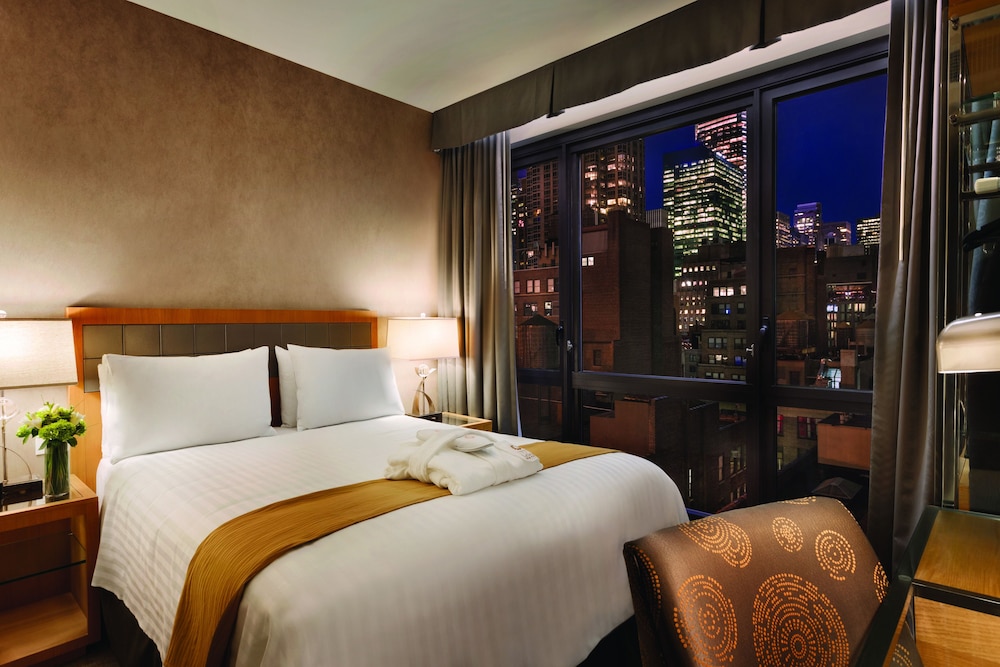 Rooms equipped with laptop-sized safes and spacious desks.
Parking available nearby.
Positioned in Midtown Manhattan.
Complimentary Wi-Fi access.
Fitness center on-site.
Meeting rooms for hire.
Single occupancy rooms available from $168.
Executive Hotel Le Soleil is a new name in luxury hotels with chic offerings in New York and Vancouver. Located off Fifth Avenue, close to Grand Central Station and Bryant Park, this boutique offers unrivaled service with guests benefitting from preferential restaurant reservations and peloton bikes in selected suites.
10. Hotel 50 Bowery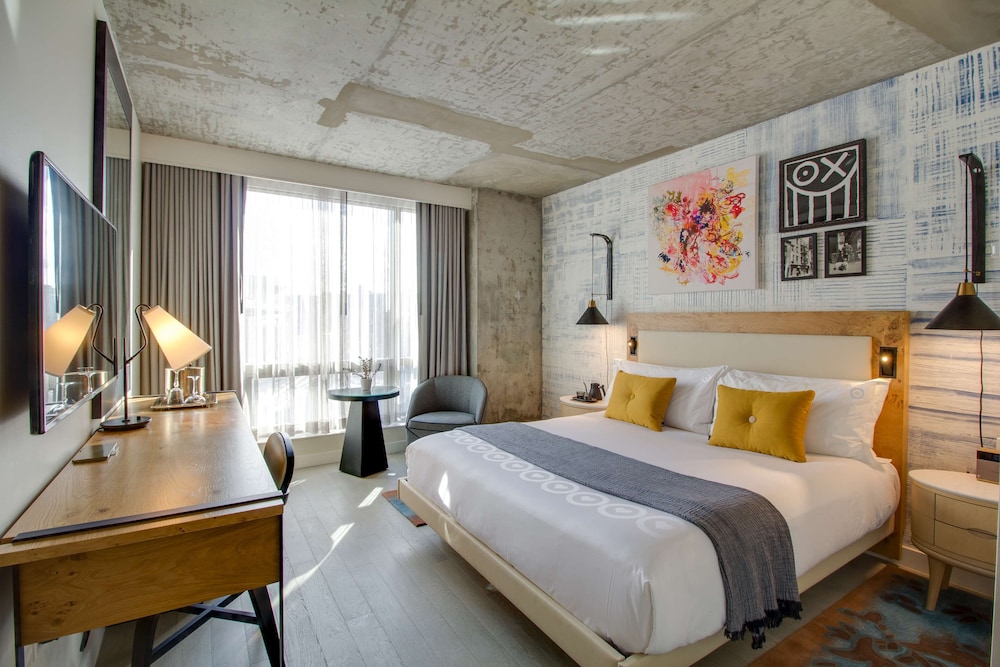 Generously sized rooms and suites.
Secure on-site parking for just $35 a day.
Lower Manhattan location.
Wi-Fi included.
Yoga classes and 24-hour gym on-site.
Boardrooms are available to hire.
Single occupancy rooms available from $272.
Situated amongst Lower Manhattan's most vibrant neighborhoods, guests can top up their Hyatt loyalty points with a stay at this contemporary boutique. After sealing those important deals, corporate travelers can toast their success against a staggering skyline on the year-round rooftop bar.

Did you find this article useful?
If you did, please follow us on our social media accounts on LinkedIn or Instagram. Please share the article with your friends or colleagues!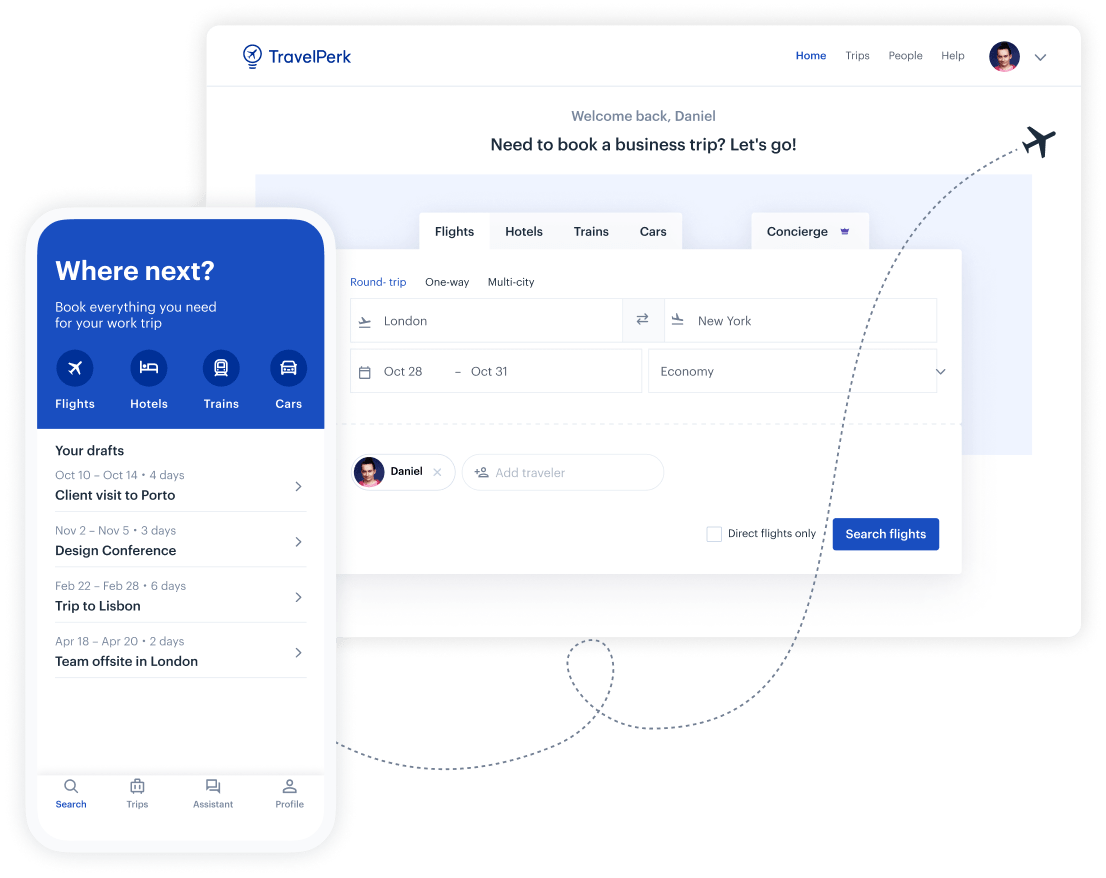 Make business travel simpler. Forever.
See our platform in action. Trusted by thousands of companies worldwide, TravelPerk makes business travel simpler to manage with more flexibility, full control of spending with easy reporting, and options to offset your carbon footprint.

Find hundreds of resources on all things business travel, from tips on traveling more sustainably, to advice on setting up a business travel policy, and managing your expenses. Our latest e-books and blog posts have you covered.

Never miss another update. Stay in touch with us on social for the latest product releases, upcoming events, and articles fresh off the press.