Companies all around the world are talking about the future of work. What's the right way to work in the new normal? Whether they opt for a fully in-person, fully remote, or hybrid model, the common denominator is that teams and people need to be brought back together. After so much time apart due to the coronavirus pandemic, it's more important than ever for companies to find ways to build trust, teamwork, and collaboration among employees.

So, whether you're organizing your next team-building event face-to-face or virtually, check out our list below for an unforgettable experience!
No, you're not too cool for team-building
If you're looking at this thinking "Ugh. Team-building events are so embarrassing and useless", well, friend, you're actually wrong. Yes, there might be some embarrassing activities at a company offsite or event of this kind—but they're certainly not useless!

Team-building is all about building trust, camaraderie, and making people live your company culture. It's about stepping outside of your comfort zone to immerse yourself in a common vision. It's about creating a sense of belonging, understanding that there are others in the same boat as you, and developing pride in being part of a great team. This is even more important today when remote workers can work in a company for months before ever coming into the office or meeting a colleague face-to-face.
8 face-to-face team-building activities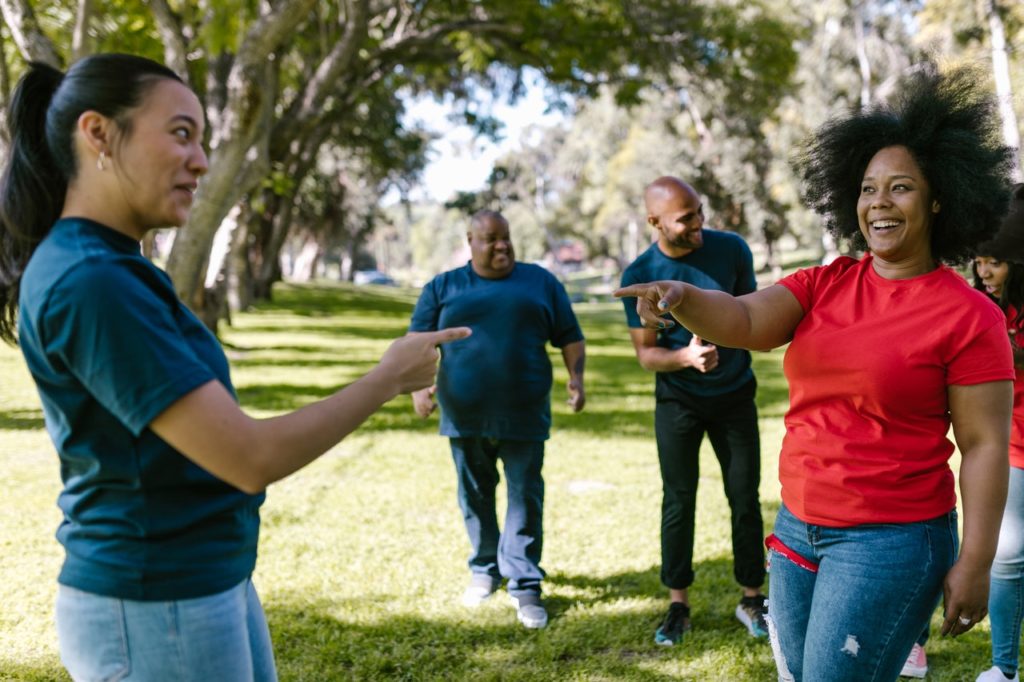 There's really no better way to inspire and encourage team bonding than through an in-person event. Gathering your entire team together in a non-professional setting will raise employee engagement, satisfaction, and will undoubtedly bring the entire group closer together. Here are some of the most fun team-building activities you can run:
1. Karaoke
Music brings people together! What better way to get coworkers to bond than unashamedly singing (or, in some cases, screaming) their favorite songs? From Don't Stop Believin' to Spice Up Your Life, there isn't a more fun way for people to connect on a personal level. Not to mention that it's a great way to break down each other's walls. Pro tip: this will go a lot smoother if there's a happy hour situation in there!
2. Scavenger hunt
Scavenger hunts can be a great icebreaker for large groups that might not necessarily have much of a chance to interact in the workplace. Put together teams of 5-10 employees and send them outdoors on an adventure! Whether you're in a city or somewhere more rural, you can hide clues in strategic locations and let the teams work out where to go next. This is a great way for them to work towards a common goal and exercise their problem-solving skills in a setting that takes them away from what they do every day.
3. Escape room
They're all the rage these days—and for good reason! They're a great way to get a group of people together and work on creative problem-solving and decision-making skills. They're also incredibly comfortable to organize. Between taking your team to an existing escape room or having one set up in your conference room, there are few activities that can adapt so seamlessly to your needs.
4. Egg drop
This is a really fun icebreaker game for teams to work on their creative thinking. The object of the game is to build a structure that would protect an egg from breaking when thrown from a great height. This challenge makes people think outside the box and work together to find an innovative solution to extraordinary problems.
5. Human knot
Get your team members to form a circle. Have each one of them put their right arm up, then grab the arm of another person across the circle from them. Do the same with the left hand. Then challenge them to untangle the circle without letting go of each other's arms! This is a really great team-building game that encourages employees to work together and develop their communication skills, as well as their creative thinking. It's also an interesting way to break the ice through physical contact.
6. Jigsaw puzzle or Lego game
Break employees off into smaller teams. Decide whether you want each team to put together a jigsaw puzzle or build something cool out of legos. The first team to present you with the final, finished product wins! This is an interesting method to get people to think outside the box, work with their hands, and find out what each other's strengths are. Encourage people to try things out like being the person who guides the rest of the team towards the finished product.
7. Case study competition
If you'd like to steer your team-building into a more corporate direction, a case study competition could be the way to go. Break people off into small teams and give them a business-related challenge to solve. Make it something fun and not likely to happen soon—for example, your company has decided to branch out and start tourist trips to space. Give each team a different task—one can build a marketing plan, another a financial plan, another can convince your board that this is a good idea. This really allows employees to brainstorm and use skills or knowledge they might not necessarily apply to their daily work. Remember to give them a whiteboard, post-it notes, and anything they may need to get their thoughts out.
8. Build the sturdiest table
Put people together into small groups. Give them a few flimsy materials like straws or spaghetti, and challenge them to build the strongest table. You might have seen them doing this on popular shows like New Girl. That's because this is an activity guaranteed to bring people together through a fun and challenging task. It's also interesting because it makes them see things from different angles. It gets the creative juices flowing!
4 great remote team-building exercises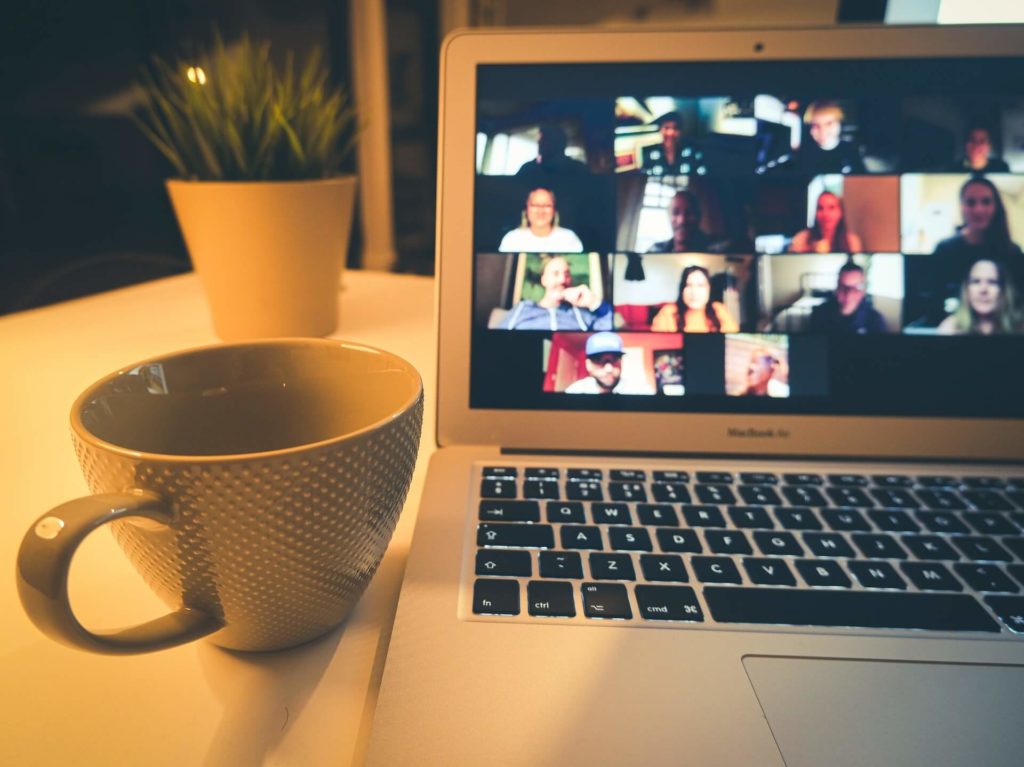 If you've decided to go fully remote organize virtual team-building activities, then here's a list of some of the best and most fun games to play. Before you get started though, make sure you've laid the groundwork for a successful videoconference with a lot of people. Set up a large-scale Zoom call, assign one person to be the host, send everyone the link, and encourage people to check their WiFi connections.
Two truths, one lie
A really amusing way of getting to know each other is to play the game two truths, one lie. The premise of the game is as it sounds! Each team member will send in 3 statements to the group—two of which are the truth, one of which is a lie. The other team members will have to identify the lie!
Trivia night
This one requires a little more planning. One person will have to act as the quizmaster, prepare the trivia questions in advance, and lead the game. Have everyone write their answers to the questions on a piece of paper, and take them through the answers at the end of the game. The person with the most correct answers wins! This is a great way to motivate your people and get them into the competitive spirit.
Desert island
Another fun way for people to get to know one another on a personal level is by playing Desert Island. It's easy—just choose a topic like books or movies, and then ask employees which 3 things from that category they would like to have with them if they were stuck on a desert island. What makes it even more fun is to set a time limit so that everyone thinks on their feet and shoots out the first answer that comes to mind.
Set up a virtual game show
Choose a fun game show that everyone knows and loves, like Family Feud. Run a survey within your company before the game starts with topics like "things you might find at a house party", or "things you shouldn't do on a Zoom call", or "best ABBA songs", for example. Collect the 5 most popular answers in each category, and the person who guesses the most popular answers wins! If this is too difficult to organize or you're pressed for time, you can always use facilitator apps like Kahoot! to help you set up an awesome virtual game show.
Did you find this article useful?
If you did, please follow us on our social media accounts on LinkedIn or Instagram. Please share the article with your friends or colleagues!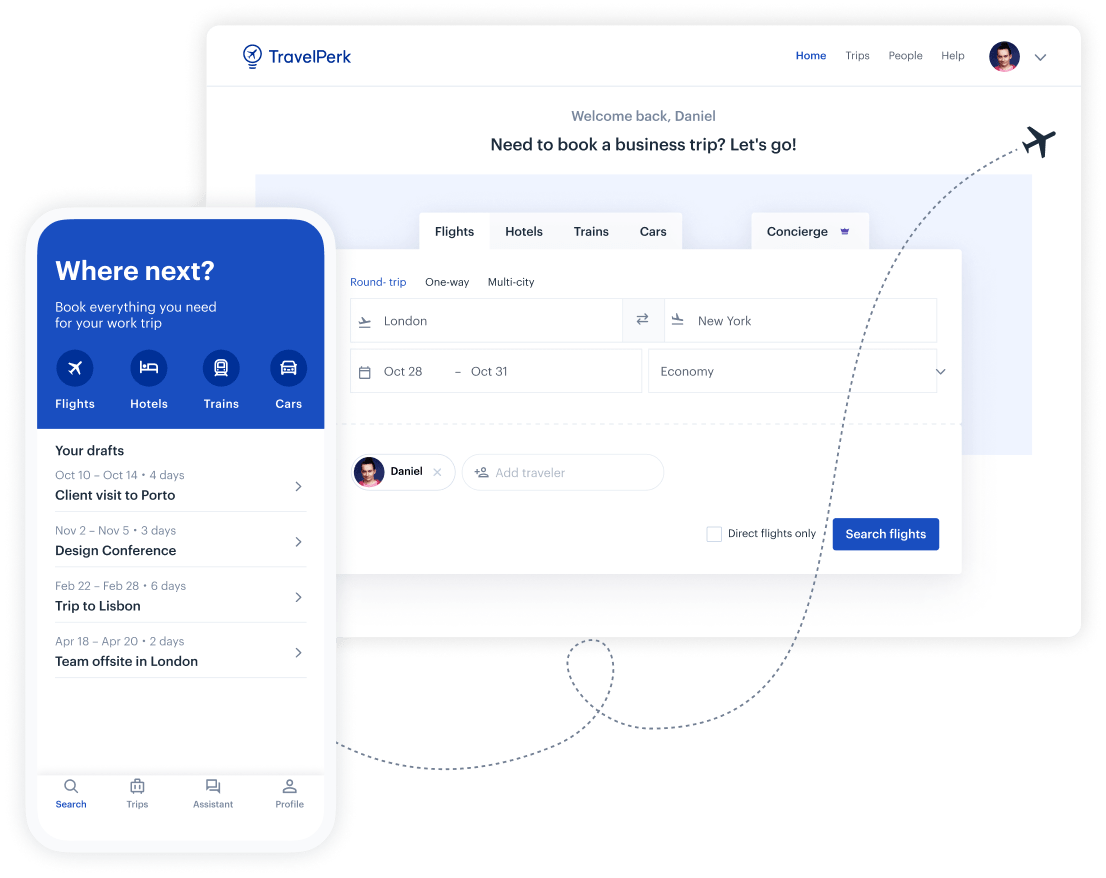 Make business travel simpler. Forever.
See our platform in action. Trusted by thousands of companies worldwide, TravelPerk makes business travel simpler to manage with more flexibility, full control of spending with easy reporting, and options to offset your carbon footprint.

Find hundreds of resources on all things business travel, from tips on traveling more sustainably, to advice on setting up a business travel policy, and managing your expenses. Our latest e-books and blog posts have you covered.

Never miss another update. Stay in touch with us on social for the latest product releases, upcoming events, and articles fresh off the press.