Airbnb was founded in 2008 as a way for people in the San Francisco area to rent out their spare room to earn a bit of money on the side. Fast-forward ten years and Airbnb has gone global. Remember before, when we only used to look at hotels or possibly an apartment for business travel? Airbnb is now an option most people barely remember doing without. It's an option that offers a lot more freedom and flexibility for travelers and even more so for Millennials who are reshaping the business travel landscape.

A few years ago, Airbnb used to be the cheapest option for travelers. But now, it's important to consider whether to choose an Airbnb or hotel for business travel depending on where you're traveling to. In fact, in some cities, it's actually more expensive to choose an Airbnb. So let's look into this in more depth and outline the top 10 cities where it's cheaper to book an Airbnb than a hotel.

The top cities to book an Airbnb over a hotel
Here are the most popular business travel destinations where Airbnbs are cheaper than the average hotel price:
1. Toronto
The top city for business in Canada, Toronto boasts a pretty impressive selection of Airbnbs to choose from. With hotels clocking in at around €195 a night, Airbnb is a simple choice here. Grab yourself a private condo within walking distance of the Toronto Convention Centre for half the price.
2. New York
The Big Apple has got big prices for business travelers. With hotel rooms clocking in at an average of €220 a night, these trips can get pretty pricey. Not to fear though, New York is one of the cheapest Airbnb cities in the world. You can easily find a one-bedroom apartment in the center of town from just €130.
3. Boston
Bean Town clocks in as one of the cheapest places to get an Airbnb. Boston also hosts a multitude of conferences throughout the year like Inbound and Amplify—so make sure you book your Airbnb ASAP as it gets pretty popular. Average hotel prices in Boston are around €265 per night, but it can cost even more when conferences are on. We found that you can get private rooms on Airbnb from just over €100.
4. London
Across the pond here in Europe, the UK capital's hotel prices will knock you back a few hundred euros. In fact, the average hotel room in London costs €190. So if you're debating whether to pick an Airbnb or a hotel here—pick Airbnb. In London, it depends on where you want to stay, but we found central London Airbnb rooms going for as low as €70 per night.
5. Paris
The official City of Love is, in fact, one of the most expensive places to live in. The average hotel room here will cost you up to €200 per night. Head to Airbnb if you're looking to visit Paris for business. Here you can find entire apartments from €85 a night. Top tip here: look for apartments with kitchen facilities so you can save on eating out—Paris is notoriously expensive!
6. Vienna
A touristic favorite for those visiting Europe, these hotel prices top the table for business travelers. For a mid-range hotel room in Vienna, the average price is €175 per night. Save some cash when visiting the capital of one of the richest nations by opting for an Airbnb. Entire apartments in the city center go for as low as €60 a night. Now that's a whole lot easier on the purse strings.
7. Sydney
The average hotel here will cost you €100 a night, which might not seem too bad—but it all adds up after the flights there. Look at getting an Airbnb to relax in after long-haul travels. There are some beautiful whole apartments from just €50 in Sydney.
8. Madrid
Madrid's hotels will cost you around €130 a night in the city center. Live like a local while you're on business in Madrid and choose an Airbnb apartment—here a whole apartment will cost you just €50 a night. Sounds like the perfect place to come back to after a day in the bustling city.
9. Berlin
Germany's edgy capital is becoming increasingly more popular for business travelers and tourists alike. With a multitude of start-ups setting up shop here—it's a vibrant place to visit for work. With its rising popularity, hotel room prices are rising too. The average cost of a hotel room in Berlin is €125 per night, however you can get an entire Airbnb apartment for half the price of a hotel here making Berlin one of the cheapest Airbnb cities.
10. Amsterdam
Last but not least on our list of cities where it's cheaper to book an Airbnb than a hotel is Amsterdam. With hotel rooms costing €140 a night, you'll definitely want to grab an Airbnb deal here—especially if you're thinking about attending tech events in Europe with your team. Private rooms on Airbnb start at around €80 a night.
Is Airbnb cheaper than hotels?
No, not always. In fact, in some cities like Barcelona and San Francisco, you're still better off booking a hotel. For example, the average hotel price in Barcelona is around €150 per night. But an Airbnb on average will cost €280 a night. That's almost double the price of a hotel room! So, when you're considering a hotel vs Airbnb–do your research.
What are the benefits of picking an Airbnb over a hotel?
There are a few key benefits to mention in the Airbnb vs hotel argument:
With an Airbnb you have a lot more flexibility with kitchen facilities—it means that you don't have to spend a huge amount of money dining out every night.
Airbnbs can be more comfortable than a hotel room. They feel more homely, and they're a space to relax in after a day of business meetings or conference talks.
For larger groups, Airbnb tends to be the cheapest option. Look for Airbnbs with multiple rooms where you can still have your privacy when sharing with colleagues.
Central Airbnbs are generally much cheaper than hotels—so if public transport isn't your thing, especially in a foreign city, you'll be better off with an Airbnb.
Airbnbs offer 100% travel compliance for office managers and HR through TravelPerk—great for travelers and managers alike.
If you're looking for a more flexible business travel management system that lets you book hotels and Airbnbs from one tool, we've got you covered. Sign up for free or request a demo to see how TravelPerk can benefit you.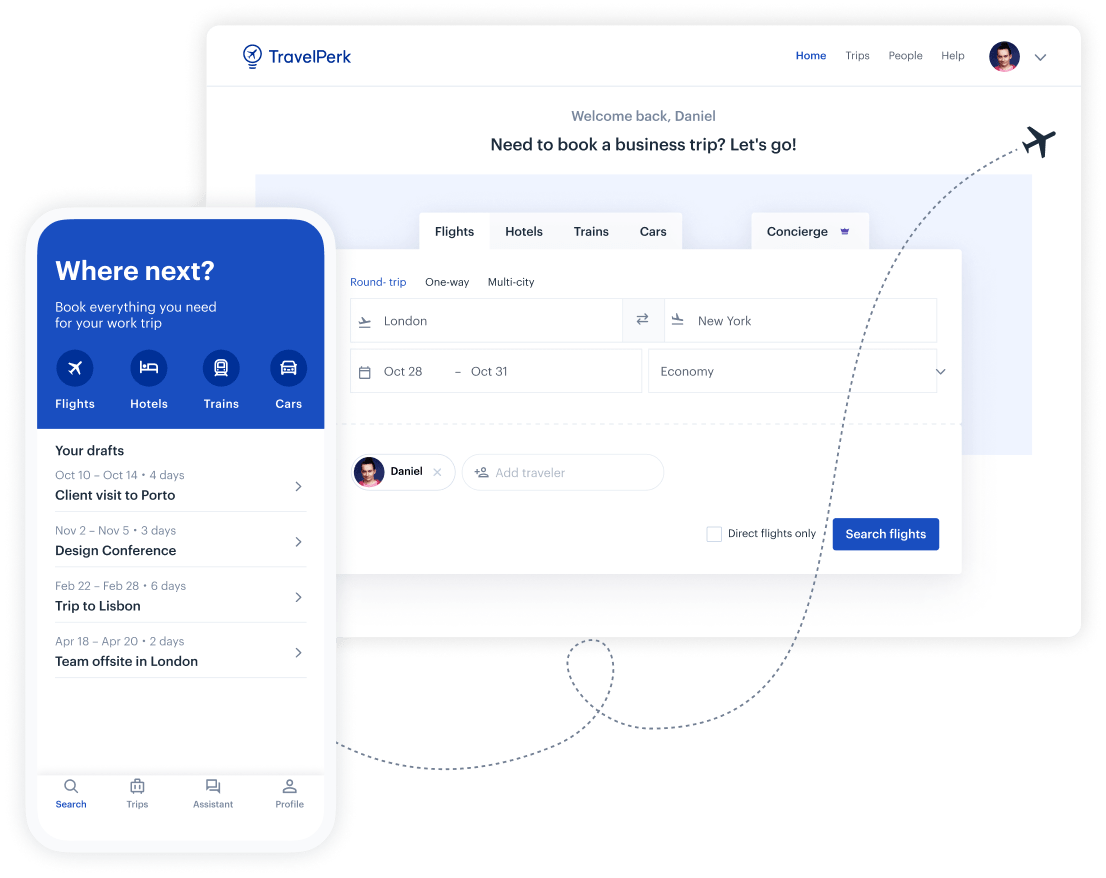 Make business travel simpler. Forever.
See our platform in action. Trusted by thousands of companies worldwide, TravelPerk makes business travel simpler to manage with more flexibility, full control of spending with easy reporting, and options to offset your carbon footprint.

Find hundreds of resources on all things business travel, from tips on traveling more sustainably, to advice on setting up a business travel policy, and managing your expenses. Our latest e-books and blog posts have you covered.

Never miss another update. Stay in touch with us on social for the latest product releases, upcoming events, and articles fresh off the press.