Most seasoned business travelers will have first-hand experience of how traveling can affect your skin. Things like pre-travel stress, the plane's cabin pressure, altered sleep patterns, and irregular eating habits can all take a toll. We all know the feeling—you get off the plane, your skin feels like it's two sizes too small for your face, and the bags under your eyes are making you look like a raccoon.

Luckily, cosmetic companies have created a myriad of magic elixirs that can make us feel refreshed and rejuvenated after a flight. We compiled a list of the 10 best travel skincare essentials and beauty products for business travelers who need to freshen up on the go before a big meeting! All travel size, of course.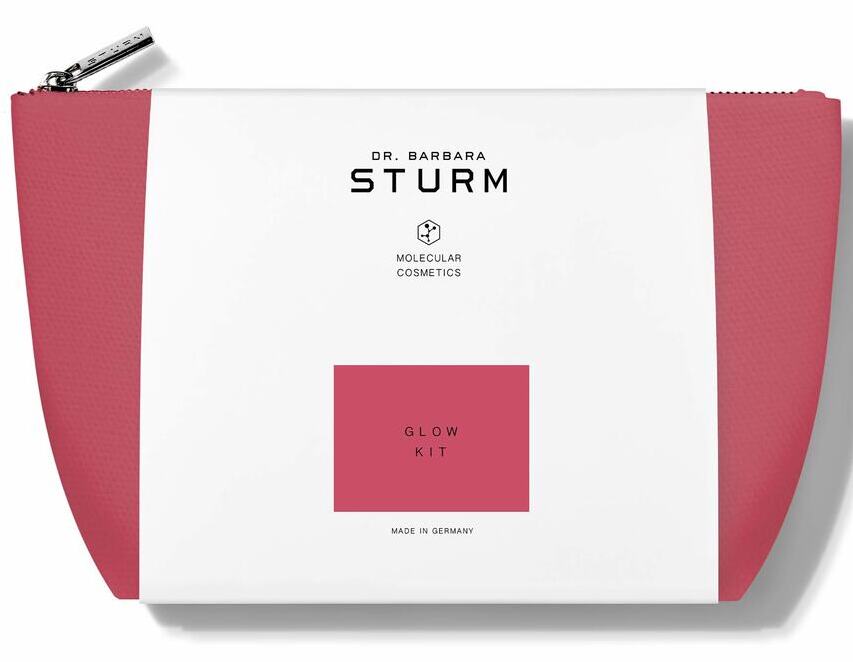 This set of products from Dr. Barbara Sturm provides you with an essential, 7-step routine for a fresh, radiant glow. Just hop off the plane, refresh yourself with this handy little kit, and you're guaranteed to look like you've had a great night's sleep - not like you just got off the red-eye! It includes a facial scrub, face mask, hyaluronic serum, glow drops, an enzyme cleaner, and a niacinamide serum. All of these products are up to 50ML in size—perfectly suited for TSA and international travel regulations. They also come in a lovely cosmetics bag so you don't have to worry about putting them in transparent toiletry bags!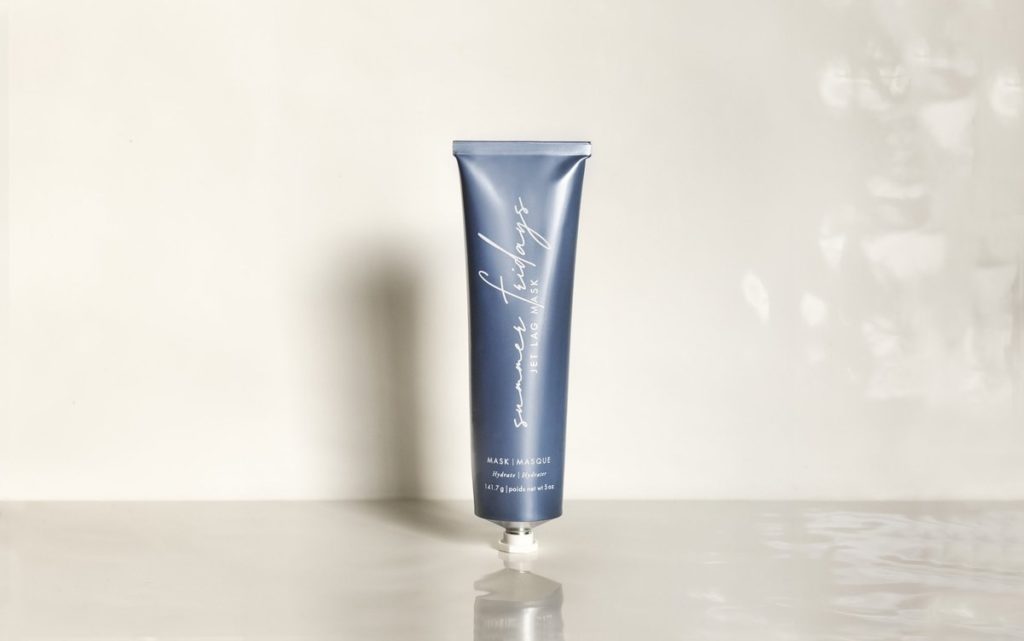 Traveling long-haul and changing timezones? That can certainly leave your skin stressed and tired. Summer Friday's jetlag mask offers you the perfect solution. Used as an in-flight, daytime, or overnight mask, it's full of niacinamide, glycerin, hyaluronic acid, and antioxidants. Slap it on throughout a long flight and let it work its magic! Whether you're taking a much-deserved nap or getting some work done on your tray table, Summer Friday's jetlag mask will make sure you get off that plane glowing.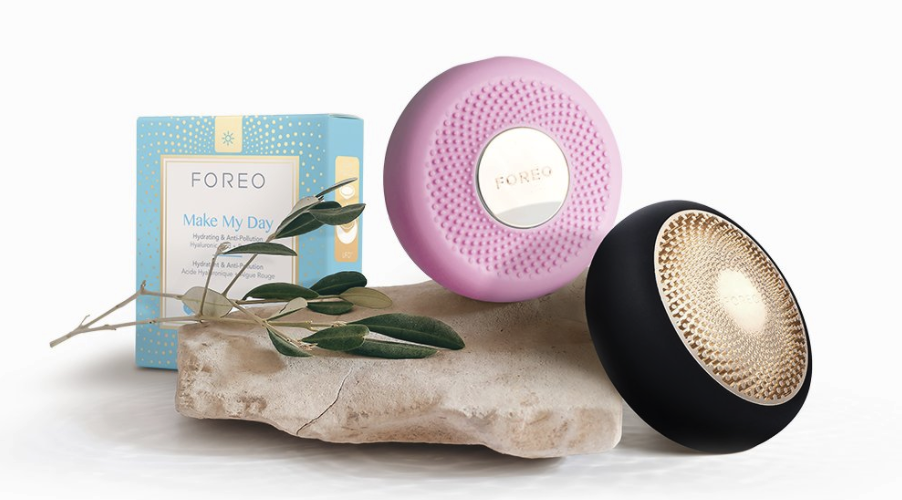 When you're traveling for business, chances are you don't have 20 minutes to spare on a cleansing face mask. Well, you do now! Foreo's UFO 2 Power Mask Treatment Device accelerates the effects of any of the company's face masks down to just 90 seconds. Just attach the mask to the device, switch it on, and let its T-sonic pulsations and cryotherapy settings do the rest. Oh, and did we mention that it also has LED settings? That's right. Get a whole spa facial experience in just a few seconds and wave goodbye to post-plane breakouts!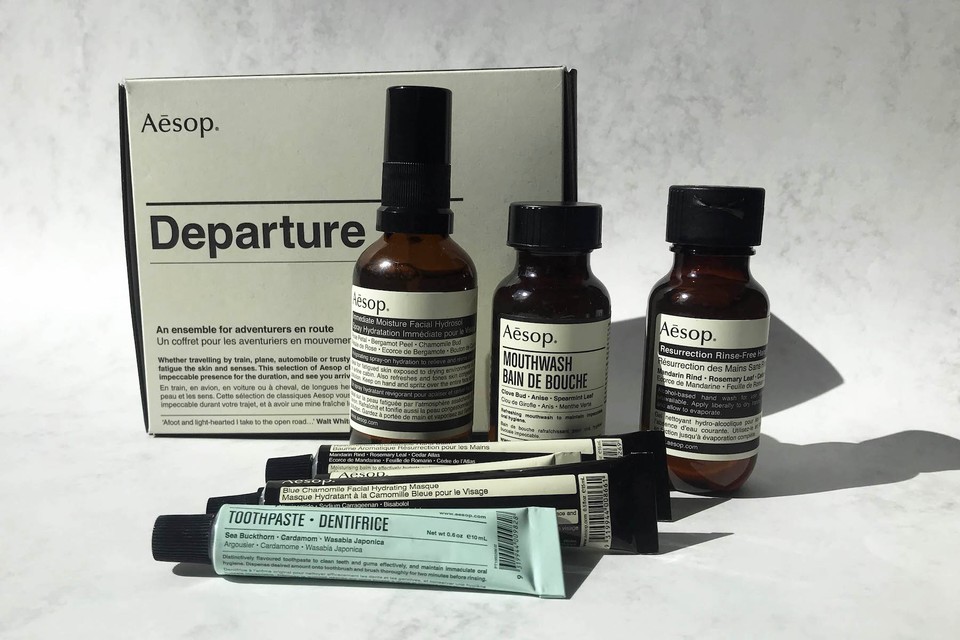 It can be hard knowing exactly what you need to take with you on a business trip. That's why Aesop did the work for you! They put together the departure kit, a compilation of their bestsellers—just travel-sized! It includes a rinse-free hand wash, an aromatic hand balm, a chamomile facial hydrating mask, face wash, lip balm, mouthwash, and toothpaste. It's everything you could need in one package.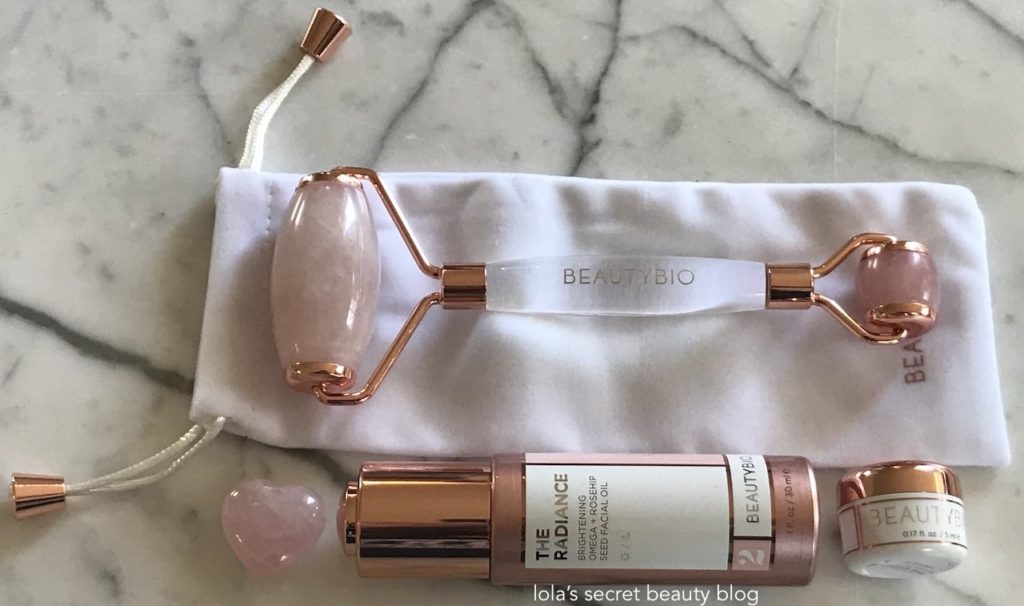 Are you the kind of business traveler whose face gets a little puffy on the plane? Then this is the product for you. BeautyBio's contouring and de-puffing rose quartz roller helps soothe puffiness, manages your pores, and reduces redness. Made of 100% Brazilian rose quartz, it also supports lymphatic drainage and helps block the appearance of under-eye circles. Order it on Sephora or Amazon for any skin type and get it on time for your next trip!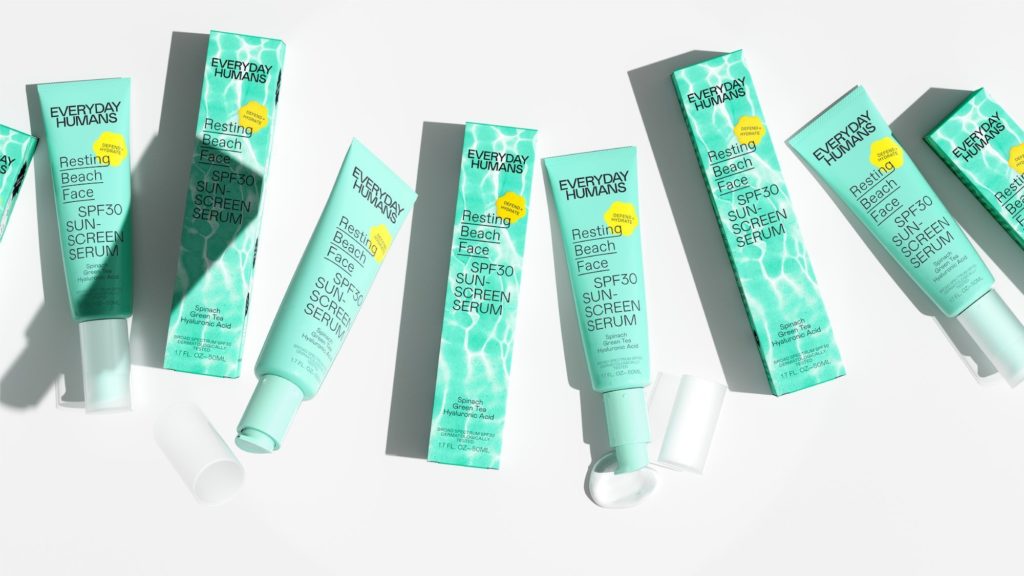 If you're a sucker for a good pun and an even better suncream, get yourself Everyday Human's Resting Beach Face SPF 30 sunscreen now. Even if you're not actually going to the beach, including sun protection in your skincare routine is really important regardless of your skin tone. This product is infused with antioxidants and magnet hyaluronic acid, fighting sun damage and urban pollution. Whether you're turning this business trip into a bleisure holiday, or just going to a sunny city for a business trip (hey, Miami!), this will be your favorite travel essential to keep in your carry-on.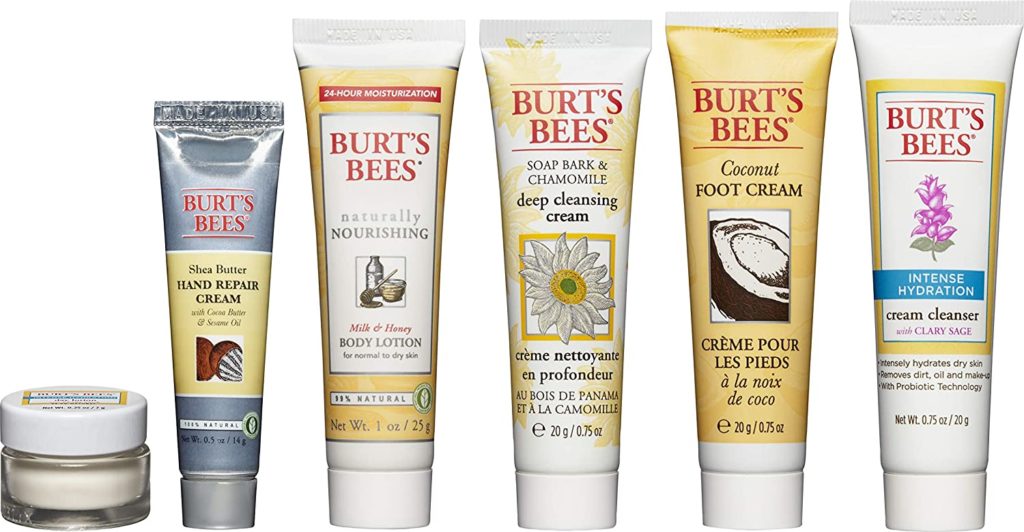 For those among you with a love for natural cosmetic products, check out Burt's Bees fabulous minis travel set. Comprised mainly of honey, shea butter, and camomile, this set brings together everything you didn't even know you needed to combat dryness when traveling. It includes a hydration cream face cleanser, day lotion, cleansing cream, body lotion, foot cream, and hand repair cream. It's also just the perfect gift for any other business traveler in your life (whether they've got dry skin or not). Other than smelling incredible, these products will make any tired professional on a business trip feel completely revived.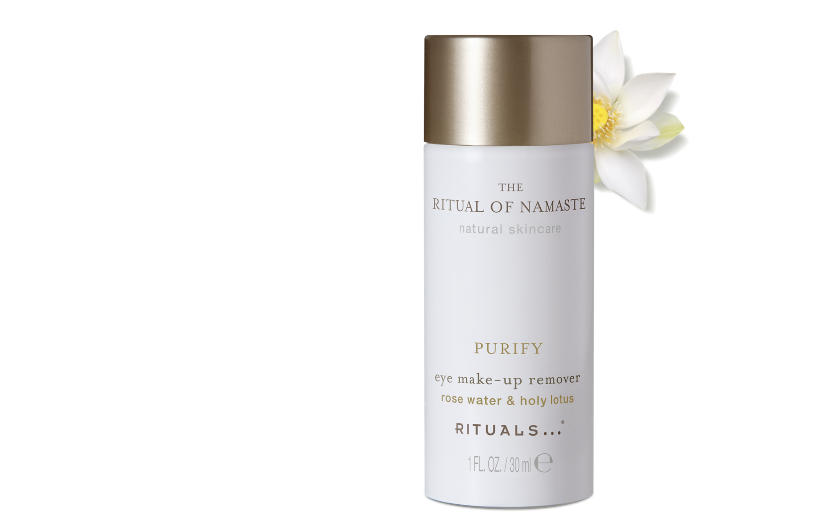 This soft, natural eye-makeup remover by Rituals is a force to be reckoned with. It was specifically designed to be able to gently remove makeup from even the most sensitive areas of your face, like your lips or the corner of your eye. It's made of natural ingredients including rosewater and lotus flower. Just apply a small amount of the product on a cotton pad, close your eyes, and softly wipe for about 5 seconds. It smells great and hydrates your skin all at the same time!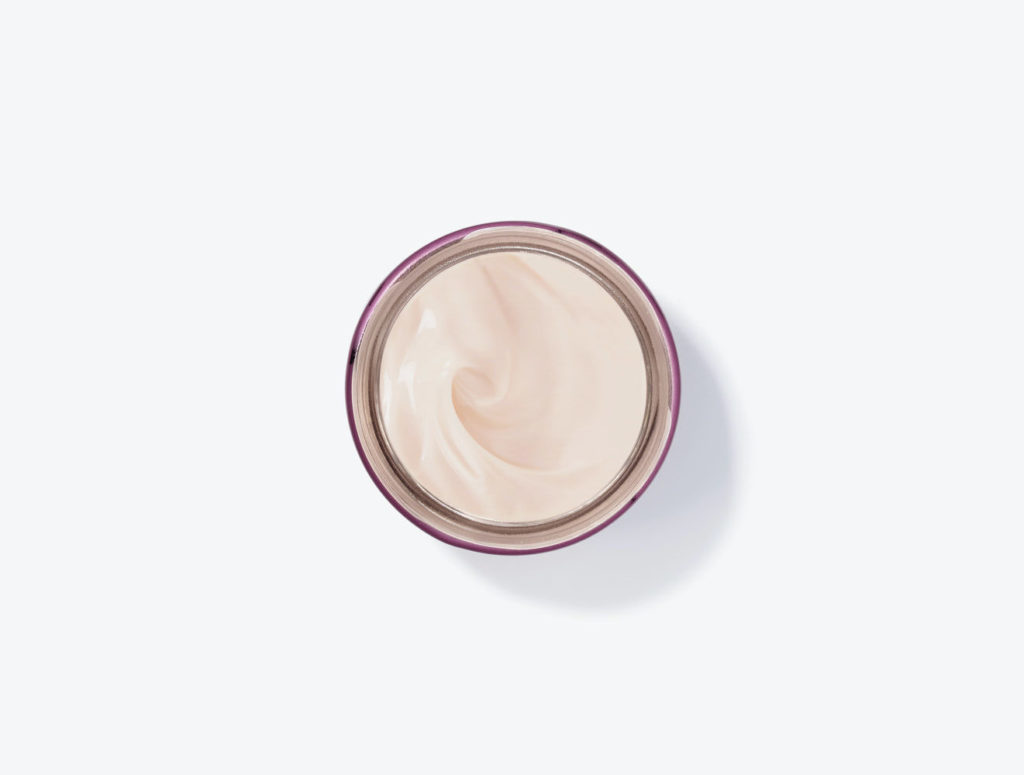 For a more luxurious, high-end skincare option, go for the Black Rose Skin Infusion Cream Set from Sisley Paris. It includes their rose skin infusion cream, black rose cream mask, and precious face oil. It's an absolute must-have for jet-set skincare aficionados looking for something with a beautiful scent that can take care of your face and neck on a long trip.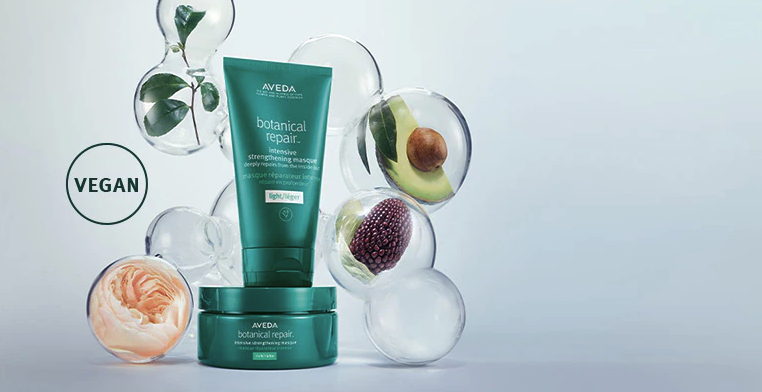 Vegan business travelers, pay attention. This one's for you! Aveda's Ritual of Rich Repair travel kit brings together all your travel beauty essentials for skincare and haircare. Go grab a kit now to enjoy their intensive strengthening hair masque, hand relief moisturizing cream, comforting tea bags, and wooden mini paddle brush. You'll also get a sample set of shampoo, conditioner, and leave-in treatment. Everything comes in responsible packaging that you can recycle when finished with these great products.
Did you find this article useful?
If you did, please follow us on our social media accounts on LinkedIn or Instagram. Please share the article with your friends or colleagues!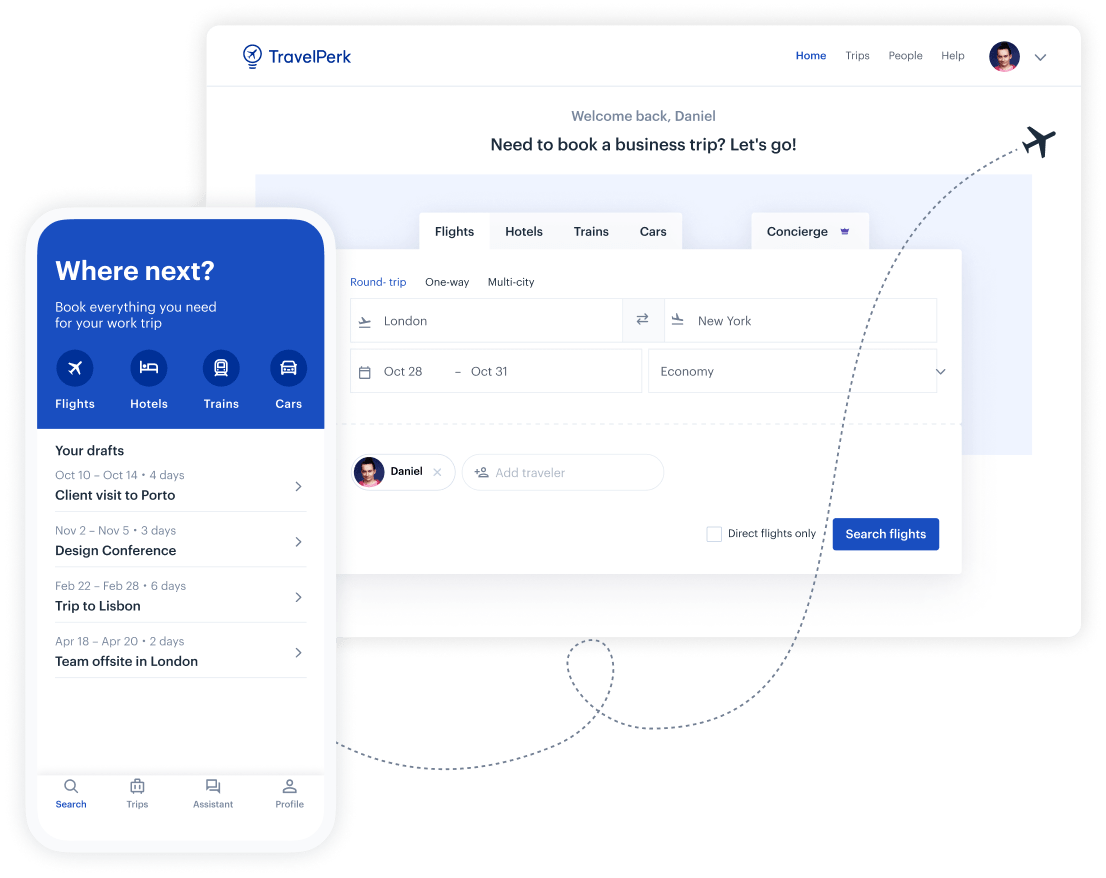 Make business travel simpler. Forever.
See our platform in action. Trusted by thousands of companies worldwide, TravelPerk makes business travel simpler to manage with more flexibility, full control of spending with easy reporting, and options to offset your carbon footprint.

Find hundreds of resources on all things business travel, from tips on traveling more sustainably, to advice on setting up a business travel policy, and managing your expenses. Our latest e-books and blog posts have you covered.

Never miss another update. Stay in touch with us on social for the latest product releases, upcoming events, and articles fresh off the press.