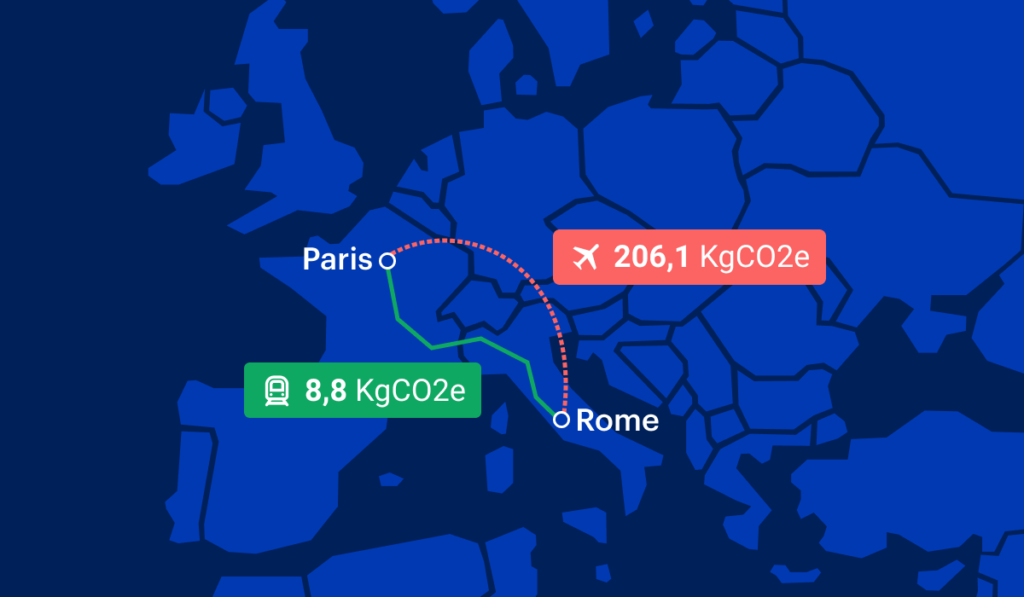 TravelPerk partners with Midnight Trains to enable sustainable business travel
TravelPerk partners with Midnight Trains to provide an expanded rail inventory to travelers in Europe.
Midnight Trains will provide routes in twelve large European cities.
The partnership is the latest step for TravelPerk in ongoing efforts to help businesses travel sustainably following the launch of carbon offsetting tool GreenPerk and the acquisition of sustainability consultancy Susterra
London, UK, 18 November 2021: TravelPerk, the largest global travel management platform, has today announced a partnership with French company Midnight Trains to provide travelers with a new modern rail experience between the largest cities in Europe.
As the need for face-to-face meetings increases, companies are increasingly seeking low carbon options for their business trips. Travelers are looking for a greener alternative to air travel for short-haul journeys and the revival of night trains is a concrete response to meet this challenge.
Midnight Trains is reinventing rail travel with its "hotel on rails'' concept. Founded by Parisian entrepreneurs Adrien Aumont and Romain Payet, the company will provide comfortable private rooms to its users, a high-end restaurant experience and an exceptional range of digital services from booking to arrival. It will run services to destinations including Milan, Rome, Barcelona, Madrid, Berlin and Copenhagen from its departure hub in Paris.
Through the partnership with TravelPerk, customers will have access to the Midnight Trains inventory directly on the TravelPerk platform when available. Both Midnight Trains and TravelPerk play a major role in enabling sustainable travel, providing low-carbon alternatives to air travel to business travelers. With TravelPerk's focus on achieving net zero business travel, sustainable travel can now truly be within any company's grasp.
The partnership with Midnight Trains is the latest in a series of milestones to offer green solutions to TravelPerk customers. The company recently started showing the impact of customers' GreenPerk contribution, TravelPerk's no commission carbon offsetting solution, in VERRA certified projects. In September, the company acquired Susterra, a UK consultancy firm that provides reporting to help businesses gain actionable insights that empower them to improve their carbon efficiency, reduce costs, and achieve their sustainability goals.
Susterra is TravelPerk's fourth acquisition after Albatross, NexTravel and ClickTravel making TravelPerk the biggest SMB business travel platform globally with the largest inventory.
Avi Meir, Co-Founder and Chief Executive Officer of TravelPerk, commented
"The meetings that matter happen in person. And as businesses get back on the road, they're looking more than ever for sustainable ways to connect in-person with their employees, customers and wider networks. In-person meetings have never been more important for businesses - but they're looking for sustainable options to meet in person.
"TravelPerk is committed to building on our leadership position as a provider of travel options with the smallest environmental impact, through our unmatched rail inventory, our carbon offsetting capabilities and our CO2 reporting functionality.
"We are delighted to be partnering with Midnight Trains on our common mission to help companies build a responsible travel strategy. Midnight Trains have created a unique proposition combining accessible luxury, sustainability and convenience and we're excited to have them on board."
Romain Payet, Co-Founder of Midnight Trains, commented
"We are thrilled to be partnering with TravelPerk. We both share the same passion for travel and we both believe the journey is as important as the destination.
"TravelPerk is already a leader in the sustainability space so it was a natural choice for us to partner with them to help travelers have greener options and support companies in their journey to achieve net zero carbon emissions by 2030."
About TravelPerk
TravelPerk is the next-generation business travel platform pioneering the future of business travel. TravelPerk's all-in-one platform gives travelers the freedom they want whilst providing companies with the control they need. The result is saved time, money, and hassle for everyone.
TravelPerk has the world's largest travel inventory alongside powerful management features, 24/7 customer support, state-of-the-art technology and consumer-grade design, all of which are enabling companies worldwide to get the most out of their travel.
Backed by world-class investors like DST, Kinnevik, Target Global, Felix Capital, Greyhound Capital, Spark Capital, Heartcore, LocalGlobe, Amplo, 14W—investors in some of the most disruptive companies in tech including Zalando, Slack, Trello, Twitter, Farfetch and Delivery Hero — TravelPerk is reinventing business travel with an end-to-end solution that works. Visit https://www.travelperk.com/travel-solutions/greenperk/offsetting-projects/ for more information.
About Midnight Trains
Midnight Trains, the first French railway start-up, has set itself the mission of reawakening the enchanting experience of the night train in Europe. By developing the first hotels on rails, Midnight Trains will offer the most comfortable and sustainable journey to travelers.
Created by Parisians to reinvent travel in Europe, Midnight Trains' hub will be Paris. In 2024, the company will launch the first line from the French capital and its trains will cover distances of 800 to 1,500km, to reconnect the beating hearts of the largest European cities. It will be an environmentally friendly travel solution: for instance, a journey between Paris and Rome on board Midnight Trains will generate 23 times less CO2 emissions than on board a commercial aircraft. The first route, to either Spain or Italy, will open in 2024 before Midnight Trains expands the network with four new lines by 2030.

While working on the departure of its first trains, Midnight Trains is creating the new mythology of night trains that the 21st century needs, through the contents of its blog and newsletter.