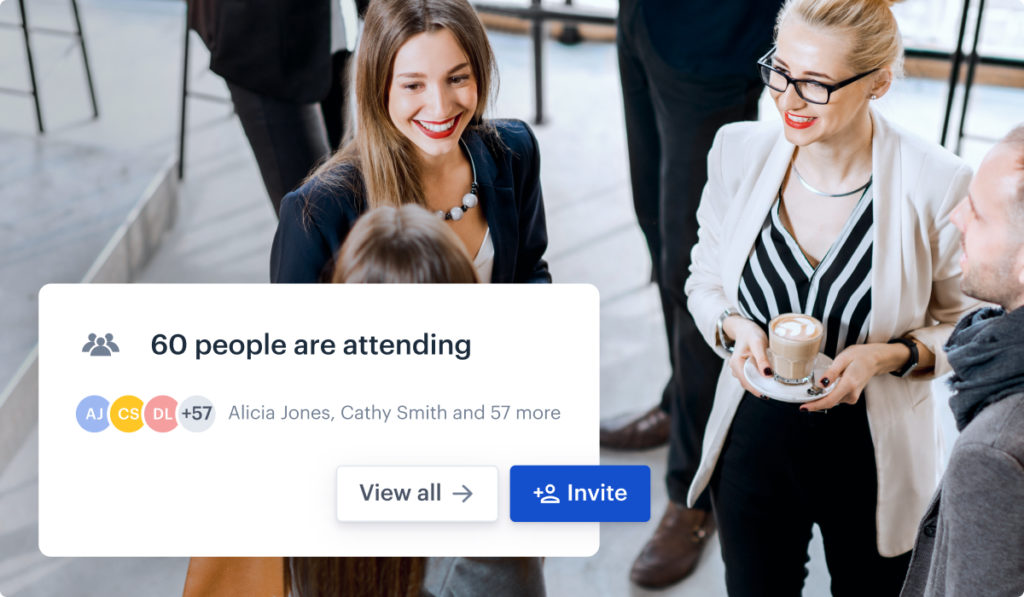 TravelPerk launches Events, a product built to help remote and hybrid teams connect in real life.
TravelPerk Events makes it incredibly easy for any team around the world to organize any type of event such as sales kickoff, offsites, seasonal company parties in a seamless way
The functionality within TravelPerk Events has been designed in collaboration with TravelPerk clients to specifically address the challenge of getting together face-to-face created by the new hybrid and remote working models
TravelPerk Events is TravelPerk's latest feature to reflect the role of travel management in existing future of work trends: to help enhance human connection
London and Barcelona, 25 November 2021: TravelPerk, the largest global travel management platform, today announces the launch of TravelPerk Events. This solution will support TravelPerk's greatest aspiration for the future of work: giving teams the freedom and capability to arrange opportunities to come together in person.TravelPerk Events allows for events-based business trips such as sales kickoff, offsites, seasonal company parties, to be planned, booked and managed from a single platform, solving the biggest pain of hybrid and remote working models: helping distributed teams get together in person.
After almost 2 years of working remotely, the need to return to face-to-face interaction in the workplace is paramount. According to Microsoft's Work Trend Index, over 70 percent of workers want flexible remote work options to continue, indicating that remote or hybrid work is truly here to stay. TravelPerk Events is yet another innovative product developed by TravelPerk specifically to address the changing nature of work in a post-pandemic world that will not only change the way travelers go on business trips, but also what companies will use travel for. This offering comes at a crucial moment to help teams come together in-person to boost creativity, build relationships and maintain company culture.
Through TravelPerk Events, planners will have a one-stop destination for simple events management, saving them time and allowing for more smoothly run events. Some of the features include:
Participants invite: Invite attendees to events and track responses and the status of bookings
Collaboration: Share trip details including attendee names, logistics, agendas, and a wider itinerary with participants
Communication: Keep attendees updated with additional details or changes to the plan
Visibility: View attendees' travel plans, including arrival and departure times and accommodation details
Now, teams are able to manage and oversee every aspect of an event-driven trip, from attendees, booking, scheduling, attendees, locations, and more. They will have the option of booking their trip through the event page, with a 'one-click' booking experience. What used to take hours, thousands of emails, and a whole lot of stress headaches can now take just a few minutes through TravelPerk Events. This new offering will begin the process of establishing the new ways teams can come together and meet in real life, replacing organizational processes that worked previously, but now could so easily lose their effectiveness. Events is already live and TravelPerk will be creating additional functionality over the coming months.
The new offering comes after a year of significant international growth for TravelPerk: it acquired travel sustainability firm Susterra in September, UK business travel provider Click Travel in July, and US rival NexTravel in January. TravelPerk announced $160m in Series D funding in May.
Avi Meir, CEO and co-founder of TravelPerk, said:
"Our focus has always been to deliver the best travel management experience, and with TravelPerk Events, we've created a tool that makes organising events easy in the post-Covid age. For those running events, they'll have everything they need to manage arrangements and updates all in one place - and attendees will benefit from a single hub where they can find all the details they need and book their travel. Companies will save time and money organising company meetings and off-sites, freeing them up to focus on getting the most out of the occasion itself.
With hybrid and remote working now the norm across industries, face-to-face meetings are more important than ever. It's when you meet in person that you forge meaningful relationships and collaborate effectively with your colleagues - and it's when a whole team meets in person that you create a company-wide culture rooted in your values.'
Jillian Wührer, Team Manager of Cognism, said:
"As an international team with colleagues located in different countries throughout Europe, TravelPerk Events made it easy to plan, coordinate, and keep track of all necessary steps to bring our team together and get them back home safely. TravelPerk is easy to use and provides a great, user-friendly tool from both an admin-perspective and a traveller-perspective. We will definitely be using TravelPerk Events for our future corporate meetings and events!"
-ENDS-
About TravelPerk
TravelPerk is the next-generation business travel platform pioneering the future of business travel. TravelPerk's all-in-one platform gives travelers the freedom they want whilst providing companies with the control they need. The result is saved time, money, and hassle for everyone.
TravelPerk has the world's largest travel inventory alongside powerful management features, 24/7 customer support, state-of-the-art technology and consumer-grade design, all of which is enabling companies worldwide to get the most out of their travel.
Backed by world-class investors like Kinnevik, Target Global, Felix Capital, Spark Capital, Heartcore, LocalGlobe, Amplo, 14W — investors in some of the most disruptive companies in tech including Zalando, Slack, Trello, Twitter, Farfetch and Delivery Hero — TravelPerk is reinventing business travel with an end-to-end solution that works. Visit www.travelperk.com for more information