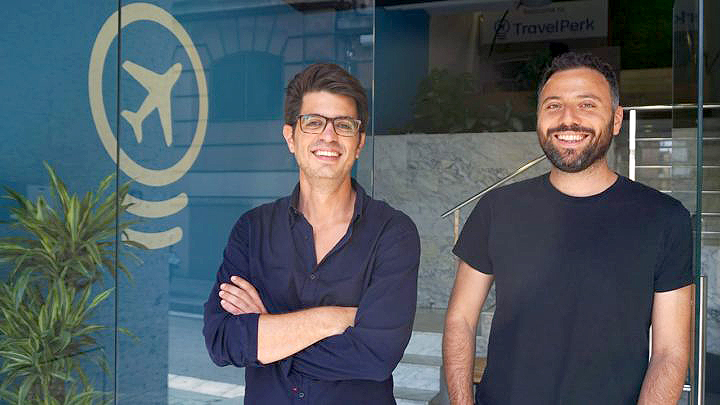 TravelPerk, Europe's fastest-growing SaaS startup*, raises $21m to fix business travel
Series B round brings total raised to $30m
TravelPerk has grown at a rate of 1,200% YOY
Clients include TransferWise, Typeform, GoCardless, Outfittery and CityJet.
Barcelona, Berlin, and London, 11th April 2018 –- TravelPerk, the next-generation business travel booking and management platform for companies of any size, announces today that it has raised $21m (£15m) in a Series B round led by Berlin-based Target Global and London's Felix Capital. Earlier investors Spark Capital and Sunstone also participated in the round, alongside new global player Amplo. Adding to early stage backers LocalGlobe.
Founded in 2015 by CEO Avi Meir and CPO Javier Suarez, TravelPerk is at the forefront of reinventing business travel – a category that is worth $1.25 trillion globally. Surging demand has resulted in TravelPerk being ranked the fastest-growing SaaS company in Europe – and the fourth fastest-growing globally – on *the SaaS 1000 list, and consistently leading its sector in customer satisfaction on review sites such as G2 Crowd and Capterra.
The company, whose team has increased from 20 to around 100 over the past year, has grown revenue at a rate of 1,200% year-on-year and now counts a raft of over 1,000 customers -- including celebrated high growth companies such as Typeform, TransferWise, Outfittery, GetYourGuide, GoCardless, Hotjar, and CityJet – among its clients.
World's largest bookable inventory
Rather than simply focusing on niche features, TravelPerk – which is free to use – doubled-down on infrastructure, building out an end-to-end business travel platform on which clients can search flights and hotels, book and pay for them (including prepay for any hotel worldwide), manage their itineraries, receive instant invoices, have full control of their travel preferences and loyalty programs, automate their travel policy, access their travel data and rely on 24/7, multilingual support – all in one place.
TravelPerk has built the world's largest bookable inventory by integrating not only with hotels, airlines, and rail companies, but also with all the major leisure travel sites including Booking.com, Expedia, Skyscanner and Airbnb, offering users the richness and variety of consumer travel options combined with a business-ready experience. By offering free customer support, and taking no client commissions, the company saves its customers over 20% in annual business travel costs compared to legacy corporate tools and travel agents.
"Almost everyone you speak to, who has traveled for work, has personal experience of how painful business travel can be," says TravelPerk CEO Avi Meir, who sold his previous company to Booking.com. "Until now, businesses had to choose between two bad options: either antiquated enterprise solutions or an alphabet soup of ad hoc consumer tools. We went back to first principles instead to design the world's best experience for travelers, business administrators and finance managers, alike.
"Between them, our investors have backed some of the most disruptive companies in tech including Slack, Trello, Twitter, Farfetch, Deliveroo and Delivery Hero. They recognise the same potential with TravelPerk, only in a far bigger market."
Trillion Dollar Market
"The corporate travel industry is one of the largest global markets yet to be disrupted online," says Antoine Nussenbaum, Partner at Felix Capital. "At Felix Capital we have a high conviction about a new era of consumerization of enterprise software. With a seasoned and highly ambitious management team combining all the skills required to build both a top class tech stack and a smooth consumer experience for travelers through personalisation and mobile, TravelPerk are ideally positioned to be the global leaders in the space."
The Series B investment – which brings the total raised by TravelPerk to $30m – will be used to rapidly scale all facets of the business. The company will add software engineers, product owners, sales reps and customer support to its team, which is set to double to around 200 people, as well as expand globally with offices in 3-5 new countries by 2019.
Target Global General Partner Shmuel Chafets adds: "TravelPerk is very well positioned to be a market leader in the business travel space with a product that makes business travel as seamless and easy as personal travel, thereby winning a highly fragmented trillion dollar market - a key investment thesis of Target Global. We're excited to support such an experienced and dedicated team that has a strong track record in the travel space. TravelPerk is our first investment in Barcelona. We believe in a pan-European startup ecosystem and we look forward to seeing more opportunities in this emerging startup hub."
About TravelPerk
TravelPerk is a next generation travel booking and management platform pioneering the future of corporate travel. TravelPerk offers the world's largest travel inventory alongside powerful management features and 24/7 customer support, allowing companies of any size to effortlessly manage the entire process in one single place. Thanks to state-of-the-art technology, 'consumer-level' design and a revolutionary business model that is 100% free, the company is transforming the business travel experience for both travelers and administrators worldwide. Backed by world-class VCs Target Global, Felix Capital, Spark Capital, Sunstone, LocalGlobe, and Amplo—investors in some of the most disruptive companies in tech including Slack, Trello, Twitter, Farfetch, Deliveroo and Delivery Hero — TravelPerk is now poised to reinvent business travel with an end-to-end solution that just works.
To start using TravelPerk for free or to request a demo for TravelPerk Premium, visit travelperk.com.
About Target Global
Target Global is an international Venture Capital firm headquartered in Berlin, with over $600 million in assets under management. Connecting the key European startup ecosystems, we leverage the unique DNA of each of our target geographies, across our global network. Building on our experienced team with substantial operational and investment experience, we help exceptional entrepreneurs to build market leaders. Target Global follows a lifecycle approach, investing in fast-growing online platforms, targeting trillion $ markets. Our partners have been investing for more than 15 years in the digital technology space, backing some of the European success stories. The Target Global portfolio includes companies such as Auto1, Delivery Hero, GoEuro, Dreamlines and WeFox.
www.targetglobal.vc
About Felix Capital
Felix Capital is a London-based venture capital firm for the Creative Class, operating at the intersection of technology and creativity. Felix focuses on digital lifestyle, investing in emerging digital consumer brands and related enabling-technologies. The firm's mission is to be a partner of choice for entrepreneurs with big ideas, and help them build strong brands that stand out and move the world forward.
Since its launch in 2015, Felix has raised c. $300m across several funds. Illustrative investments include: Farfetch, an online marketplace for the fashion industry; Deliveroo, a food delivery service, goop, the lifestyle brand started by Gwyneth Paltrow in LA; Mirakl, leading provider of marketplace platforms and dropship solutions; Olapic, a Visual Commerce platform (sold to Monotype for c. $130m); Yoobic, in-store execution SaaS solution for retailers.

www.felixcap.com