It's the second time this year we're making this announcement, only this time, perhaps, to even more fanfare. We're excited to announce that we've closed our largest round of funding yet – supported by some of the most successful tech investors in the world – to take business travel into the future.

The usual thing to do with such big news might be to thank the entire TravelPerk team first for their motivation and commitment (champagne is on order), or to applaud our leadership team (and cava, seeing as we're based in Barcelona) but truly we have to extend the biggest thank you to our customers – now over 1500 companies.

So much has happened since TravelPerk was founded and all of it's down to the pace you've set for us. Business travelers, travel managers and CFOs – you've all been behind this movement occurring in the business travel industry. We've spent the last 3 years listening to what you've needed. You've asked for efficiency and function and we've done our best to provide solutions. Without this – all of your support, feedback and overall, trust – we would never have been able to scale so rapidly.

Thank you for setting the bar so high.

We want to let you know that a lot has happened between our Series B round in April and now. We've added even more employees to the team, particularly engineering and customer support, bringing our number up to 150, as well as growing the world's largest bookable inventory, partnering with companies including Kayak and Airbnb.

In the last few months we worked even harder to bring our platform in line with what our customers needed next, the release of trains at the beginning of October serving as another step forward. We're leading the market in this sense, being the only platform which allows you to book all your flights, hotels and trains in one place, avoiding redirects all together.

However, although what people need often dictates the present offerings of any service, what they want can shape the future of it. With this latest round of funding, we'll be on a mission towards exactly that, shaping the future of business travel.

We want to become the leaders in the industry by meeting the wishes of our customers – you. We'll be taking all of your feedback, both good and bad, so that we can continue building the ultra-modern, leading business travel experience.
Our Past
Since TravelPerk was started in 2015, co-founders Avi Meir and Javier Suarez have led our growing team in building not just a platform, but an experience that was long overdue in the corporate travel market.

But, it was a darker time back then, with the pain of business travel weighing heavily on our early customers. Wasted time and late nights endured because of endless support calls, limited choice, clunky agency platforms and the frustrating necessity of chasing down invoices and expense reports.

For management, high costs and a lack of visibility were the norm. While leisure travelers were – and in fact still are – handed innovation upon innovation to make an already joyful experience even more enjoyable, business travelers and travel managers were left to fend for themselves in the wild west of the travel industry. Both Avi and Javier saw the pain and the potential in a market ripe for disruption while working alongside each other at Booking.com:
"Since our inception, we decided to put customer satisfaction at the core of our offering. We set out to be the first business travel company that had the happiness of travelers as its mission and raison d'etre."

Co-founder and CEO, Avi Meir
Our Present
3 years and 3 funding rounds later, by solving the problems and simplifying the travel process for hundreds of thousands of business travelers, we've become the fastest growing Software as a Service company in Europe. We're saving companies more than 20% in annual travel costs while continuing to design a booking experience people actually enjoy.

We've seen how much you value the platform already, yet if you asked anyone on the team, all of us building and growing together with TravelPerk, we'd tell you we're just getting started. Yes, so far we've brought all the necessary tools and resources to manage trips from booking to accounting into one simple, smart, consumer-standard interface. And yes, we're allowing travelers to quickly and easily compare, book and invoice trains, flights and hotels from a wide range of major providers including Booking.com, Expedia and Airbnb - with 24/7 support.

But, we don't just want to fix what was broken, we want to keep innovating:
"For travelers and admins we're going to be investing a lot in European inventory and our mobile platform, as well as continuing to build our customer support. We want our customers to have the best on demand service and support and the widest array of options, which involves strengthening our offerings across the board. We've already integrated the largest bookable inventory – now including trains – because it's simply what our customers needed. With trains, for example, the market wasn't supplying it, so we built the technological infrastructure ourselves, essentially from scratch. If that's what it takes to deliver the best, it's what we'll continue to do."

Co-founder and CPO, Javier Suarez
Our Future
"This new funding round means that we can take our vision of a better way to travel for work to the next level. We will invest more in technology, product, and service all with the goal of providing our signature 7-star experience to existing customers, as well as new ones."

Co-founder and CEO, Avi Meir
Over the past year alone our team has tripled in size and will continue to grow with the opening of our first office in the UK. We'll also soon be building bases in Berlin, Amsterdam and Paris to deepen our reach in these markets.

Beyond logistics, there's more in store for the platform itself too. With this new financing we aim to hone in on the specific pain points for everyone involved in the travel process, which will rely on combining what we already know with what you continue to share with us about your experiences with business travel, whether traveler, travel manager or finance manager:
"This new funding will enable TravelPerk to invest further in delivering more value for the CFO. Specifically, we'll focus on improving reporting to ensure 100% compliance with travel policy and develop new tools to improve the optimization of the travel budget. This funding will also enable us to keep adding new sources of inventory, so that our algorithms can continually return the best prices available on the market. Ultimately, CFOs care about compliance, cost control and cost reduction. This is what TravelPerk is providing and will keep improving."

CCO, JC Taunay-Bucalo
Our mission now, moving into the future, will come directly from you. Please keep sending us requests, suggestions and comments (Avi is available at avi@travelperk.com) and we promise we'll go through it all.

What we build here at TravelPerk will always be prioritized according to the impact we expect it to have on you, our end user. We've gotten to this point because we listened to you.

And, we're still listening.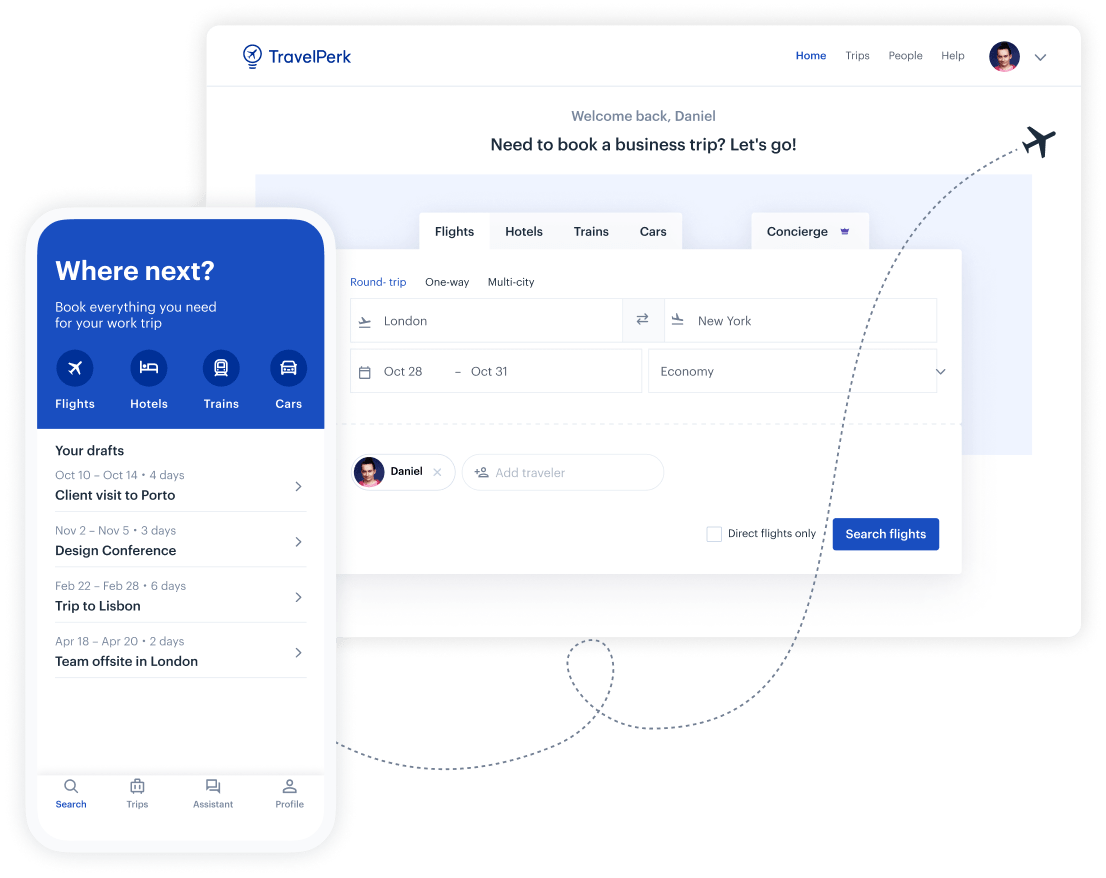 Make business travel simpler. Forever.
See our platform in action. Trusted by thousands of companies worldwide, TravelPerk makes business travel simpler to manage with more flexibility, full control of spending with easy reporting, and options to offset your carbon footprint.

Find hundreds of resources on all things business travel, from tips on traveling more sustainably, to advice on setting up a business travel policy, and managing your expenses. Our latest e-books and blog posts have you covered.

Never miss another update. Stay in touch with us on social for the latest product releases, upcoming events, and articles fresh off the press.