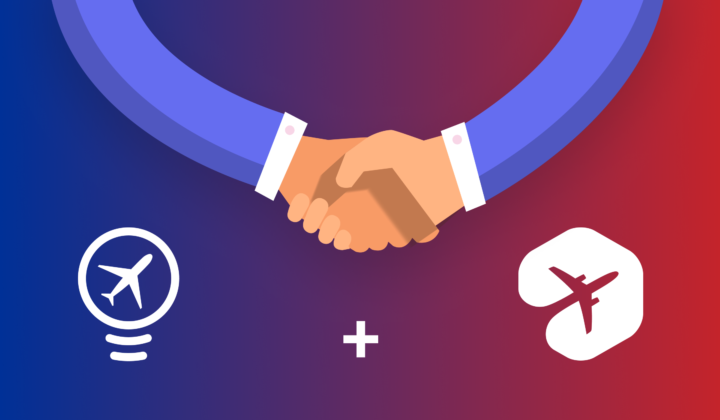 We're starting the year off with some awesome news! I'm really happy to announce that TravelPerk is acquiring NexTravel, one of the biggest US-based business travel platforms. Launched in 2015, NexTravel serves over 700 clients and has processed more than 300,000 trips to date.

2020 was a year that we're going to remember forever. Especially for those of us working in the travel industry, this year brought on challenges we could never have imagined. At TravelPerk, we used 2020 as a time to invest in our infrastructure and technology to emerge better, stronger, and optimistic in a year when business travel literally stopped.

The NexTravel acquisition will include its talented team, customer base, unique product know-how, extended inventory, and US market expertise. We are thrilled to have them on board.
Why did we acquire NexTravel?
We spent this last year continuously improving our offering to fit the future of business travel, - the "next normal", if you will. This acquisition is no different. Integrating NexTravel's extensive US-based inventory, expertise, and regional know-how into our platform will allow us to offer our customers a broader and more cost-efficient inventory. This, combined with our suite of industry-leading products, will give you everything you need to navigate business travel in this new reality. Check out the section on the future of business travel below to learn more. 

With this acquisition, our partnership with Southwest Airlines®, and another exciting US-partnership coming up soon (I promised myself no spoilers this time!), we remain committed to our growth in the region. As business travel becomes normal again thanks to the vaccine, stay tuned for more announcements like this one.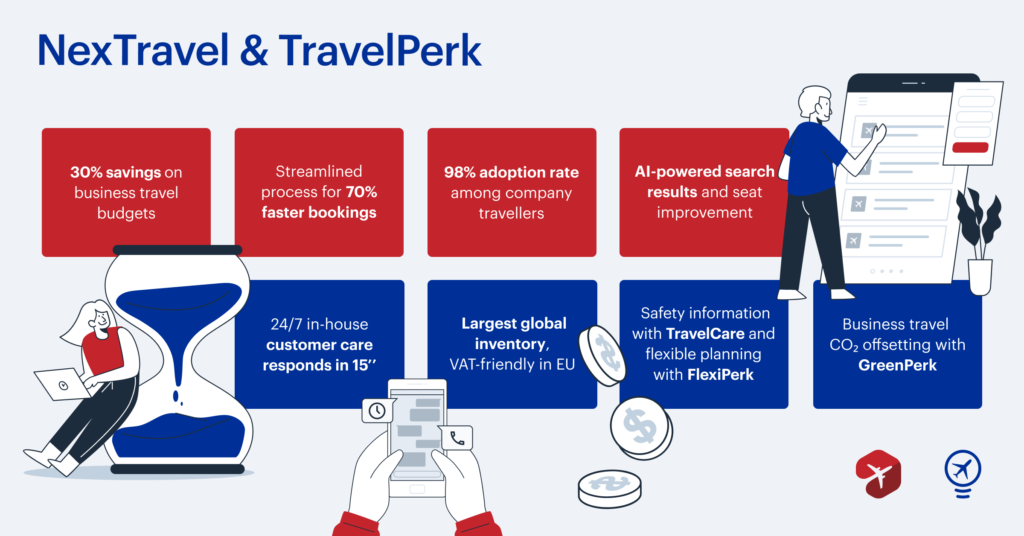 Welcome to the future of business travel!
We also spent this year mapping business travel needs for the "next normal", and adjusted our offering accordingly. Together with NexTravel, the future is already here.

Here are the 5 most crucial trends going forward that we've identified, and how TravelPerk is addressing them:
1. Ensure safety
While this has always been a top priority, it has a new meaning now. TravelPerk's unique risk management solution, TravelCare, helps travelers and admins stay informed on all the travel safety measures affecting their trips, in real-time.
2. Increase flexibility
Cancellations and changes can cost a lot of money. We empower customers to plan ahead while knowing that they are protected in case of any changes with FlexiPerk. Cancel or change anytime, no questions asked.
3. Savings. Savings. Savings.
In the new economic situation, savings will become a higher priority. Enjoying our special fares, unique inventory, and our VAT Recovery Solution, we save companies up to 20% of their travel budget.
4. Going green
Sustainability is always on our minds. That's why we help our customers offset their carbon footprint when traveling for business with GreenPerk.
5. Peace of mind
Knowing someone is here to assist you 24/7 and within 15 seconds (yup, that's our actual average response time) is relaxing. And with the much-anticipated return to business travel, this will matter more than ever. In other words, check out TravelPerk's customer support!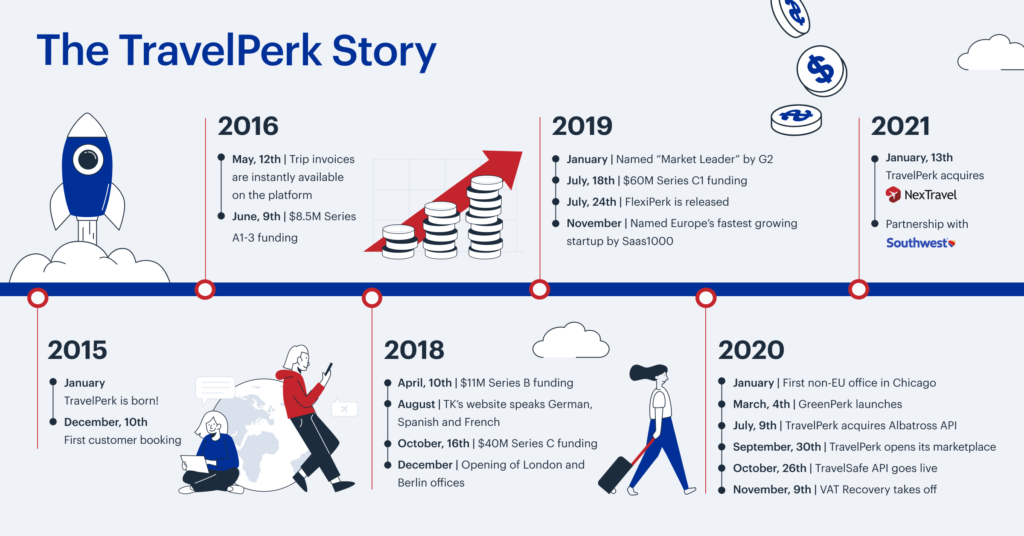 Going forward
I would like to give a huge thanks to everyone involved in making this amazing acquisition happen, and welcome NexTravel employees and customers into our team. I'm really excited about this next phase, and I speak for everyone at TravelPerk when I say that we are 100% committed to continuing making business travel better, and travelers happier.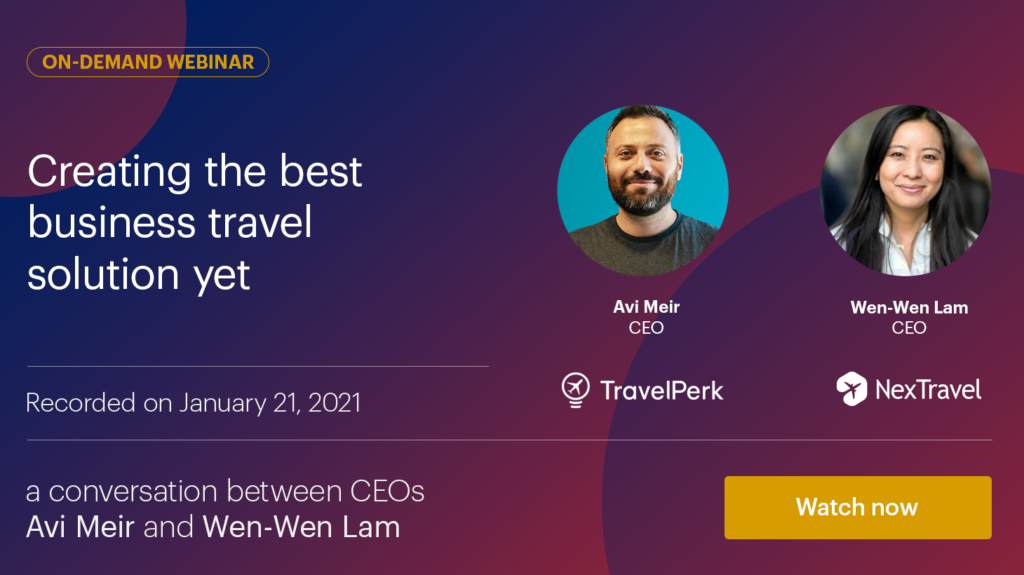 Happy New Year to everyone!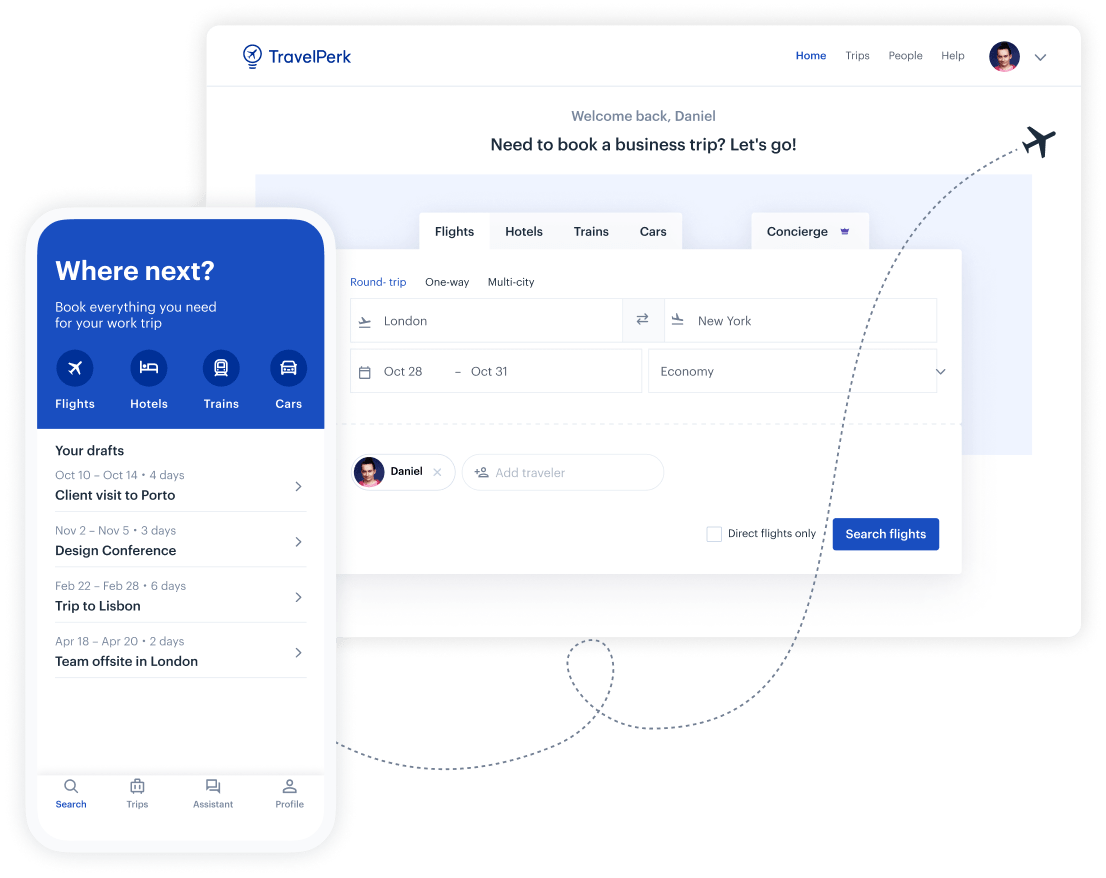 Make business travel simpler. Forever.
See our platform in action. Trusted by thousands of companies worldwide, TravelPerk makes business travel simpler to manage with more flexibility, full control of spending with easy reporting, and options to offset your carbon footprint.

Find hundreds of resources on all things business travel, from tips on traveling more sustainably, to advice on setting up a business travel policy, and managing your expenses. Our latest e-books and blog posts have you covered.

Never miss another update. Stay in touch with us on social for the latest product releases, upcoming events, and articles fresh off the press.