It seems as though the phrase on everybody's lips these days is "hybrid work". Ever since the outbreak of the coronavirus pandemic in March 2020, the way that we work has been responding to shifting sands. In literally a day, the world of work went from the pre-pandemic norm of being physically present in the office every day to the seemingly eternal status quo during the pandemic of fully remote work.

We went from seeing each other every day to not seeing each other at all. We went from giving each other handshakes or hugs to social distancing and staying at home. There was no choice—we did it for the health and safety of ourselves and society as a whole.

But now, vaccination rollout around the world is gaining speed. Transmission rates aren't as steep as they were this time last year, for example. We're starting to get a handle on the global health crisis, and that means that we can now start looking to the future.
So, what does the future of work hold?
There are 3 generally accepted modus operandi for running a workplace. There's:
The office-first model
Where everyone is an office employee and a physical presence onsite is required full-time. This was the commonly accepted working model before COVID-19.
The hybrid work model
Where you combine working at an office space and working from home. You build a work policy that mandates how many days within a certain time period employees need to come to the office, and how many days they can work remotely.
The remote-first model
Where everyone is a remote employee. You run your business largely through video calls, do not have an office space, and often work with colleagues in different cities, countries, and even timezones.

Companies around the world are struggling with a seemingly simple question—which working model is right for us? The question may appear easy enough, but the answer is far from simple. To truly understand what model your company should follow in a post-COVID world, you need to drill down to the fundamentals of who you are as a company. Which model will suit your company culture? Which one aligns best with your values? Which one will help you with employee retention? These are just a few of the many questions companies are asking themselves right now. And there's no shortcut to finding the right answer.
Hybrid work: what's all the fuss about?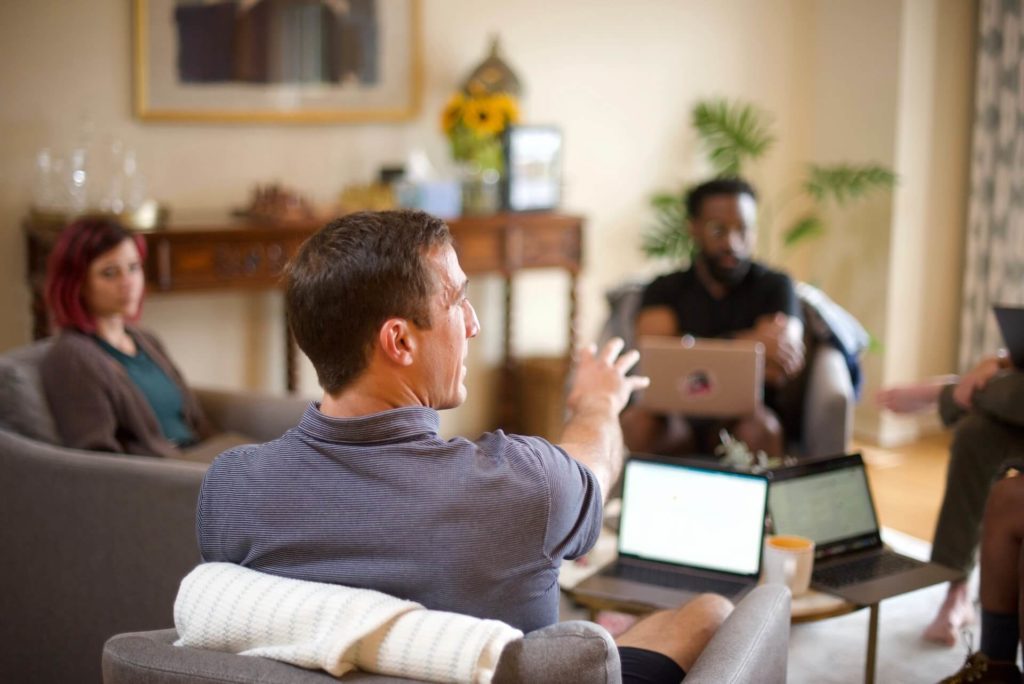 There's clearly no one-size-fits-all approach to work in the modern world. Particularly post-pandemic, each company will need to figure out what's right for them moving forward. Hybrid work, however, has been lauded as a great middle-ground between two extremes. Combining the best of both worlds, the hybrid work model enables employees to mingle with co-workers in the office and have more flexible days working from home.

In fact, companies worldwide have been turning to a hybrid work environment. Microsoft, Spotify, Ford, Citigroup, Apple, Uber, and UBS are just a few of the many companies that have announced a shift to this style of working. So, what are some of the major benefits of the hybrid workplace?
Employees get to work face-to-face
… When they need to. A huge misconception when it comes to understanding why some in-office time is needed is that every meeting you hold needs to be in person. That's just not the case. A hybrid work environment empowers employees to choose which meetings they believe should happen face-to-face, and which ones can comfortably happen online.
Simple coordination or tactical meetings, for example, are perfectly efficient on Zoom. Larger brainstorming or creative strategy meetings, on the other hand, are just better when you're in a room together. Hybrid allows you to do both!
Having a work-life balance is actually real
It's not just empty words on a Careers page. Giving employees the opportunity for truly flexible work, where they can stay at home or come to the office whenever they need to, is going to become a key reason talent chooses one role over another.
Just think about it this way—you want to hire Jenny, an incredible Product Marketeer. Jenny has a son and has made arrangements with her partner to be with him after school on Tuesdays and Thursdays. Which company is she more likely to join? The one that lets her work from home on those days that she spends with her son and come in for some face time with her team on other days? Or the one that makes her choose one option or the other? This ability to adapt work schedules to an employee's personal life is going to be key in our new reality.
People can work the way they're most productive
It's pretty simple. People are different, and so the way they work is different. Some people are office workers who just love to come in every day, stay for after-work drinks, and find they're most productive in a designated workspace surrounded by others.
Remote workers, on the other hand, prioritize other things like being able to travel without taking days off, or checking off that to-do list in their slippers from the comfort of their own kitchen. Then, there are people who enjoy a little bit of both. A hybrid work arrangement basically means that you give people the flexibility to combine both ways of working, without having to choose one or the other.
You can take well-being to the next level
Companies have a unique opportunity in reshaping the way they work to find new ways of boosting employee engagement and well-being. Hybrid work enables you to introduce a new set of perks to help employees deal with physical and mental health, such as fatigue or burnout.
As you shift away from investing largely in in-office perks, you can think about offering employees other benefits. This could include offering them access to emotional wellbeing platforms like iFeel, physical fitness apps like GymPass or Andjoy, paid volunteering days, or even healthy food and snack deliveries straight to their doors.
You can broaden your talent pool
With hybrid work, the options you have for hiring talent actually open up quite a bit. The coronavirus pandemic saw a bit of an "urban exodus" of people moving out of metropolises in favor of smaller, more affordable cities. By setting up a hybrid working model, you can give workers the flexibility to make their living arrangements work for them.
For example, if your hybrid model means that employees need to come in twice a week, then that opens doors for you to hire people living in smaller towns who would not have otherwise been willing to make a move to the city.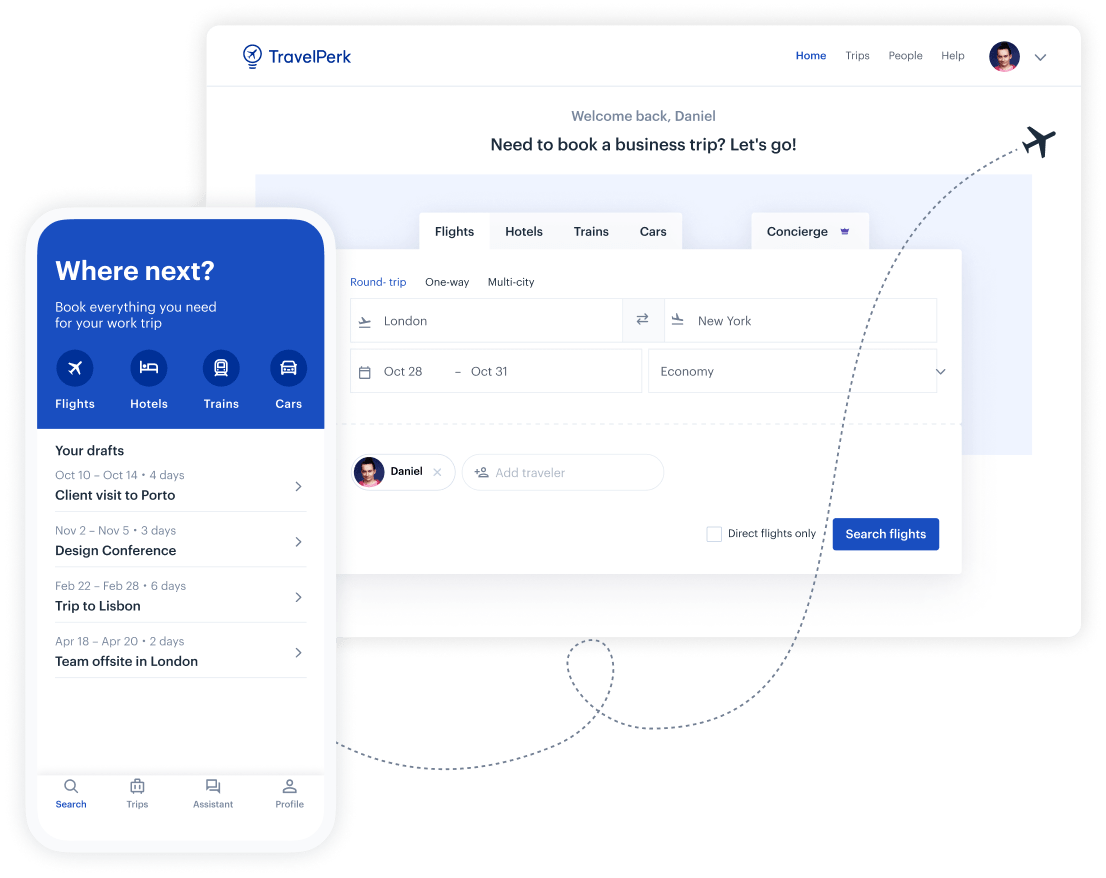 Make business travel simpler. Forever.
See our platform in action. Trusted by thousands of companies worldwide, TravelPerk makes business travel simpler to manage with more flexibility, full control of spending with easy reporting, and options to offset your carbon footprint.

Find hundreds of resources on all things business travel, from tips on traveling more sustainably, to advice on setting up a business travel policy, and managing your expenses. Our latest e-books and blog posts have you covered.

Never miss another update. Stay in touch with us on social for the latest product releases, upcoming events, and articles fresh off the press.