How did our all-hands end-of-week meetings begin?
In the early days, our CEO coordinated our end-of-week meetings, which gathered all 10 of our team members together. Different departments would demonstrate what they had been working towards with simple slides created ten minutes before stepping up!
How did our end-of-week meetings evolve?
We give the entire TravelPerk team the chance to be heard with an open agenda and a Q&A session. We now have several team members who help craft this meeting each week, and we aim to schedule a fortnight in advance with our speakers.
The slides we present have come a long way! The speakers control their design, and we encourage teams to get creative and put their best foot forward. We also offer our presenters a trial run if they want to practice their talking points, and as the Community Team, we give feedback and guide teams on capturing and keeping everyone's attention.
Why do we continue to include everyone in our end-of-week meetings?
So at this point, it's hopefully clear we pour a lot of effort into our end-of-week meetings! But it might not be so obvious that 5 years of developing our end-of-week meetings have taught us a lot, and in the past two years that I have been organizing them with the Community and the Executive Assistants team, I take inspiration from their impact.

We consider our all-hands so important to our company culture that we rarely skip a week. Even around the Christmas holidays, we still bring together as many TravelPerkers as possible. So why are these meetings so crucial?
1. They prove we are a team.
Our all-hands end-of-week meetings create a tremendous sense of belonging within our organization. By bringing all our staff together simultaneously, everybody gets to see the ingredients that make up TravelPerk as a whole. It's a great opportunity to see colleagues you might not encounter around the office. Employees can see how teams are growing and the company is developing. Plus, we give new starters the chance to introduce themselves!
2. We ask our newbies to introduce themselves!
We don't do this to put new hires on the spot! We ask them to say a few words as an icebreaker so they can feel seen and connected and committed to our company goals. We also make sure that we demonstrate appreciation, and big applauses are common! When people take the time and effort to present, we show our gratitude and value their contribution.

Without visibility in a large organization, it can be hard to build trust, and disagreements can crop up between teams easily when they aren't clear about each other's roles. All this awareness of what others are working on in the business is priceless. It breeds better communication and reduces the silo effect between departments.
3. They prove our employees are owners in the business.
We value creating a sense of ownership at TravelPerk, and we try to provide our teams with as much context as possible. We don't shy away from sharing confidential material, and we aim for transparency wherever possible. We found that taking this approach at our regular end-of-week meetings creates a sense of empowerment and gives our staff a better framework for their decision-making.

We ask that everyone commits to this transparency. Anyone is welcome to submit questions to our weekly Q&A, but we ask that these are not anonymous. We encourage people to put their names against their questions to promote ownership and open communication.

We value impact over effort. We didn't just upgrade our slides so they looked prettier. We didn't particularly care about making the slides beautiful until we identified an excellent reason to go the extra mile. At TravelPerk, we promise our customers a 7-star experience, and we wanted to extend that to our teams. By improving the slides, we created a greater sense of esteem and pride in the company. By allowing teams to take ownership of them, we developed the best training on presentation and design. Rather than a dormant training session, speakers learn the skills and gain hands-on experience creating a compelling presentation.
4. It strengthens our culture.
Usually, as companies grow, they reduce the amount of all-hands meetings they hold. As the number of employees increases, the common perception is that it's better to break out into more frequent meetings between smaller groups than to go through the hassle of getting the entire company together.

As a Community team, we can't help but feel this would lead to less connection. For us, these meetings create an occasion to give important announcements or updates. Rather than our communications getting lost in emails, teams have clear deadlines to submit for the week's agenda. Without these meetings, team members would inevitably know less about what is going on in other areas of the business and feel disconnected from our group goals. Fewer meetings would also open us up to the temptation to be less transparent, diluting our shared culture and values.

We have found that the effort we invest in these meetings has significantly strengthened our company culture. We deliberately design them to be a feel-good event, so everyone goes into the weekend on a high and feeling connected. As well as providing crucial information we have lots of in-jokes and GIFs.
For us, it's crucial that everyone leaves the office with a sense of fulfillment. At the end of the week, we take this time to celebrate our wins and, more crucially, the teams who make them happen. It gives the entire organization insight into how each department contributes to our goals and helps our employees feel secure about their role in our joint mission.
How can I establish a weekly all-hands meeting?
At TravelPerk, we started small with our team meetings and developed them into a company-wide gathering over time. In the beginning, to not get too bogged down in detail, we took an MVP approach and slowly built up to the current format. When setting up an all-hands meeting, it pays to prioritize. With experience and reflection, we could see the value of putting effort into well-designed slides, but if we had gotten hung up on the presentation initially, we wouldn't be where we are now! So don't be afraid to build slowly, the most important thing is to bring people together.
10 tips for organizing a successful all-hands meeting
1. Designate someone to head up organizing your weekly all-hands meeting
Over time you can select additional colleagues to create a leadership team that can take this on as an extra project. However, it's essential that from the beginning the workload is shared. To stay fresh and engaging an all-hands of any size needs to be a community effort with a captain steering the ship rather than spinning all the plates alone! Encourage your organizer to delegate tasks and to trust other team members to create content for the meeting.
2. Find a few colleagues who have a natural charisma to act as a host
Introduce the other speakers, and get things started on the right note! We find instinctively engaging and funny people make for the best choice but don't forget to rotate to share out the workload. Even the most extroverted of people don't want the limelight all the time!
3. Create slack channels dedicated to the all-hands meeting to make communication easier
Ask employees to use these channels to suggest topics and content for the meeting. Let people know they don't necessarily have to be the presenter to make a suggestion! You can use the same slack channels to find the ideal candidate to speak on the proposed topic. Establish deadlines for when content needs to be submitted, and the agendas finalized but remain flexible, or people will be put off presenting again.
4. Don't force anyone to present who doesn't want to
We have all had to sit through awkward presentations at one point, and it doesn't make for a feel-good event! It's ok for speakers to be nervous, you can help coach them, and a massive round of applause at the end of every presenter is a great way to boost the confidence of shy members of the team. But forcing someone who genuinely doesn't want to present is a guaranteed recipe for disaster!
5. It's important to note that presenters don't need to be department heads
At TravelPerk we champion project heroes. Anyone who is closest to the topic we are discussing can present. If an intern is most responsible for the specific project and wants to jump up and fill us in, we are extremely happy to hear them speak! Aim for diversity, so everyone feels represented at your all-hands and keep rotating speakers to stop things from getting stale. Don't force anyone to present who doesn't want to. We have all had to sit through awkward presentations at one point, and it doesn't make for a feel-good event! It's ok for speakers to be nervous, you can help coach them, and a massive round of applause at the end of every presenter is a great way to boost the confidence of shy members of the team. But forcing someone who genuinely doesn't want to present is a guaranteed recipe for disaster!
6. Set parameters for your content
With a large audience, the talking points need to be either a needle mover for your mission or culture or affect most of the team. It's vital to have the right amount of detail. You want speakers to avoid being fluffy but not overload people to the point they feel lost. Updates need to be easy to follow for members of different departments, so ask presenters to avoid technical jargon. You might have to get creative with, for example, engineering teams to find ways to present their news in a more digestible manner.
7. Encourage as much participation as possible and create two-way communication and interaction opportunities
We promote topics where we can vote, Q&A sessions, and chances for people to give feedback throughout the meeting. We use tools such as Mentimeter and Kahoot to facilitate live interaction and Zoom Chat when staff are joining us remotely.
8. Our average all-hands meeting lasts around an hour
... but sometimes, we make it shorter if we have tough content to cover. We want to ensure everyone is informed, but we don't spend too long dwelling on difficult news at the end of the week. We cover essential updates and then move on, looking ahead to the future as a team.
9. As your capacity increases, aim to keep things fresh and fun by trying new things regularly
Take time to develop different formats and ways to keep your audience engaged, and don't be afraid to keep tweaking your approach. For example, we used to have our newbies share an embarrassing story as part of their welcome to the team. But as we approached the stage where we had 40 new starters, this was getting out of hand, and we had to adopt a new strategy! You can also embrace a theme to create even more buzz around a particular week. For example, for International Women's Day, our end-of-week is presented exclusively by our female staff members, and we adjust our content to share female-led stories.
10. Take time to follow up and evaluate the results
Collect feedback from your team and encourage people to be honest! We discovered that some team members found a few ideas intimidating or not inclusive, so we are constantly checking in to make sure everyone is comfortable and getting the most from these meetings!

If you are setting up your organization's all-hands meeting and would like to reach out to share notes or advice, I would love to hear from you! Feel free to drop me an email at oriol@travelperk.com.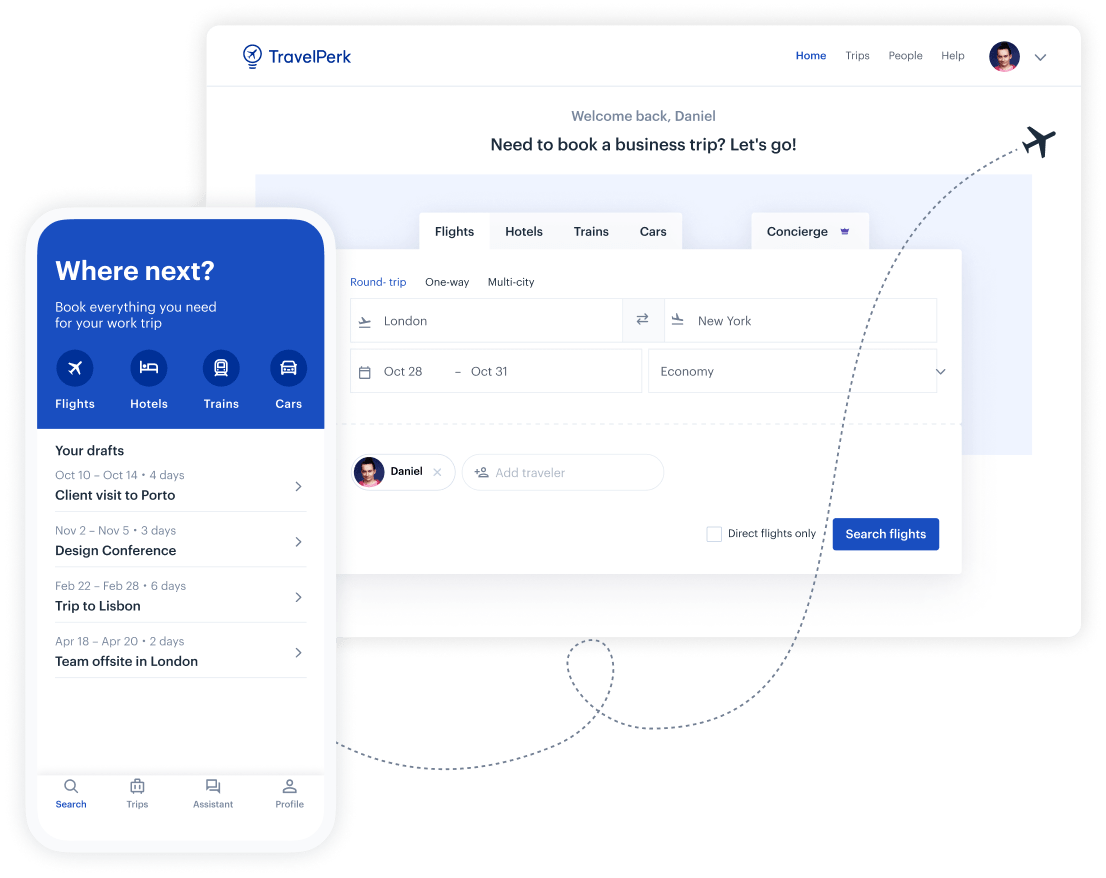 Make business travel simpler. Forever.
See our platform in action. Trusted by thousands of companies worldwide, TravelPerk makes business travel simpler to manage with more flexibility, full control of spending with easy reporting, and options to offset your carbon footprint.

Find hundreds of resources on all things business travel, from tips on traveling more sustainably, to advice on setting up a business travel policy, and managing your expenses. Our latest e-books and blog posts have you covered.

Never miss another update. Stay in touch with us on social for the latest product releases, upcoming events, and articles fresh off the press.