With the growing variety of travel payment solutions now available, the travel industry has more choice than ever when paying trips and expenses. However, the sheer range of options can be bewildering, and it's essential that we select the right payment methods for our business, particularly in the challenging financial environment that we all face after the pandemic.
In this post, we examine the various corporate travel payment methods available, so you can select the right option to streamline your business travel expenses.
Business credit cards
Across the corporate landscape, business credit cards are an extremely common way to pay corporate travel expenses (and indeed all types of business costs). Many credit card providers, such as American Express, Visa and MasterCard, offer specialist commercial cards for business travelers, and each issuer delivers specific benefits.
Advantages
Business credit cards often provide higher credit limits than personal cards, providing companies with a quick, easy source of finance. They also offer controls to help you monitor your travel spend: you can create multiple users, entrusting specific employees with business purchases in line with your workplace travel policy.
As well as this simplicity and convenience, business card payments help with expense management, enabling business owners and travel managers to keep business costs strictly separate from personal ones - something which can be more complicated when using personal cards.
Best of all, a corporate card will typically offer rewards that can subsidize and improve your future business travel, like air miles, hotel loyalty points, and even airport lounge access. A specialist business travel card program will also carry dedicated rewards, like cashback redemptions and a waiver on foreign transaction fees.
Disadvantages
While there are so many clear advantages to using business credit cards, there are certain drawbacks to bear in mind too. They may lack the protection that consumer credit cards can offer, and there is less regulation, which may affect the APR. It's also worth remembering that the annual fees may be higher than those of a personal credit card (although many business card providers now offer low fees or waive them altogether).


Top-up
In addition to personal and commercial credit cards, several card providers now offer prepaid top-up options: they open an account with the provider and then keep topping up in real-time as and when required. With each new travel booking, the account is credited.
Several business travel providers offer their own top-up option, including TravelPerk. The travel provider debits each business trip or expense, and the client wires a transfer whenever they need to top up.
Advantages
Prepaid products are now accepted around the world and they come with loads of lovely benefits. Above all, there's the control: top-up cards and policies enable companies to preload a specific budget before their people set off, and the cards can be easily locked and canceled, which makes them safer than some alternative options.
With an entire trip preloaded onto one card, the expense management process becomes a lot easier, and many prepaid cards come with no administration costs.
Disadvantages
If the requirements of a business trip change, top-up cards may not offer the flexibility of a credit card. And some cards are only designed for certain currencies, so you need to choose the currency that's relevant to your company and your trips.
Direct debit
If you use a set number of travel providers, or you book your travel through a Travel Management Company (TMC), direct debit can be a great option, enabling you to make regular payments with minimal hassle.
Direct debits are often used to pay lodge cards, a form of virtual card which enables companies to set up a single account for all future travel expenses.
Advantages
Of all the virtual payment options out there, none is more convenient than a direct debit. You can set them up when you want, cancel when you want and choose between fixed and variable options. Direct debits ensure your providers are paid on time and they can work out cheaper, too, avoiding the transaction payments sometimes levied on card transactions.
Lodge cards take these benefits even further. Only one card is issued for each company or cost center. Once you've 'lodged' your virtual card number with your TMCs, all travel expenses will be charged to this one account and can be paid by direct debit (or BACS if you prefer). You'll get an itemized breakdown of all your expenses and be able to identify areas for potential cost-saving.
Disadvantages
With direct debits, it's easy to 'set and forget' - in other words, set up a payment and then forget about it. This is both a positive and a negative. It allows you to make payments hassle-free, but it also creates the risk that you lose sight of a payment and it continues to leave your account long after you've stopped using the service. So if you're going to use direct debits, make sure you continue to monitor your travel requirements.


SEPA transfers
Some readers might not be familiar with the term 'SEPA,' but you're likely to hear a lot more about it over the next few years.
SEPA stands for the Single Euro Payments Area, a common payment set up by the EU. The SEPA region now includes 36 countries, including all 27 EU member states and the EU, and the purpose of the initiative is to speed up the process of making cashless payments from one European bank account to another.
Advantages
SEPA is designed to be simple, and it certainly removes much of the friction that can arise when making international payments. The system works like a regular bank transfer: all you have to do is set up your payment, using the beneficiary's IBAN number, and the banks do the rest.
SEPA transfers are also fast (the money is often transferred immediately) and there are no risks or hidden fees.
Disadvantages
The scheme does have a couple of limitations. Companies need to have a bank account within the Eurozone, and transactions will always be processed in euros, even if the account is held in an alternative currency.
Bank transfer
Another of the more 'old-school' payment options, wire transfers remain one of the most popular forms of cashless payment across Europe. And they remain a solid all-round option, with a variety of potential uses.
Advantages
Bank transfers are among the most secure payment options around. You know the money has been deposited into your client's account, and there are regulations in place to protect you and the seller. You don't face the problem of chargebacks.
Disadvantages
Occasionally, there might be delays in completing the payment, and there are fees to bear in mind, too.


And finally…In addition to the payment suggestions outlined above, it's also worth considering an invoice collection service, which will gather invoices on your behalf and remove a major part of the administrative burden, no matter which payment method you use. The more you and your team travel, the more substantial the benefits you can receive from invoice collection.
Did you find this article useful?
If you did, please follow us on our social media accounts on LinkedIn or Instagram. Please share the article with your friends or colleagues!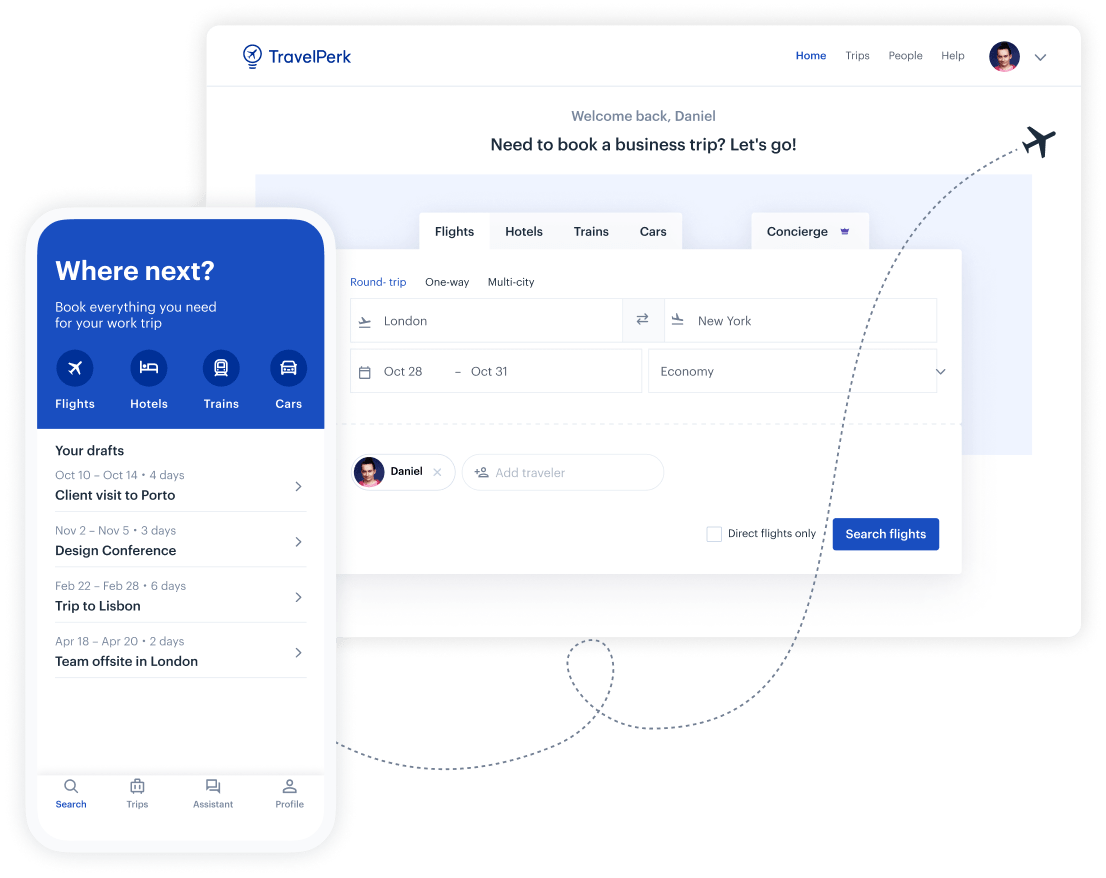 Make business travel simpler. Forever.
See our platform in action. Trusted by thousands of companies worldwide, TravelPerk makes business travel simpler to manage with more flexibility, full control of spending with easy reporting, and options to offset your carbon footprint.

Find hundreds of resources on all things business travel, from tips on traveling more sustainably, to advice on setting up a business travel policy, and managing your expenses. Our latest e-books and blog posts have you covered.

Never miss another update. Stay in touch with us on social for the latest product releases, upcoming events, and articles fresh off the press.