Take a moment to consider how much time and energy we use-up when we organize our own leisure travel or vacation. Think about how much screen time is spent digging for the best flight and hotel deals, agonizing over car rental cancellation policies, and if it's really worth paying for extras like breakfast and airport pick-ups.

Now imagine doing this for dozens of people every day. That is the role of the Corporate Travel Buyer!

A corporate travel buyer generally has a background in the travel industry and knows their way around the back-end systems and protocols that drive it. They must be ninjas at numbers in order to balance travel budgets and adhere to company travel policies, often from different departments, while still aiming to achieve optimum comfort, functionality, and flexibility. They will know how to create a corporate travel program and stay on the cutting edge of new developments in global business travel.

In short, corporate travel buyers are in-house travel agents that cover a myriad of front and back-end roles, from procurement to bookings to risk management. As frequent business travelers love familiarity, building good relationships with travel providers is key to the travel buyer's success.

Booking business hotels
Securing a beneficial partnership agreement/s with major hotel groups is vital to the role of a corporate travel buyer and the success of the company's travel program. Regular, or an agreed number per year, of room bookings is what hotels want, especially in the post-pandemic climate. The more traffic and travel spend you can direct their way, the better the leverage to negotiate incentives like room upgrades, access to VIP areas, and of course, cost savings.

That said, hotel partnerships have to be frequently monitored and analyzed. As travel buyers book hotel rooms well in advance of major trade shows and events, cancellation policies must be really scrutinized. The corporate travel buyer must make sure to be in the loop on new hotel openings, closures, and renovations. They must be sympathetic to special dietary and mobility needs of their employees, and make sure they are catered to. As the corporate travel buyer is the 'bridge' between the employee and vendor, feedback is vital. He or she must always act upon any complaints or discrepancies, and constantly pursue resolutions that are in the best interest of the company.
Booking business flights
The majority of business trips are taken by executives, upper management, and sales staff, so people within the company whose roles rank highly and provide essential services. Oftentimes, they are not just traveling somewhere for a one-off meeting or event, but combining it with client liaison, multiple destinations, working from the road, and even leisure travel.

While the most kind-hearted ones might be prepared to overlook a hotel room that falls short of their expectations, flight bookings must be made with clockwork precision. Traveling times from their home to their onward hotel needs to be factored in when choosing airports. Fidelity programs need to be monitored and entry and visa requirements attended to well in advance. Airport transfers must be organized, and contingency plans in place.

There are countless booking tools and comparison sites where travel buyers can book. The savvy ones know that these sites are programmed to drive traffic to particular airlines and agents. Corporate travel buyers, therefore, need to research beyond price points and work out the real value of the flight for their company's employees.
Creating business trip itineraries
Once all the business trips details have been finalized, the business travel buyer, whose role often segues into travel management, needs to oversee the collation of boarding passes, hotel addresses and transfer/car hire details and contracts into an easy-to-navigate format for the business traveler.

Some older employees may prefer a good old printed paper version, others want it all on their smartphone using Google Drive or an itinerary app such App In the Air. Whatever the case, travel industry professionals agree that creating itineraries is a skill in itself, and the corporate travel buyer elevates it to an art form!
'Business' travel versus 'Corporate' travel?
What's the difference? Most insiders agree it's the size of the travel budget. Companies that can allocate bottom line US$ 1 million a year are in the best position to negotiate corporate rates on airfares, hotels, and car hire, and indeed warrant the expense of an in-house corporate travel buyer. For small-to-medium-sized enterprises, this is where corporate travel management companies come to the fore. Beyond the traditional role of the travel agency, external providers like Travel Perk can streamline booking, invoicing, itineraries and all aspects of corporate travel into one easy-to-use platform, while providing frequent flyers with the 24/7 human support they need to get the job done.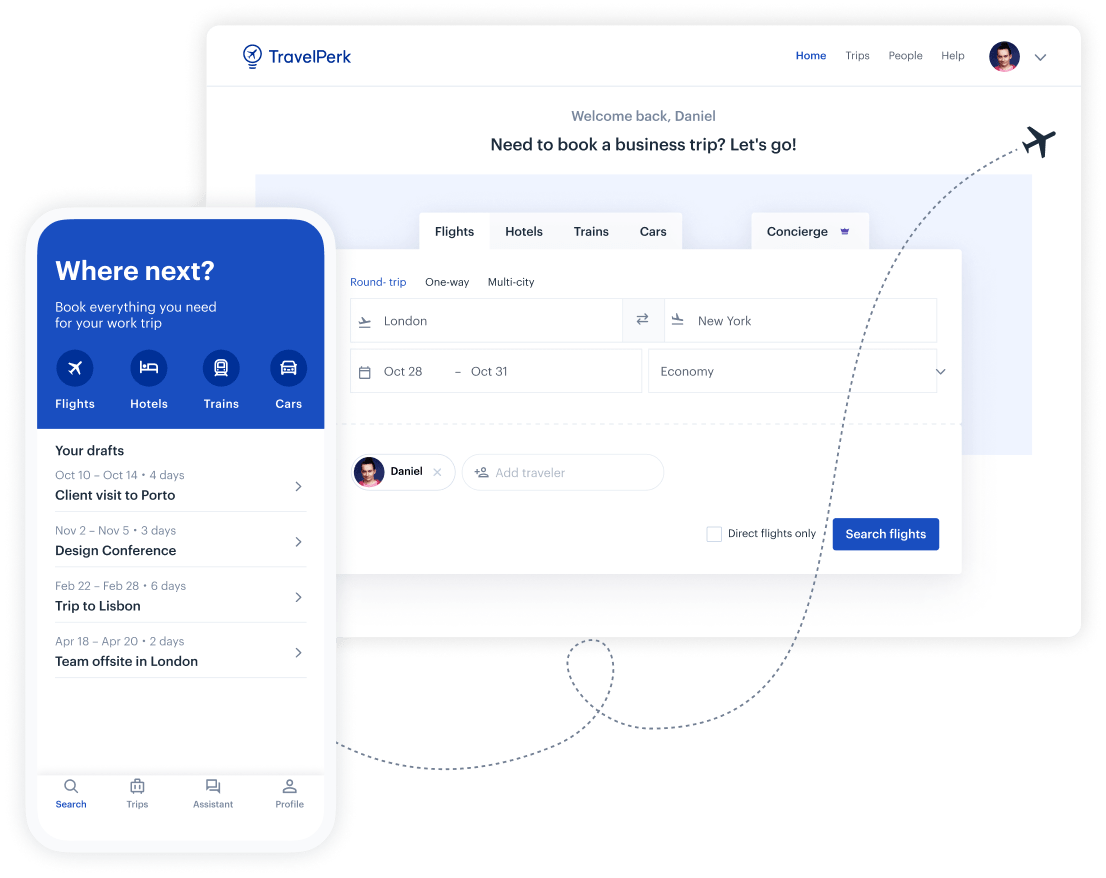 Make business travel simpler. Forever.
See our platform in action. Trusted by thousands of companies worldwide, TravelPerk makes business travel simpler to manage with more flexibility, full control of spending with easy reporting, and options to offset your carbon footprint.

Find hundreds of resources on all things business travel, from tips on traveling more sustainably, to advice on setting up a business travel policy, and managing your expenses. Our latest e-books and blog posts have you covered.

Never miss another update. Stay in touch with us on social for the latest product releases, upcoming events, and articles fresh off the press.