Let's face it, beautiful weather is not the first thing that comes to mind when you think of a holiday in the United Kingdom. But, for what it lacks in sunshine it makes up for in diverse foods, stunning landscapes, and rapidly evolving business hubs like Manchester and London.
Perhaps you're looking to discover the UK for a quintessentially British getaway, maybe business is taking you on the road? Or, perhaps you're ditching the UK's grey skies in pursuit of warmer weather. Whatever the reason, we've rounded up the best online travel agencies the United Kingdom has to offer. We're including everything from those offering luxury all inclusive package holidays to those online flight aggregators to get you from A to B on a budget.
Shall we?
Best online travel agency for business travel
TravelPerk is a modern solution for modern corporate travel. Its easy-to-use online booking tool is a refreshing change from the clunky UI often associated with business travel. TravelPerk enables you to make flexible bookings for employees, and even offers the option to offset your carbon footprint. 
This platform is more than just an OTA, it's a comprehensive corporate travel management tool that helps your team book, manage, and report on business travel. TravelPerk ensures employees are travelling stress-free on the cheapest flights available, at no sacrifice to experience.
Main offerings and features:
TravelPerk gives employees access to the information and the security they need to travel with peace of mind. It gives organisations and travel managers access to the best corporate travel rates that you won't find on the market.
See how to save money by automating your booking process
Best online travel agencies for leisure travel in the United Kingdom
From couples' city breaks to all inclusive family holidays, these top holiday companies are offering it all. Let's dive in!
2. Travel Supermarket: a travel agent part of MoneySuperMarket
You may not be familiar with Travel SuperMarket but if you've been in the UK a while, you're probably familiar with Money SuperMarket, the popular UK price comparison site. Travel SuperMarket brings the same business structure but to travel (surprise, surprise!) comparing 20+ popular travel brands in a one-stop-digital-shop.
Dubai, Greece, Thailand, Turkey, because they're a holiday aggregator site, the world is literally your oyster, and the site is packed with different holiday types. Admittedly, many holiday companies have struggled in recent years and where Travel SuperMarket shines is by providing 100% ATOL protected holidays.
Note: ATOL is a financial protection scheme for package holidays, helping get you home if your holiday company should fold during your trip. You should look out for this when booking your holiday.
Key features:
Get access to expert travel advice from the experienced team
Includes: all-inclusive, long haul, beach-themed, and more types of holidays
Europe-wide car hire is also available through the website
Get inspired to find some winter sun with their "where's hot" search filter
3. Lastminute: great for spontaneous travellers—or those that forgot to book!
From the Maldives to Mexico, lastminute has got every destination you can think of covered, and are offering relatively cheap holidays as you'll be booking so close to departure.
Notorious for last-minute holidays, the company prides themselves on being the European travel tech leader and runs business in 17 languages. The website is packed full of inspiring places, everywhere from Safari retreats in Africa to wellness hotels in Abu Dhabi.
Key features:
1,500+ employees in offices across the globe
An intuitive booking tool for flights, hotels, or both
Get inspired with their 'deal finder' search
Also book the theatre, cars, ground transport, and the Eurostar
4. Hays Travel: great for those looking to travel with peace of mind
Established in 1990, Hays is now the UK's leading independent travel agency. Today, Hays is fully ABTA, ATOL and IATA bonded, giving holiday goers complete financial security for their trip. The travel company has a wide range of destinations including Portugal, Dubai, Iceland, Barbados, and more. Plus, all infants under two go free on every holiday they host.
Key features:
Available on Whatsapp to bring your deals on the go
Booking centre: if you'd prefer to plan your trip in-store with an agent
ATOL scheme: to ensure you're protected should something happen to the holiday company while you're away
Hays prepaid Travel Money Card for worldwide cash withdrawals and 24/7 customer support
5. Thomas Cook: one of the UK's most renowned tour operators
Don't just book it, Thomas Cook it. If you're from the UK this slogan may feel familiar to you. Thomas Cook are famed for their inclusive holidays, outstanding travel advice, and have some luxurious destinations across Europe and beyond.
The original business collapsed in 2019, however, some passionate employees were determined to keep bringing dream holidays to people, and today Thomas Cook now sits under Fosun Tourism Group—the same group that owns Club Med.
Key features:
Score the best service on any holiday as Thomas Cook are members of ABTA
A huge selection of beach to cheap to luxury holidays to choose from
Availability to book your travel money, travel insurance, and airport transport
A fantastic holiday advice magazine to keep you inspired when booking
6. Easy Jet Holidays: for holiday goers on a budget
EasyJet is renowned throughout England and beyond for their budget airline—typically flying from the UK to Spain (Majorca, Tenerife, etc). However, EasyJet Holidays have levelled up quite a bit in recent years and the once airline-only company is now offering everything from all inclusive beach holidays for the family, to honeymoon retreats for the newlyweds. They also have an ATOL certificate, to quell any fears of folding.
Key features:
Best price guarantees and low deposits—from £60pp
Book flights, manage bookings, and access your boarding passes via the app
Holidays that are easier on the credit card by splitting your payments out
Cancel up to 60 days before you travel and get your deposit back as EasyJet credit
7. Tui: great for those looking to fly from local and go global
Tui wins the ticket for people looking to fly from an airport near them, flying from over 20 UK airports. Don't let that make you think they're keeping things local though, you'll find holidays to luxury holidays to Jamaica, the Maldives, Costa Rica, and more long-haul holidays to pick from. With TUI you'll get 24/7 access to their experts while you're away, while their intuitive app will help you keep tabs on your trip every step of the way.
Key features:
Tours and multi-destination trip for a tailor-made retreat
A huge selection of ocean and river cruises for that perfect holiday on the water
Plenty of holiday deals to inspire a trip on any budget
A nifty holiday budget calculator to help you figure out your spending money
Closing out British travel companies worth considering
There you have it, seven of the UK's leading travel agents to consider for your next trip. Take a look at everyone on the list and find the company that sits right with you. Remember, if it's business travel you're after (in or out of the UK) then TravelPerk is your best bet, keeping you productive and stress-free every step of the way.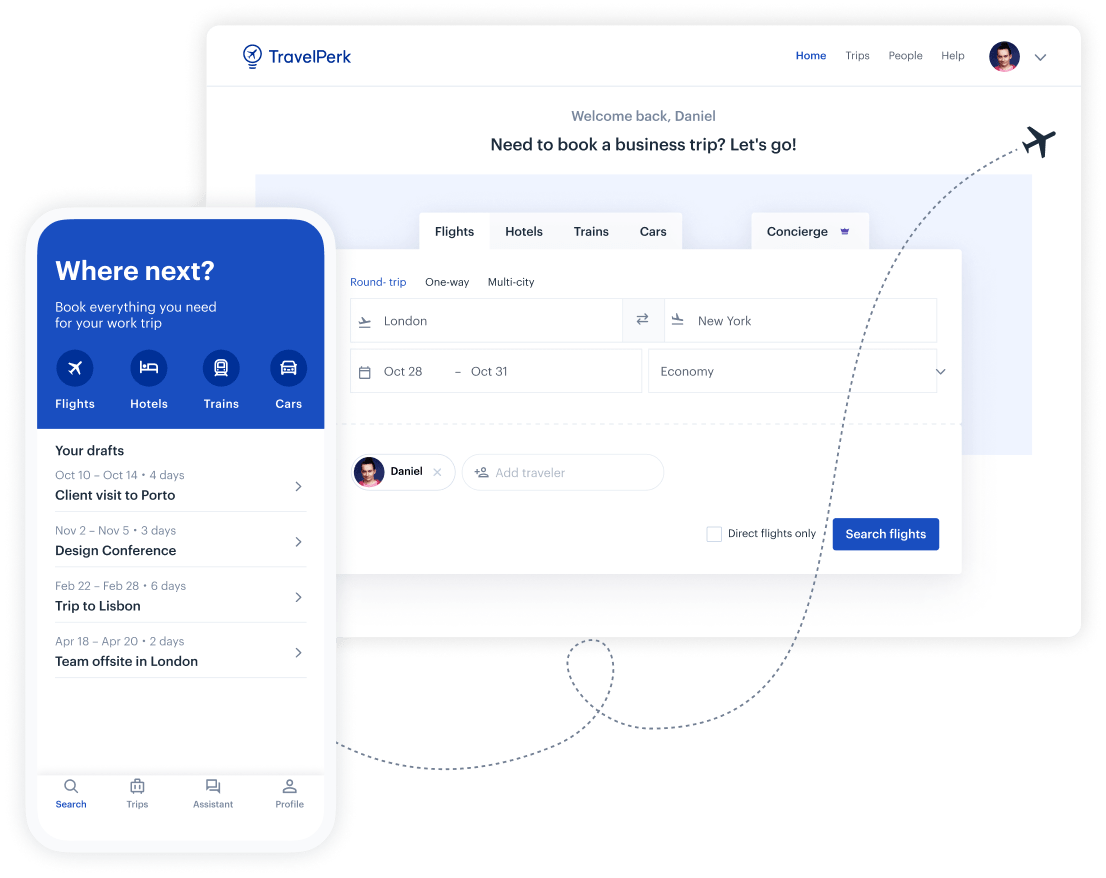 Make business travel simpler. Forever.
See our platform in action. Trusted by thousands of companies worldwide, TravelPerk makes business travel simpler to manage with more flexibility, full control of spending with easy reporting, and options to offset your carbon footprint.

Find hundreds of resources on all things business travel, from tips on traveling more sustainably, to advice on setting up a business travel policy, and managing your expenses. Our latest e-books and blog posts have you covered.

Never miss another update. Stay in touch with us on social for the latest product releases, upcoming events, and articles fresh off the press.