Looking for the best team-building activities in the UK? Look no further. We've put together a list of activities that will encourage teamwork and team bonding in fun and interactive ways for your next event.
Everywhere around the world, the pandemic turned everything on its head. Those in charge of organizing company team events were left wondering how to maintain company culture with everyone working remotely. This led to some innovative—and very effective—new ideas for team-building events.
Whether you're fully remote, on-site or hybrid, real-life events are not only important for team bonding but also what teams actually want— towards the end of pandemic, 79% of employees were most excited to attend in-person events for the opportunity to meet other colleagues and build meaningful relationships.
You can have great fun while doing valuable work to bring your team together. Whether it's a group away-day or a more local evening event, team-building exercises can encourage:
Creative thinking
Team engagement
Problem-solving skills
Quick-fire decisions
Strong communication skills
Did you know? 75% of employers rate teamwork and collaboration as very important in the workplace?
It can be difficult to find the perfect event—especially if doing it over Zoom is your only option—but we've come up with a list of in-person team-building ideas to fit most budgets, team sizes, age ranges and group interests.
There's nothing quite like getting people together in real life, so we've lined up some of our favorite event ideas across the UK, starting in London.
Let's dive in!
1. Boat Tours: take your ideas off Zoom and float them on the Thames
Location: London
Duration: 2-4 hours
Group size: 10-50
Budget: $$$
Most people who either live in London or frequently visit will talk about going on a boat tour—but it's one of those things that we rarely get around to organizing. So, why not plan a team day on the river?
This is a great way to get everyone out into the fresh air and provide a memorable experience for your team. Moocanoe offers personalized boat-based team-building activities, but if you're looking for something with a bit more of a relaxed, or celebratory vibe, you can rent one of Silverfleet's all-year-round party boats.
2. Crazy golf: bring your team together with a few holes-in-one and lots of laughs! 
Location: London
Duration: 1-4 hours
Group size: 50 max.
Budget: $$
You're lucky we've done our research—London is absolutely bursting with options for crazy golf, a firm favorite guaranteeing a good time.
Based in Marylebone, Swingers not only offers 'London's best crazy golf', but also a great variety of street-food outlets for a post-golf meal. The ultimate way to get your team moving without being too physically demanding, a mini golf session followed by a meal together is a good way to treat your team and reward them for all their hard work.
For anyone who'd rather watch their colleagues navigate the crazy course, there are four 'spectator bars' dotted around the 1920s resort-themed venue. Loud disco classics ensure a fun, laid back atmosphere where your employees can unwind.
To add a healthy competitive edge, you can come up with small prizes for golfers with the best score or (more importantly) best style swing. Four!
3. The London Treasure Hunt: a fun, hassle-free challenge in a location of your choice
Location: London
Duration: 2-4 hours
Group size: 10-250
Budget: $$
Imagine a pub-quiz-meets-scavenger-hunt activity and there you have it. Ideal for companies based in London or teams happy to organize a day trip, this activity is brilliant for boosting teamwork and developing communication skills.
The treasure hunt is set up at a pre-decided location anywhere in the city, whether at your offices, St Pancras train station, a pub, Hyde Park or a restaurant. With nice weather it's an ideal outdoor event, and in the colder months (or most of the year in London!) it's a fun activity to do indoors.
You'll be divided into teams, each given an iPad to navigate around the city, answering questions and completing challenges. The questions are varied—from general knowledge to location-based questions to photo challenges—meaning that everyone's included.
This team-building experience is a great icebreaker for new employees. It involves everyone, mixing up the group into random teams and encouraging effective teamwork—with a prize at the end.
4. Social responsibility—work together for the good of your team and the wider community
Location: Area of your choice
Duration: Half, full or multiple days
Group size: 5-50
Budget: $
With the rise of corporate social responsibility, more and more companies are looking for CSR team-building activities. They're a great way to make a positive impact while boosting team morale and encouraging constructive connections. Plus, you'll be able to run this as an indoor team building event or an outdoor team event.
With Quest, you can carry out a team project which makes real change—whether it's repainting a youth center or stocking up a local food bank.
Quest sources a suitable project in your local area, helping you find a meaningful community project that fits your team's requirements and goals.
With their longest project being four days long and their shortest only half a day, you can find the ideal time and place to bring your team closer together— all while supporting your local community.
5. Navigate a Crystal Maze and discover the company's best all-rounders
Location: based in London but UK-wide
Duration: 3-6 hours
Group size: 10-200
Budget: $$
If you're a facilitator looking for an ideal corporate team-building activity, you can't go far wrong with this activity based on the outrageously popular 90s game show Crystal Maze. It's one of the most popular team-building experiences around the world, with teams facing an exciting range of challenges.
With puzzles demanding thinking outside the box and high energy team collaboration, this activity is ideal for team-building. It's designed to exercise the mind more than the muscles—meaning it's accessible for everyone.
6. Sip and paint class: the perfect way to bring people together and celebrate achievements
Location: London
Duration: 2 hours
Group size: 10-40
Budget: $$
A sip and paint class gives the perfect opportunity to create something special in a relaxed, intimate environment while chatting to your colleagues.
Whether you're a beginner or a painting master, this class is all about encouraging everyone to get creative with paint and paper. It's set in an intimate space, and discussion and collaboration are encouraged. All art supplies are provided, and there's an on-site bar.
Help your team unwind, and discover who has hidden talents with a paintbrush! You could even organize prizes at the end for 'Most Original, 'Most Colorful', 'Most Collaborative' and so on.
7. Edinburgh: Highland Games at Dundas Castle
Location: Edinburgh
Duration: Half or full day
Group size: 100 max
Budget: $$
We're moving north! The Highland Games team-building activity day at Dundas Castle is the perfect option for companies based in Edinburgh or hosting an offsite there, just a 30-minute drive away.
Dundas Castle offers popular action-packed days which encourage teams to learn new skills together and create some light competition. They offer a huge array of outdoor activities—from bagpipe playing to obstacle courses to highland dancing.
Plan your bespoke day with them, choosing which activities will best suit your team, and organizing a timetable to make sure everyone can have a go.
8. Hold your own British Bake Off in Manchester 
Location: Manchester
Duration: 2.5 hours
Group size: 20-250
Budget: $$
The Great British Bake Off is a much-loved TV classic—with over 9.2 million viewers at its peak, chances are you'll have some fans in your company—so why not create your own?
For companies based in or around Manchester, this activity is the perfect recipe for whipping up some team spirit and mixing in some healthy competition.
Eventurous takes care of all the faff, from ingredients to equipment, so all you have to do is turn up with a team ready to bake!
Each team will need to develop an original strategy, encouraging creativity and collaboration, to make the best bakes, which will be judged by 'Paul Hollywood' at the end. Ready, set, bake!
9. The Dragon's Lair in Newcastle: test your team's entrepreneurial spirit against the foreboding dragons
Location: based in Newcastle, UK-wide
Duration: Full day
Group size: min. 10
Budget: $$
No, it's not an escape room! If you're looking to mix some business-themed competition with a fun team-building event? Then this Dragon's Den-inspired activity is for you.
With themed hosts and 'investors', your teams will follow a step-by-step process to plan, research and finally pitch an innovative project. It encourages team cohesion and lateral thinking, requiring watertight budget plans and a well-researched design.
Mix up the groups with this activity, so everyone's specific skills can be put to good use! Let's see how your team's drive and ambition flourishes in this fun, challenging environment with a medal ceremony at the end. We're in!
10. Chocolate making in Cardiff: tasty treats and creative thinking
Location: Cardiff
Duration: 2 hours
Group size: 15-20
Budget: $$$
There's nothing better than a successful team-building day—except if you come away with your own creation, and even better if it's edible!
This popular team-building event involves a mini chocolatier journey, preparing ingredients and combining them to create your very own product. The best bit is that they also provide vegan, and dairy-free alternatives. It beats any virtual team building on the market.
To encourage friendly competition, you could set up a judging at the end, based on style, taste and originality. From beginners to seasoned chocolate makers, this class is for all team members.
Time to plan your team event in London, England
All in all, the UK is bursting with ideas for you to bring your team together with great team challenges, team building games, and a few out-of-the-box options too.
If you're based in London, ideal, but if you're not near a city— or you're a remote business—make your company travel simple with TravelPerk's group bookings.
No matter where you're going or coming from, TravelPerk can help your corporate events run smoothly, door to door.
Start saving money on business travel for your company today!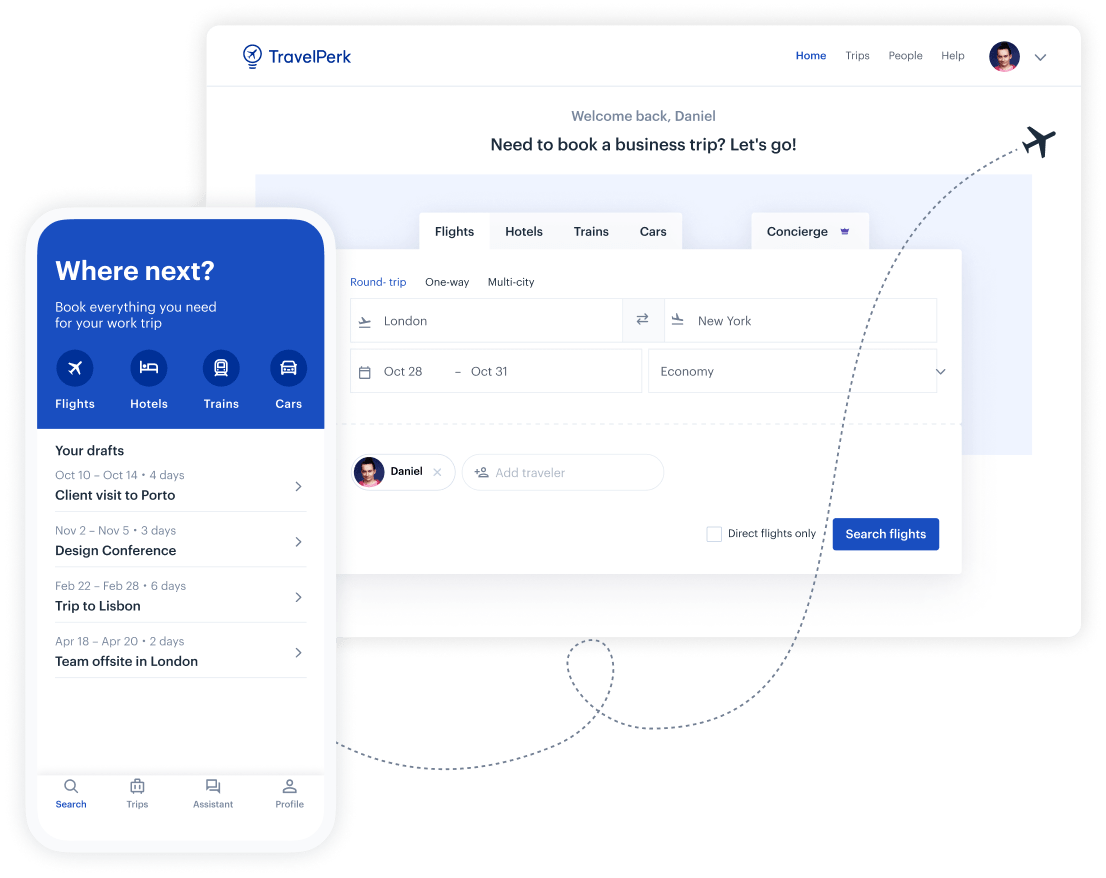 Make business travel simpler. Forever.
See our platform in action. Trusted by thousands of companies worldwide, TravelPerk makes business travel simpler to manage with more flexibility, full control of spending with easy reporting, and options to offset your carbon footprint.

Find hundreds of resources on all things business travel, from tips on traveling more sustainably, to advice on setting up a business travel policy, and managing your expenses. Our latest e-books and blog posts have you covered.

Never miss another update. Stay in touch with us on social for the latest product releases, upcoming events, and articles fresh off the press.