Ah, the moment when your boss walks up to you and says you're in charge of organizing the upcoming company retreat. No big deal. You just have to get flights and hotels for 85 people…
Well, it is a big deal. Group travel booking is a bucket of stress.
So, I sat down with our very own Giacomo Guarnieri to get all his tips and tricks. Giacomo is TravelPerk's business travel specialist in charge of booking group trips. He lives and breathes group booking. But somehow, he's immune to stress. See? Just look at that calm! #stressless 😌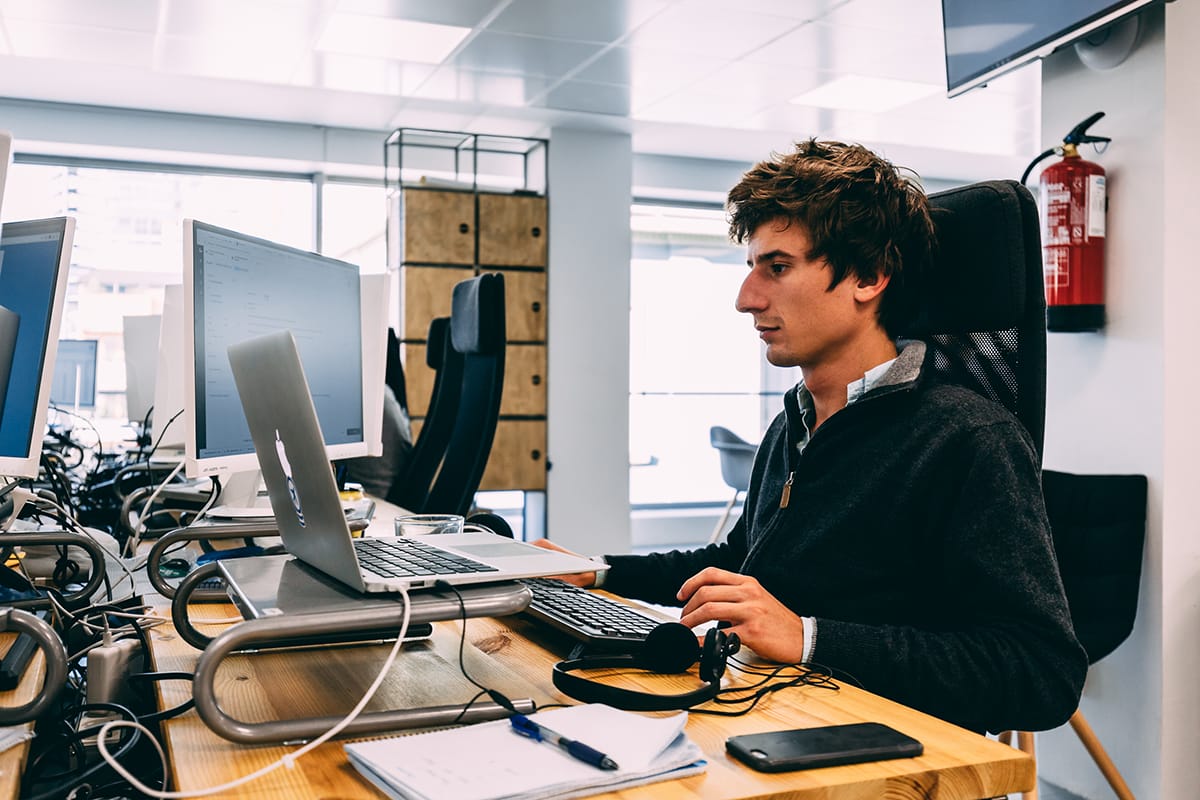 🙋 How do you help someone book a group trip?
Well, the main problem is that the office manager is stressed. They don't want to manage all of these people at the same time. A lot of pressure is being put on them, and so they need to put that pressure somewhere else.
That's why the first thing I do is to say we're going to take care of it, from the beginning to the end. I let them know they're not alone and they can feel better. That helps smooth out the rest of the process.
🙋 What's the overall process?
First, we have to decide whether we want to get quotes from hotels and airlines and negotiate a group price, or if we want to handle the group booking ourselves online. We can review the options, but most of the time it's easy for me to assume which is the best route depending on time constraints and size of the group.
🙋 What are your top tips for getting the best price on group flights?
Getting a group deal from an airline is not always the best rate. The cost paid per flight on a group booking deal is often higher than if you login to TravelPerk or Kayak and see the individual flight cost. That's because the airline knows how much they make on average for a ticket on that particular day. They can calculate what they expect to make.
Let's say that you see the cost is 50 euros, but the airline knows that as the date gets closer they can sell it for 150 euros, so the price they decide to give you as a big group is 80 euros per ticket.
This is why with a group of 25 or less, it's often cheaper to book the flights yourself. When I do this for our clients, I group it in batches of 8. Some carriers, especially the low-cost carriers, will jack up the price right after someone has booked, so I wait a couple hours before handling the next batch of 8 travelers.
🙋 What are the advantages and disadvantages of getting a quote for a group deal versus booking the trip manually?
If you take the route of booking the flight manually, you have no guarantee that everyone in the group will get that flight. You might get to the last group of 5 or 8 flyers, and there could be no availability. If you've planned enough in advance, this is very rare, but it is still a risk. So you have to be willing to risk that some travelers will need to take a different route or carrier if you want to get the lowest price that day.
The other disadvantage with booking yourself manually and not getting a group rate, is that you don't have any flexibility.
Most businesses don't pay for the ability to change the flight, so you are locked into those dates and times, and to those specific travelers.
On the other hand, with group booking that has been negotiated with the airline, they typically give you time to make changes. It's different for every carrier, but usually you're allowed to add or remove 10% of the passengers up to a month beforehand, and you don't have to give their names at the time of booking.
🙋 What's the easiest thing to negotiate for?
In general, it's much easier to negotiate price for big groups with hotels than it is with airlines. But absolutely the easiest thing to negotiate for is extra benefits. For hotels, this would be room upgrades or free meals. And for flights, free luggage check-ins are usually included or are easy to negotiate for.
🙋 When are negotiations not worth the effort?
If you're on a time crunch, it's not worth it to negotiate back and forth with the airline for a better price.
And as time goes on, the average of the ticket cost will raise, so they will only want to charge you more.They can sometimes take 24 – 48 hours to get back to you, so you're not in a good position to negotiate for trips that are coming up soon.
Definitely knowing what to negotiate depends on the company. I take a different approach for each carrier and hotel depending on the situation.
That's a big reason why customers appreciate this service so much. They don't have to worry about trying to get a better deal, which is an art. We handle all the negotiations.

🙋 How do you handle groups coming from different starting locations?
We recently planned for 400 people to come to Barcelona for the Netcentric Summit 2018. They were from 12 different locations. We sent out a Typeform asking everyone where they are coming from and how long they will be staying. Then we sorted these responses and grouped people together based on location and dates. Once we did that, we based our approach on what was right for each individual group.
🙋 How long does it take to book a group trip?
It can take anywhere from 3 days to 3 months. Of course, 3 months is on the extreme end, things like conferences and big events with multiple attendees and speakers. One week is more typical.
🙋 How do you streamline group booking?
The best thing you can do is to get all of the information up front. Try to proactively ask questions. So don't just stop at knowing that you need a hotel in London, for example. Find out exactly what neighborhood and what style of hotel is preferred, like modern or boutique.
I also try to get pre-approved for booking, especially with trips that are coming up soon. Let's say there is a group trip of 16 people and the trip is 6 weeks away.
I will tell the client about why the group booking rates for the airline will be more expensive, and that my approach is to handle the booking manually.
Then I'll let them know that as long as the second batch of 8 isn't a difference of more than 50 euros, that I will book it myself.
Of course, that's just an example, but the point is that I try proactively minimize the back and forth if time is an issue. There's a balance between saving the client money and saving them time. If I take too long to book, it can waste money. So, I always make sure to get as much information as I can and get approval to book beforehand if that's needed. But for most trips, I'm able to show them the options and let them decide before the final booking.
🙋 How can an Office Manager implement that tip?
If you're booking something for a company event, you can use the same strategy. Try to get approval and information from the right people up front if you can.
I always try to send the minimal amount of email and to be clear. This makes it less stressful for the client. I try to batch the communication.
If an office manager is handling group booking, the same thing would be helpful internally. They can try to get as much upfront information and approval as possible, batch all the questions they have, and then for any follow ups or options, always be as clear as possible.
🙋 What's one of your worst group booking mistakes and how did you handle it?
One time, we had booked 40 rooms for a group event in Lisbon. The colleagues were sharing rooms, and there were two beds in each room.
We got a call that the bathroom walls were made of glass, so you would be able to see each other when using the bathroom or the shower. We talked with the hotel directly and they put up something to cover it. They had to cover all the glass walls in 40 rooms.
🙋 What about a time that you really went above and beyond?
With that recent summit in Barcelona, we organized for buses to pick up everyone from the airport. That week it was snowing all over Europe, and all the flights were delayed. The plans for the pickup buses were completely ruined.
We organized for hosts to go and greet them at the airport and help them. On the spot, the hosts had to reorganize all of the bus groups since everyone had arrived at different times than expected. It was crazy, but we worked it out!
🙋 How can people learn more about getting your help for group bookings?
If companies want help with group bookings, we can handle the entire process. We decide the best approach and negotiate the rate or we will manually book the trip.
I'm the first point of contact so we get to work one-on-one and really form a relationship.
When a customer book one group event with us, they nearly always use the service for their next events. We just take so much stress of their shoulders. We can negotiate better rates, and of course the constant support is a huge load off. There are just so many mishaps that can happen with big numbers of travelers.
The first step is they have to be a Premium subscriber with TravelPerk. Once they are signed up, all they have to do is request a group booking by emailing group@travelperk.com or calling support, and then I will be in touch with them.
To learn more, check out TravelPerk Premium to get all the details and FAQs on TravelPerk Group Booking.