From historic castles and country houses to picturesque seaside towns, the UK has so much to offer when it comes to planning a corporate retreat.
From the stunning countryside of Oxfordshire, Yorkshire and further north up to Scotland, to the buzzing cities of London and Manchester, we've compiled a list to help you find the perfect location for your next company retreat in the UK.
5 Perfect places for your next corporate retreat in the UK
1. The Lake District: encourage team bonding surrounded by extraordinary natural beauty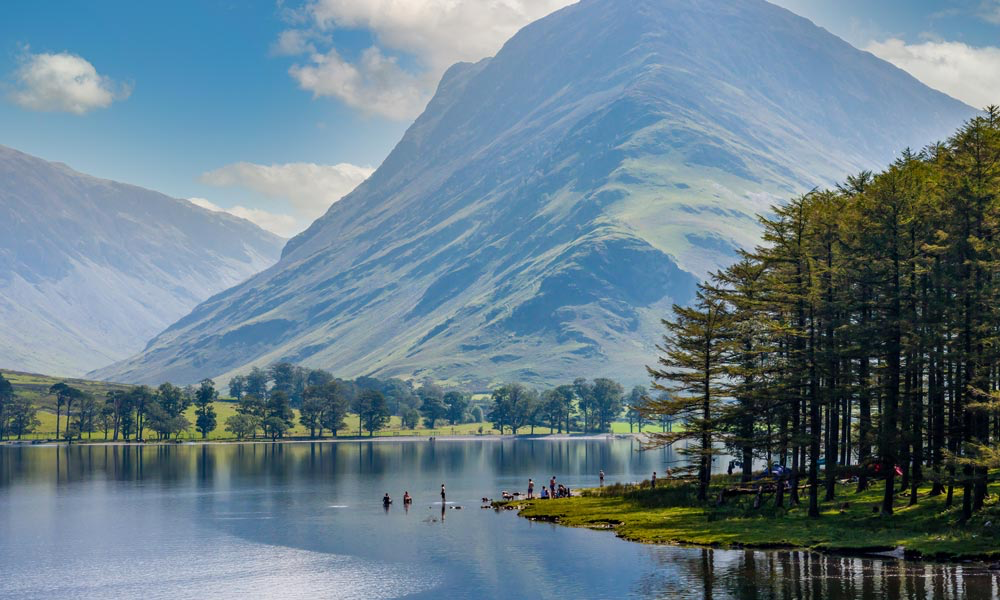 In the northwest of England lies the country's largest national park, the Lake District (not to be confused with the equally beautiful Peak District!). It's world-renowned for its outstanding scenery, boasting lakes, mountains, and forests, and its spectacularly varied wildlife. It's an ideal corporate retreat venue, accommodating team building activities such as mountain biking, kayaking and hiking. It also offers cozy hideaways or luxurious hotels, many of which cater specifically to corporate events.
If you're looking to get your team away from their desks for a collective breath of fresh air, this is the spot for you. A few days in flawless natural landscapes will blow all those cobwebs away.
Team building activities: rafting, kayaking, hiking, nature trails, spa facilities, bicycle trips
Best time of year: Spring-Autumn
Price meter: £
2. Isle of Wight: an action-packed, scenic getaway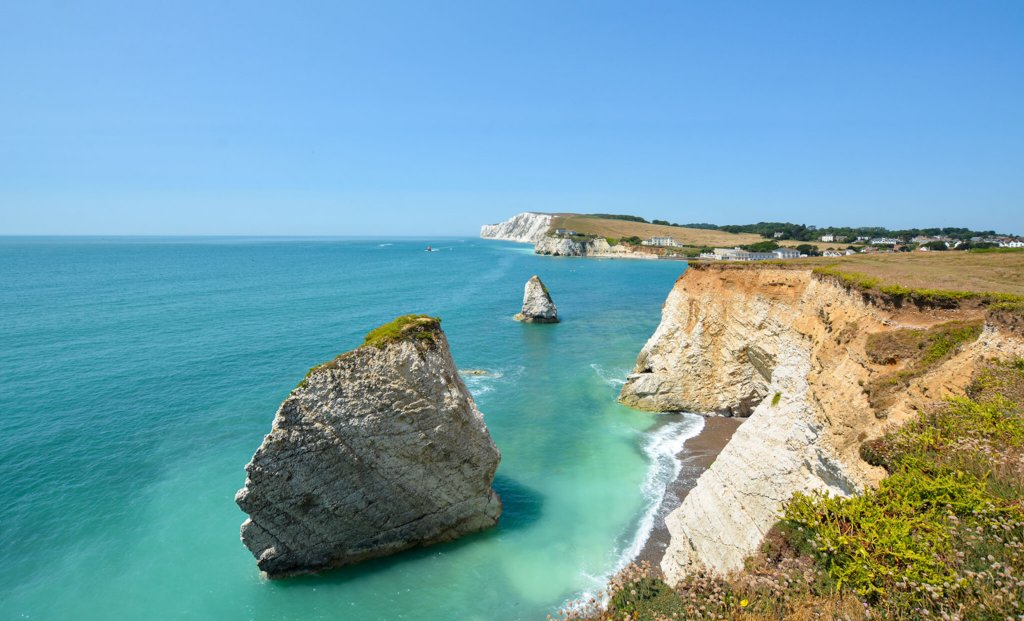 Arguably the 'sunniest place in the UK', the Isle of Wight is a hugely popular holiday destination, meaning there's a massive selection of team building activities on offer for your corporate retreat. With beautiful cliff walks, pebbly beaches, and rolling fields, it's an incredibly scenic getaway from city life.
From watersports to stunning hikes, the Isle of Wight should be a top contender for your next corporate retreat. With options from calming yoga retreats to action-packed activity packages (think rock-climbing, escape rooms, stand-up paddle boarding, fishing, boat tours round The Needles, you name it!) The Isle of Wight offers a top-quality answer to every type of corporate retreat.
Team building activities: team olympics, wine tasting, raft-making, sailing, fishing, hiking, archery, trip to the donkey sanctuary, yoga classes
Best time of year: Summer
Price meter: ££
Did you know that TravelPerk has a specialist Group Travel and Meetings & Events team?
3. Brighton: a seaside town easily reachable from London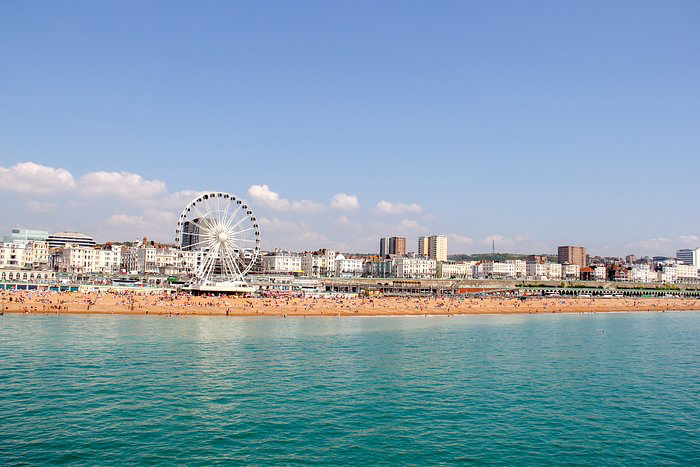 When it comes to the UK's most famous coastal towns, chances are you've heard of Brighton. Known by some as 'London by the sea' (it's just a 1.5 hour train journey from the capital!) it's perfectly suited to corporate retreats, with a holiday feel and plenty of activities on offer. Vibrant and diverse, Brighton is a bustling hub of business and holiday-makers.
From buzzing Brighton Palace Pier to the tranquil surrounding countryside, you're not going to find yourself short of activities that the whole team will enjoy, such as cycling along the Undercliff Path, watching live music at one of Brighton's best indie venues, exploring the world-famous Pier, or taking in the sea views from the British Airways i360 tower. Watch the salty air do wonders for team morale.
Team building activities: beach tennis, cooking classes, e-bike tours, nature trails, sightseeing tours, boat trips
Best time of year: Spring-Autumn
Price meter: ££
4. Edinburgh: a perfect mix of culture and fun in the Scottish capital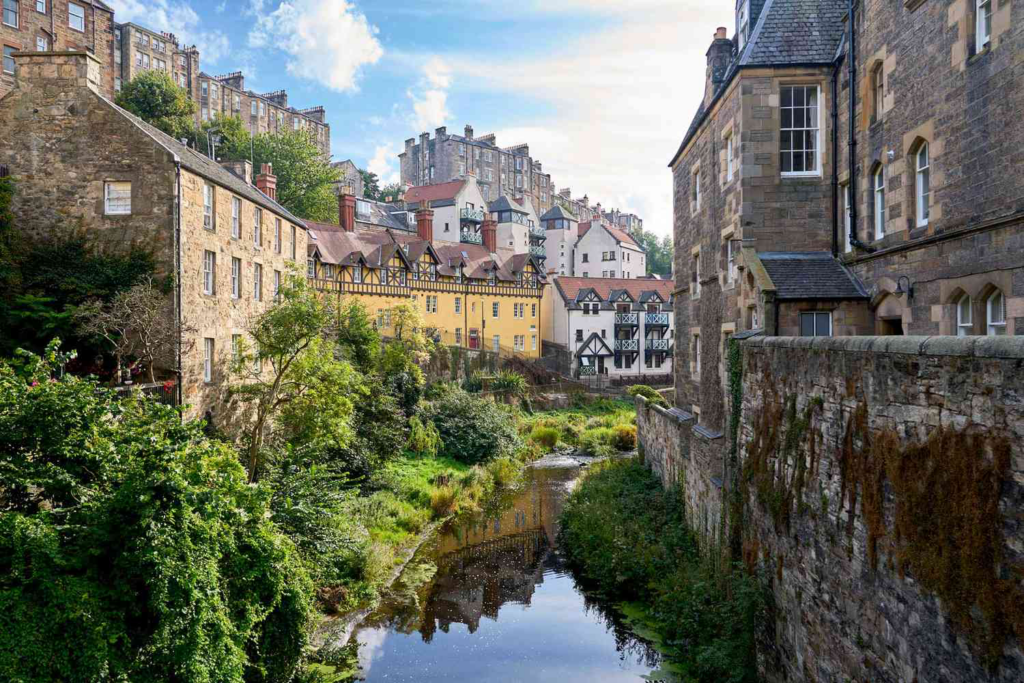 Scotland's capital couldn't be a better location for corporate events. It has everything, without the overwhelming bustle of London. Just a short distance from the sea, and the rolling Scottish hills (although the short hike up to Arthur's Seat will also do nicely!), it really does tick every box, all year round.
From the renowned Camera Obscura Museum of Illusions, which provides endless fun and laughs, to the world-renowned National Gallery of Scotland, to (weather-permitting) beach barbecues, there's plenty to keep your team entertained and refreshed before returning to their desks. It can get pretty chilly up there, but going in December means you can experience the famous Christmas market, which is not one to miss.
Team building activities: whiskey-tasting, walking tours, seaside trips, art galleries, museums, escape rooms, laser tag
Best time of year: all year round
Price meter: ££
5. The Cotswolds: for pushing the boat out—in style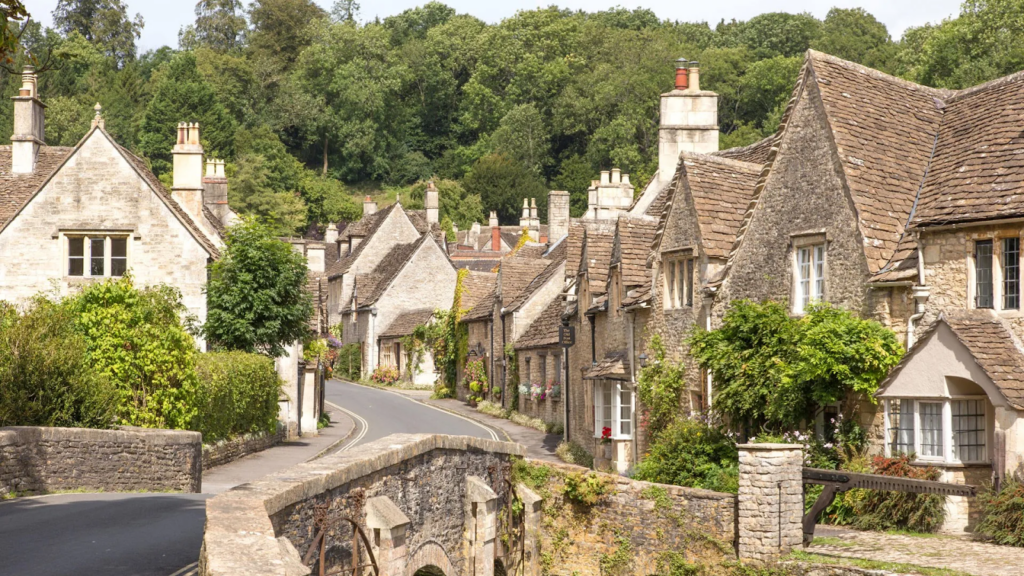 A picturesque region in southwest England, the Cotswolds is defined by its charming villages, quaint architecture, and typically English feel. It's a hugely popular retreat destination, as it's just half an hour train ride from London, yet feels like a rural oasis far from the bustling city. It's a great location for relaxation and team building activities, from yoga to wine-tasting to golf.
Best suited to more upmarket company retreats and probably smaller teams, the Cotswolds offers an impressive range of award-winning luxury hotels, bespoke boutique stays and manor houses, ideal for a retreat that's prioritizing comfort and R&R over all else. Get your team away from those board meetings and into a top-quality relaxation station.
Team building activities: yoga retreats, wellness courses, golf facilities, spa, cooking classes
Best time of year: Spring-Autumn
Price meter: £££


5 Hotels ideal for an unforgettable corporate retreat
1. The Manor & Ashbury Resort in Devon: an all-in-one location for your next corporate retreat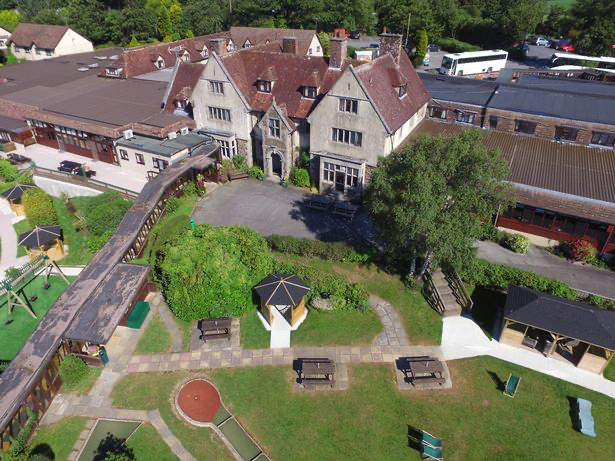 The only Leisure, Craft, Spa, Gold and Sports Resort in the UK, the Manor & Ashbury Resort has 'corporate retreat' written all over it. Near beautiful Exeter, this venue has raked in positive reviews across the board. Complete with on-site 5-star spa facilities, high-speed wifi, self-catering options, a swimming pool, and even a hot tub, this is a fantastic option for a company retreat to really treat your team.
It's a brilliant venue to bring a team, with full board (including delicious food for breakfast, lunch, and dinner throughout your stay), up to 60 sports activities each week, and significant group discounts on offer, it couldn't be a more ideal, hassle-free option.
Team building activities: tennis, spa days, golf facilities, go-karting, bowling, art classes, badminton, painting
Best time of year: all year round
Price meter: ££
2. Center Parcs: a specialist retreat venue that ticks every box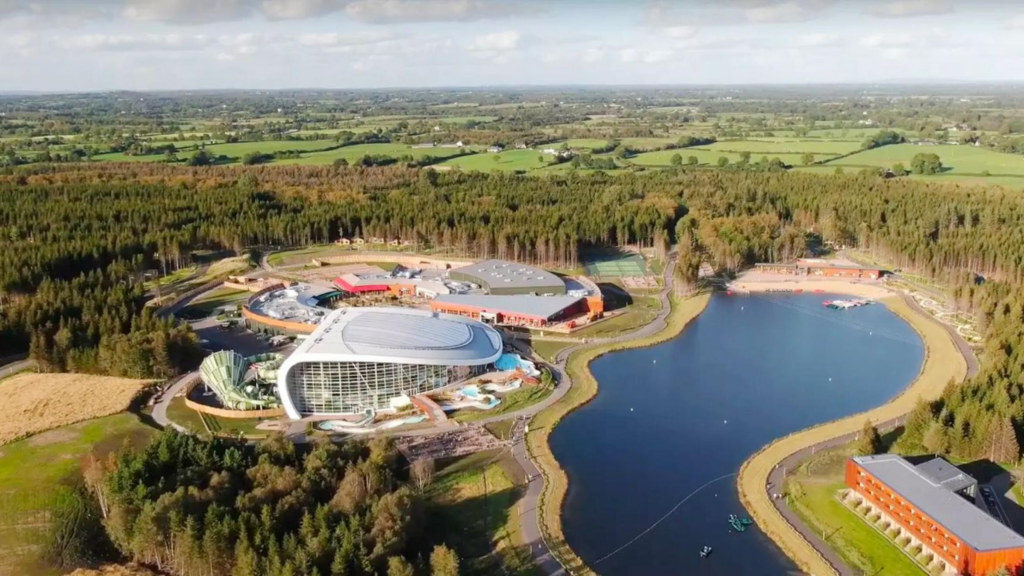 Complete with meeting rooms, conference centers and boardrooms, Center Parcs should be at the top of your list when choosing a corporate retreat venue in the UK. With 400 acres of natural woodland and hundreds of activities on offer, your team can expect to fully recharge their batteries in just a couple of days.
With two locations in Sherwood Forest (yes! It's where Robin Hood is set) and Woburn Forest, Center Parcs offers corporate packages, an on-site restaurant, multiple team building activities and award-winning spa facilities. Whether you're looking for a weekend of R&R or a more action-packed few days, Center Parcs has got you covered.
Team building activities: obstacle courses, quizzes, watersports. treetop adventures, spa sessions, zip lining
Best time of year: Spring-Autumn
Price meter: £££
3. Silchester Farm: combining originality and quirkiness for an unforgettable retreat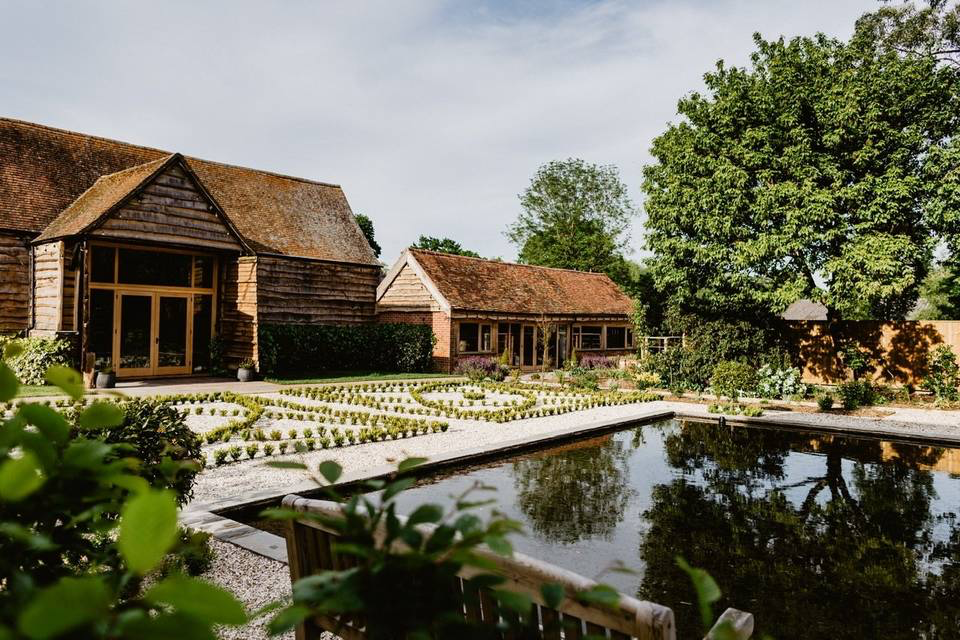 For companies looking for a chilled-out rural escape, this might be your best bet. It's a venue that's used to adapting, from weekend getaways to weddings, to corporate events. The Retreat at Silchester can accommodate groups of up to 14 and can be booked as a more economical, complete package. With rooms boasting en-suites, self-catering, and high-speed wifi, it's got everything your team needs to kick off their shoes and really relax.
Focused on providing their guests with the best creature comforts, food is at the center of the activities at Silchester. The weekly Food & Drink market, boasting local suppliers, homemade dishes, and top-notch cocktails, is arguably the best way to spend a Sunday, while the new super-sized Smokehouse BBQ is a fantastic option for a team lunch.
Team building activities: hikes,, cooking classes, wine tasting, spa facilities, swimming pool, team BBQ
Best time of year: Summer
Price meter: £££
4. 42 Acres: sustainability, wellness, and nature in one golden venue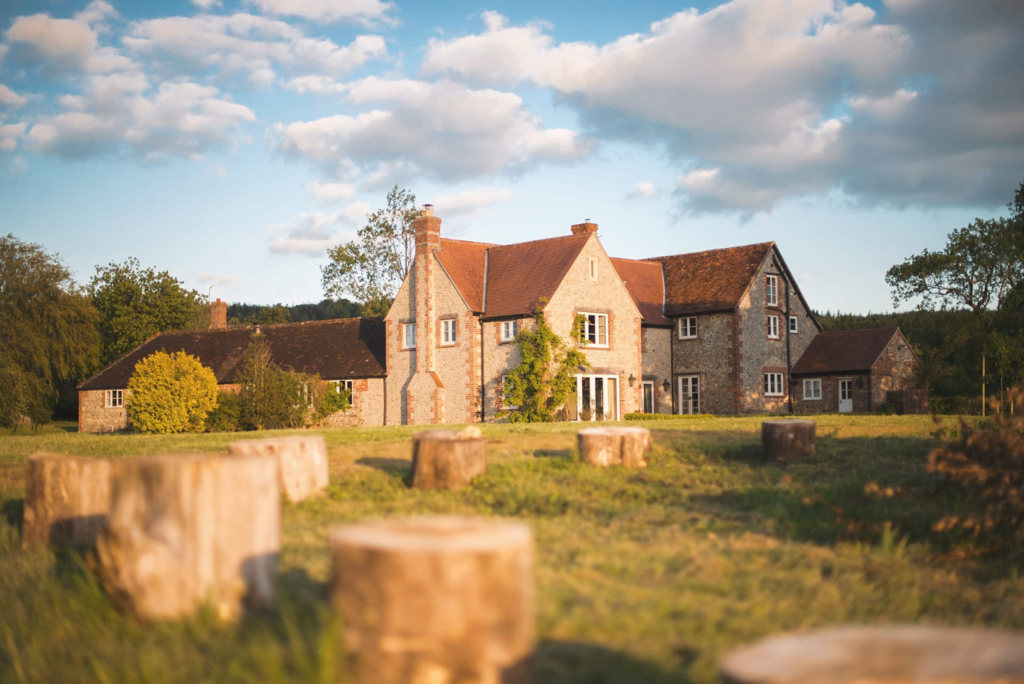 42 Acres is a beautiful organic farm in Somerset, ideal for small business retreats and company get-togethers. Hosting up to 32 attendees, it's all about reconnecting with nature, which you can do by bonding over team nature trails, or even a dip in the lake for the brave ones! It's an idyllic spot, ideal for taking your team away from the city and helping them breathe, even if it's just for a night or two.
From the nutrient-rich, locally sourced menu to the foraging walks and bushcraft workshops, this is a real opportunity to make the most of the British countryside while bringing your team closer together. A residential retreat could not be more wholesome.
Team building activities: forest bathing, sound baths, meditation and yoga, survival skills workshops, wild swimming, forest dining, gardening
Best time of year: Summer
Price meter: £££
5. Plush Tents Glamping, Oakwood: a unique trip that everyone will enjoy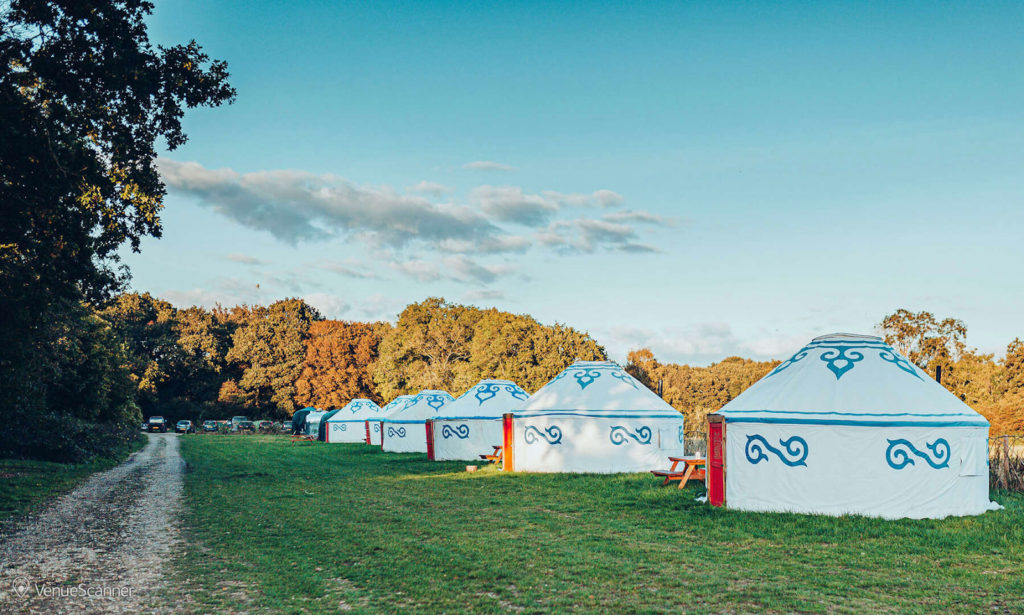 Let's face it, camping's a bit like Marmite: it's a love or hate thing. Glamping is a great way to meet in the middle, combining the great outdoors with the creature comforts that'll help your team recharge their batteries.
An original twist on a traditional corporate retreat, Plush Tents offers a three-acre woodland yurt village, complete with retro airstream caravans. Located just a short distance from one of the UK's most popular beaches, West Wittering, and just a stone's throw from the historic city of Chichester, they've hosted plenty of corporate events before. The venue sleeps up to 60, and offers BBQs, hammocks, communal fire pits, and a hot tub, with many team building activities on offer.
Team building activities: BBQ meals, fireside singing, hiking, spa facilities, group games, beach days
Best time of year: Summer
Price meter: ££
UK calling! Make your next company retreat unforgettable
For a country that's known for its drizzle and average food, we hope to have convinced you otherwise! These beautiful oases in the UK will help your team unwind while building constructive and long-lasting relationships. If the strategic planning of a successful retreat is weighing you down, TravelPerk Events offers stress-free organization and guarantees to get you out of that Excel rut. All you'll need to do to get the ball rolling is pick your favorite retreat venue!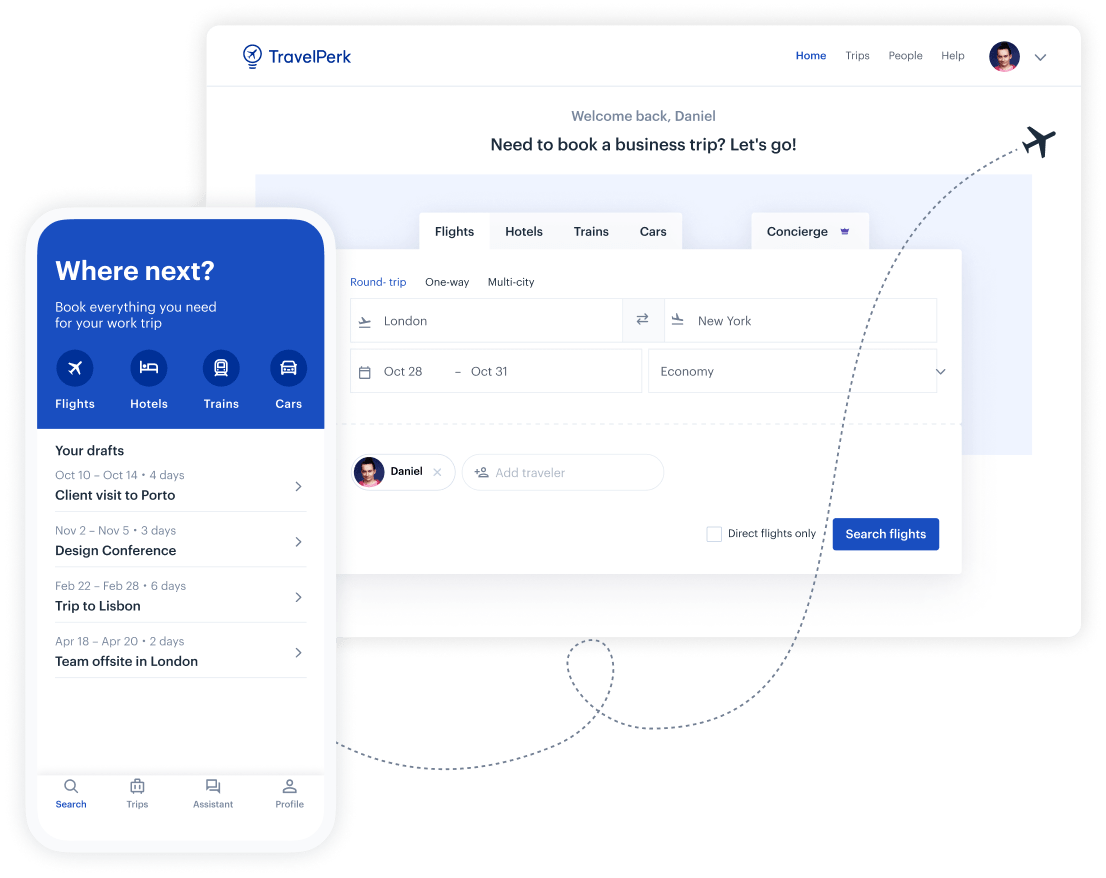 Make business travel simpler. Forever.
See our platform in action. Trusted by thousands of companies worldwide, TravelPerk makes business travel simpler to manage with more flexibility, full control of spending with easy reporting, and options to offset your carbon footprint.

Find hundreds of resources on all things business travel, from tips on traveling more sustainably, to advice on setting up a business travel policy, and managing your expenses. Our latest e-books and blog posts have you covered.

Never miss another update. Stay in touch with us on social for the latest product releases, upcoming events, and articles fresh off the press.