Any travel manager who's had to book and manage business trips without the help of a travel management company (TMC) will know; it is not an easy task.
Endlessly searching for appropriate accommodation on multiple websites. Chasing down countless invoices from numerous employees. Making sure all travelling employees are safe at all times. The list of responsibilities goes on and on, and we haven't even mentioned trying to stay within your company's travel budget yet!
In this guide you'll find a review of the top five business travel management companies in Scotland. We'll also briefly discuss the main benefits of using a travel management company, and the core features to look for when choosing which company to go with.
What are the main benefits of using a travel management company?
Saving money, saving time, keeping employees safe and satisfied. These are the obvious benefits that come with using a travel management company.
Here are just some of the ways modern business travel management companies can help you achieve these benefits:
Negotiating the best deals: Travel management companies can help you reduce the amount you spend by negotiating the best business travel rates on your behalf. They can also help you form long-term partnerships with airlines and hotels to help you cut travel costs moving forward.
Detailed travel and expense reports: Optimizing your travel budget based on previous trips is one of the best ways you can reduce business travel costs. Travel management companies provide detailed travel and expense reports to help you do just that. They also centralise all of your travel data in one place, giving you deeper insight into travel spend and travel programme performance.
Save time with everything in one place: Modern corporate travel management companies allow you to centralise all business travel processes. They should provide you with a single user-friendly platform that lets you deal with everything from booking and travel policy compliance, to trip safety management and invoicing.
Self-booking for added efficiency: Modern travel management platforms allow your employees to make their own travel arrangements. This means no more back-and-forth between you and multiple employees over what needs to be booked and why.
Ensuring travel policy compliance: You put travel policies in place for a reason; to reduce costs, streamline processes, and keep employees safe. Inevitably though, employees often make arrangements that fall outside your travel policy. By using a travel management company you can stop this from happening, because their platform will flag or block any unauthorised bookings.
Employee safety and satisfaction: If you want to keep your employees happy and free from harm while travelling, each trip needs to be managed efficiently, and carefully. Modern travel management companies offer extensive risk management, customer support, and even traveller tracking solutions to make this as easy as possible.
Features to look for when choosing a travel management company
Modern travel management companies can help you easily manage every aspect of your company's business trips. But not all travel management solutions are created equal!
Here are the main features you should look out for when choosing your preferred solution:
Extensive travel inventories: To consistently fulfil your business travel needs, a modern travel management platform should offer a wide range of travel and accommodation options. This should include the ability to book different modes of transportation, such as trains and rental cars.
Flexibility: Cancellations and last-minute changes are unfortunately all too common in the business travel world, so choosing a travel management solution with flexible booking options is essential.
Comprehensive customer support: If things go wrong on a business trip, you or the business traveller involved will need support from your travel management company. If you can't easily get in touch with a real human 24/7 to deal with any issues that arise, the customer support they're offering isn't good enough.
Centralized invoice collection: One of the main reasons for using a travel management company is to save time and streamline processes. So whatever solution you choose, it should consolidate all your monthly invoices into one single vendor invoice.
Reporting/data capabilities: Detailed travel/expense reports, and intuitive data representation are essential for identifying and implementing spend optimisation activities. Modern travel management companies should always provide these features.
The 5 best corporate travel management companies in Scotland
Based on the benefits and features discussed above, below is our pick of the five top corporate travel management companies in Scotland:
TravelPerk offers an all-in-one digital solution that helps you manage every aspect of corporate travel. With TravelPerk, the entire business travel booking process from start to finish is covered within one centralised platform.
As well as the ease of use this centralised system brings, TravelPerk also has many other features that set it apart:
The world's largest travel inventory for flights and accommodation providers.
Integrated travel policies and in-app approvals -- this includes approval workflows, and the ability to customise strictness level for each workflow.
FlexiPerk, a cancellation policy that lets you cancel travel arrangements up to two hours before departure with a guaranteed refund of 80%.
24/7 customer support with real humans and a target 15-second response rate.
TravelCare, a travel safety and risk management solution that provides safety alerts, and full visibility into all traveller locations and associated risks.
Centralised invoicing for all business travel -- removing the need for invoice requests and reminders.
Flexible, intuitive, real-time reporting covering every aspect of your business travel, including expenses, carbon emissions and more.
Huge catalogue of integrations with 3rd party software.
TravelPerk Events, an events management solution that covers everything from kick-offs and offsites to parties, enabling remote and hybrid teams to connect in real life.
Carbon offsetting with GreenPerk -- to help incorporate environmental sustainability into your travel program.
All-in-all, combining these features creates a comprehensive travel management platform that can seamlessly serve the business travel needs of any company, big or small.
For Scottish-based companies, TravelPerk's acquisition of UK business travel specialist Click Travel last year makes it a particularly suitable choice, as the platform has already gained a foothold in the UK.
See how TravelPerk makes business travel stress free
2. EQ Travel
EQ Travel is a corporate travel management company founded in 2011 and headquartered in Dunfermline in Scotland.
EQ Travel's main features include:
Flight, rail, hotel, apartment, and car reservations.
Online booking platform with the ability to integrate travel policies.
A 24-hour emergency contact staffed by the EQ team.
Personalised travel management reports, including risk management reporting.
Conference and events management.
Incentive travel (trips rewarded to top performers in your company).
Clinical trial travel.
Ancillary services such as chauffeur hire, currency, ferries, passports and visas, airport parking, aircraft charter and private jet hire.
EQ Travel offers many useful features for booking trips, but it isn't a comprehensive travel management service. It doesn't offer any expense management or centralised invoicing solutions, or essential features like flexible cancellation, VAT reclaim, 3rd party software integration, or a carbon offsetting program.
It also uses Concur as its self-booking platform, which has received multiple reviews online stating that the user interface is not user-friendly.
3. Stewart Travel Management
Founded in 1972, Stewart Travel Management is an experienced travel management company with its headquarters in Glasgow.
Although not solely focused on the business travel sector, Stewart Travel Management still has plenty to offer its corporate clients:
Air, hotel, rail, ferry and car bookings.
Global air ticketing platform that offers the best prices on over 900 airlines across more than 51 countries.
Online booking portal with travel policy integration.
24-hour emergency assistance service.
Dedicated account manager.
Dedicated conference and event management team.
Tailored management reporting, with post-trip travel data on demand.
Flexible payment solutions (including credit terms).
Traveller tracking -- Stewart Travel Management can instantly locate all travellers in a specific area and contact them by email or SMS message.
Chauffeur service, visa/passport service, airport lounges, transfers and parking.
Offshore and marine fares.
Stewart Travel Management comes with a decent range of features, but is missing important solutions like flexible cancellations, VAT reclaim, and carbon offsetting.
4. The Travel Company Edinburgh
The Travel Company Edinburgh is an independent travel agency with over 30 years of experience in the travel industry.
They offer leisure holidays and honeymoons as well as business travel management services. For businesses, The Travel Company Edinburgh offers various solutions:
Air, hotel, rail, ferry and car hire.
Account Management.
Travel policy management (including suggestions on how to improve compliance.)
Meetings, incentives, conferences, and event management.
Traveller tracking -- with 24/7 emergency service.
Multi-level, comprehensive management information available online, as well as specified periodic reports.
Booking process evaluation.
Cost savings through cost reduction planning and implementation.
Monthly invoicing -- The Travel Company Edinburgh will pay for everything on your behalf and bill you once per month. They can also arrange bill backs for meals and additional hotel services so your employees don't have to pay upfront and then claim expenses.
The Travel Company Edinburgh has a wide focus which includes many leisure travel services, but they also offer plenty of features for corporate clients. If you're looking for an all-in-one digital solution though, you won't find that here. The Travel Company Edinburgh do not offer a single centralised platform for end-to-end travel booking and management. The service they offer is more of a traditional, offline service.
5. CTM
With its head office in London, CTM was established in 1994, and focuses on designing customised travel solutions for its clients.
CTM's main features include:
All modes of transport covered.
Dedicated strategic account manager.
User-friendly online booking tool with built-in approval workflows and travel policy integration.
Customer-centric travel technology, including a suite of interconnected travel tools.
Events management.
Localised after-hours emergency travel support.
Traveller tracking.
Industry-specific solutions -- for event travel, sports travel, and ERM (energy, resources, and marine) travel.
Carbon reporting and offsetting.
Traveller wellbeing reporting.
CTM is a modern corporate travel management solution with useful, customisable features. However, the platform has limited third-party software integrations, cannot guarantee 100% travel policy compliance, and does not offer flexible cancellation/travel solutions.
If you are based in Scotland and you're looking for a travel manegement solution to help your company thrive, there are many good options available. If you're looking for a complete, highly-rated, end-to-end solution, TravelPerk can more than deliver. If you'd like to find out more about how TravelPerk can optimise your company's business travel program, reach out for a free demo today.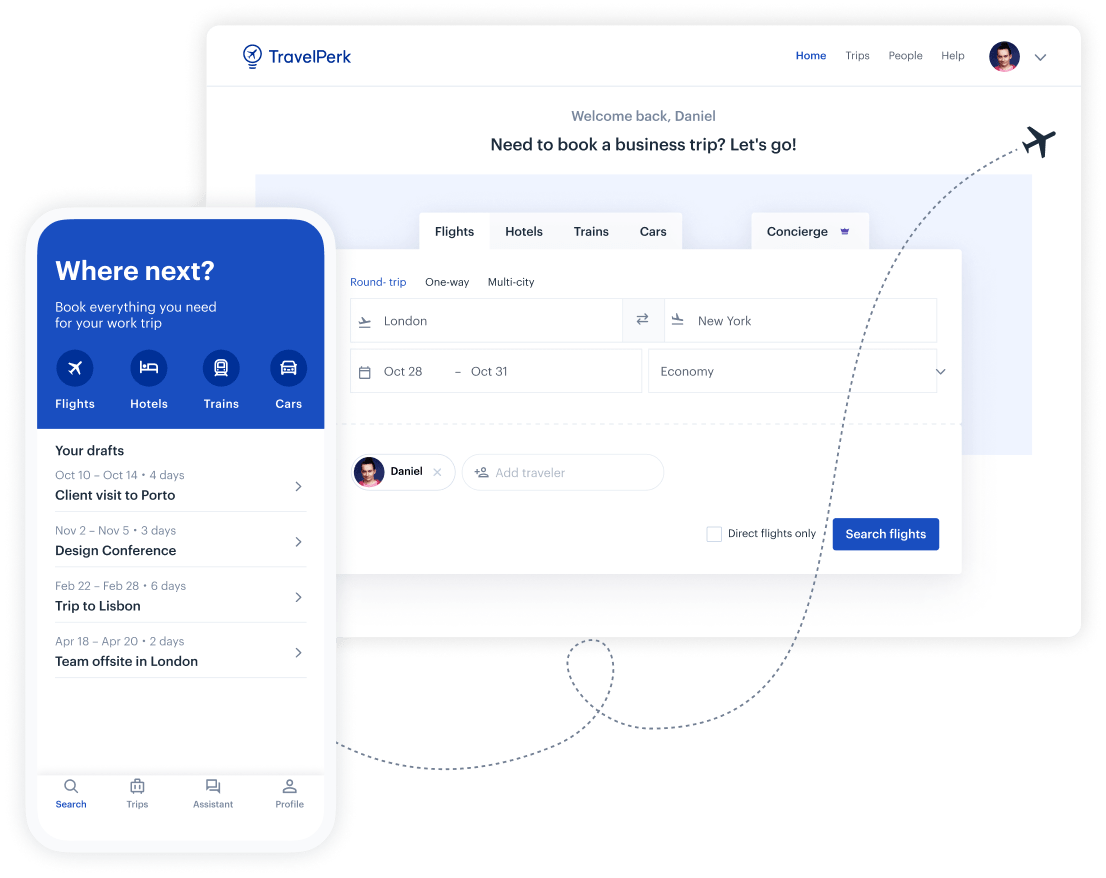 Make business travel simpler. Forever.
See our platform in action. Trusted by thousands of companies worldwide, TravelPerk makes business travel simpler to manage with more flexibility, full control of spending with easy reporting, and options to offset your carbon footprint.

Find hundreds of resources on all things business travel, from tips on traveling more sustainably, to advice on setting up a business travel policy, and managing your expenses. Our latest e-books and blog posts have you covered.

Never miss another update. Stay in touch with us on social for the latest product releases, upcoming events, and articles fresh off the press.